Have you seen horses in the Overworld? Have you tamed one? Better yet, have you ever used a saddle to ride them? Perhaps you know about these features in Minecraft, but you need some extra guidance to tame a horse in Minecraft. 
Horses are passive mobs. They are never aggressive, they roam around free, and you can tame them, ride them, and equip them with a saddle.
There're three ways to tame horses.
Riding a wild horse several times
Feeding the mob with Golden Apples several times
Breeding two horses to produce a tamed baby horse 
We have to find it first, though, and also, it would be best to understand its behaviors, how riding horses work, and how important Golden Apples are for the process.
Step 1: Find Horses
Horses are common mobs, but they spawn in two particular biomes: plains and savannas.
You may find herds of two to six horses in these areas. They may come in various colors, but all of them behave equally. Also, 20% of the horse herd will be a foal (a young horse).
Additionally, horses can spawn within stables in villages on plains as well. So, the highest chance of finding a horse is going to a plain village and checking its pin, and scouring the surrounding area.
In any case, we have a separate guide on how to find villages, which you can use if you need further help to find these locations.
How Do Horses Behave?
Horses are non-aggressive, so you will find them wandering, flicking their tail, or eating grass. On the latter, the eating animation won't consume grass blocks.
When you come near a horse, it can turn to look at you, but it won't flee or try to attack. In fact, you can put a lead on the horse, and it won't protest against you. Isn't that nice?
However, they can protest with their tails and ears if you put a saddle before taming it. Still, they will remain passive even if you hit them.
Horses have different colors and color patterns, but they all behave and offer the same features. For example, they have a temper meter, so if you try to ride them before taming the horse, they will kick you out.
Lastly, baby horses can ride in boats (but only on the Java Edition), while all horses can ride in minecarts.
Step 2: Tame Horses
Horses start with a random temper number. It could be zero, or it could be something else, and it determines its willingness to kick you off when you ride it. In essence, the higher the number and up until value 100, the less it will be to tame it.
You see, to tame a horse, you need to ride it. If it kicks you off, ride it again, again, and again until it stops doing it. To ride a wild horse, just get close enough, put your pointer on the horse, and press the Mount button. That would be:
Right-click the horse on Java , Bedrock, or the educational edition for PC
On the Pocket Edition, move the pointer to the horse and press "Mount" (tap the center twice while pointing at the horse)
On Xbox consoles, press the LT button
On PlayStation consoles, press L2
On Wii U and Nintendo Switch press ZL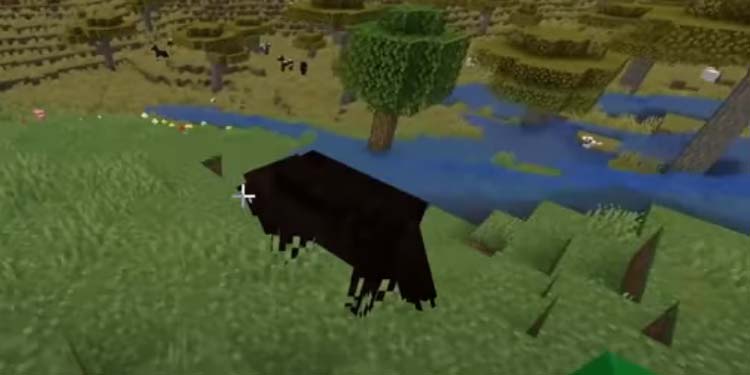 In theory, you have to ride the horse 20 times until you tame it, meaning it will kick you off 20 times. That's the maximum number of times you would need, though, as the horse may spawn with a different temper number. In other words, that would be a horse with a value of 0 on its temper meter.
When you tame the horse, you will see red hearts appearing around the mob. Additionally, it will no longer try to dismount you.
However, there're certain things you can do to make the job easier. For starters, you can equip a Golden Apple, and then right-click the horse as you're holding the Golden Apple. This will allow you to feed the animal to speed up the taming process.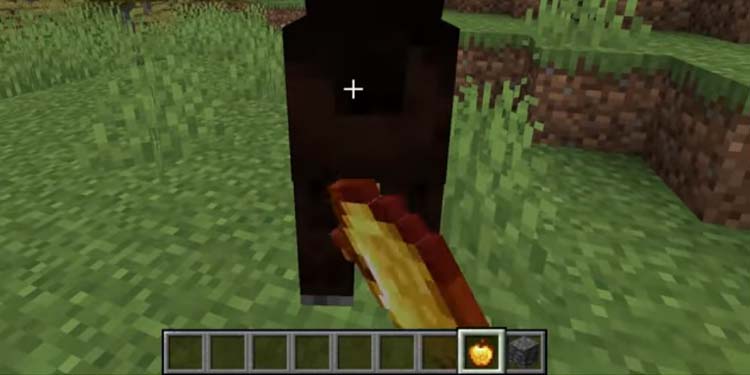 Golden Apples spawn in chests from Dungeons, Desert Temples, Strongholds, Mineshafts, and other key locations. The recipe for a Golden Apple is a regular Apple and 9 Gold Ingots in the Crafting Table.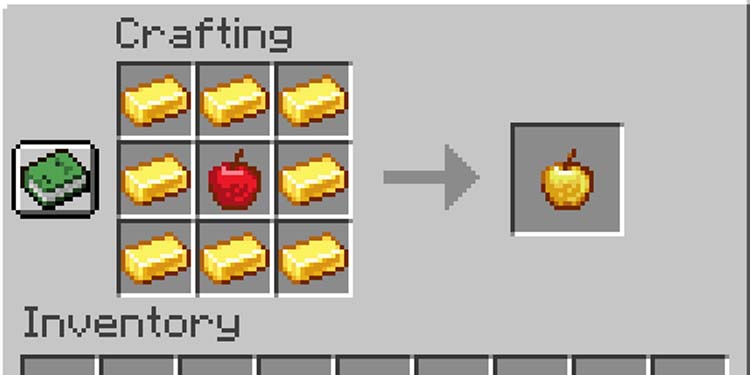 Anyhow, each Apple adds 10 points to its temper, so the maximum number of apples you would need is ten.
You would know the horse is up for the taking when you stop hearing the eating sound.
How to Equip a Horse?
After you tame the horse, it becomes pretty easy to equip it with armor and a saddle. Simply open your menu, and instead of seeing your character, the horse's inventory will appear.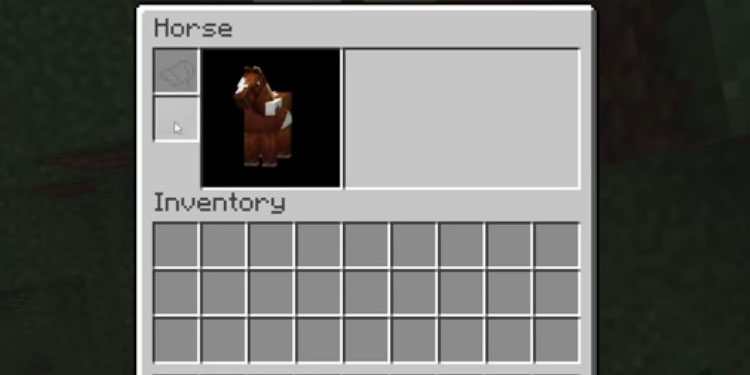 You can simply put the saddle on the upper spot, and the horse armor on the lower spot. Both items would need to be on your inventory, though.
In that regard, there're four types of horse armor: leather, gold, diamond, and iron. You can also use dye to paint the armor in any color you want, like pink.
How to Ride a Horse?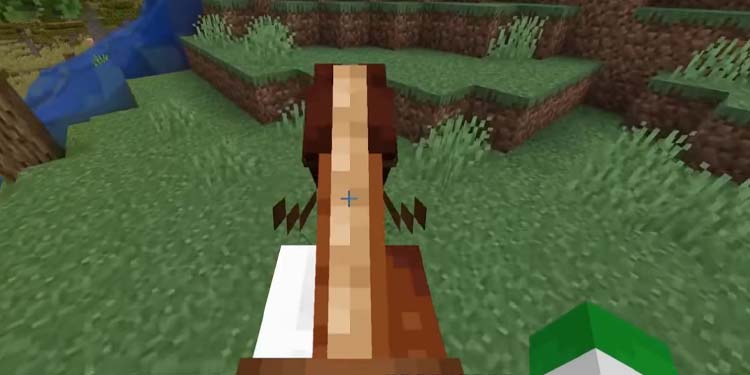 Once a horse is tamed and saddled, the player can control it with standard directional controls, jump, and the mouse. The player dismounts using the dismount control.
After you tame the horse and put on a saddle, you can mount it (with the buttons we explain) and use your standard directional controls to ride it. Pressing the same button you use to mount will dismount the horse.
Also, you can use any items and even dig while riding a horse. That includes tools, drinking potions, activating doors, building, opening chests, and even using crafting blocks like the Furnace.
In other words, you can play the entire game while riding a horse if you find it convenient enough. The one exception is entering Nether portals – horses can't travel to the Nether realm.
Lastly, horses jump one-block slopes automatically. You can also command the horse to jump by pressing the standard jump button. That said, horses can take fall damage.
How to Feed a Horse?
Horses have preferences regarding food, other than the Golden Apple to tame it. However, they like the most amount of food in the game compared to other mods.
Particularly, they like Golden Apples, Golden Carrots, sugar, wheat, apples, hey bale, and Enchanted Golden Apples. To feed the horse, just put the item on your action bar, and right-click on the horse as you're holding the food chunk.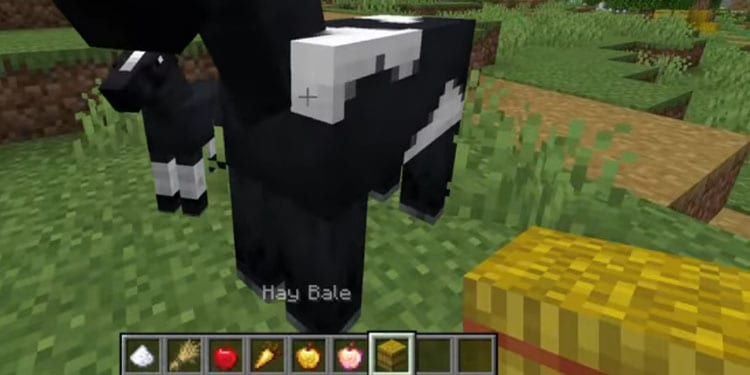 Feeding horses any of these items will heal them very fast. For example, the hey bale heals 10 hearts immediately, which allows you to travel in lava or go to difficult battles without worrying too much.
Do Horses Have Stats?
Horses behave similarly, but they have hidden stats. While you can't see their stats in numbers, you may notice it when you're riding the horse.
Minecraft horses have a seed running speed, jumping height, and health. These three stats can vary a lot. For example, some horses may be slower or jump lower than the player character.
Other horses can jump five and a half blocks, or run at fourteen blocks per second. These are the highest stats in terms of their athleticism.
How to Breed Horses in Minecraft?
Finally, you can also breed two horses to get a baby horse. You would need to find two horses in the wild and feed them with Enchanted Golden Apples while they are close by.
You could also build a pin and take two horses to the pin with a lead. The process would be the same either way.
After feeding the two horses various times, they will produce a baby horse with similar stats as the parents. So, if these horses are fast or slow, the baby will also grow up to be fast or slow.
In specific, each parent has a 44% chance to pass down their colors. As for the speed, jumping height, and speed, the game averages the stats of the two horses, adds a random variable and produces the stats for the youngling.
So, if you've found horses with good stats, try breeding them, as you have a chance of producing an even better horse. You can repeat the breeding process as many times as you'd like with the best horses you find and breed in the Overworld.
Then, baby horses become adults in about 3 minutes, but you can speed up the process by feeding them Golden Apples, or any of the food sources horses like. Particularly, it needs five Golden Apples to grow immediately.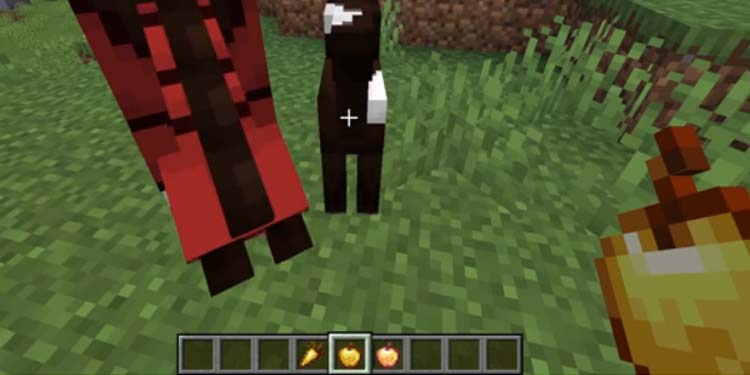 Finally, when the baby horse becomes an adult, you don't need to tame it. It's already tamed.