Mario Kart is a Nintendo exclusive unique kart racing game. The first ever Mario Kart was released in 1992. To this date, the title still remains one of the most beloved and popular kart racing game where you can play with a vast range of characters featured in different Mario franchises. You can also use different abilities to come out on top and win the race.
One of the most popular characters in Mario Kart is Mario himself. Other than that, there is a lot of content, including characters, new courses, karts, etc., available in the game for you to unlock. One of such exclusive and prestige content to unlock is Gold Mario.  
What is Gold Mario Skin?
The Gold Mario skin is one of the rarest and toughest to unlock skins in Mario Kart. In order to unlock the skin, you must meet few criteria and attain certain requirements instead of just collecting coins.
Technically, the Gold Mario is not a new skin as it offers no new abilities. Rather, it is just a reskin of the already existing Metal Mario.
As both the skins have the same stats and perks, Gold Mario does not offer any advantage over its counterpart. However, you can show off your Gold skin to other players as it is very hard for everyone to get their hands on it.
How To Unlock Gold Mario?
First thing you need to do is, you have to compete and finish first and secure gold trophies on all the Grand Prix Cups on 200cc. Although, finishing first in each race can be very tough and challenging. Using items/abilities such as mushroom and Super Horn can help you achieve that feat.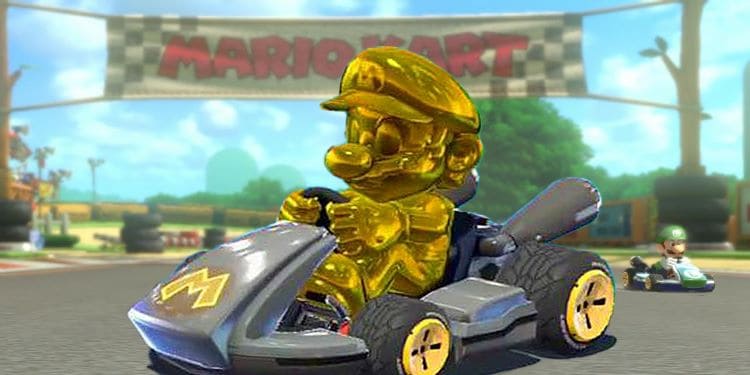 However, the blue shell ability is a major obstacle that can keep you from securing the first position. It is one of the strongest abilities that can prevent you from finishing the race. But using mushroom and super horn correctly can be a game changer for you.
Mushrooms are an item that is easy to use and also has great value if used correctly. It gives you a speed boost and can also be utilized to dodge incoming blue shells.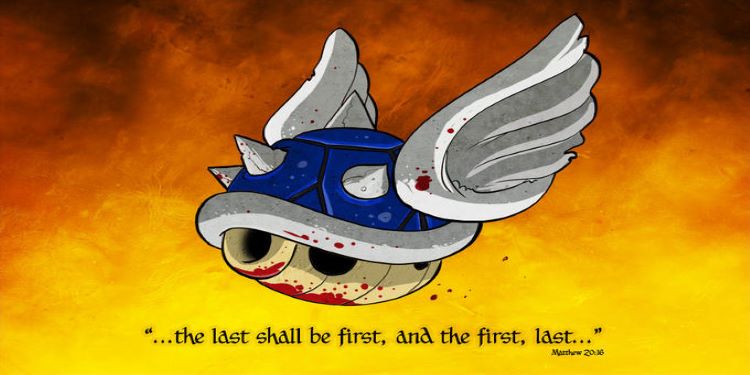 Note that the timing of using the boost is critical to dodge blue shells successfully. Using mushrooms can give you the upper hand and advantage in securing the first position on 200cc Races. 
Similarly, a superhorn is one of the abilities you can use to avoid getting hit by blue shell. The timing should be impeccable as you need to use it just before it comes in contact in front of you.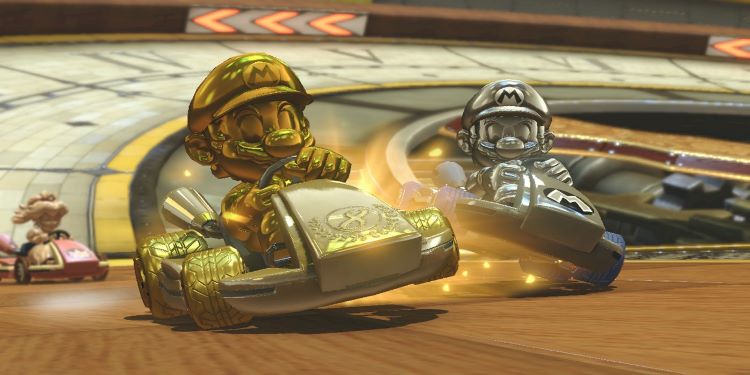 Similarly, you can also get other Gold Skins such as Gold Kart, Gold Wheels, and Gold Glider which complements your Gold Mario.
How to Unlock Gold Kart
You must achieve certain requirements to unlock the Gold Kart. Complete and secure at least a gold star in all Grand Prix Cups on 150cc, including Mirror. Both 50cc and 100cc are included and marked completed if you complete all Grand Prix Cups on 150cc.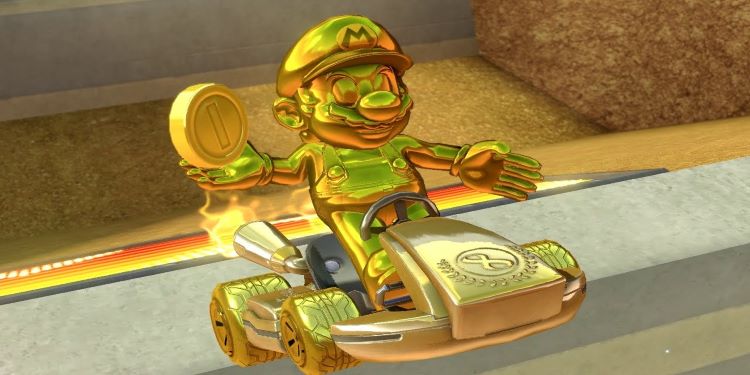 How to Unlock Gold Wheels
Head to Time Trials mode to unlock the gold wheel. Here you will have to compete with staff ghosts and defeat them in all the tracks available to unlock the Gold Wheels for your Kart. The grind might take longer than to unlock Gold Mario or Gold Kart.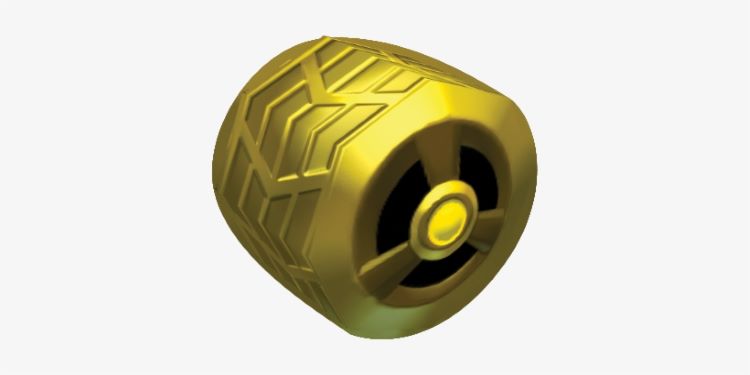 How to Unlock Gold Glider
You need to collect 5000 coins to unlock the Gold Glider in the game. However, to collect a total of 5000 coins, you will have to spend a lot of time grinding the game.