Blasphemous claw is an useful item that helps players parry Maliketh, the Black Blade. Just Like Margit's Shackle, Blasphemous Claw is used only during Boss fight against Maliketh.
Using Blasphemous Claw effectively is a tough task when Maliketh is jumping frantically trying to kill you. Well, there is a small window of opportunity to use this item.
With correct timing, you can parry him and blind him for a fraction of a second. We will be teaching you how to do exactly that with the help of a Blasphemous claw.
How to Get the Blasphemous Claw?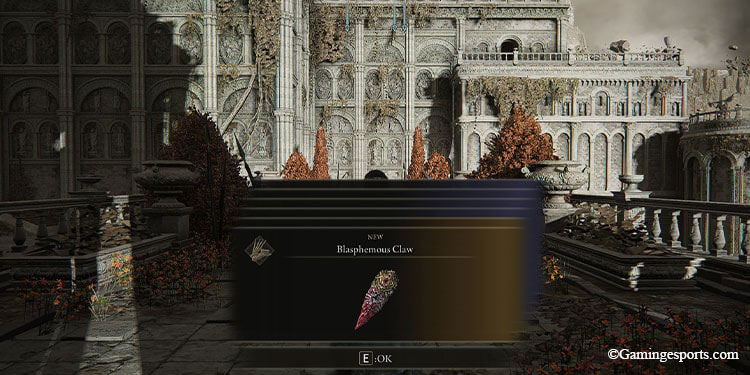 You will obtain Blasphemous Claw after defeating the invader Recusant Bernahl at Crumbling Farum Azula. You need to complete the whole Volcano manor questline and defeat Rykard, Lord of Blasphemy to make him appear in Crumbling Farum Azula then, 
Get beside the Great Bridge Site of Grace, climb up from the broken stairs, and head North.
Drop down from the right side of the balcony to the bridge structure where you will be invaded by Recusant Bernahl.
Kill him and he will drop the Blasphemous Claw along with his armor suit.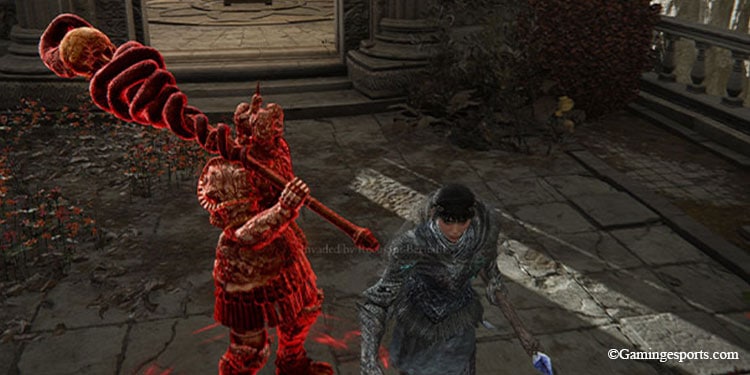 How to Use the Blasphemous Claw on Maliketh?
You will find Maliketh, the Black blade at the Colosseum of Crumbling Farum Azula guarded by Draconic Tree Sentinel. Just like all other legend bosses in Elden Ring, Maliketh has two forms.
The Blasphemous claw is useless when fighting the Beast Clergyman which is the first half of the battle. Decrease his health down to half and a cut scene will play revealing his true form as Maliketh, the Black Blade.
Below are the ways to properly use the Blasphemous Claw on Maliketh the Black blade.
Using Blasphemous explode to release a red orb of aura. 
It is a reusable item and does not consume any FP or stamina. 
Blasphemous only works when Maliketh's sword turns from red to golden for a short period of time. Pay extra attention and get ready to pull out the Blasphemous Claw to parry when he approaches near. 
Place the Blasphemous Claw on equip inventory item along so you can quickly use it whenever Maliketh tries to attack with a golden glowing sword.
Parrying his attack with Blasphemous Claw also takes a fraction of his health and blinds him for a second. 
There is a high chance of his sword turning golden after three combos of long-range vertical slashes. If you recognize this pattern then you can easily parry his attack and blind him for a second. 
He also has a dive attack with a golden sword that can be parried. Be ready to use the Blasphemous Claw as soon as he climbs one of the pillars and his sword starts glowing gold. 
You can chip away his health after performing a series of parries from Blasphemous Claw but that requires a high amount of skill.