Incantation means magic in Elden Ring. Astrologers with Glinstone Spells, Confessor and Prophet cast spells and incantations from the get-go if they choose. Incantations helps to heal, deal damage and to enchant people or the weapons.
Players should not miss out on this special ability by any means. So, if you are still wondering what incantation is and how we can use it, you are at the right place.
What are Incantations in the Elden Ring?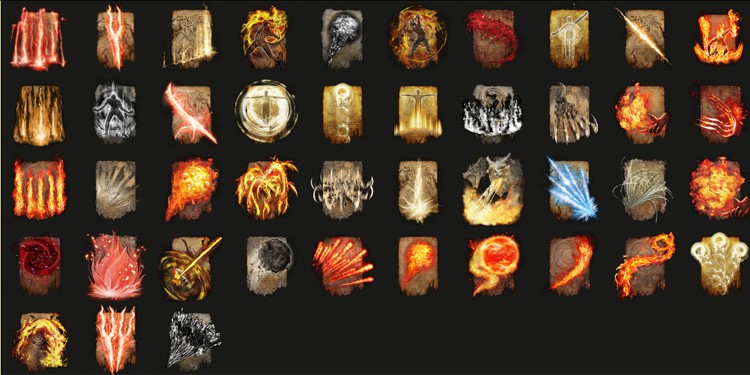 Incantations are magic spells. Unlike Glintstone spells that shoot lasers and boulders toward enemies, Incantations use elemental damage such as fire, frost, poison, rot, and many more. Incantation also helps cure status effects inflicted upon players.
There is a specific incantation for every status effect, and it works just like consumable. With lots of details and items on the inventory, it's a daunting task to equip and utilize the right incantation. You also need staff to cast a spell.
Newcomers have a lot of things to take into consideration when it comes to playing magic builds, but it also helps in the long run, so learning to cast spells and use each one effectively can be a game-changer. By leveling up your Faith and Mind, you are able to use powerful incantations.
How to Use Incantations Elden Ring?
If you have chosen a magic build class such as Astrologers, Confessor, or Prophet, then you already have all the items required. But, there are things you should acquire and a certain level you need to reach to use incantation:
Memorize Spell from Site of Grace
You will have a limited number of memory slots but you can expand your memory slot by acquiring Memory stones. You can raise one additional slot by purchasing a Memory stone from Twin Maden Husk at the Roundtable hold. You can also purchase spells from Brother Corhyn. 
Once you have purchased incantations, go to the site of grace and select the Memorize Spell from the list of menus.
You are now presented with two empty slots(three if you have purchased a memory stone) on the upper screen and a bunch of spells you have purchased or acquired in your journey.

Select the empty slot and place any spells you desire.
Now go back to gameplay; you will see selected spells on your quick equip inventory. Now you need a Finger seal to activate these spells.
Purchase and Equip the Finger Seal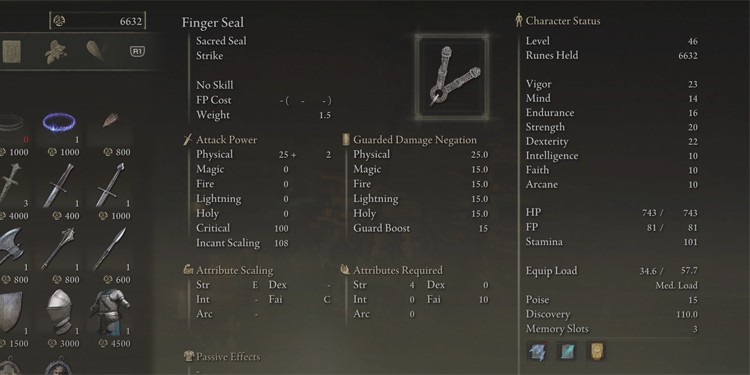 The Finger seal is required to activate the spells on your inventory. Choosing Prophet or the Confessor as a starting class will provide you with the Finger seal from the beginning.
If you have chosen other classes besides those two, you will need eight hundred runes to purchase this item from Twin Maiden Husk at the Roundtable hold. Finger seal is a faith build weapon that requires level ten in Faith and four in strength. 
Equip Finger Seal and Cast Magic
I believe you have already equipped incantation spells from the guidelines above. Now, to use the spell, you just have to equip the Finger seal. Below are the steps to equip and use the magic spell.
Press the menu button and go to equipment to equip the Finger seal. 
Select one of the empty slots from the right-hand or left-hand armaments and select the Finger seal from the list of weapons. 
Now go back to gameplay and press the right D-pad button if you have equipped in your right hand(upper slot) or press the left D-pad button if you have equipped in the left hand(lower slot). 
You can now use this item like any normal weapon. This item will cast a spell currently shown in the quick equip inventory. You can toggle through different incantations by pressing the D-pad button.
Long press the quick attack button to charge your attack spells that cause increased damage.
Quick Tip
Now that you know how to cast weapons. I would suggest you increase your Mind level; that works just like mana for magic and Faith for activating more powerful incantations.
Throughout your journey, you will acquire dragon hearts after defeating dragons. These dragon hearts can be traded for Dragon-based incantations such as dragon claw, Dragonfire, and many more. Just make sure to level up your Arcane and Faith to use these powerful dragon incantations.