Elden Ring can be overwhelming from the start. From picking the best characters to leveling up their stats, the game has many items, weapons, magic spells, and element damage. As it is very hard to master every aspect of the game, so a specific build is optimal for starting players in a world full of difficult bosses.
You have to choose a class from the available ten in the beginning of your journey. Along with keepsake, you are given different weapons and casting spells in relation to the build you are going with.
If this is your first time playing a souls-like game, then I will guide you through the character status and items you get at the beginning of the Create Character menu too.
Best Class on Elden Ring
Making a mindset for creating a specific build elevates players in the mid-section of the game, where you have access to various weapons and spells. Having eight different stats and leveling them one at a time can be a daunting task, so choosing the right build at the beginning is very important.
This article will help you choose the right ones to prepare for the unforgiving world of lands Between.
Vagabond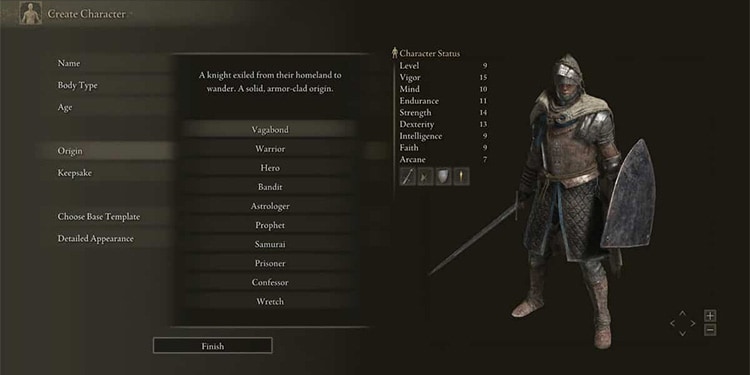 With Vigor (15) at the highest, followed by Strength(14) and Dexterity(13), Vagabond is suited right for overall melee combat. This is a very useful stat at the start for aggressive players, although you will need to unequip one weapon or gear because Vegabond comes with heavy armor and weapons can result in fat rolling at the very beginning.
The class has not only a great physical build but is also equipped with a longsword effective against fast enemies, Halberd for extra reach, and Heater Shield with a hundred percent defense against physical attacks. Vegabond class also provides players with defensive but heavy armor. Vegabond has the Knight armor set that includes Vegabond Knight Helm, Armor torso, Gauntlets, and Greaves.
If you don't know anything about magic and just want to fight enemies with weapon-based combat, then the Vegabond class won't disappoint you. Just don't try to change into the magic build in the later half because of low stat in Faith, Intelligence, and Arcane, or else you have to grind a lot to level up for the magic build.
Hero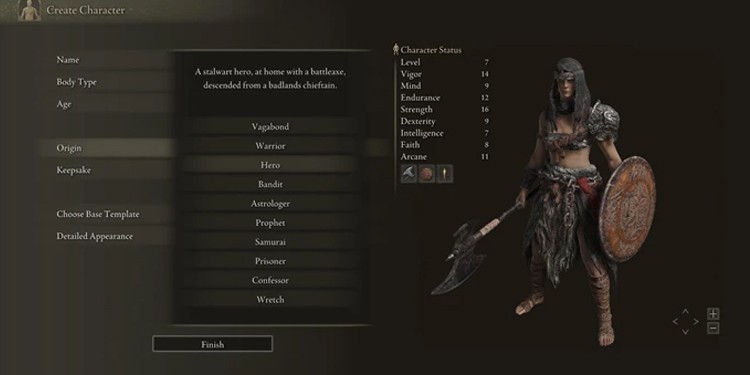 The Hero class is great for strength builds with 16 on the Strength account, 14 on Vigor, and 12 on Endurance. With endurance, you can equip heavy armor and have greater stamina to attack longer in a fight. The Hero class starts with level 7.
With the hero class, you are given one Battle Axe that does a serious amount of physical damage and is also a great close-range weapon for the long run. Like any other weapon, you can upgrade to deal even more damage with smithing stones and some runes. Upgrading your Battle axe early game will greatly help you defeat heavy enemies too.
You will also be given a Large Leather Shield to block any parry attacks, but I would consider switching to Brass Shield, which you will eventually get after defeating several Godrick Soldiers. For now, Large Leather Shield is a decent choice.
You will have four armor types that suit the Hero Class's barbaric attire. This champion set is lightweight armor for greater mobility, so you can dodge efficiently. If you want to shred enemies with a couple of hits, this build is for you. You can also use two-hand weapons that require more strength for greater damage.
Bandit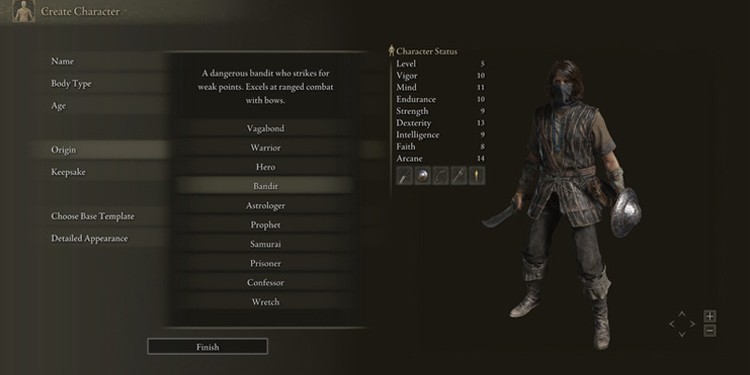 Bandits have the highest amount of Arcane(14), with a high chance of item discovery and enemy item drops. Followed by Dexterity(13) and Endurance(10), Bandit is surely built for quick action.
You can also effectively dwell in range combat as you are given Shortbow with thirty Bone Arrows. Along with a bow and arrows, Bandit has a Great Knife and a Buckler, which is great for parrying enemy attacks.
This class has its own Bandit set of armors for easy maneuver. The armor set consists of Bandit Mask, Grab, Manchettes, and Boots. Although this armor is less effective against physical attacks, they are more stealth built and take down enemies with backstabbing moves.
Bandit is built for players who like to explore different sides of the dangerous world as cautiously as possible. With high Arcane, Bandit players can find various items useful for crafting essential items that can be very effective in battle.
Astrologer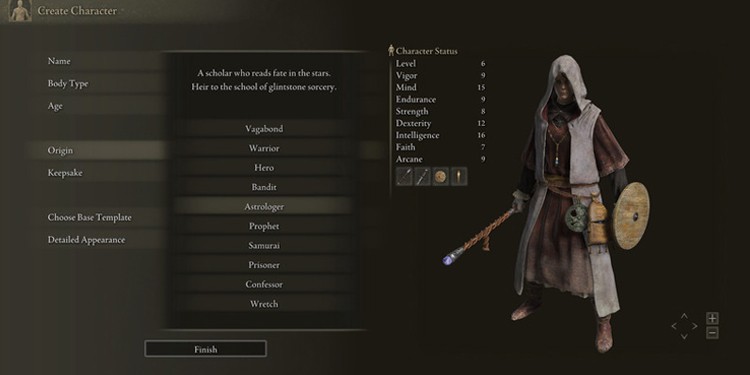 The Astrologer Class is not meant for physical combat. That is why it trades its low Vigor and Strength with high Intelligence(16) and Mind (15). Having high Intelligence and Mind can help you greatly as you discover new spells that can cast power sorcery spells.
Having Astrologer as a starting class can also help you progress easily in the open world as you can cast spells from a distance and eliminate enemies, though it might be less effective in a small arena. However, you can wield a Short Sword and Scripture Wooden Shield at the beginning.
By choosing Astrologer, you get Glintstone Pebble Glintstone Arc spells, Short Sword, Scripture Wooden Shield, and Astrologer's Staff. Astrologer class starts at level 6, so the player also has ample choices to increase in other status levels if required.
Astrologer class is given an Armor Set of Astrologers that is lightweight and also negates other magic attacks. The armor has increased in focus and also vitality while using boost upon oneself. The types of an astrologer armor set are Astrologer Hood, Robe, Gloves, and Trousers.
This class is really effective for players who like to cast spells safely from distance on horseback. There are lots of spells Astrologers can purchase or find to deal with deadly foes that can cause debuffs, such as poison, rot, frost, and many more.
Warrior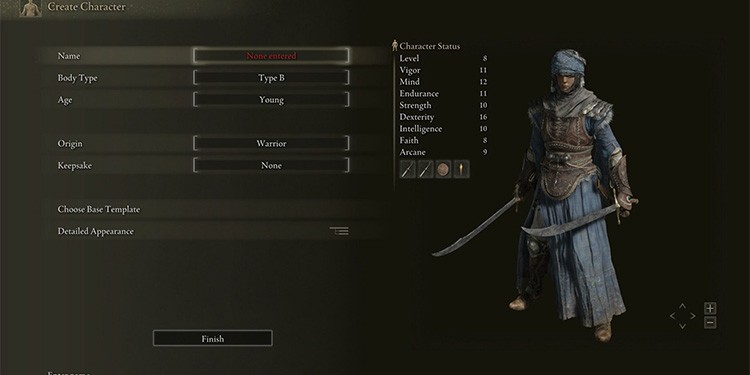 Not only do you have higher Dexterity(16) but also two Scimitar for dual-wielding purposes. With the second-highest stats in Mind (12), you can perform ashes of war a number of times or use Summon to aid you in battle. Along with two Scimitar, you have Riveted Wooden Shield that has a decent defense and is lightweight. The design forged with metal on a wooden carving represents both tree and a sword.
The warrior class wears Blue Cloth Cowl, Blue Cloth Vest, Warrior Gauntlets, and Warrior Greaves. While half of the nomadic warrior armor set is replaced with a warrior armor piece, you can always buy the other half of the nomadic warrior armor set from Isolated Merchant at(Raya Lucaria)
If you are a swift player who likes to perfect the art of dodging and backstabbing, then this build will keep you rolling.
Prisoner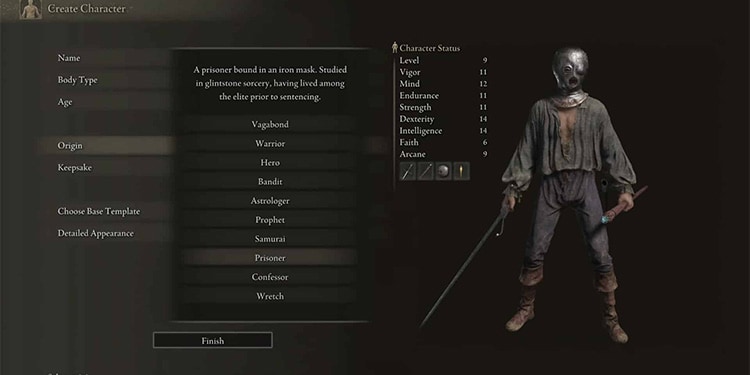 The prisoner is great for both magic and dexterity build as both have fourteen amounts of status, followed by Mind, which is twelve. Players begin with prisoners at level nine.
The prisoner is equipped with Magic Glintblade that has the ability to seek and attack nearby enemies, Estoc Thrusting Sword, Flintstone Staff to cast spells, and Rift Shield.
While Prisoner clothing and Trousers are not that great and also filthy, Prisoner Iron masks can be considered as a main source of attraction as well as defense. Prisoner Iron Mask weighs 8.6lbs with high robustness and damage negation.
If you want to cast soccer but also get your hands on swift weapons, then Prisoner class allows you to do both.
Confessor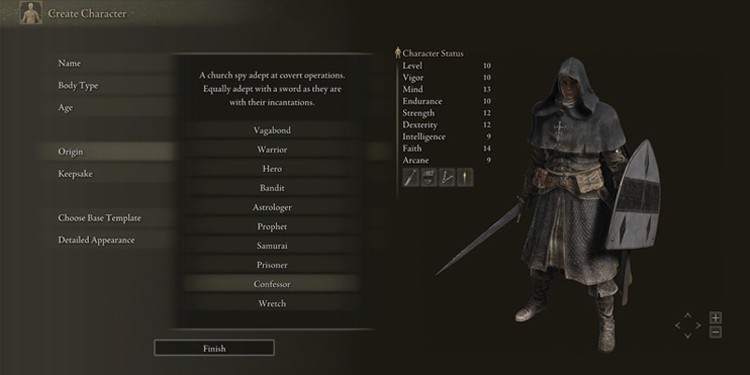 A faith-built character that is also focused on physical combat. While prisoners lean more towards sorcery and Prophet on the magic build, the Confessor class has balanced stats with fourteen Faith and twelve Dexterity and strength. Players can level up Confessor towards all three aspects or can focus on only one stat.
The Confessor is equipped with Urgent Heal, Assassin's Approach for increased stealth, Broadsword, Finger Seal to cast spells, and Blue Crest Heater Shield with max physical guard. Confessor also has its own complete set of armor suited to its build. The Confessor armor set consists of a Hood, Armor torso, Gloves, and Boots.
I would consider Confessor as a good choice because you will want to get your hands on amazing spells and incantations that require a lot of Faith. And having an equal amount of physical stats built, you can go either way.
Prophet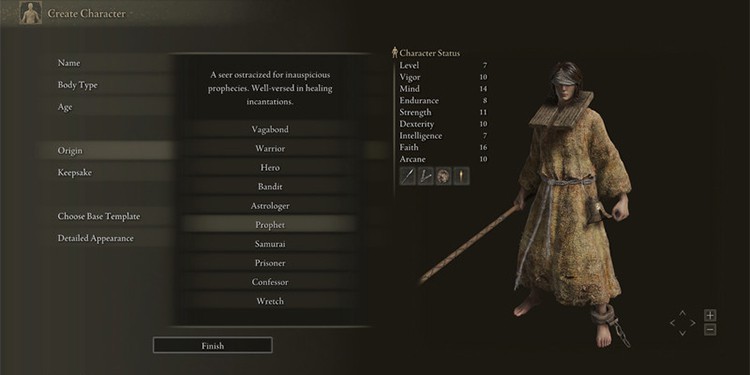 The Prophet is great for Faith build as it has sixteen in Faith and fourteen in Mind for casting greater spells you will find later in the game. While the Prophet has a sufficient level of Mind allowing more casting of spells, it lacks Endurance and Vigor. However, you can combine melee with spells to break enemies' poise.
Prophet class is equipped with Heal and catch Flame incantation, Short Spear, Finger Seal to cast spells, and good for nothing Rickety Shield. Your best option is to dodge enemies' attacks rather than block unless you acquire another great shield besides Rickety.
I believe Elden Ring is best suited for Prophet players with high Faith because you have an open world to cast powerful weapons from a distance. The software has also nerfed so many overpowered spells, and still, there are so many incantations spells that, if executed correctly, can make the player an overpowered beast.
Samurai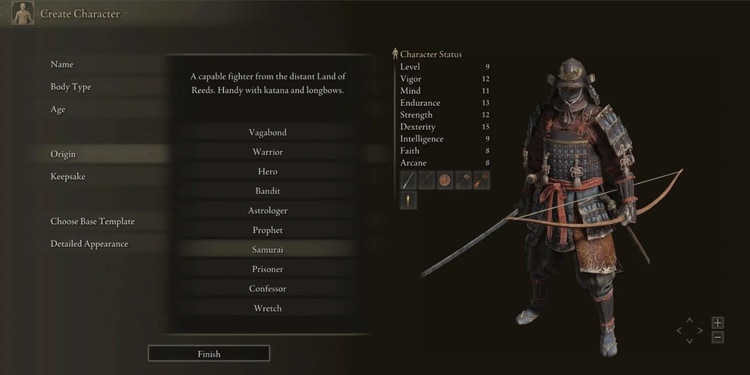 If you want to start the game with defensive armor and a quick sword with bleed damage, then the Samurai class has all the necessary requirements for starting players. The Samurai class has the highest in Dexterity(15) followed by Endurance(13) and Vigor(12).
Samurai class is equipped with Uchigatana sword, Longbow for long-range targets, Arrow, Fire Arrow, and Red Thron Roundshield. Although Red Thorn Roundshield is not good against physical damage, it has decent protection against fire damage. Or you can explore Deathtouched Catacombs where you can find the second Uchigatana and wield both while dealing double damage.
The samurai Armor comes from the Land of Reeds and is also called the Land of Reeds Set. The complete armor set is a robust protective shield in itself. Samurai class is for those players who like to play cautiously, dealing maximum damage with each hit.
I did not include Wretch because they start out on level one with the base level of ten of every stat equipped with nothing but a Club as a weapon. But if you are a hardcore player who wants to build their own type of character, then you are all welcome to do so.
Considering how hard Elden ring is, choosing Wretch can make the player rage quit. Games are meant to be challenging, not frustrating, and Elden ring has a fine line between them, So choosing the best class can be a life and timesaver for casual players.