If you play Minecraft, there will be countless times when you need to zoom in on your screen. Maybe you want to get a clear vision of objects around you; Maybe you want to take a good screenshot for your project, or maybe you want to see what lies in the distance without risking your life.
Well, whatever the reason may be, there are plenty of ways you can zoom in on Minecraft. In this guide, we'll discuss about zooming in on Minecraft. So keep reading to know more about it. 
How to Zoom in Minecraft
There are various ways to zoom in on Minecraft, and all of them offer a completely different experience. Some methods require changing your field of view, while some require you to install modification software. Here are all the ways you can zoom in on Minecraft.
By Using Opti Fine Mod
OptiFine is a Minecraft modification software that offers tons of features for the game. Apart from making the game look better and run faster, it also provides users with different exclusive features (i.e., zooming in on objects). OptiFine is also a globally trusted mod, with thousands of players using it daily.
To use OptiFine Mod on your Minecraft:
Open your Web Browser and type 'optifine' in the URL bar, then press Enter.
Go to the first link you see in the search results and download the latest version of the software.
Once the download is complete, open the installer and install the program.
Now, open the Minecraft Launcher and select OptiFine as the launching option, then click on PLAY.

Once you're in your world, you just need to press and hold 'C' on your keyboard when you need to zoom in. To zoom out, simply release the key.
By Decreasing Your FOV in Minecraft
FOV stands for Field of View and is responsible for determining how much content is displayed on the screen. You can tweak the FOV in the setting to increase or decrease the amount of content you see on your screen. When you decrease the FOV, all objects around you appear to zoom in.
To access your FOV settings and change them:
Open your Minecraft Launcher and launch the game in the latest version.
Choose your world and enter it. After you've entered your world, press the 'ESC' button on your keyboard to open in-game options.

Click on Options. 

Here, you can change all your settings and controls. Now, click on FOV and slide it left to decrease it. You can see it slowly zooming in on the background. Once you've reached the satisfying FOV, stop and press 'ESC' to return to your game.

The only drawback of decreasing your FOV is that it will stay this way until you change it again. To change it back, follow the above process but instead of sliding left, slide the cursor to the right this time.
By Using a Spyglass
As of version 1.17, players are able to craft a special item that allows them to see distant objects called Spyglass. When looking through the Spyglass, it feels like you're zooming in on the screen. Here's how you can craft and use Spyglass in Minecraft.
Crafting a Spyglass
To craft a Spyglass in Minecraft, you'll need an Amethyst Shard and two Copper Ingots. Amethyst Shards can be obtained by breaking Amethyst Clusters. And Copper Ingots can be obtained by either smelting Copper ores or crafting blocks of Copper.
Once you've accumulated all the necessary materials, put them on the Crafting Table, as shown in the picture below. The resulting outcome will be a Spyglass.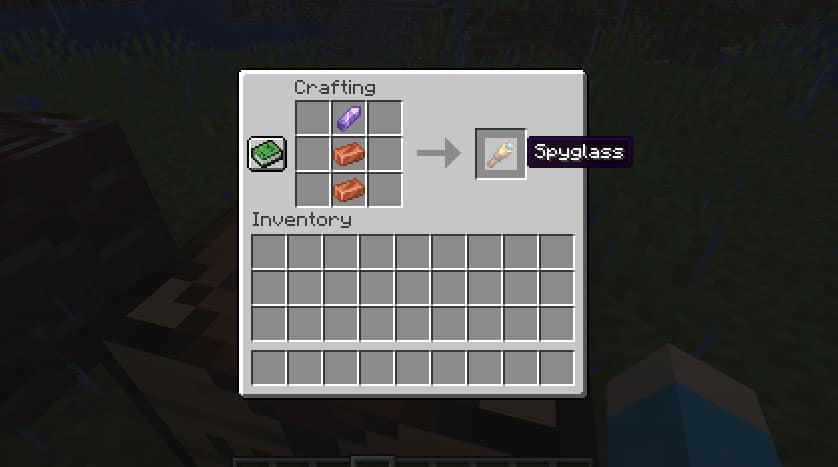 Now that you've successfully crafted a Spyglass, it's time to use it and test how it works. Simply put the crafted Spyglass in your inventory and press the corresponding hotkey to equip it.
Now, right-click on the screen to look through it. It will instantly zoom in on the location you're pointing. To zoom out, release the right-click and to look around, move your cursor.