Is this cute little cat simulator game on Steam? Of course, Stray is on Steam, but when is the right time to buy this game? Right now! Because the Steam Autumn Sale just got over at November 29, 2022. If you missed out on that Autumn Sale, You can still buy Stray in Steam Winter Sale between December 22, 2022, to January 5, 2023. You can find more about the game on the rest of my article below. 
Is Stray Available on Steam?
Stray was released on July 19, 2022, and from that day till now, Stray has always been on Steam and PlayStation. Unfortunately, Stray has not been released on Xbox and Nintendo gaming consoles. You can only play this game on PlayStation 4, and PS5 and download through Steam on PC. 
How Much Does Stray Cost?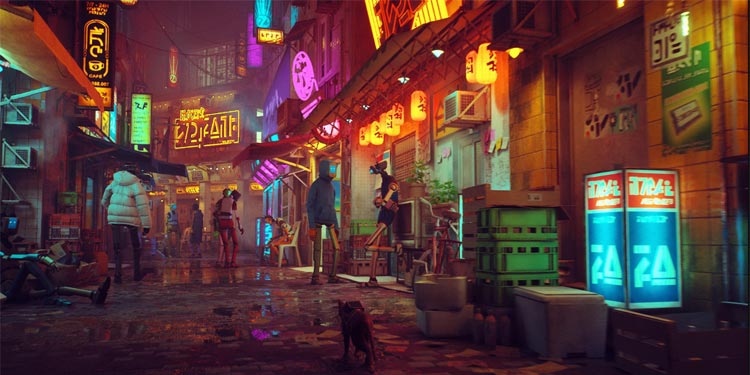 There are several ways you can buy Stray from Steam. Originally, the game costed USD 11.99, but you could buy it for USD 9.59 until November 29. You can also buy the Stray Soundtrack Edition bundle for a 23% discount of USD 13.81. Along with the game, you will get seventy original soundtrack files composed by Van Der Cruyssen. 
Why buy a bundle pack just for music, you say? Well, there is a chilled robot named Morusque who plays some amazing music. You might want to listen to his music while doing chores or during late-night coffee. By buying bundle packs, you also support the music community and encourage them to create more artists.
Stray Gameplay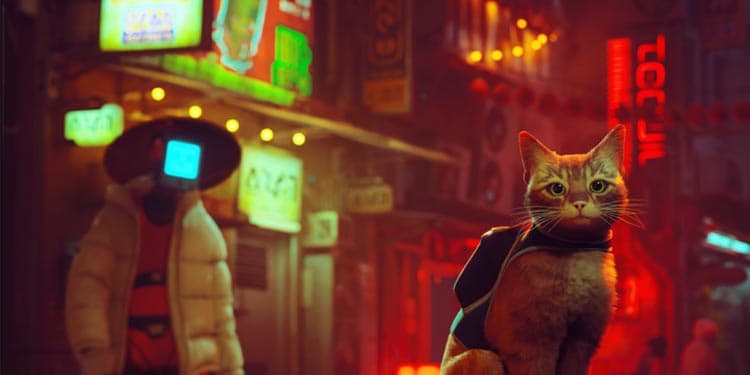 Stray is a beautiful and cozy game where you play as an adorable cat and get lost in the low-key cyberpunk ambiance of a walled city for hours. It starts in a lush green and damped sewers, but the game soon turns into an artificial place populated with quirky human robots living in a pleasant town.
A friendly flying robot named B12 accompanies you and becomes your narrator in this story-driven semi-open world. As you venture deep into the game, you unravel many hidden secrets and truths about mutant bacteria called Zurks. It's a cozy and heartwarming game about human extension and rebelling against oppressive sentient cooperation.  
Final Thoughts
I was left wanting more when the game ended. The premise is simple and the presentation is heartwarming. I loved every bit of stray, from glowing night city to horrifying Zurk-filled swears. It took me ten hours to complete the game, and I had a blast playing as a cat.