You may want to become the Lord of the Tides, the Underwater King, or Poseidon himself. But aside from roleplaying reasons, the Trident is one of the most unique weapons in Minecraft.
Aside from their hefty damage, the reason why Tridents are so special is because of their signature enchantments. One of those is "Riptide," which can hurl your character in the direction you throw the trident. It only works if you're wet, though.
It's as exciting as it sounds, and you're probably here because you have seen it online. How can you get your hands on it, though?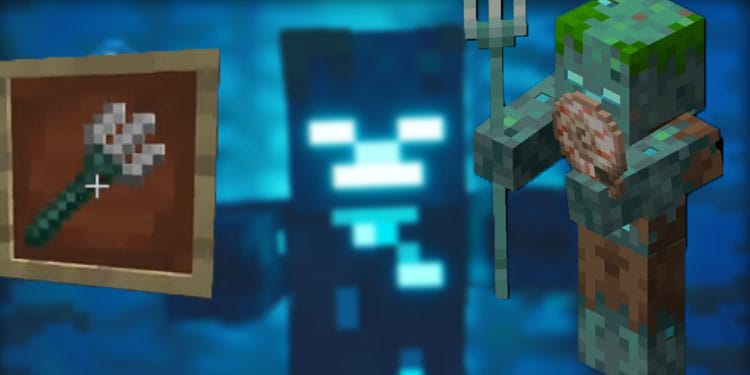 As with any regular sword enchantment, you can get Riptide in three ways. You can use the Enchanting Table, you can use the Anvil, or you can type a console command to enchant the trident you're wearing.
Alternatively, you may trade it from librarian villagers, which takes a bit of luck. Similarly, you can loot it from chests (particularly Treasure Chests from Shipwrecks), or fish it.
The first thing that you need is a Trident, though.
How to Get a Trident?
You can't craft tridents, you can only loot them. These are rare loot from "drowned" mobs. Luckily, drowned are common mobs. You may find them underwater in ocean biomes, dripstone caves, and rivers. Drowned zombies also became "drowned."
We recommend you farm these areas until you find the coveted weapon. It features unique enchants, and higher damage than the Netherite Sword.
In particular, the trident does 9 points of damage and 13.5 points of critical damage. The Netherite sword deals 8 points of damage, but it's faster, so its DPS is higher.
However, the trident has 250 points of durability, which equals the iron sword. If you find it, we recommend using the "Mending" enchantment on the weapon, because it's quite rare.
Mending allows you to restore the durability of weapons and gear with experience orbs, but it doesn't work properly if you're wearing more than one Mending item simultaneously.
Use the Enchantment Table to get Riptide
The Enchanting Table allows you to place enchants on weapons, tools, and armor. If you don't have one, here's what you need to build it and place enchants.
2 diamonds: You can mine these in the Overworld's underground, underwater areas in caves, and cave areas. The lower you go (around Y:-60), the higher your chances you have of finding diamonds. Remember that you need a stone pickaxe to mine it. Note: If you're unaware, the recipe for a stone pickaxe is 3 cobblestones (or 3 black stones) and 2 sticks.
3 Obsidian blocks: These spawn in all dimensions, in any part where water has flowed to lava sources. There's also a higher chance of finding it in the underworld, also close to bedrock. You need a diamond or netherite pickaxe to mine it, though. Note: If you're unaware, the recipe for a diamond pickaxe is 3 diamonds and 2 sticks.
Lapis Lazuli stones: You can get it from Lapis Lazuli ore in underworld areas, caves, and general deepslate. It spawns around Y:-30.
15 bookshelves: You can loot these on woodland mansions, stronghold libraries, and villages. You can also craft bookshelves. You need 6 planks of any type of wood plus 3 books for each one. So, you'd need 90 planks of wood and 45 books in total.
One extra book.
Then, here's the final recipe: 1 book, 2 diamonds, and 3 obsidian blocks.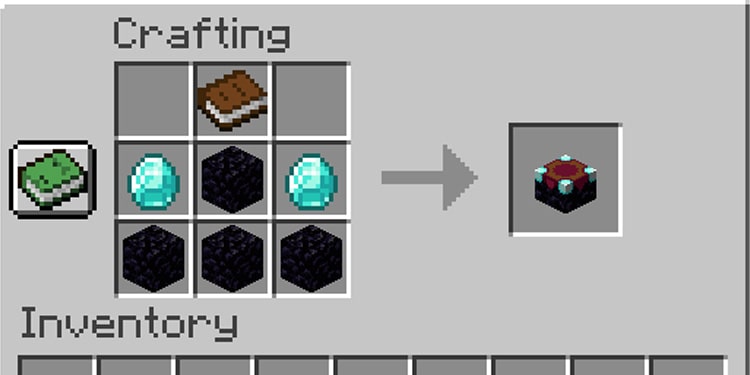 Now, put your Enchanting Table two blocks away from the wall. Then, put the 15 bookshelves around the table, with one block of distance. Each bookshelf raises the table's level by 2 (up to level 30), which allows you to craft higher-tier enchants.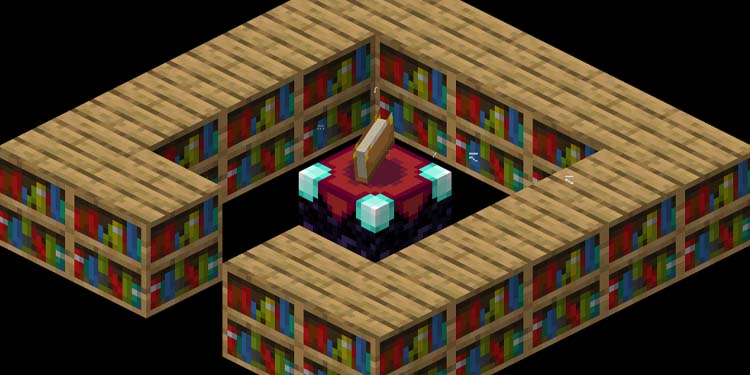 Enchants on the table are random, so you'd have to try various times to get Riptide on your trident. Also, you pay for enchants with Lapis Lazuli and character levels, and you need level 30 to get the highest level enchants.
Put the trident on the left part of the table.
Put Lapis Lazuli on the right spot (up to 3). Each one you put opens one additional random enchant on the right side.
Hover the mouse to the right side and see if Riptide I, II, or III is on the list. If it's on the list, click it to enchant the trident.
If the enchant is not on the table, you can refresh the options by putting one of these enchants on low-tier gear.
Alternatively, you can save an enchant in a book, which saves it for later and resets the buffs on the table.
Craft Riptide on the Anvil
You may find the Riptide enchantment book by trading with librarian villagers, chests, or fishing. You may also craft it with the enchantment table we showed you above.
In any case, you can combine a trident (even an enchanted trident) with the Riptide enchantment book to put the buff on the weapon. It can be either the Riptide I, Riptide 2, or Riptide 3 book.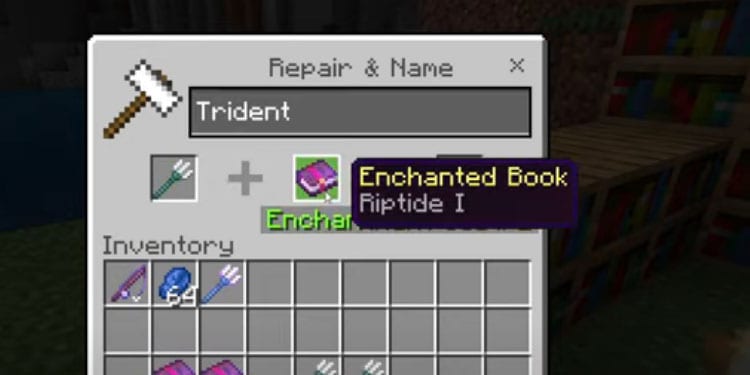 If you need the recipe for an anvil, here it is 4 iron ingots and 4 blocks of iron.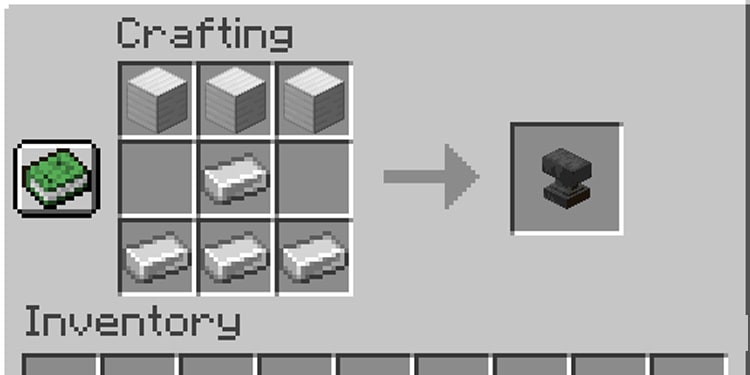 How to Use Commands To Get Riptide?
Lastly, you can use enchant commands to buff the trident on your weapon slot (you have to equip it for it to work).
Using commands on Java is a matter of pressing the "T" button, but you have to enable cheats. On Bedrock, go to Chats & Commands.
Then, type one of these commands:
Riptide I:
/enchant @p riptide 1
Depth Strider II:
/enchant @p riptide 2
Depth Strider III:
/enchant @p riptide 3
If you want to enable cheats on Java, here's what you can do:
Hit ESC and select "Open to Lan"
Turn "Allow Cheats" ON
Click "Start LAN World" to confirm.
How Does Riptide Work?
"Riptide" is an enchantment exclusive to tridents. You can throw a Riptide Trident when you stand in water, or when it's raining. In these circumstances, the throw will launch you along the weapon.
In practice, the trident will propel you forward, or to the air. The ability allows you to cover great distances in a short time. So, to use it, simply "throw" the weapon, but understand that your character won't actually throw it.
You can even chain one jump after the other to effectively "fly." Be careful, though, as it may stop raining as you do it, and fall damage equals half a heart for each block after the third block.
That said, the distance it covers varies:
It covers (6 X enchantment level + 3) blocks when it's raining, or if you throw it on snowy or water sources. It works in certain snow biomes, but not all.
It covers (4 X enchantment level + 3) blocks when underwater.
Riptide has three levels. So, Riptide III could push you as far as 24 blocks. Bear in mind that throwing the trident with the enchantment results in losing one durability point (Java Edition only)
If the throw hits a mob, it will deal throw damage and it may be a critical hit and bypass a shield. It can also hit multiple targets at the same time.
Lastly, Riptide is incompatible with Channeling and Loyalty, which are the other two unique enchantments for tridents. However, Channeling and Loyalty can work together.
| | | | | |
| --- | --- | --- | --- | --- |
| Riptide | Tridents | If you throw the trident on water or rain, the throw carries you as well | III | Channeling, Loyalty |
| Loyalty | Tridents | The trident will return to you after you throw it | III | Riptide |
| Channeling | Trident | Summon lightning bolts with the trident during thunderstorms | I | Riptide |
How to Level Up Riptide?
You can level up Riptide as you level up any other enchantment in Minecraft.
The first method is trying to get the higher level to enchant the table by trying multiple times.
The second method is combining two tridents with the same level enchant on the Anvil. The result will be a trident with a higher-level Riptide enchant. For example, Riptide I + Riptide I tridents on the Anvil create a Riptide 2 Trident. This won't delete your other enchants, and it will also repair the trident.
The third method is combining two Riptide books of the same level, to get a book with the next level of the buff. Then, you can use the anvil to put it on your trident.