Mods are one of those rare options that can take a game you love and enhance it to make it even better. Stardew Valley mods excel at this because the modding community truly cares for the game and has made some incredible additions.
Since the game's creator is a solo developer, mods are a great way to add quality-of-life and requested features that he might not prioritize with the amount of work he already has to do.
Mix and match mods to create the best possible Stardew for you. While not all mods will be compatible with each other, many are. Most people who play modded games have more than one mod active.
Farming Mods
Winter Farming Mods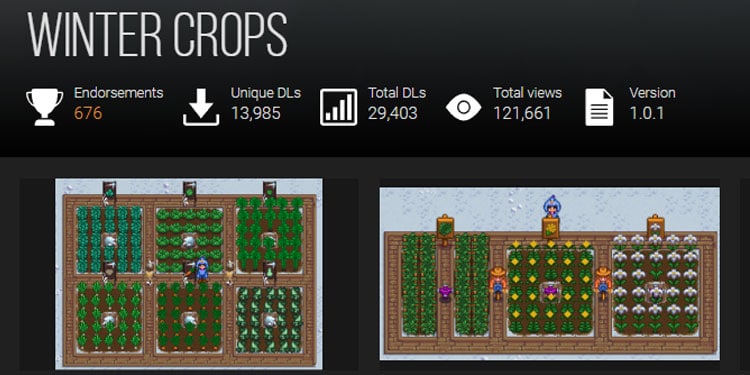 Every experienced farmer knows that winter is a dormant season where almost nothing will grow.
A few mods aim to change that and to give the crop-focused farmer a little more to do when the snow falls. They each work about the same but with different items and sometimes other additions.
Winter Crops adds seven crops, two flowers, and two fruit trees. It also adds artisan goods and ten new recipes you can cook that include some of the items from the mod.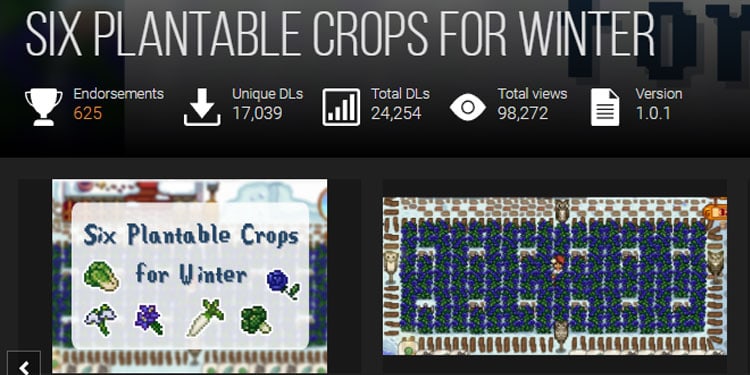 Six Plantable Crops for Winter is another option that only adds crops. It also adjusts some gift tastes to consider the new items.
Remember that these two mods and ones like them might have interaction issues with other mods that include crops, so make sure to add them one at a time and check for any errors. 
Better Ranching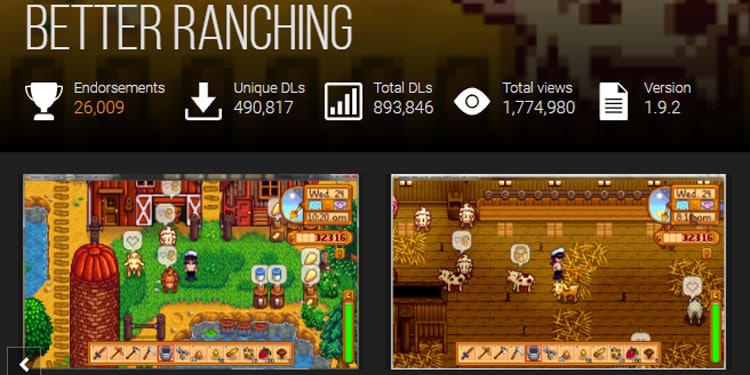 Not every animal looks the same, but they each need individual interaction, harvest, and care time with you.
Once you've stopped to pat a chicken, it might be hard to tell which of the remaining from the brood still needs your attention.
Better Ranching helps remove some of the guesswork from the process by adding indicators to the top of the animals. 
Tractor Mod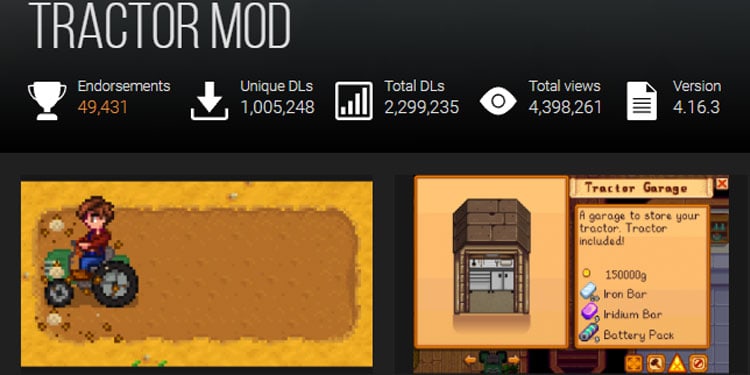 Your farm doesn't have to be stuck in the past. With the Tractor Mod, a new building will be available from Robin. Once it's completed, you can access a tractor that comes with a lot of different abilities. For example:
Clearing twigs, weeds, and crops.
Hoeing to create new plots.
Collecting milk from farm animals.
Planting seeds.
Watering crops.
The speed that the tractor brings to these chores makes them much easier to complete each day.
There are even disabled features you can turn back on if you're comfortable editing the config.json file. For example, you can get an axe that chops trees and living crops or melee weapons to fight monsters. 
Crafting Mods
Automate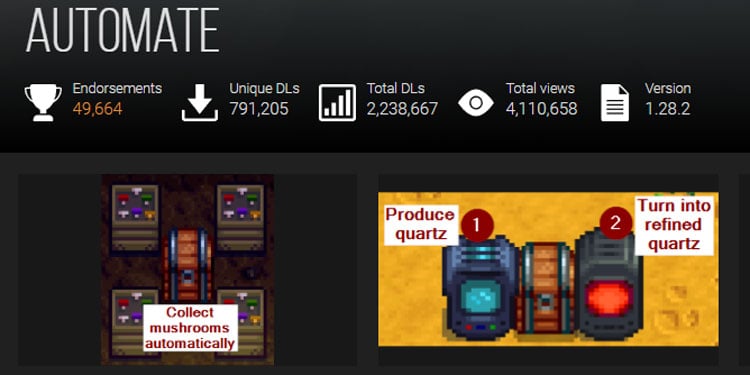 Automate can make a single-player farm much more manageable to run because it automates some of the repetitive tasks that are necessary but time-consuming.
If you frequently approach the end of the day and have to bolt back to bed because you know you're about to time out, consider trying to automate to increase your productivity and get more done.
Its basic premise is simple: it takes raw materials from a linked chest, processes them, and then puts the finished product back into the chest.
It connects many devices, including silos, tappers, recycling machines, Junimo chests, and furnaces.
While you'll still have to include all the raw materials – including coal to power specific devices – you won't have to manually create all the items you need for your farm anymore. 
Chests Anywhere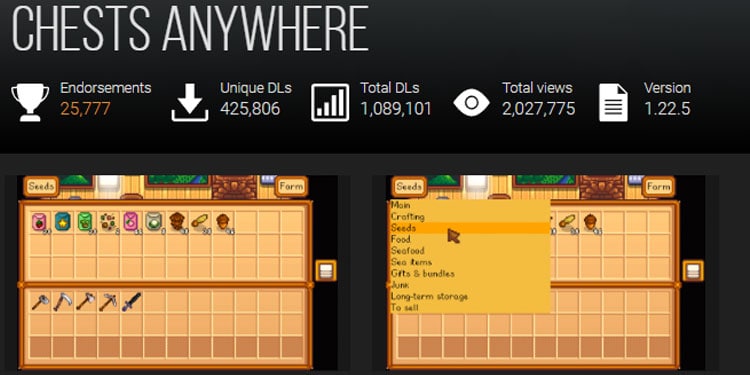 One of the things that always bugged me in Stardew was how often I would forget which chest was which and what I'd put where.
Chests Anywhere can fix this by making it much more convenient to access your storage, no matter where you are. It's also not just chests. The mod offers access to your fridge, shipping bin, Junimo hut, and more. 
Your chests are grouped by category. You can set it yourself if you don't want it grouped by the default location or set a customized name.
You can also remove items from the shipping bin once you've installed this mod as long as the items haven't been sold at the end of the day yet. 
Carry Chest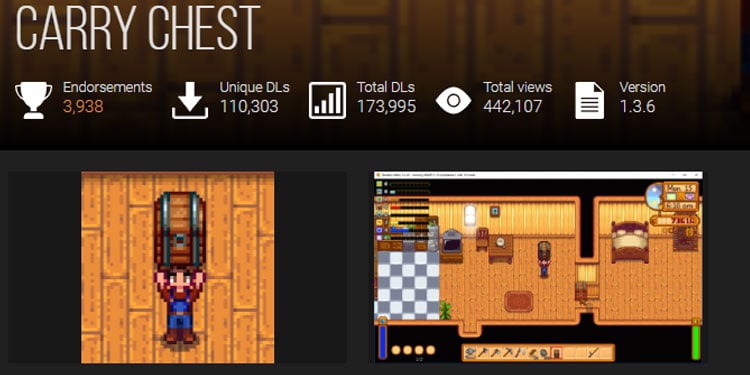 This mod is straightforward and doesn't require much explanation. Carry Chest lets you pick up and carry chests, whether empty or full. It can make crafting much easier, especially if you're redoing your work areas.
Better Crafting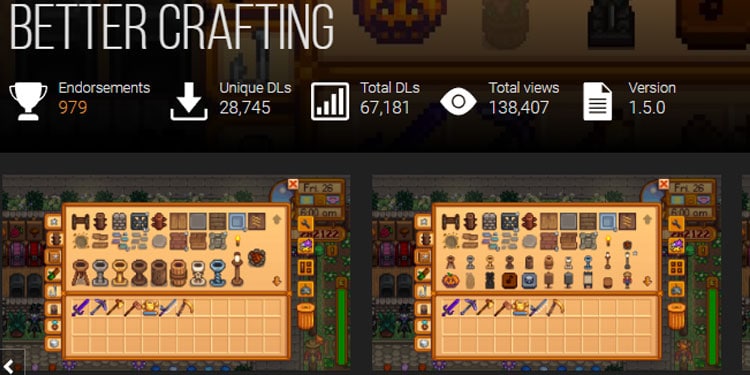 Better Crafting adds a lot of crafting utility to the game. You get a bulk crafting menu, the option to favorite something, and customizable categories.
It also changes some of the crafting options in the cooking system that can help you increase the quality of the food. It even comes with opportunities to improve chest access during the crafting process.
Villager Mods
NPC Map Locations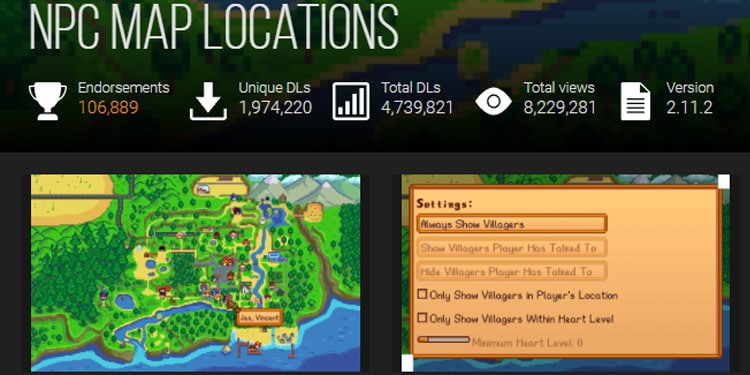 If you've ever had difficulty tracking down an NPC you're trying to complete a quest for, NPC Map Locations will change your life.
Instead of having to consult a schedule and then hope you get there in time before they start moving to the next part of their day, you can take a quick look at the map and see where the person you're looking for is located. 
Another neat little feature is the redrawn map included in the mod. The original Stardew Valley map isn't quite as accurate as it could be.
The new one should give you a better idea of the distance between locations. Also, you can hover over places to see information about them, including operating hours. 
Seasonal Outfits – Slightly Cuter Aesthetic

If you find it odd that everyone wears the same outfit despite the changes the weather wreaks on your farm, you're not alone.
Seasonal Outfits – Slightly Cuter Aesthetic tackles this by assigning every NPC in the game a variety of different outfits based on the season. There's even an extra look in winter based on whether they're indoors or outdoors.
In addition to the outfits, it tweaks the sprites to give them a slightly different look. You can check out screenshots to see what you prefer. Be sure to peek at the new outfits for a couple of the holiday events, too.
Helpful Spouses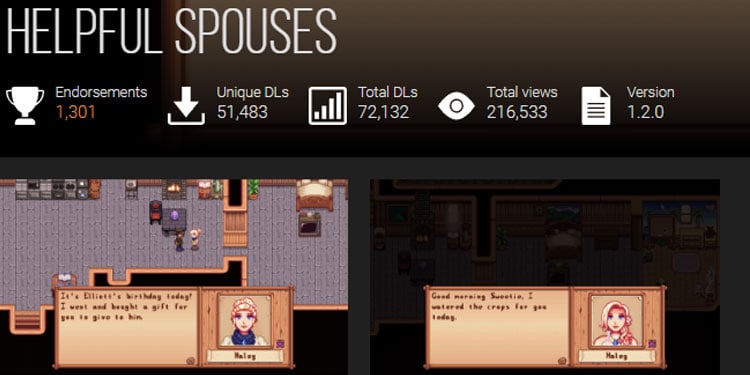 The marriage and family system is one of the cutest parts of Stardew Valley, especially after spending time romancing and raising the heart level of your selected spouse.
However, they aren't always the most helpful addition to your farm. You can make them take on a little more of the work with Helpful Spouses.
Once the mod is enabled, spouses should perform tasks like feeding your pet or interacting with the livestock. They can make breakfast, water crops, repair fences, and do other activities.
You can choose how many chores you want the spouse to perform each day, the global chance of whether they'll do it, and how many hearts they have to have to do the selected chores.
Part of the Community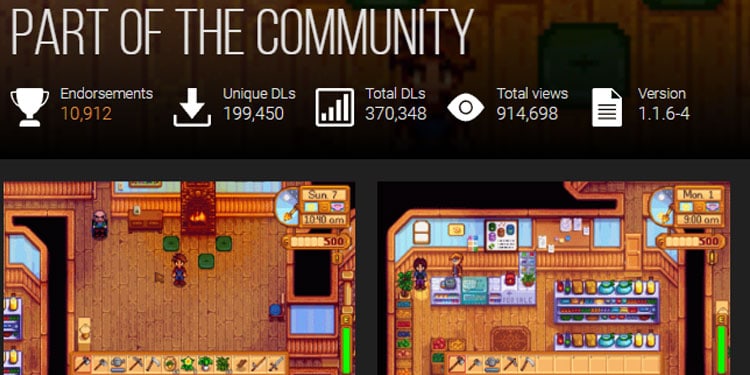 With Part of the Community, you can passively increase your friendship levels with the villagers by doing activities you already perform.
It's a way to work on your social relationships without focusing on each NPC individually since you gain points based on other interactions and events.
People nearby when you're chatting with someone or gifting them something will get a slight boost to your relationship.
When you're married, you get an increase with the spouse's family. You can also get bonuses for your relationship with local store owners if you complete the bundles and shop in their stores. 
World Mods
Stardew Valley Expanded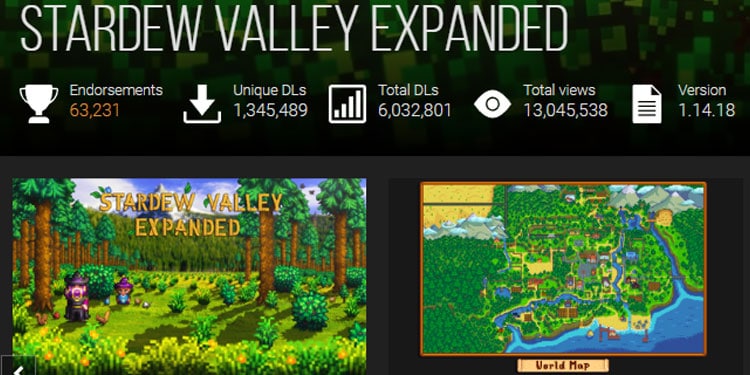 If you can't get enough Stardew, add a little more with Stardew Valley Expanded. This enormous expansion mod brings new life into the game, with more than two dozen new characters with 260 character events, new fish, farm maps, and 50 new locations.
All of this is blended into the current world map, showing the additions to help you navigate the different terrain. 
The new characters aren't isolated from the old ones. For example, Victor joins Sam, Abagail, and Sebastian's friend group.
You'll also have new options for your quests since the mod expands the rarely-completed Joja story and has certain new areas locked behind new quests.
To get an idea of just how different the world is, check out the map comparisons under spoiler tags on the NexusMods listing. 
Skull Cavern Elevator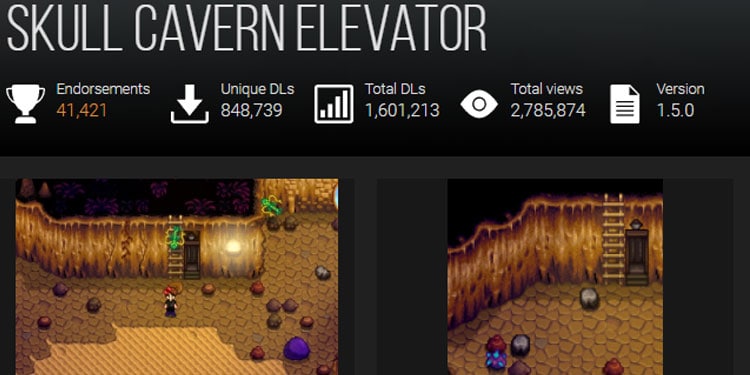 The Skull Cavern is an exciting place to visit, but its lack of an elevator makes it much less convenient than the mine in Stardew Valley.
Install Skull Cavern Elevator to give yourself an easier time moving in and out of the cavern. Like the standard elevator, it will save your progress every five floors and help you get back to where you left off more easily. 
Warp to Friends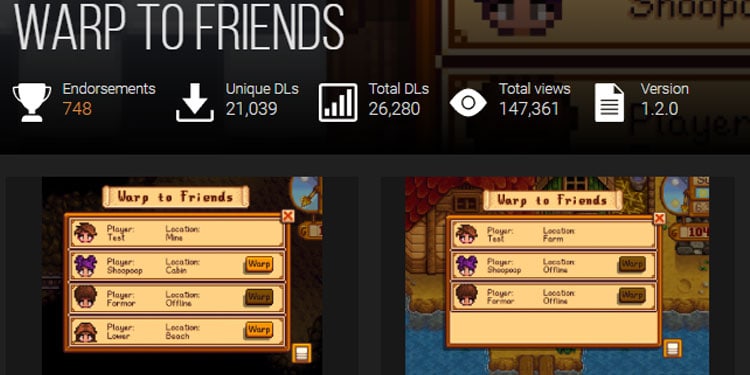 Speaking of ease-of-movement, why not have a quicker way to visit your friends during their daily errands in your multiplayer games?
Try Warp to Friends to get a button that lets you immediately appear at their location. When you open the menu, it shows their location, name, and the button to warp to them. 
Dynamic Night Time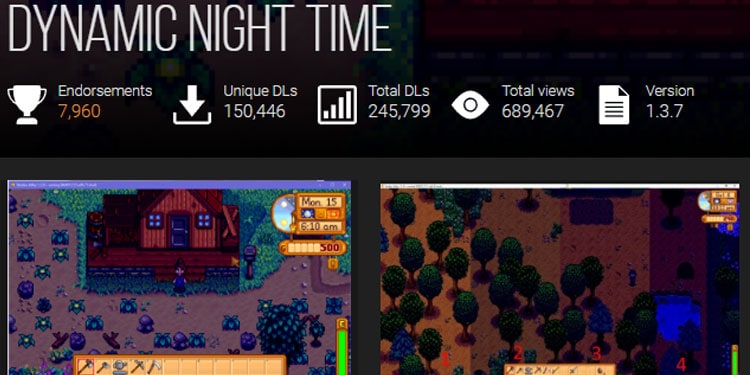 You can make the entire game more immersive by installing Dynamic Night Time as part of your mod list. It adds an entirely different day/night cycle to the game, including dusk and dawn.
Also, sunrise and sunset effects are added to make everything look a bit different. Why not enjoy the sunset over the lake before walking back to the farm?
Other Mods
Lookup Anything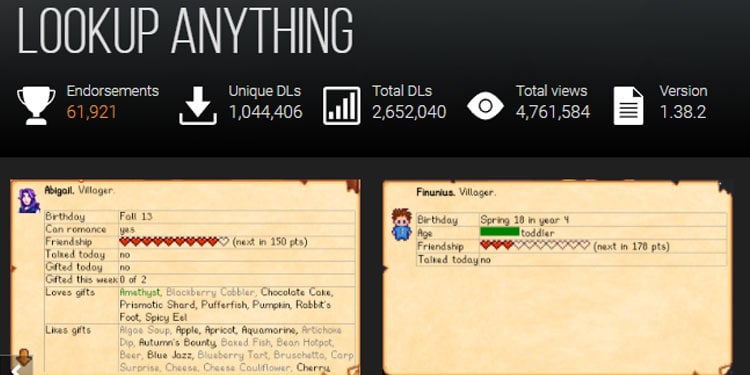 While the jokes about having 20 tabs open on the Stardew Wiki are actually a reflection of reality, it doesn't have to be that way. Lookup Anything gives you a new source of information right in the game, so you don't have to tab between browsers.
While players who prefer to discover things like favorite gifts for themselves might want to pass this one, it's great for almost everyone else and can save a lot of management time. 
It doesn't just work on villagers. You can get a ton of information on almost anything, including the complaints of your farm animals, the drops of monsters you fight, and what different fish are used for.
For example, the Bream page shows the achievements, recipes, spawning rules, and fish pond drops. This mod can make your time in Stardew much easier to navigate by giving you all the information upfront. 
Bathroom After Second House Upgrade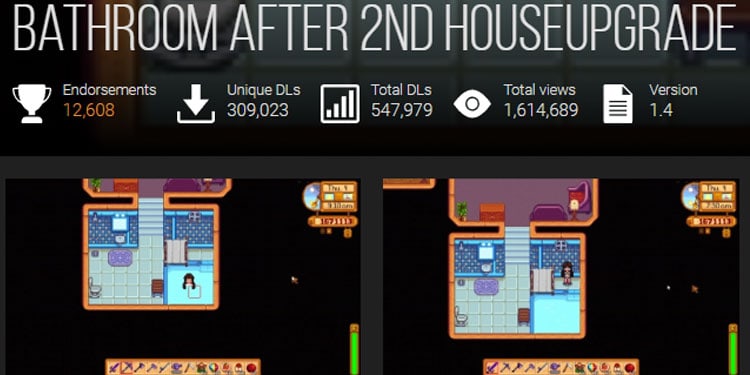 If you're tired of running to the spa to restore your stamina, add Bathroom After Second House Upgrade to your mod list.
It adds a small bathroom with a tiny version of the pool in the bathhouse that restores stamina. You can pop in, get a little boost, and then return to work without leaving the area.
It doesn't do much else, but it's very convenient for a mod with a small footprint and a nice housing effect. 
Experience Bars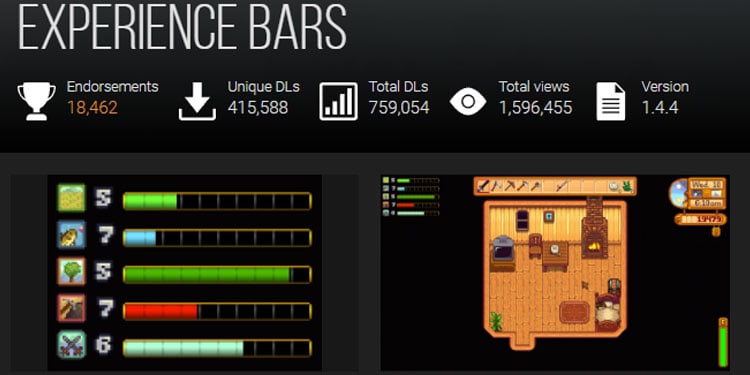 Experience Bars is a simple and basic mod that can make a big difference when trying to level skills.
By default, Stardew Valley doesn't make information about your level progress very easy to find, which is difficult when so much of your abilities depend on it.
This mod will add custom progress bars for each skill that you can view by pressing X as a screen overlay. You can also move it to somewhere else on the screen if you prefer to leave it visible as you play. 
Save Anywhere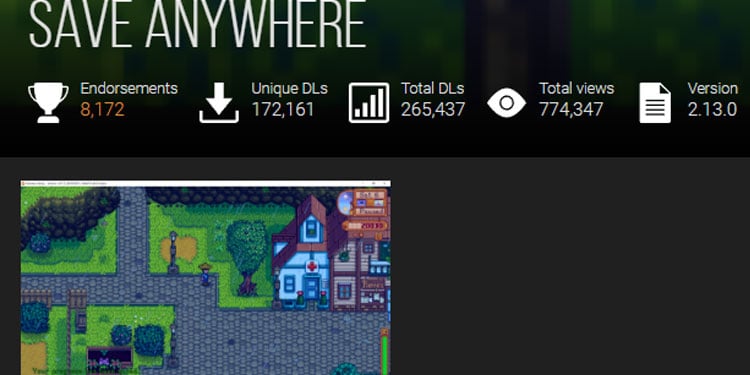 Save Anywhere is a simple mod that lets you save anywhere in the game. Vanilla Stardew Valley requires you to be in bed to save, which can be a hassle when you're in the mines and need to book it all the way home before quitting.
Bigger Backpack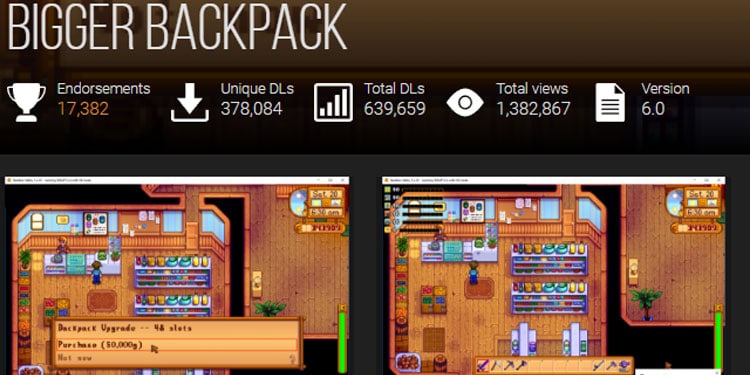 Why not have more room for all your adventuring loot? Install Bigger Backpack, and a backpack option with 48 slots will be available for purchase from Pierre.