If you want to get into the end-game activities in Diablo 4, you must have the best possible gear. And the most reliable way to improve your gear is by upgrading them.
Not only does upgrading increase the power of the item, but it also increases the affixes on your gear.
You can upgrade your weapons and armor at any blacksmith in the game. Every upgrade will cost you some resources and gold, and the total upgrade cost will depend on the item's rarity and the tier of upgrade. 
Upgrading Weapons and Armor
If you're looking to increase the stats and item power of your gear, then you'll need to head over to the blacksmith. You can find them in almost any town or city in the game.
They can salvage, repair as well as upgrade your weapons and armor. Taking help from blacksmith, you can even transmog your gears.
Interact with the Blacksmith and switch to the Upgrade tab.
You can select the gear that you need to upgrade by right-clicking on it. You can also drag the item to the item upgrade box.
Granted that you have sufficient resources, click on the Upgrade button.
Upgrading Jewelry
Besides your weapons and armor, you can also upgrade your jewelry at the Jeweler. The process of upgrading your jewelry is quite similar to upgrading your other gears. Follow the steps below.
Interact with the Jeweler and open the Upgrade Jewelry tab.
Right-click on the Amulet or Ring that you wish to upgrade. You can also drag the item to the upgrade box.
Hit the Upgrade button.
How Does Upgrading Gear Work?
So why should you upgrade your gear, and how does it even work? Before we answer these questions, we need to know a bit more about the type of items and their rarity.
There are basically four tiers of items that you can get in the game. They are common, magic, rare, and legendary.
Common and Magic Gears are quite easy to find and you will start getting them as soon as you begin. Meanwhile Rare and Legendary items are a bit scarce and you will get them only after reaching higher levels.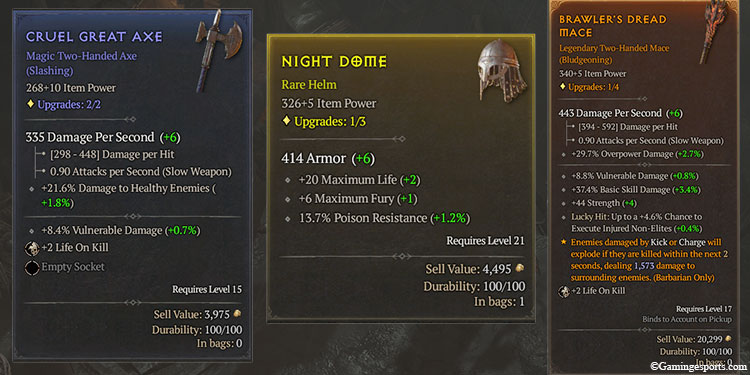 Item's rarity determines the number of times you can upgrade a gear.
For example, you can upgrade a magic item twice, whereas rare items can be upgraded up to three times. The legendary item, on the other hand, can be upgraded up to 4 times.
Note: There are also Ancestral and Sacred items in the game that can only be obtained in the higher World Tiers. These are even rarer than legendary items and can be upgraded up to five times.
Upgrading an item will increase the item's power by 5. This means you can increase the item power of your legendary gear by 20 points. Common or magic items, however, can only gain a measly 10 points increment. This makes upgrading low-tier items not worth the cost of resource.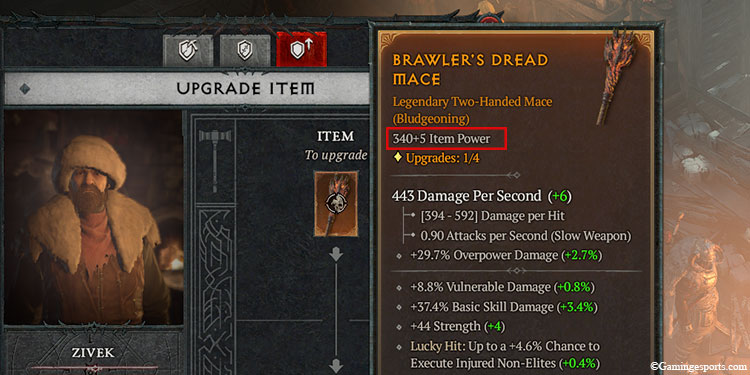 Besides item power, the upgrade also improves the attributes and affixes of your gear by a set percentage. Thus, making your gear even more effective. I.e., armor becomes more resistant to incoming attacks, and weapons deal increased damage.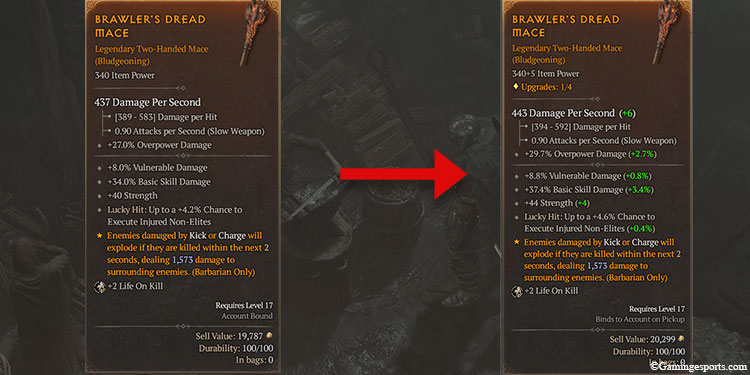 Let's move on to the cost of upgrades. For every tier of upgrade, the resource cost becomes more expensive.
Likewise, the upgrade cost of rare or legendary items will always be much greater than common items.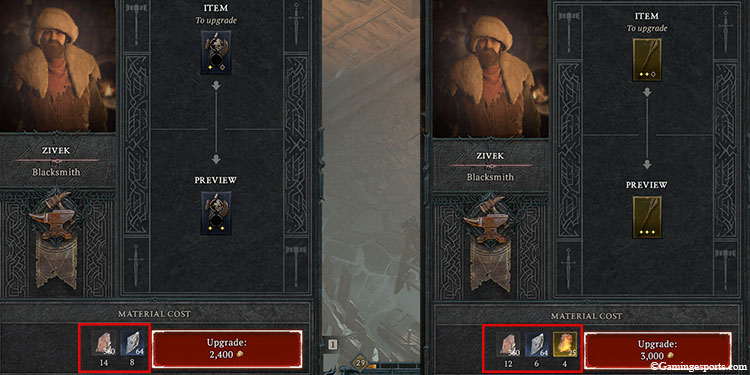 Here's a list of the resources you'll need to upgrade your gear.
| | | | |
| --- | --- | --- | --- |
| | Weapons | Armors | Jewelry |
| Tier 1 | Iron Chunk | Rawhide | Iron Chunk |
| Tier 2 | Silver Ore | Superior Leather | Silver Ore |
| Tier 3 | Veiled Crystal | Veiled Crystal | Veiled Crystal |
| Tier 4 | Baleful Fragment | Coiling Ward | ‍Abstruse Sigil |
| Tier 5 | Forgotten Soul | Forgotten Soul | |
By salvaging your existing gear, you can get most of the resources, such as Iron Chunks, ‍Silver Ore, and Veiled Crystal. 
Salvaging gear also unlocks the Tranmog system. For every unique gear that you salvage, you'll also unlock its appearance permanently. You can then apply the look of that gear to other similar gear.
When Should You Upgrade Your Gear?
Now I know it might be tempting to upgrade your gear as soon as possible to have the best stats immediately. However, hold onto that thought, until you reach the end-game content. 
Upgrading your gears is quite expensive if you're still in the early stages of the game, and it's not even worth the investment if you're playing the game in World Tier I difficulty.
If your character is under-leveled (below level 50), you'll still get powerful gears during your playthrough that can quickly outshine even your upgraded gears.
Instead, you're better off saving those resources for upgrading legendary and unique items you'll get later in the game.
So when should you start leveling up your gears? Well, I recommend only upgrading after leveling your character past 50 or at least after completing the main campaign.
How to Further Improve Your Gear?
Besides upgrading your armor, you can also apply enchantments/affixes on your gear via the Occultist to make them even stronger.
Occultists are a special type of vendor that you can only unlock after reaching level 25 on any character.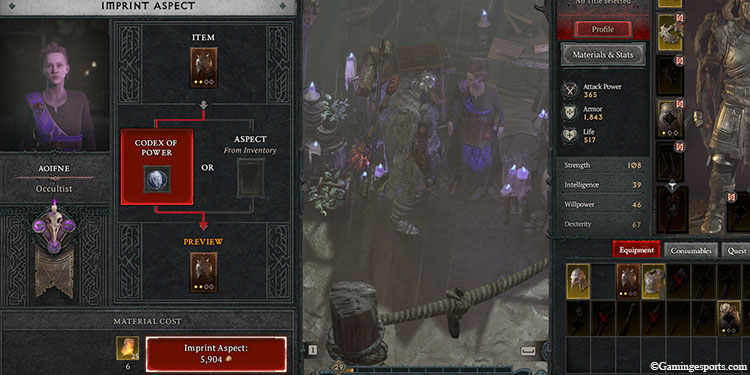 Furthermore, you can extract aspects from legendary gear and apply them to a piece of rare equipment, reroll affixes, and craft Nightmare Sigils from Occultist. But more on that later.