Horses are everyone's favorite mob in Minecraft. And while they are passive and friendly, they need food to be happy and loyal, and they accept a lot of vegetables.
The food horses accept are—sugar, wheat, Hay Bale, apples, Golden Carrots, Golden Apples, and Enchanted Golden Apples. Most of these items produce the same effects on horses—which is that you feed them so they can recover life. That is particularly useful when you're using a saddle to ride the horse.
Golden Apples play a particular role, though. In specific, you can feed some of these items to horses to tame them. Horses have a temper ranging from 0 to 100—when they reach 100, they become loyal. Nevertheless, horses start with random temper numbers.
Then, you can give Enchanted Golden Apples, Golden Apples, or Golden Carrots to breed them.
Additionally, foals (baby horses) take 20 minutes to become an adult, and you can feed them to speed up the process
Let me explain it with a chart:
| Food | Heals | Speeds up goals growth by | Increases temper by | Does it breed horses? |
| --- | --- | --- | --- | --- |
| Sugar | 1 heart | 30 sec | +3 | No |
| Wheat | 1 heart | 20 sec | +3 | No |
| Apple | 2 hearts | 1 min | +3 | No |
| Golden Carrot | 2 hearts | 1 min | +5 | Feeding Golden Carrots to two tamed horses enables the "love mode." |
| Golden Apple & Enchanted Golden Apple | 5 hearts | 4 min | +10 | Feeding Golden Apples and Enchanted Golden Apples to tamed horses enables "love mode." |
| Hay Bale | 10 hearts | 3 min | Nothing | No |
To feed a horse, put the food on your action bar, equip it, point at the horse, and press the Use/Place button (right-click on PC).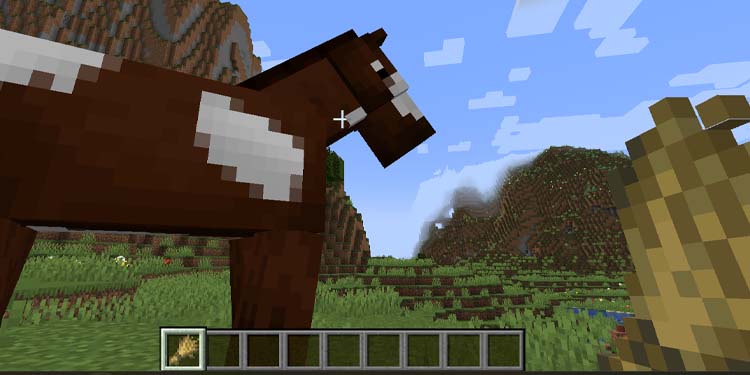 How to Get Food for Minecraft Horses?
For now, we should see how to get the food for Minecraft horses.
Sugar
Sugar comes from Sugar Cane. Put the cane at the center of the Crafting Table to get sugar.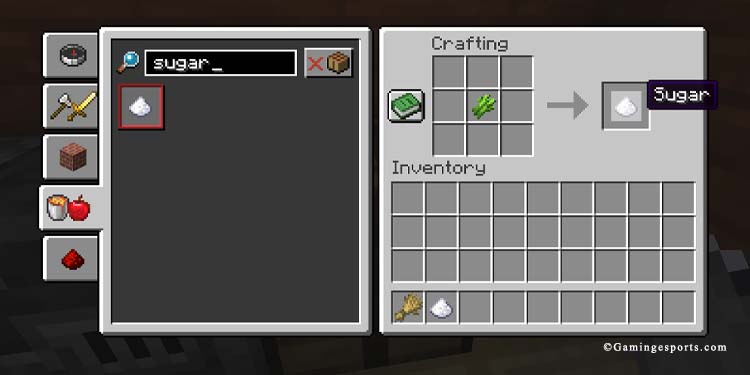 You can find Sugar Cane around river beds and swamp biomes. If you find it, chop it with a wooden ax or better, and take it back home to farm it. You can also harvest it with a hoe or your hands.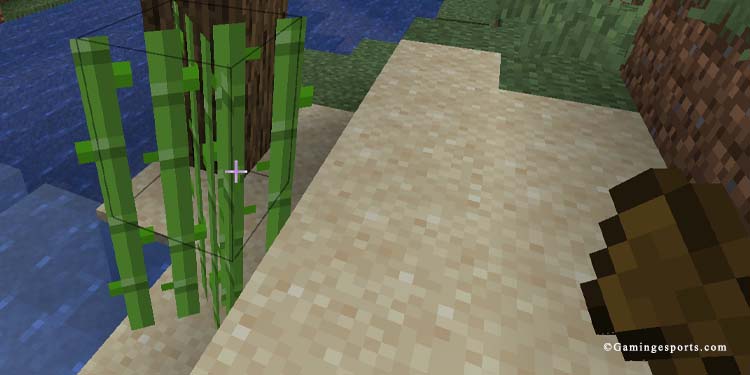 You can plant Sugar Cane in the grass, dirt, rooted dirt, coarse dirt, sand, red sand, moss, mud, podzol, or mycelium. The block must be adjacent to a water block.
You can easily plant it across the edges of a river. The Sugar Cane will grow one block every 18 minutes.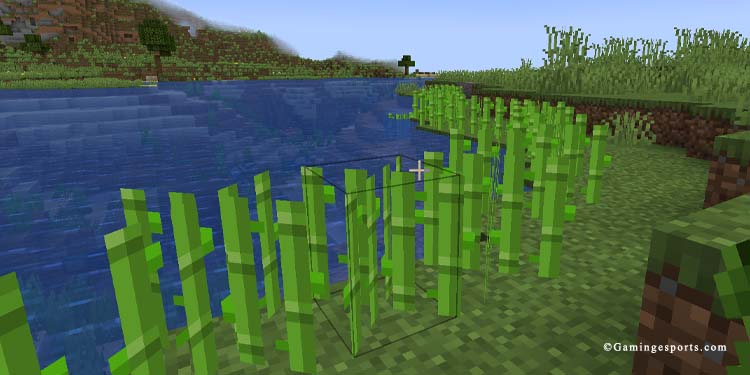 Wheat
Wheat is a common seed in Minecraft. You can get wheat seeds by punching grass atop grass blocks.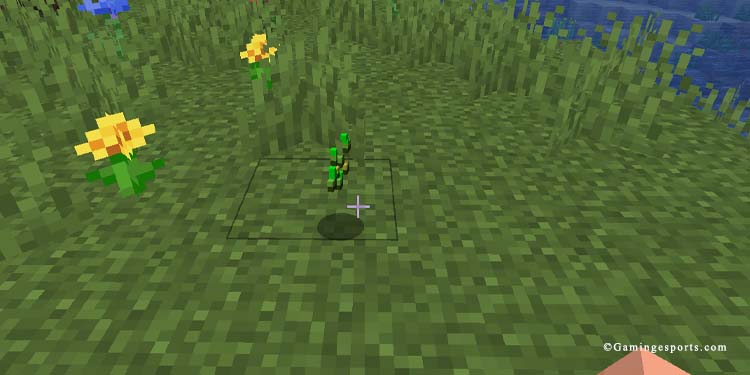 Next, use a hoe on any grass blocks touching the water (you can put the grass blocks yourself).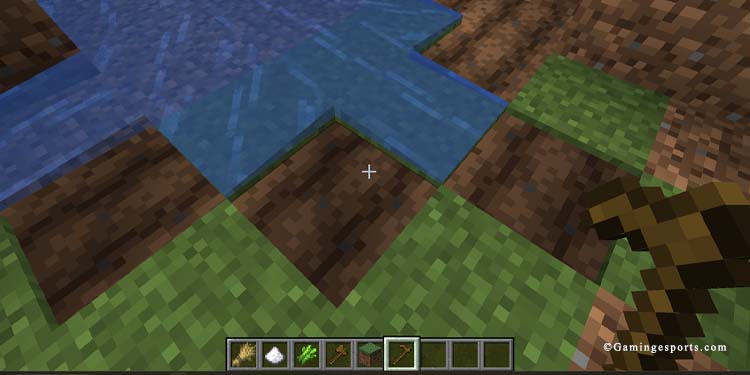 I created the canal above myself by letting the river war flow inside a small hole I dug.
Then, plant the wheat seeds on the grass blocks you treated.
Wheat grows every 31 minutes, so you can come back later on to pick up wheat and feed your horse.
Lastly, the recipe for a stone hoe is two cobblestones and two sticks.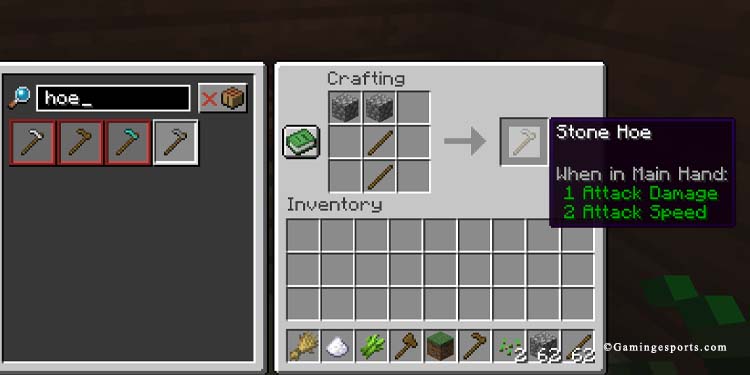 Apples
Apples are less common than Sugar Cane and wheat seeds, but the easiest way to find them is by punching tree leaves. Particularly, oak and dark oak leaves have a 0.5% chance of dropping Apples.
You'd know you find oak or dark oak trees after chopping their wood and checking what you got in return. Trees in swamp and jungle biomes typically give you a lot of apples.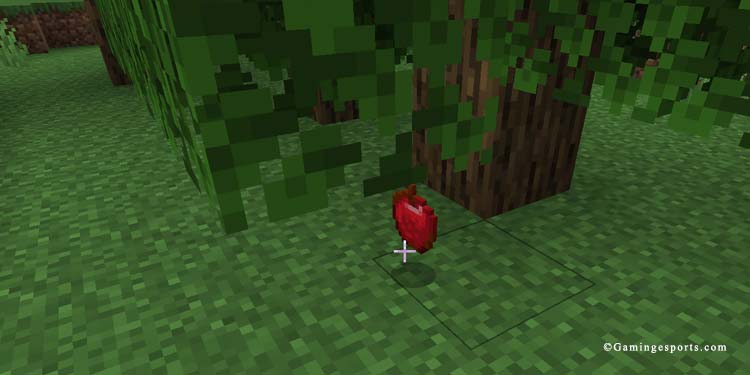 Apples also spawn in different chests, such as chests across the world. Finding apples is common when looting strongholds and igloos, mostly, but you may also find Apples when looting chests from any other structure in any Minecraft dimension.
Lastly, you may find apples from trading with farmer villagers. Farmers have a 50% chance of trading an Apple in the Bedrock Edition and a 66.7% chance of trading an Apple in the Java Edition.
Sadly, you can't farm apples.
Golden Apples
A Golden Apple is the result of combining eight Gold Ingots and one Apple on the Crafting Table.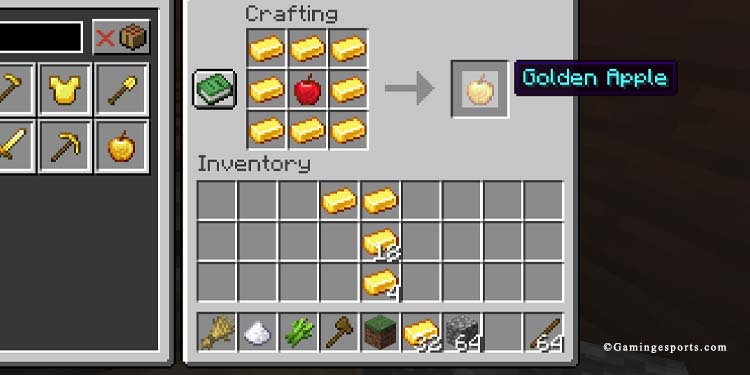 Golden Apples can be expensive, so use them wisely. In particular, a Gold Ingot results from nine Gold Nuggets in the 3×3 crafting grid. You can loot Gold Nuggets from Zombie Pigmen.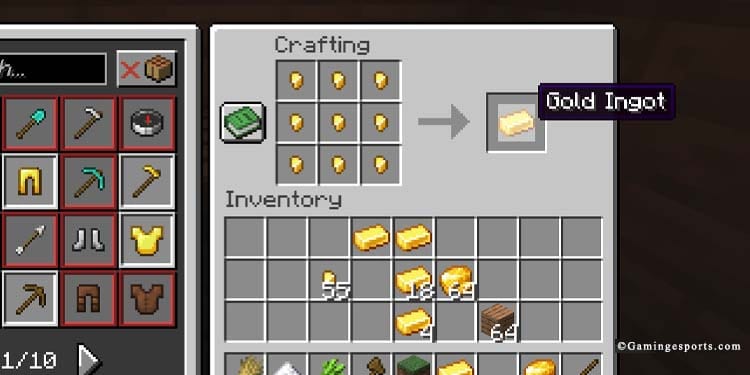 Lastly, you can put Raw Gold in the Furnace, alongside a fuel source like wood planks, coal, or charcoal, to get a Gold Ingot.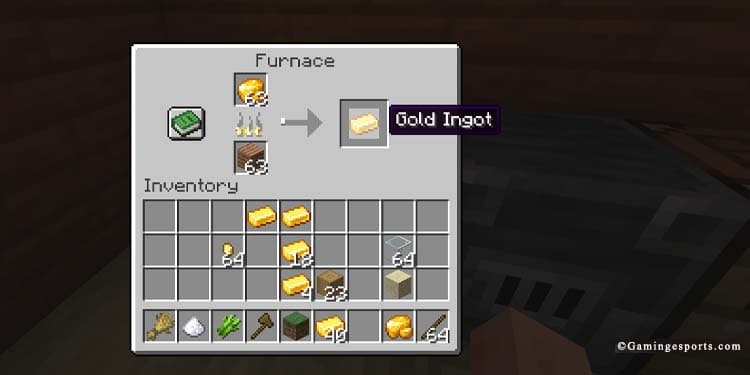 You can get Raw Gold by mining gold ore in the underworld and caves. It can be hard to find, though.
Carrots
Carrots drop from zombies and spawn in shipwreck chests and Pillager's chests. Most importantly, it spawns village farms, so the easiest way to find a carrot is to travel to a village to harvest carrots.
It doesn't spawn on all villages, though. It has to be either a plain village (30% chance of finding carrots) or a snowy village (10% chance of finding carrots).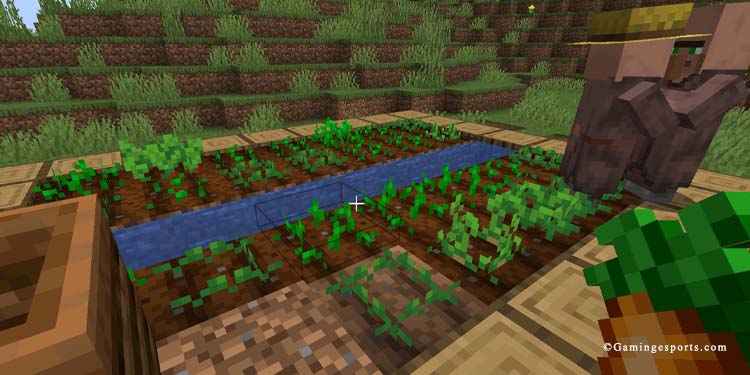 Carrots can grow on any "Farmland" block, which is what you get when using a hoe on grass or dirt blocks. It doesn't need water to grow, but you need to plant the carrot immediately. Otherwise, the farmland block may dry out and revert to grass or dirt.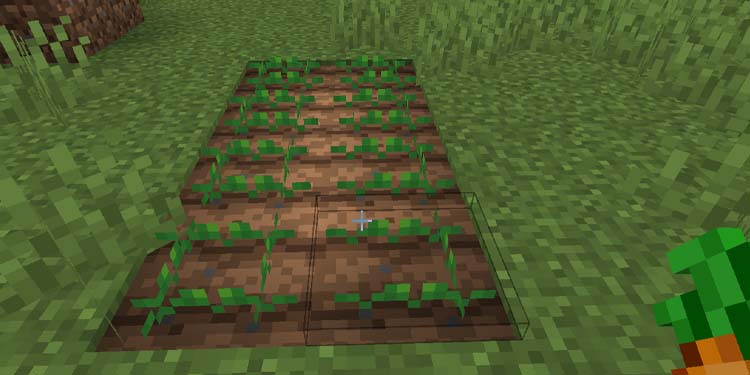 Golden Carrot
You can get a Golden Carrot by combining a Carrot with eight Gold Ingots.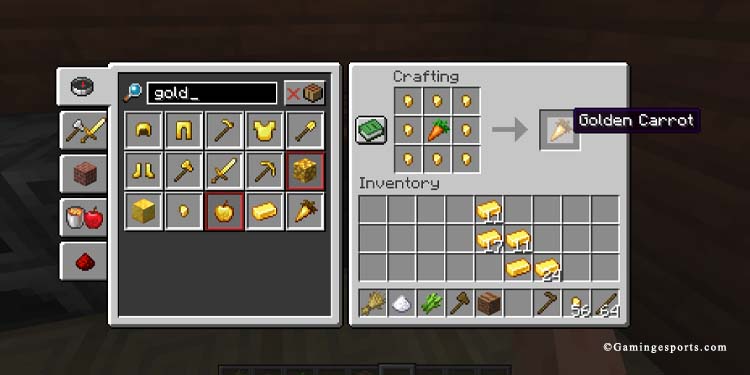 That makes Golden Carrots significantly cheaper than Golden Apples, as you can get nine Gold Nuggets from a single Gold Ingot.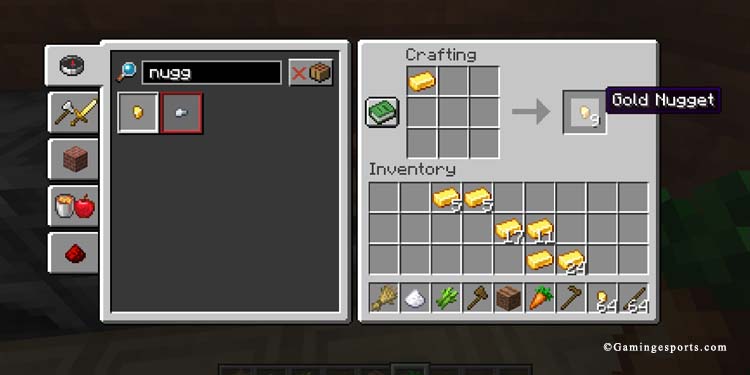 That makes Carrots and Golden Carrots the most sensible item to feed, tame, breed, and grow horses and foals.
Hay Bale
Hay Bales are very common. You can find them in Plains, Savanna, and Desert villages, and you can find them in the scarecrow targets in Pillager outposts.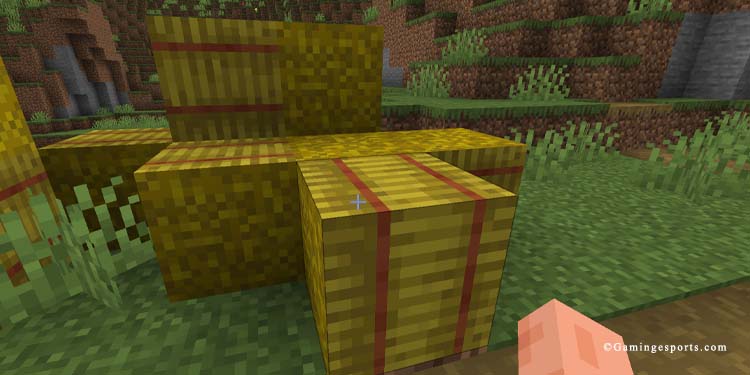 You can't farm hay bale, but you can craft it with wheat. Put 9 wheat on the Crafting Grid to get it.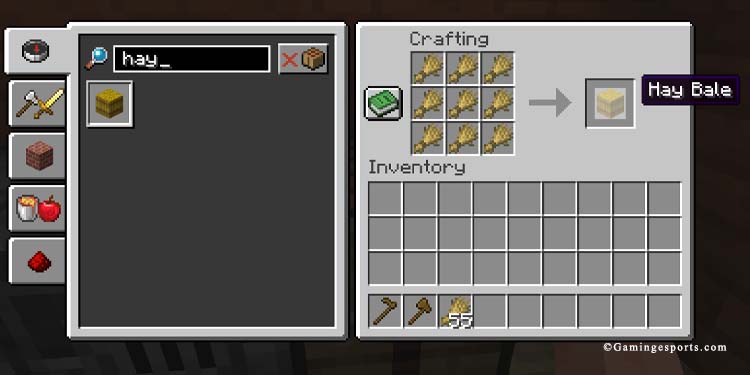 Enchanted Golden Apple
The final item is Enchanted Golden Apples. These may appear on chests from Ruined Nether Portals and Ancient Cities and within chests in the Bastion Remnants (Nether realm).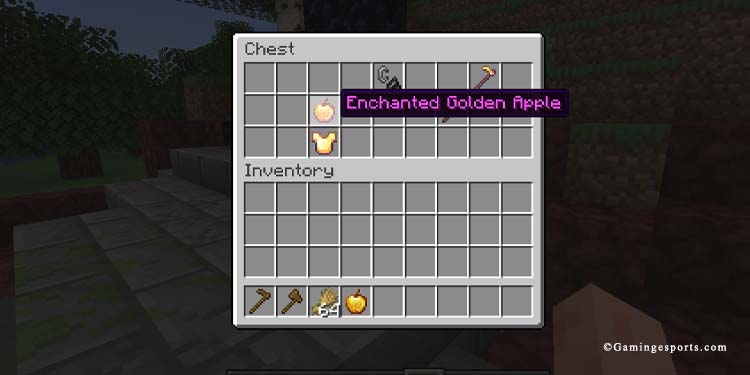 These are also expensive items and somehow difficult to find. So, use them wisely.