Malenia is the most recognizable character in the Elden Ring. She has been featured in almost all promotion material used to advertise the game. Its iconic game trailer shows Malenia repositioning her prosthetic arm while fighting the gigantic General Radahn.
This exact scene captivated the fans, leaving them curious about the story behind her missing limb. However, it is also possible the fans never get a chance to meet her altogether to know her backstory as she is one of the optional bosses of the game.
Who is Malenia?
Fighting against Malenia is undoubtedly the most difficult bossfight in all of Elden Ring. She is one of the demigod children of Queen Marika with the Second Elden Lord Radagon. As Marika and Radagon were the same being, the twin children born from them, Malenia and Miquella both were terribly afflicted with complications since their birth.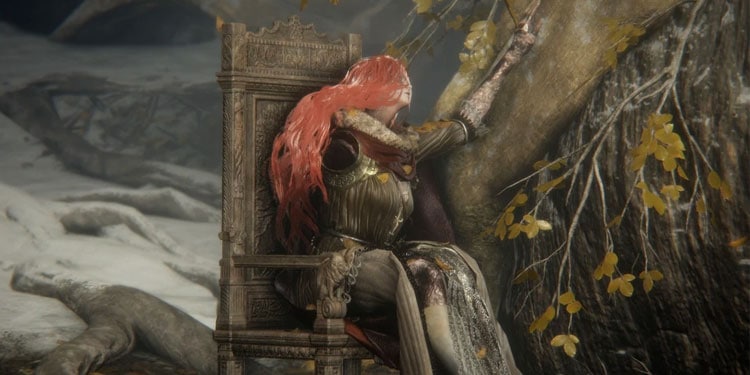 Malenia was even considered to be someone who could be a successor to Queen Marika herself. She was deemed an Empyrean, and capable of being the vessel of Greater Will. Her legacy was complicated by her birth condition, Scarlet Rot, which caused her lifetime of pain and suffering. Despite that, she became a revered warrior, probably the most skillful among all the fighters throughout the Lands Between.
Malenia's painful past, her demeanor and the dedication she shows for her twin brother Miquella has made her garner a lot of sympathy and love from the Elden Ring community. Her character is one of the most memorable FromSoft has ever come up with.
How did Malenia Lose Her Arm?
Malenia had a condition called Scarlet Rot since her birth. This was due to her parents essentially being the same person. The Scarlet Rot festering within Malenia's body was most probably the culprit for the loss of her arm.
Our extensive research has not found any information pointing towards her losing the arm during a fight. It could also have been amputated to try to stop the Scarlet Rot. We do not yet have a straightforward answer, but there are some clues in NPC interactions and item descriptions.
Millicent, Malenia's daughter, is also affected by the Scarlet Rot. She too does not have one of her arms. Gowry, who claims to be Millicent's father, compares the loss of Millicent's arm with Malenia's with a remark about the curse the mother daughter shared. That's why for now we can safely conclude that the Scarlet Rot is the reason Malenia lost her arm.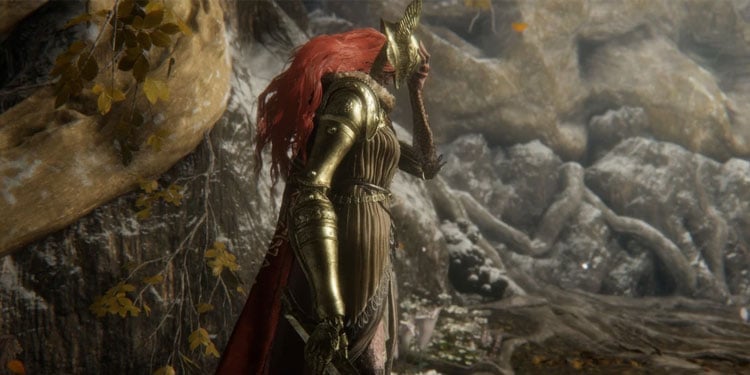 In place of her right arm Malenia wears a golden prosthetic arm. This artificial arm allows her to wield her sword titled the Hand of Malenia in an unnatural fashion. She uses this modification to unveil her signature move called Waterfowl Dance which is a flurry of slashes. She is also nicknamed the One-Armed Valkyrie.
The Origin of Scarlet Rot
Scarlet Rot is the plague affecting much of Lands Between. The whole region of Caelid seems to be afflicted by this condition. The Lake of Rot and it's vicinities underneath Nokstella is another infested location. The source of this Rot is said to be the Outer God of Rot, an otherworldly entity like the Greater Will.
Malenia, also transforms into the Goddess of Rot in the second phase of her bossfight. Apparently, the last time she was pushed to the limit was during her fight with General Radahn the Starscourge, her stepbrother.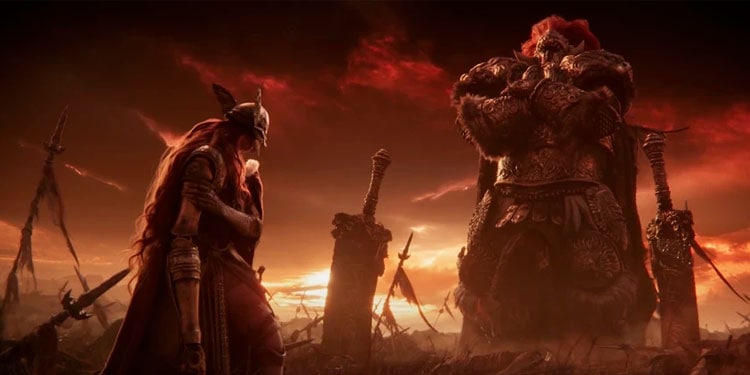 During the fight with Radahn, Malenia stopped suppressing the Rot and unleashed Scarlet Aeonia for the first time. This caused the Scarlet Rot to spread outside of Malenia's body and affect the whole region of Caelid.
Radahn was driven mad and feral because of exposure to the Scarlet Rot. Everything in Caelid, its inhabitants, its environment, were affected. It was like a thermonuclear explosion of Rot.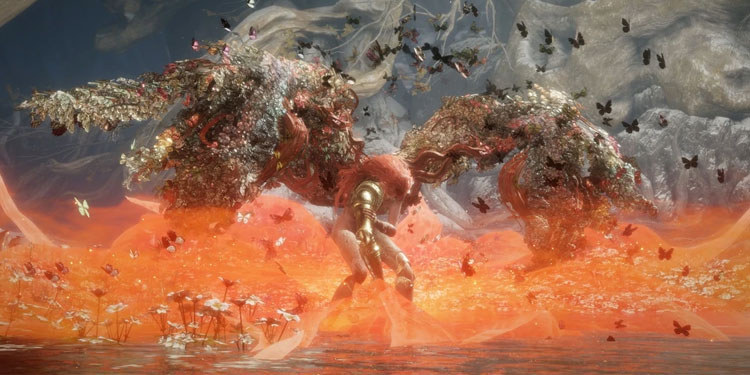 The Scarlet Rot is communicable as our player character can also be afflicted by this status condition. From our direct observation in the game, we can learn that Scarlet Rot settles in water and can be transmitted by it.
Walking through certain areas of Caelid will build up the Scarlet Rot condition. It can also be transmitted by air. Incantations like Ekzykes's Decay and certain enemies can release the smog that causes the Scarlet Rot although it dissipates quickly.
We can heal Scarlet Rot with incantations or by using consumable items. If not healed, it drains the health very quickly leading to death.
Bossfight With Malenia
Malenia is an optional boss with two very difficult phases. She is ranked and voted the #1 most difficult bossfight by various media sources in all of the Fromsoftware games till now.
Malenia's bossfight has become a subject of much discussion, as she recovers health with every hit she makes on the player. You take her to half health and in one combo she gets back to full health. The difficulty of the fight has made Malenia a subject of countless memes and internet stories.
At the same time, Malenia's signature move, the waterfowl dance, is considered the most unfair move in the whole game. The full combo of waterfowl dance can annihilate any Tarnished.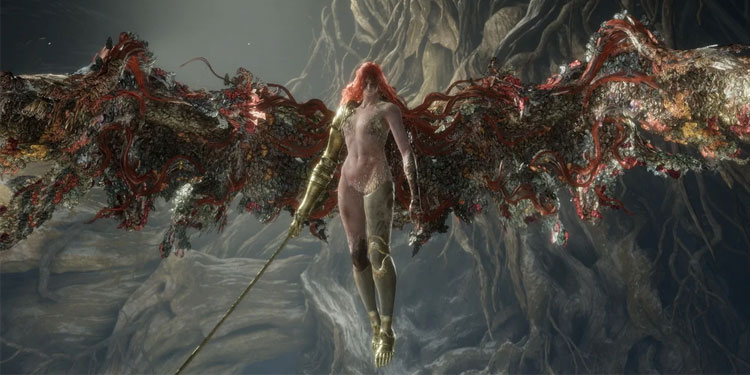 During her second phase, she uses another annoying move called Scarlet Aeonia. This explodes the arena with a flower of Scarlet Rot. It might take a lot of practice before any Tarnished can manage to beat her in combat. For some, the fight is almost impossible, leading to numerous enraged gamer tantrums. 
A gamer called LetMeSoloHer became popular for helping others defeat Malenia. Someone posted on social media, who after countless frustrating defeats against Malenia, resorted to summoning a mysterious figure wearing a golden pot helmet.
This summoned ally dispatched Malenia with ease. After that incident, there were many such reports of a helpful mystery warrior called LetMeSoloHer. The players could simply watch the bossfight as LetMeSoloHer gracefully defeated Malenia.
LetMeSoloHer was later revealed to be twitter user KleinTsuboi. His dedication was honored and awarded by BandaiNamco, the publishing company behind Elden Ring. They sent him a package containing an Elden Ring style commemorative sword.