Roblox is one of the world's most popular gaming platforms. However, Roblox has its fair share of bugs and issues as well. Among the many issues that Roblox users have faced, the platform completely stopped working is a fairly common one. 
There could be a variety of reasons for Roblox not working on your device, ranging from server issues to corrupted Roblox files. This problem is not as difficult to resolve as it appears, but solutions vary depending on the type of device you own.
Keeping this in mind, we've listed the fixes for individual devices to assist you in narrowing down the issue and eventually resolving it.
How to Fix Roblox Not Working on PC
Sometimes the problem is not at our end. Roblox may not function properly or will not open due to technical issues. Likewise, Roblox will not function during bug fixes or system updates too. So, check the Roblox server status from its official page and verify if the issue is at your end or not.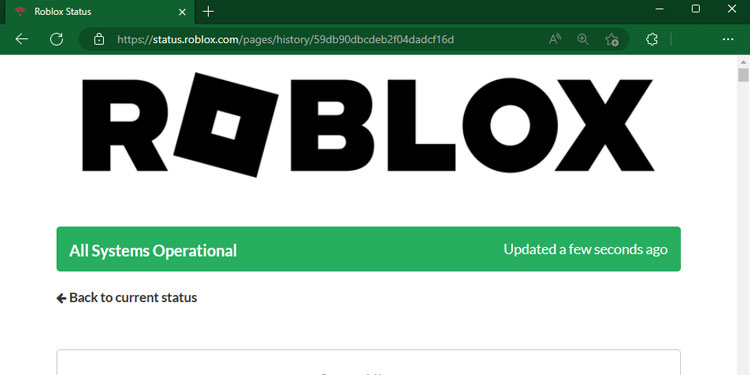 Change Your Browser
You can play Roblox either on its official app or on the browser. If possible, we recommend you play Roblox from the app itself. It might not be possible always. In such cases, Roblox is only supported on limited browsers, and may not work on others.
Therefore, try switching your browser to Chrome, Safari, and Firefox on Mac and Chrome, Microsoft Edge, and Firefox on Windows system.
Uninstall and Reinstall Roblox
There may be bugs or malware on the devices that may corrupt the files or disrupt the application itself. So, uninstall the Roblox application from the system and reinstall it and check if it solves the issue.
Follow the steps to uninstall Roblox from your device,
Press Windows+R.
Type Contro Panel and enter.

Click on Uninstall the program.
Find Roblox and click on Uninstall.

Now install the Roblox App following these steps,
Click on Open.

Click on Download and Install Roblox.

After you download the Roblox, you need to install the platform. This should solve the issue of Roblox Not working on your PC.
How to Fix Roblox Not Working on Android Devices
Check Server
Roblox is periodically updating its server and Applications. So, the Roblox server may be down, or it may be updating. During an update, you cannot open the Applications.
Reinstall Roblox
The Roblox files may be corrupted on your android device. So to reinstate the broken or deleted files, you can uninstall the game and then reinstall it. 
To Uninstall,
Open Settings.
Tap on Apps.

Locate Roblox and tap on it.
Tap on Uninstall.

Tap on OK.
Now to install the App,
Open Play Store.
Search Roblox.

Tap on Install.

Clear Cache Memory and Data
Android devices save the date and files on their cache memories to open applications seamlessly. Such data may sometimes restrict us from opening Roblox. So, we need to clear the cache memory and data from our android devices. To do so,
Open Settings.
Tap on Apps.

Locate Roblox and tap on it.
Tap on Clear data.
Tap on Clear cache.

Fix the Date and Time
When your system does not have the correct Time, Roblox server cannot synchronize with the phone. So, the Roblox application does not load or immediately crash after it opens.
Here's how you set correct time on your phone,
Open Settings.
Tap on Additional Settings.
Tap on Date and Time.

Tick Set time automatically and Set time zone automatically.
Force Stop Application
Oftentimes Roblox runs in the background. So, check if Roblox is running in the background. If it is, force stop the application and open it again.
Open Settings.
Tap on Apps.

Find Roblox and tap on it.
Tap on Force Stop.

Tap on OK.
How to Fix Roblox Not Working on iPhone
Restart the Phone
Sometimes a fix as simple as restarting your device may fix the issue for you. Restart your phone and check if the Roblox app is working again.
Press the Power button + Volume down button for seconds.

Slide the Power icon to the left.

When the iPhone turns off, you can press Power button again till you see an Apple logo. 
Cache Memory
Since iOS saves files and game progression on its cache memory, the system loads the game very fast and smoothly. But sometimes, that cache can restrict the game or cause errors. So, you need to clear your cache. To do so,
Open Settings.
Tap on General.

Tap on iPhone Storage.

Find Roblox and tap on it.
Tap on Offload.

Fix Date and Time
Similar to android devices, it is very important that you keep Time and date up to date on your apple device. If the Roblox server resists to connect to your phone, Roblox won't work or crashes after loading.
Open Settings.
Tap on General.

Tap on Date & Time.

Tap on Set Automatically

Update Phone
Roblox only runs on iOS 9 or higher. So, if the iOS is lower than 9, then you need to update to play or make games on Roblox.
Open Settings.
Tap on General
Tap on Software Update.

Tap on Download and Install

Uninstall and Reinstall Roblox
If the game is not working right, you need to delete the game and reinstall it. There may be a problem with the applications, so reinstalling may resolve the problem.
We recommend you back up the files before uninstalling the game.
Follow the steps to uninstall Roblox on your iphone,
Tap on the Roblox icon until a dialogue box appears.
Tap on Remove App.

Tap on Delete App.
Now reinstall the app and check if it works,
Open App Store.
Tap on Search.
Write Roblox and enter.

Tap on Download icon.