In COD Warzone, players have access to a wide variety of weapons, including machine guns, snipers, assault rifles, and more. Every weapon serves a purpose. Snipers, for example, can be used for long-range shots and Assault Rifles for medium-range. There are also plenty of other short-range guns available.
With the introduction of the Browning Assault Rifle (BAR) in Warzone from COD Vanguard, all players became interested in it. The best thing about this rifle is, it is very versatile, with lots of attachment options and high damage output.
Although it has high damage output, it has slow fire rate. But with the right attachments and loadout, you can increase the fire rate and even its range. '
A proper BAR loadout in warzone may make you virtually unstoppable, and this guide will explain you how.
Unlocking Bar in Warzone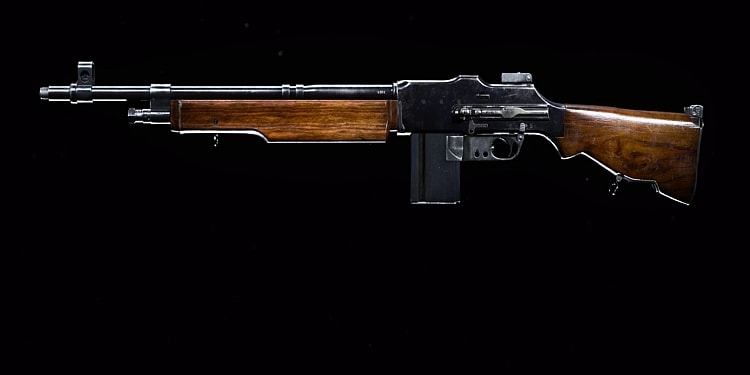 Unfortunately, you will not be able to access BAR as soon as you start to play the game. To unlock, you must reach Level 25 in the game. You must continuously play Battle Royale games and other game modes to earn those XP.
If you want to level up quickly, you can do multiple contracts while playing any game mode. Plunder and Rebirth Island are highly recommended. It would also be beneficial if you kept an eye out for double exp tokens and weekends.
If you want to level up your gun fast, check out our guide on how to level up guns in Warzone.
Best BAR Loadouts in Warzone
There are many options for you to choose from among attachments and perks for BAR. Most loadout focuses on improving the damage more and recoils of BAR as it can be a little difficult to control. So, most loadouts will increase your damage and accuracy.
Here we will focus on two loadouts. The first loadout will concentrate on accuracy, ammo, recoil control, and long-range. In contrast, the second loadout will focus on increased fire rate, more damage, and short and medium-range ability.
Loadout 1
Using this loadout, you will have more ammo and accuracy. Let's take a look at all the attachments for this loadout.
Muzzle: Mercury Silencer
Barrel: CGC 30" XL
Optic: SVT-40 PU Scope 3-6x
Stock: Cooper SP or Pistol Grip Custom
Underbarrel: M1941 Hand Stop
Magazine: .50 BMG 40 Round Mag
Ammo Type: Lengthened
Rear Grip: Polymer Grip
Perk: Hardscope or Sleight of Hand
Perk 2: Fully Loaded
Mercury Silencer reduces gun shooting sound and controls the recoil but decreases the damage range. CGC 30" XL and M1941 Hand Stop controls your recoil and helps for better accuracy.
These are combined with Cooper SP and Polymer Grip for more accuracy. Cooper SP can be hard to get, so you can also use Pistol Grip Custom as stock. 
As this loadout is focused on long-range shots, SVT-40 PU Scope 3-6x will let you deal damage from far and have a zoom from 3x to 6x. For more rounds of fire for your BAR, use .50 BMG 40 Round Mag, which will grant you 40 ammo before reloading.
Lengthened Ammo Type will increase your bullet velocity so that your enemies cannot easily evade the bullet.
For perk, you can either choose Hardscope or Sleight of Hand. Sleight of Hand decreases reloading time by 50%, whereas Hardscope increases your accuracy and recoil in sustained ADS. You can choose any of these two.
For Perk 2, you should choose Fully loaded, which will fill your gun ammo to the fullest from the start.
Loadout 2
This loadout focuses on medium-range damage and increases the fire rate of BAR. If you don't like long-range shots and like to kill enemies in the medium range and spray with high damage output, you can use this loadout for BAR.
Muzzle: Recoil Booster
Barrel: CGC 30" XL
Optic: ZF4 3.5x Rifle Scope
Stock: Chariot WR
Underbarrel: Mark VI Skeletal
Magazine: 8mm Klauser 30 Round Mags
Ammo Type: Lengthened
Rear Grip: Polymer Grip
Perk: Hardscope or Sleight of Hand
Perk 2: Fully Loaded
Recoil Boosted increases the fire rate of BAR but decreases accuracy simultaneously. ZF4 3.5x Rifle Scope is used here instead of SVT-40 PU Scope 3-6x as for medium range, it will be enough, and you will not lose movement speed.
Chariot WR will grant you accuracy, and Mark VI Skeletal will give you accuracy with ADS speed. You may be thinking, why to opt for 30 Round instead of 40 Round. It is for preserving movement speed and increasing fire rate.
Other than this, attachments for Loadout 1 and 2 are the same.
Best Setup for BAR in Warzone
Other than loadouts, there are options for equipment, three perks, and a secondary weapon. As BAR is useful only in medium and long-range, you need to have a gun for close fights too. Also, there are many equipments in Warzone that will make your game easier.
Secondary Weapon: MP40
Perk 1: EOD
Perk 2: Overkill
Perk 3: Amped
Lethal Equipment: Frag
Tactical Equipment: Stun Grenade
MP40 is great for close combat and can deal serious damage in close combat. This gun is not heavy, so that you can move efficiently too.
In games like Warzone, players often use grenades to lure opponents out of their safe places. And damage from grenades is huge. This is where EOD comes in. It increases your explosive resistance, and you can stay in long and mid-range to deal damage.
Overkill is very important for BAR. It is the perk that lets you carry another weapon with you. So, if you want close combat with MP40, it is a must. When you find an enemy near you, you must be able to change your weapons fast.
Amped gives you that ability, and you can easily switch your BAR with MP40 for a close fight.
For equipment, we have chosen very simple yet effective stuff. Frag will damage enemies if they hide where you cannot shoot them. Stun Grenade will stun your enemies to get them out of their position and get an easy kill for you.