Gems, in Diablo 4, are unique items that can make your gear more powerful and valuable. Socketing a gem to your gear adds a bonus that will complement any gear type.
For example, adding a gem to your armor will give you bonuses like extra life and damage resistance, whereas adding them to your weapon will increase its damage.
For maximum bonus, go for high-tier gems. There are a few ways to get those high-tier gems. You can either get it from random world loot or craft it yourself. 
Please note that you cannot upgrade the gem itself. Instead, you can combine similar gems and make a high-tier one. But first, you'll need to visit the Jeweler.
Let's discuss.
Step 1: Unlock the Jeweler
So, the first thing that you must do to upgrade gems is to unlock the Jeweler. They're the only vendor that allows players to craft and upgrade gems.
In addition, you can add a socket to your existing gear, remove a gem from your gear and upgrade your jewelry items at them.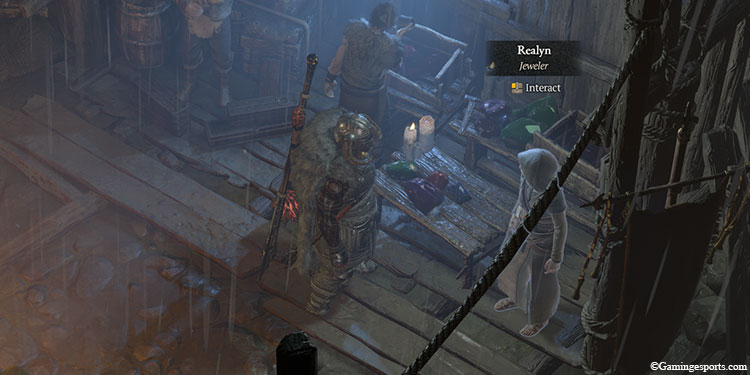 You must reach level 20 on your active character to unlock the Jeweler. After then, you can find them in almost any town and city.
Step 2: Upgrade the Gems
Before you can upgrade a gem, you'll need to ensure that you have multiple copies of that gem.
If you want to upgrade a Crude Diamond Gem into a Chipped Diamond Gem, you'll need at least three pieces of Crude Diamond Gem in your inventory. After gathering a sufficient amount of gem, follow the steps below:
Interact with the Jeweler and click on the type of gem you wish to craft.
Now, hover on the upgrade tier and click to craft the gem.
Increase or decrease the amount of gem that you'll want to craft and hit the Craft button.
Types of Gems
There are seven different types of gems in the game. Each gem offers a unique bonus depending on the gear that it's slotted in.
For example, socketing the Ruby gem on your armor piece will increase your maximum life, whereas socketing it in your weapons will add Overpower damage. If you put the Ruby gem on your jewelry, you'll gain resistance to fire damage.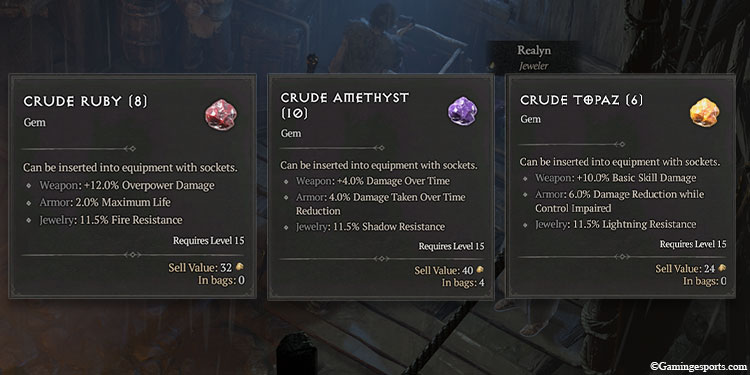 The value or the percentage of stat boost will depend on the quality of the Gem. This means that a high-tier gem such as the Flawless or Royal gem will always have a higher stat boosting effect than low-tier gems like the Crude gem.
We've compiled a list of all the gems in the game along with their stats boost effects on different pieces of equipment.
| | | | |
| --- | --- | --- | --- |
| | Weapon | Armor | Jewelry |
| Amethyst | Increases damage over time | Shortens damage over time effect | Adds resistance to shadow damage |
| Diamond | Increase your ultimate skill damage | Adds barrier generation effect | Increase resistance to all elemental damage |
| Emerald | Increases critical strike damage to all vulnerable enemies | Increases Thorn | Adds poison resistance |
| Ruby | Increase the overpower damage | Increases your maximum life | Adds fire resistance |
| Sapphire | Increases critical damage to crowd-controlled enemies | Increases the damage reduction value while fortified | Adds cold resistance |
| Topaz | Increases the damage of the basic skill | Reduces damage while control impaired | Adds lightning resistance |
| Skull | Steals life on every kill | Increases healing received | Increases the total armor value |
How to Get High-Tier Gems?
While upgrading Gems, you should note that not all upgrade tiers are available from the get-go. This is because high-tier gem upgrades are locked behind your character's level.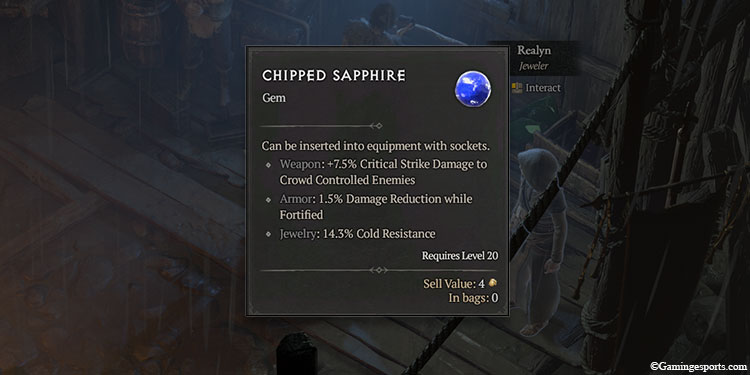 So, to craft high-tier gems or get them from the world loot pool, you'll have to level up your character.
Here's a list of gems you can acquire according to your character's level.
Chipped: Level 20+
Normal: Level 40+
Flawless: Level 60+
Royal: Level 70+
Note: You cannot craft Crude Gem. They can only be found randomly from the world loot pool.