Have you heard about Seeds? Seeds identify Minecraft realms, which can help you find the resources you've been looking for hours, like diamonds.
Diamonds are a coveted item, so it's hard to find. You need it for diamond armor, weapons, tools, Enchanting Tables, jukeboxes, and others.
There're two ways to find these, generally. You either search for places where they spawn, or you go straight to a Minecraft Realm (a seed) that offers diamonds near the spawn point. We're looking for the latter and taking you straight to the jackpot.
Where do Diamonds Spawn?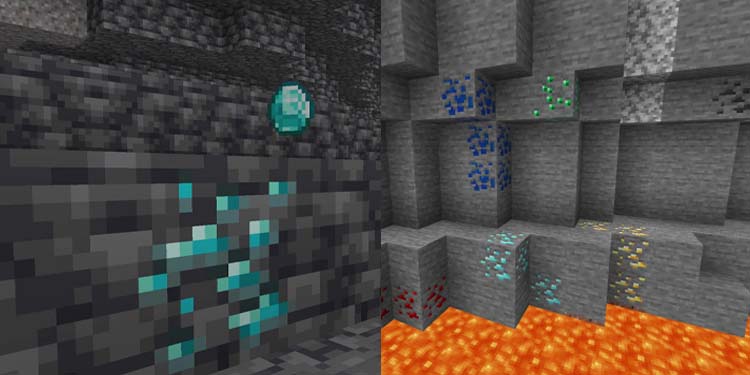 In either world you visit, there're various key locations you'd want to check to find diamonds. Let's check these places before sharing the Seeds:
Buried Treasures (chests – 59.5% chance of getting up to 2 diamonds)
End City (chests – 21.2% chance of getting up to 7 diamonds)
Nether Fortresses (chests – 19% chance of getting up to 3 diamonds)
Villages ( Toolsmith's chests and Weaponsmith's chests – up to 16.2% chance of getting up to 3 diamonds)
Shipwrecks (treasure chest – up to 14.1% of getting 1 diamond)
Minechaft (chests)

Desert Temples (chests)

Jungle Temples (chests)

Strongholds (Altar chest)

Bastion Remnant (treasure chest)
You can also mine Diamond Ore blocks for one diamond each. These spawn in the Overworld's underground near bedrock (around Y:-60), water sources in caves, or near lava sources in caves and the underground.
When you mine in caves or the underworld, don't mine straight down, though. You could land on lava or find yourself surrounded by mobs. Place ladders as you dig instead.
Also, remember that you need iron, stone, or gold pickaxes to mine diamonds, plus light sources to illuminate the underground.
When you reach Y=-59 or Y=-60, diamond in rectangular patterns and create branching paths all across, ensuring you find as many diamond clusters as possible. That said, diamonds begin spawning after reaching Y=-42, and become more common after Y=-52.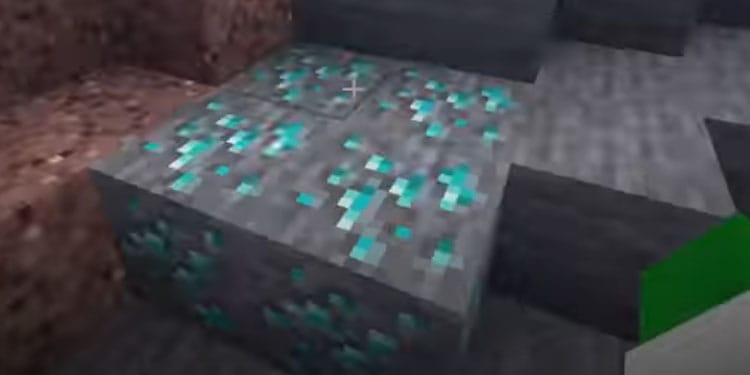 Finally, you may find Blocks of Diamond in Woodland Mansions. Particularly, they spawn in the "Lava Rooms" or the "Obsidian Rooms."
You'd have to defeat mobs and perhaps find secret rooms by exploring or solving puzzles. However, not all Woodland Mansions have these special areas.
The Best Level For Diamonds 1.19 in Minecraft?
We're looking for Seed worlds that place you close to various diamond sources like the ones we shared above. It will make it easier to jump straight to mid and end-game gear.
If you're unsure of how to use Seeds and coordinates, check further below for the answers. Also, the Seeds we're sharing work on Bedrock and Java Edition equally.
Snowy Mountains World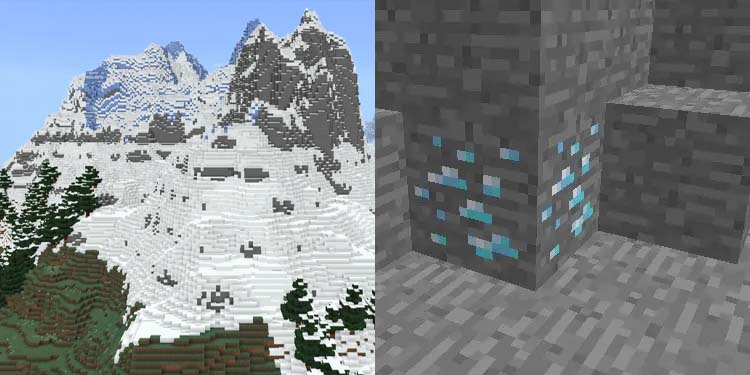 Seed: -7649949940957896961
This seed puts you on as a realm dominated by snowcapped mountains. Following the peaks through almost any direction takes you to large peaks, where you can see the entire beautiful world.
More importantly, you'll see a cave right next to the spawn point. If you go to the bottom of the cave, towards bedrock, you'll find many Diamond Ore blocks.
A Cave Full of Diamonds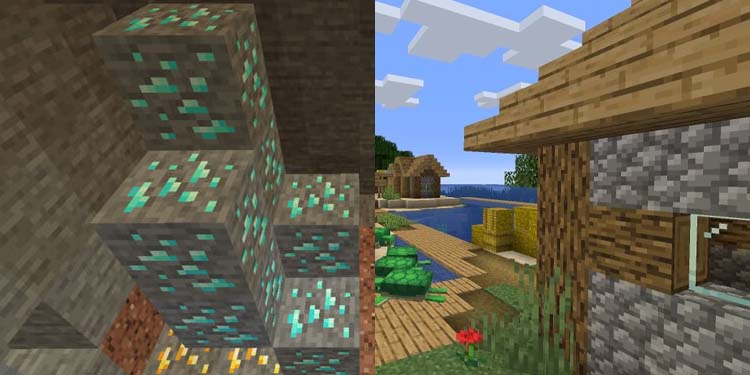 Seed: 3937483735383523698
The next world we're sharing gives you easy access to a cave full of diamonds. The coordinates for the cave are -142 / 11 / 786. The cave has up to 75 diamond ores, a perfect location to become a rich Minecraft character.
Aside from the cave, the Seed is notably full of chests over to the North side of the spawn point. There're also several Small Cold Ruins with good loot, and various villages around the starting location (one to the North and one to the South).
Diamond Cave System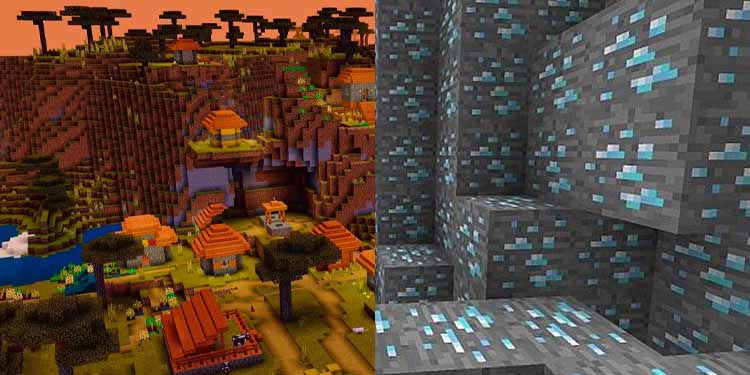 Seed: -4361528937055201680
This seed puts you between a Savanna and a Meadow biome. You're also atop a winding hill with several holes to explore. Any of these holes takes you below sea level and to an expansive cavern system full of copper, dripstone, diamonds, and more.
Other nearby key locations include a savanna village, a plains village, a Jungle Temple, and a Minechaft. The latter is at 8 / -56.
Adventure to The Desert Temple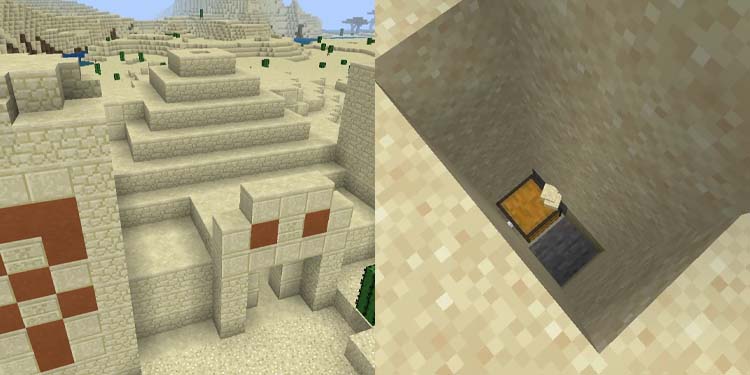 This seed puts you close to a Desert biome that hides multiple buried treasures, your first chance to find diamonds. You'll also find emeralds, TNT, Enchanted books, Horse armor, and other items in these treasures.
Then, if you're willing to adventure further, you can travel to X: -1,304 Z: 1,192 to find a Desert Temple with the loot you're looking for.
Caverns Below the Mountain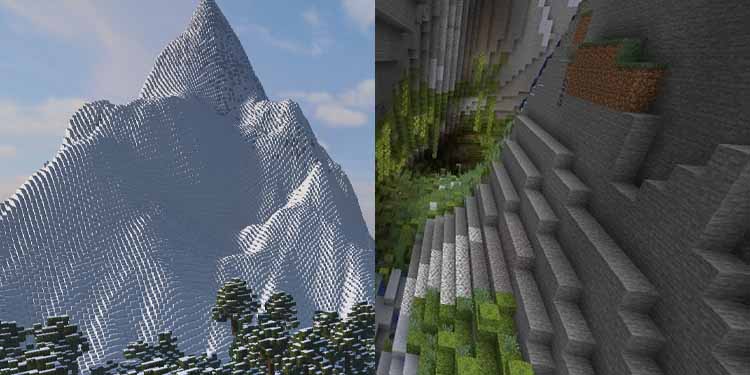 Seed: -8169697951202909253
This seed spawns you in a forest nearby a snowy mountain. At the feet of the mountain, you'll see the entrance to a small cave. It's very close to the spawn point.
The cave leads to a wide cavernous system near the bedrock level. It will be easy to find diamonds here, and also to craft your stone pick on the way down. Other nearby locations include a Mineshaft with diamonds at -104, -40, and a Taiga Village (-528, -384).
Desert Temple Raider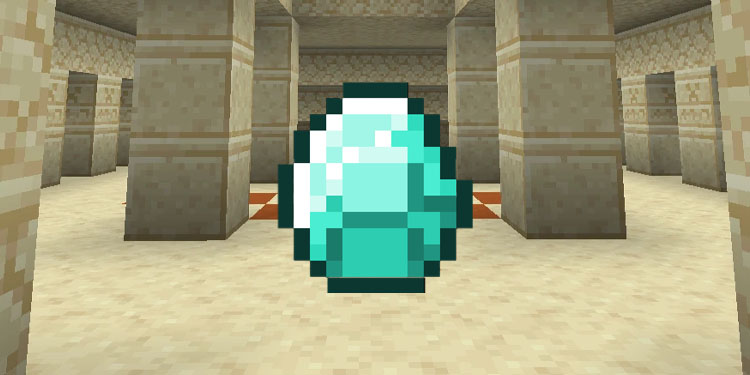 Seed: -961983443257142428
This Seed spawns you close to various desert villages and Desert Temples. There're high chances of finding chests with diamonds in these locations.
The temples are at the following coordinates:
X: -264 Z: 776
X: 56 Z: 856
X: 872 Z: 280
X: 1,400 Z: 280
X: 216 Z: 1,272
X: 536 Z: 1,352
On the way to each temple, you'll find a village as well. Additionally, nearby locations include Woodland Mansions and Buried Treasures.
Waterfall Cave and Treasures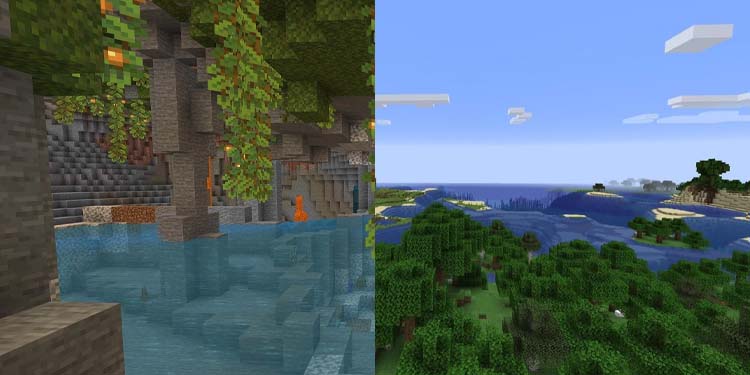 Seed: -198600772450851689
You spawn on a Birch Forest, and there's a hole nearby the starting location. You'll find a waterfall, a road to deepslate areas, and bedrock. You'll find multiple diamond ore blocks in the location.
Aside from the cave entrance, there're various buried treasures around X: -824 Z: -440. Additionally, there're two villages straight North of the spawn point.
Ravine and Buried Treasures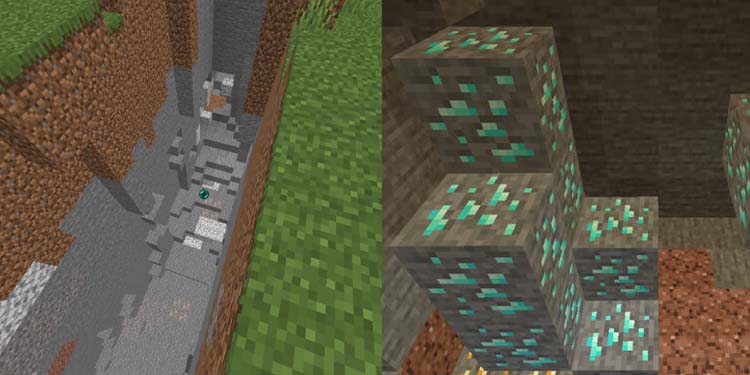 This is a popular seed, as it offers easy access to diamonds. It spawns you on a Ravine, Ravine is full of diamond ore blocks. Be sure to prepare some gear before going down, because there're dangerous mobs in the area.
Additionally, there're four Buried Treasures over to the East of the starting location. You can dig the area around X: 648 Z: -56 for your loot.
Rich Savanna Village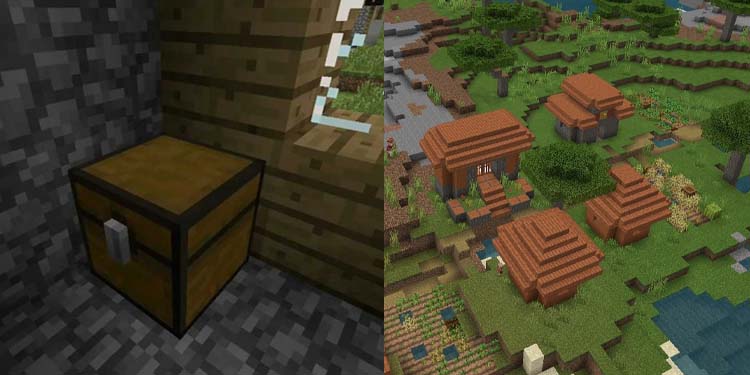 This option is quite straightforward. Head over to the Savanna village at the West of the starting location. You'll find a blacksmith's chest hiding 11 diamonds.
The village is at -504 Z: -296 on Bedrock. On the Java Edition, the coordinates are -752 Z: -240.
How to Select a Minecraft Seed?
The Minecraft Seed is a code number you type to enter a particular realm. You can use seeds on the "Create New World" after you hit Play (Bedrock Edition).
Go to Play on the main menu
Go to "Create New World"
Select "Create new world"
Type code
Customize the game
Select difficulty, game mode, and name
Hit Create after deciding between solo or multiplayer
On the Java Edition, follow these steps:
Go to Single Player in the main menu
Select "More World Options."
Type the Seed code, customize the world, and confirm your creation.
Once you select a seed, you can check all of its details on Chunkbase's Seed Map. Type the Seed, select the game edition, and select between Overworld, The End, or Nether.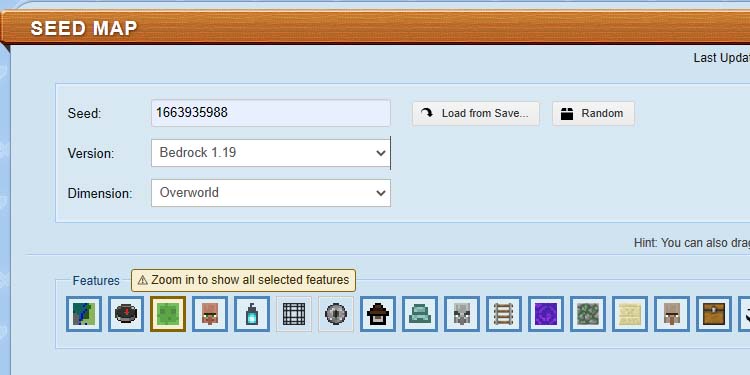 You can use the map's tools to find key locations such as villages or Minecraft. You can also use the bottom slider to zoom in and zoom out.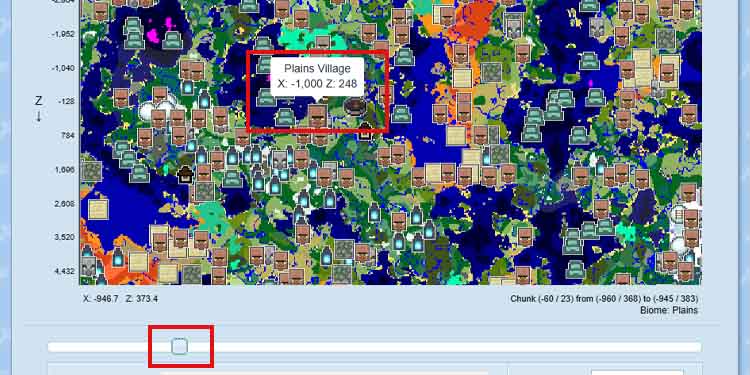 Lastly, to use the coordinates in-game, you'd need to understand how they work. The coordinates have an X, Y, and Z logic, whereas 0,0,0 is where you spawn.
The X is left or right. Moving to the East of the starting location is a positive movement, whilst moving to the West is a negative movement.
The Y is moving up and down. Positive numbers refer to positions higher than the starting location.
The Z refers to North and South. Positive numbers mean moving North from the spawn point.
On Bedrock Edition, you can find your coordinates like so:
Go to Settings
Select Game
Enable "Show Coordinates."
The coordinates will be at the top left of the screen. Remember, it's an X, Y, Z system, so the middle number, for example, is the Y coordinate.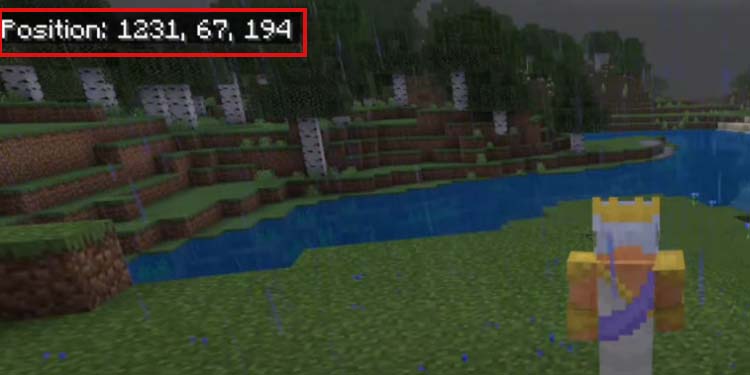 Java Edition players can press FN+F3 on the keyboard. It will display the "XYZ" section (again, the number in the middle is the Y coordinate).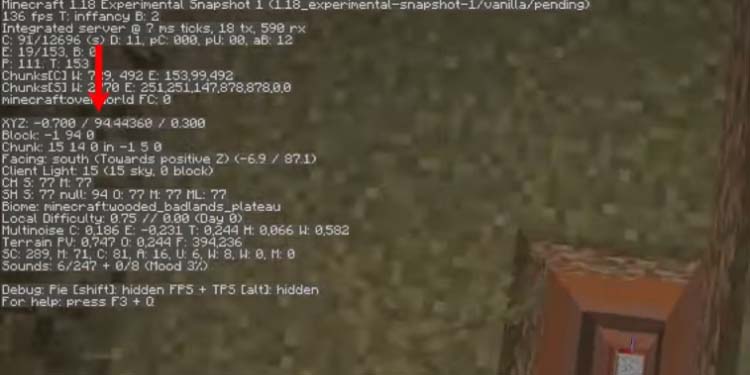 You can use the coordinates to travel to key locations with diamonds. Or you can use the Teleport command.
On Bedrock, go to "Chat & Commands," and type:
/tp (X Y Z)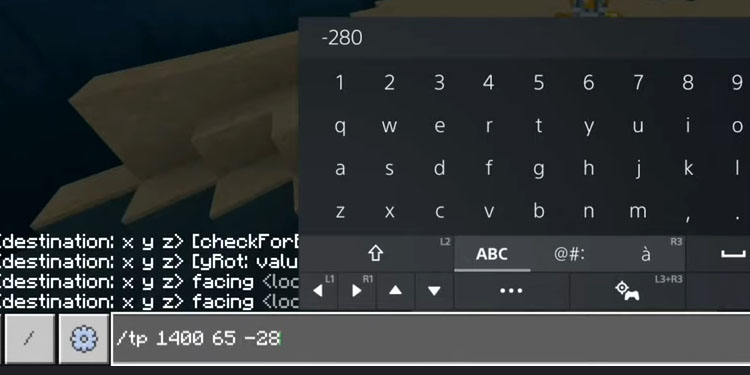 Java Edition players can hit "T" on the keyboard to open the console:
/teleport (X Y Z) -hit Enter to confirm