Magic caster builds are one of the most interesting builds in the Elden Ring. Incantations are forms of magic that need a sacred seal equipped for you to cast them. These spells range from helpful chants to devastating explosions. Elden Ring has a plethora of Incantations, totaling more than 100. This count does not include the 70 more sorcery spells.
Unlike sorceries which require Intelligence to cast, Incantations require Faith. Even if you might be a faithless and initially maiden less tarnished, just have faith upon these Elden Ring incantations we selected and wreak havoc upon all foes.
Giantsflame Take Thee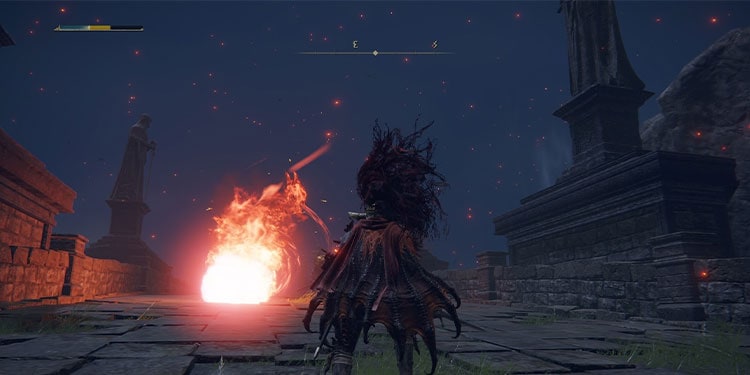 One of the best offensive incantations in the game. It does everything you want a powerful incantation to do.Hurl the fireball and deal massive damage to bosses. You can charge it for additional AOE damage and eliminate a group of enemies at once.
Equip this incantation and you will be carrying a handheld artillery wherever you go. You can even turn your back away from fire and watch it explode behind you just like in the movies.
Bestial Sling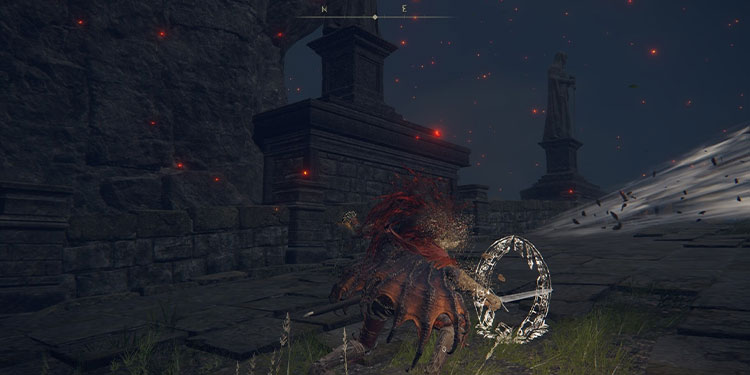 One of the best farming incantations to tear apart multiple weak enemies at once. New update makes it a bit less impactful in PvP but the low FP cost keeps it viable for PvE.
The ability to quickly spam it and clear a bunch of weak enemies make it a very useful incantation. You can even use it while sprinting. Spam it and farm crafting materials in bulk.
Bestial Claw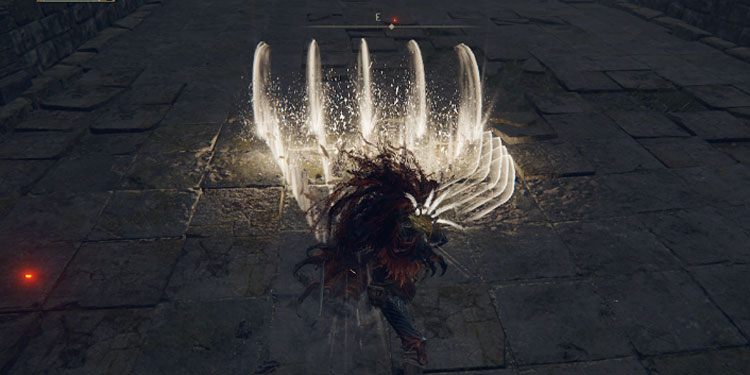 It fires a cone shaped wave of force in front of you. You can still use this incantation even if you are a strength build by equipping the Clawmark Seal. This seal scales the damage of Beastial Claw to strength.
It can be charged for more damage and can be chain cast. All and all a solid cast.
Lightning Spear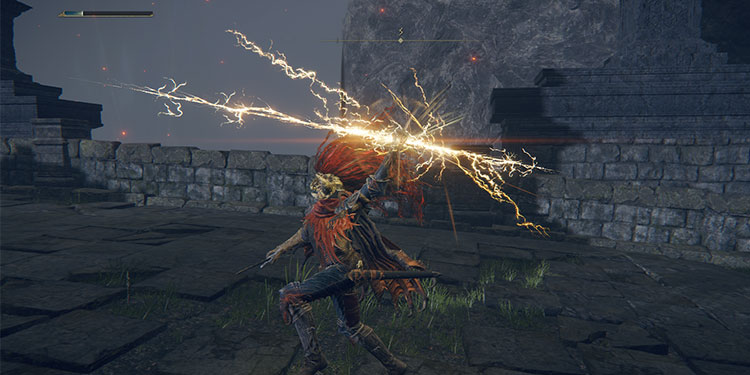 This is a classic Lightning Spear. Everyone who has played the Souls series knows exactly what it does. It peels off the scales of dragons and deals massive lightning damage.
Shoot it directly at your foe to pierce through them. You can also throw it on the water to deal AoE lightning damage.
Blood Flame Blade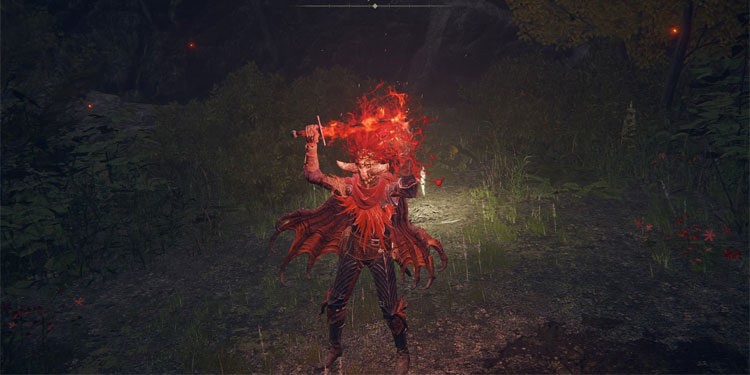 The most broken weapon enchantment in the game. It will engulf your weapon with a mixture of blood and flame. Slashing at foes while active stacks bleed damage and burns them as well. It is a devastating combo.
If you go hunting for this enchantment make sure to avoid going in the night. Go to the area during the day. As the path is haunted by a Boss Night Rider, that will most probably kill you early on.
O, Flame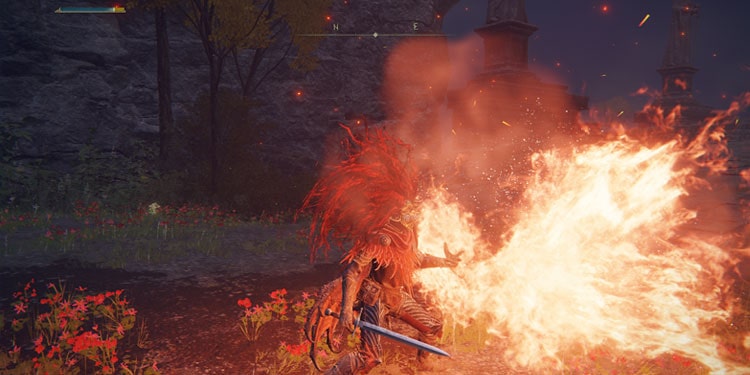 This is basically a huge shotgun blast on the face of foes. Use this and wipe out a bunch of enemies crowding you or insta kill an opponent that is getting way too close to you. This is a slow to cast spell and can't be chain cast, but still a very good AoE damage spell.
Swarm of Flies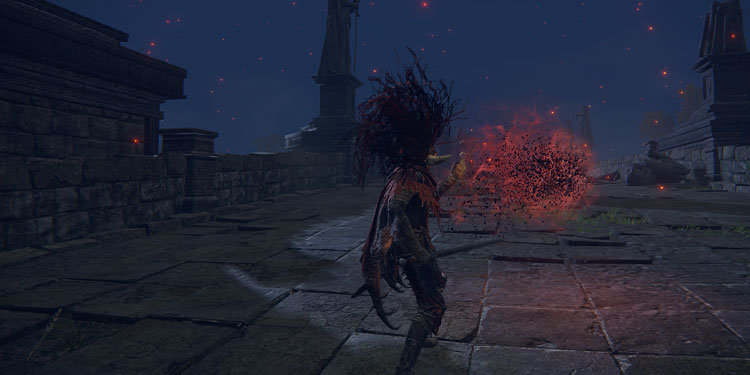 Throw these carnage of flies at foes and watch them suffer a hemorrhaging death. This spell can be cast while crouching without standing up from a stealthy position.
If you are good at free aiming then pass a blast of these vicious flies towards your foes. You can stay hidden and watch them squirm to their deaths.
Pest Threads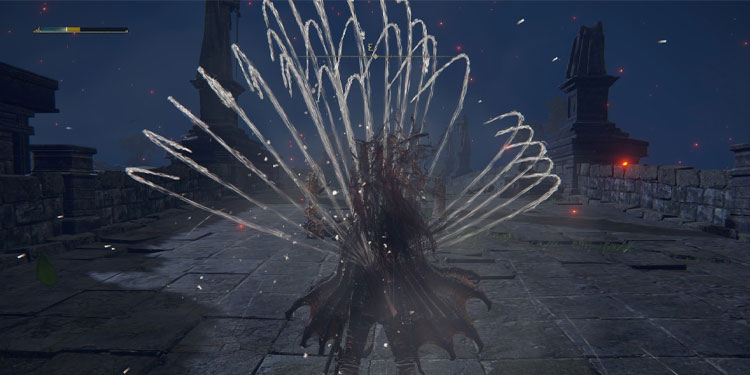 This incantation is definitely a boss killer. All the threads converge towards one foe and deal an insane amount of damage. This also slows down the enemies it hits. It's a very effective spell, equip it and watch it melt down the health bar of your enemies.
Ekzyke's Decay
This breath spewing attack looks awesome, just like other dragon casts. The breath damages everything it hits and inflicts scarlet rot. This spell has a long casting time and you can somewhat control the direction of the cast as it starts.
You are vulnerable when you cast it so make sure you are safe before you invest in it. Once you hit your foes with it, you are set to see them rot to death.
Ancient Dragon's Lightning Strike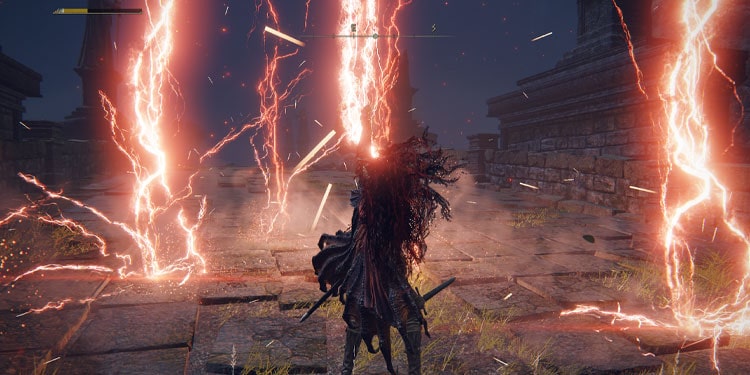 Cast an outwardly spreading lightning bolt that can drop into an enemy several times. Get super close to a huge boss and cast it right underneath their noses and watch as they get hit by several of these highly damaging bolts. This cast doesn't just look devastating, it is lethal.
Golden Vow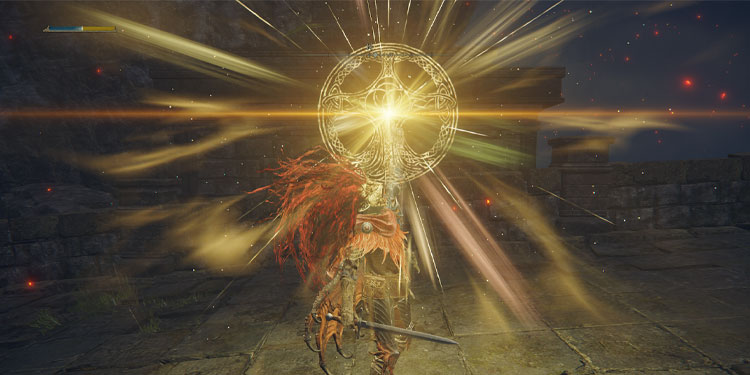 The best aura type buff in the game. Using it boosts you and your allies' attack and defense both. This stacks with another type of buffs that aren't aura buffs. Use this with additional weapon or body type buffs. It will stack and deal a good chunk of damage with every hit.
Flame, Grant Me Strength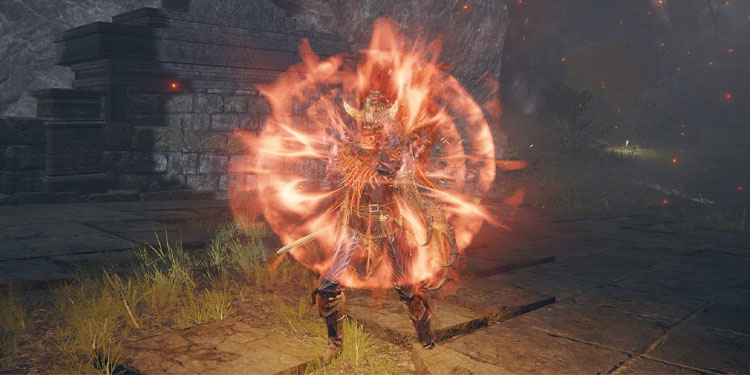 This is another amazing buff. It is a body buff, so it stacks with a weapon, shield or aura buffs. It boosts the physical damage and fire damage both.
The damage boost from this buff stacks multiplicatively with Golden Vow. Use them together and watch the health disappear from your enemies.
Catch Flame
This is the smaller version of O flame. Casting it sparks a quick blast of fiery shotgun. Use this blast of fire to swifty finish enemies close to you without consuming too much FP.
It is a very good incantation for beginners, and will be helpful for a decent chunk of the game. Use it for farming and burning down your foes both.
Honed Bolt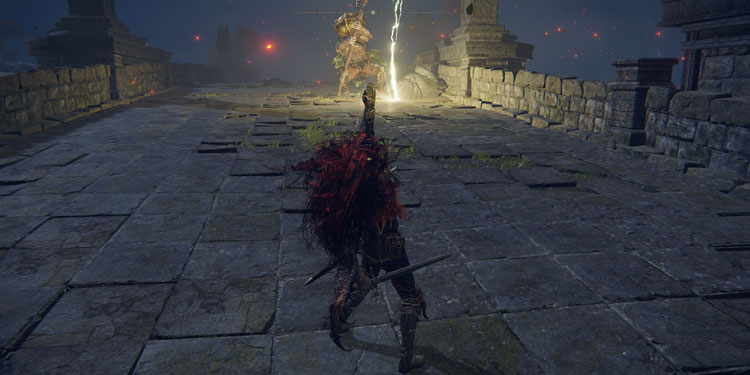 Just like Zeus himself, drop down a bolt of lightning quickly upon your foes. Then do it again and again. You will love it. Once you start dropping the bolts the damage stacks up very quickly. This spell is well liked both for its PvE and PvP potential.
All Healing Incantations (Lord's Heal)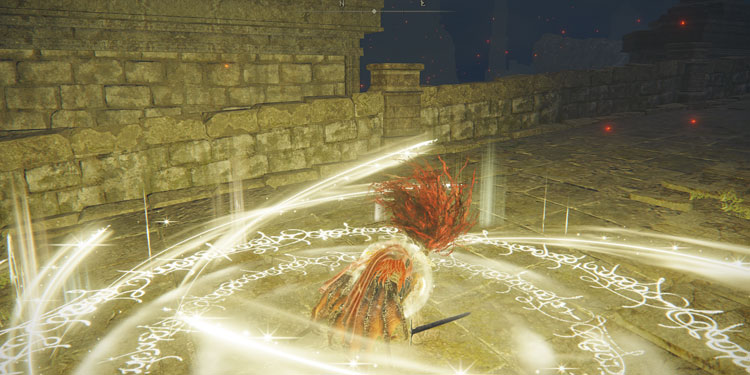 Recovery incantations can be a good addition to your healing flasks. Super hard to fight enemies, like Revenants are an easy kill with healing spells. Have them handy if you are visiting anywhere Revenants are known to haunt.
Healing incantations, even the weakest ones will damage and stun these annoying foes. And let's not forget you can also heal your allies and your summons.