Error 315306 does not let you login into Diablo IV. This is a virtual slap across the face for someone who just bought the game.
This error is very annoying as Diablo IV does not even let you play its single-player story mode without a login and an active internet connection.
Mostly, this error has nothing to do with your system or settings. Rather it comes due to some issues with the game servers. When this error occurs, the game servers are unable to locate a valid license, resulting in battle.net being unable to verify your game ownership.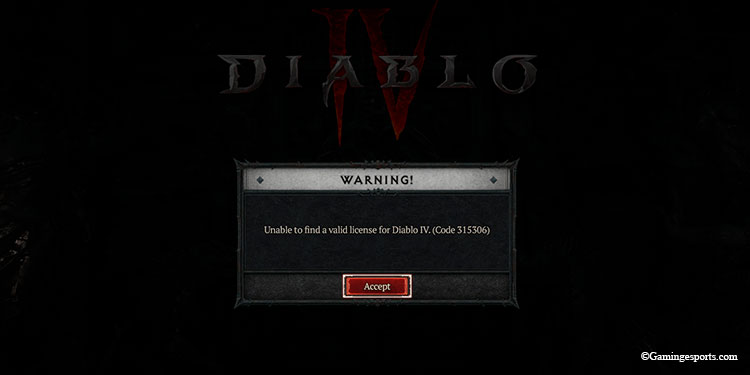 How to Fix "Unable to find a valid license for Diablo IV.(Code 315306)" Error
While there isn't much players can do to resolve this issue on their own, there are a few things you can attempt though,
Wait for Blizzard to Resolve Their Server Issues
The error 315306 is a server-side issue and not an issue from your side (client side). You don't have many options when this error shows up apart from waiting for the blizzard and battle.net to fix this server error.
Although, this will be resolved automatically after the servers stabilize, one thing that you can definitely try is to relaunch your Battle.net Client and and attempt to log in again and again.
Other Probable Fixes
If you are desperate and the error persists, for once you can try your luck with these fixes. But as we have already discussed above, this error is mostly solved from the server side so we strongly suggest you wait for the Blizzard team to resolve the issues on their side. The optional fixes that you can try are,
Check the Diablo IV server status for existing errors, and also confirm if Diablo IV is scheduled for maintenance.
If on the PC. Check if the game is blocked by your firewall, and add an exception for Diablo IV through the Firewall.
Check if you are connected to the internet. If not, resolve your DNS address. Set a manual IPv4 and DNS. If it is manual, set it to automatic.
Restart your Router.
Restart your Machine.
Uninstall and Reinstall Diablo IV.
Finally, contact Blizzard Customer Service. 
With all that, the game has been released just this month, so there are bound to be a lot of errors, and Blizzard will keep working on fixing those. So, have patience and keep playing !