In any ARPG title, we generally focus on building our character around the offensive stats to clear enemies as quickly as possible, and Diablo is no different.
For the offensive stats, players normally deal with Main Damage, Critical Damage, Vulnerable Damage and Damage over time.
Overpower damage is a new type of damage that is independent of the rest of the types. Rather than relying on the offensive stats of your character, overpower damage depends on your defensive stats. 
The Overpower System
In Diablo 4, enemies become more resistant to your attacks as you reach higher levels. It reaches a point where you'd want to focus solely on increasing your damage while sacrificing your defensive stats.
This can often lead to builds stagnation as you'll need to build your character a certain way to be able to clear out the enemies.
In the past, you either had to build a character with low survivability in exchange for high DPS capability or build a tank-ier class with lower damage-dealing potential.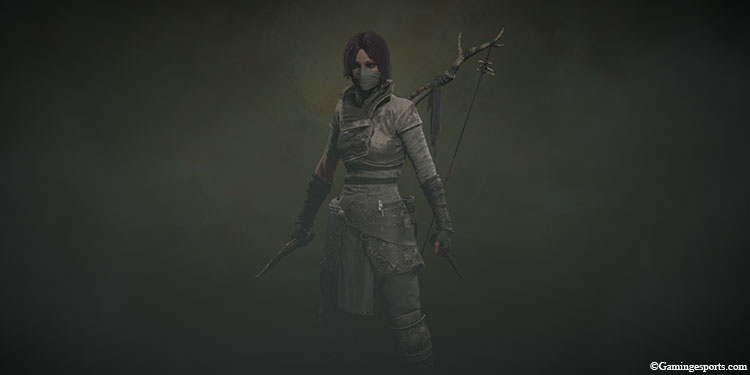 The Overpower damage system in Diablo 4 aims to shake things up by introducing a new damage type that relies more on your defensive stats, including your total life, fortified life, and the defensive stats on your gear, rather than just your offensive stats.
This allows you to build your character around defense without losing the offensive capability.
How Does Overpower Work?
Before we dive into learning more about Overpower damage, let's quickly go over the different damage types in Diablo 4.
Every time you strike an enemy, you'd have a chance to procure three types of hit effects. You can either land a normal hit, a critical hit, or the overpowered hit. The hit type can be easily differentiated by its colors.
The white-colored numbers represent a normal hit.
The yellow color means that it's a critical hit.
The blue-teal color is the overpowered hit. 
Note: As the overpower damage system is an independent damage type, it can also perform a critical hit. A critical overpowered damage number is represented by dark orange color.
You can think of the Overpower system as the Critical hit system since they are quite similar to each other. Both of them have two different aspects. I.e., the hit chance and the strike damage.
As the name suggests, the hit chance determines the rate of procuring a overpower or critical hit, whereas the hit damage determines the total damage of the hit. But that is where the similarities end.
While you can increase the frequency of the Critical hit by increasing the Critical Chance, there is no way to increase the Overpower hit chance as of right now. The base hit chance is fixed at 3% for all classes.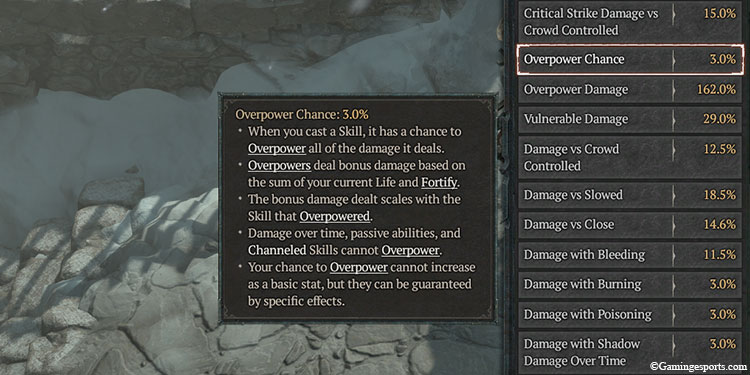 Moving on to the Overpower damage. As I've mentioned before, the Overpower damage percentage depends on your defensive stats rather than the offensive ones. More specifically, it depends on your current Health and the Fortified Health.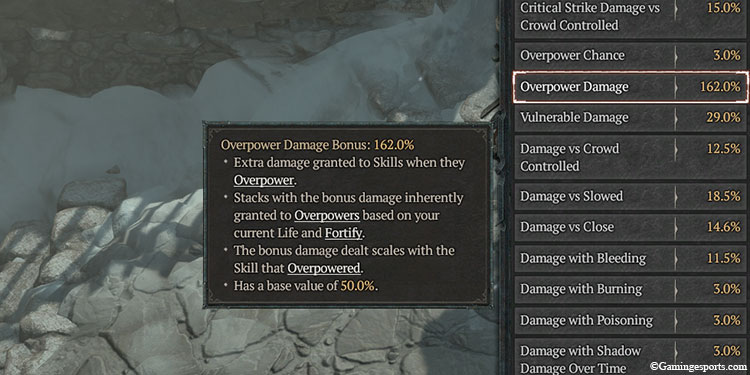 The more health you have while attacking, the higher your overpower damage is going to be.
How to Increase Overpower Damage?
In order to increase the total Overpowered damage, we should first consider all the factors that affect this damage. Let's start by looking at the math for calculating the total overpower damage.
Overpowered Damage = 0.5 x (Current Health + Fortified Health) x 0.1 x Overpowered Damage Bonus(%)
So, from the above equation, it is clear that to deal high Overpowered damage, you'll need to invest in your Health points, Fortified Health, and your Overpowered Damage Bonus.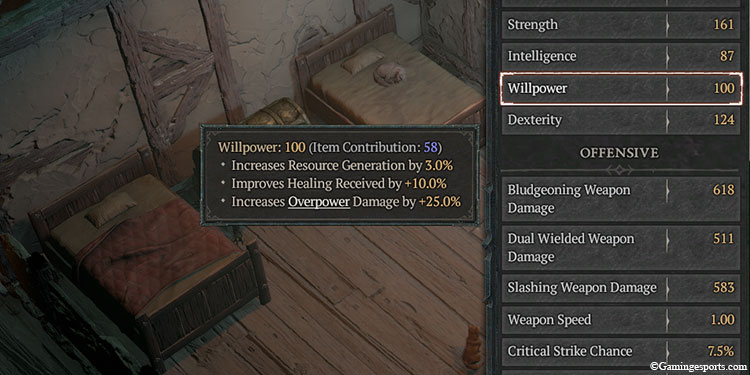 Here's how you can increase the above factors.
You can increase your Health points by leveling up your character, socketing Ruby Gems on your armor, Paragon, etc.
You can increase Fortified Health by equipping armors with Fortify stats, using Runewords, using potions or scrolls, Paragon nodes, etc.
The best way to increase your Overpower Damage Bonus is by equipping gears with high Willpower stats.
Note: The Overpower Damage Bonus is capped at 150% if you're doing PVP content.
Which Classes Can Guaranteed Overpower Hit?
Although you cannot increase the Overpower hit chance, a few classes can sustain guaranteed hit chances with the help of specific skills.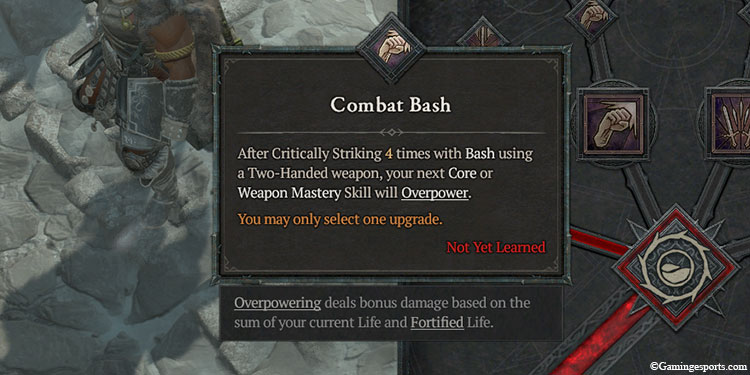 Class
Skill
Effects
Barbarian
Combat Bash
You'll get a guaranteed overpowered hit after critically striking enemies four times with the Bash skill (Two-Handed weapon)
Druid
Enhanced Pulverize
Your Pulverize skill will land an Overpowered hit every 12 seconds of remaining healthy.
Provocation
Remaining in the Werebear form for at least 24 seconds will grant a guaranteed Overpower hit for your next skill.
Necromancer
Supernatural Blood Lance
Grants a guaranteed overpower hit after using your Blood Lance skill six times.
Paranormal Blood Surge
Getting five stacks of Overwhelming Blood will make your next Blood Surge cast a guaranteed Overpowered hit.
Tides of Blood
Increases your Blood Skill Overpowered damage. Doubles the damage while you're healthy.
Rathma's Vigor
Remaining Healthy for 12 seconds will give your blood skill a 100% chance to overpower.