Path of Exile remains at the top of the hack & slash genre. Because of constant developer support and fine-tuning, errors and crashes you may find are easy to fix. 
The developers have upgraded the game's overall quality and PC requirements in recent years, so in few cases your PC specs may no longer support Grinding Gear's dungeon crawler. Another common cause for this crash is missing key software updates to match PoE's latest patches.
Steam and Epic Games users can return to Wraeclast after checking the game for corrupted game files and missing updates. If that does not work we suggest completing all steps (except for the last one) before testing the game again.
And if none of these solutions work, you'd have to reinstall the game before going back to your favorite character build.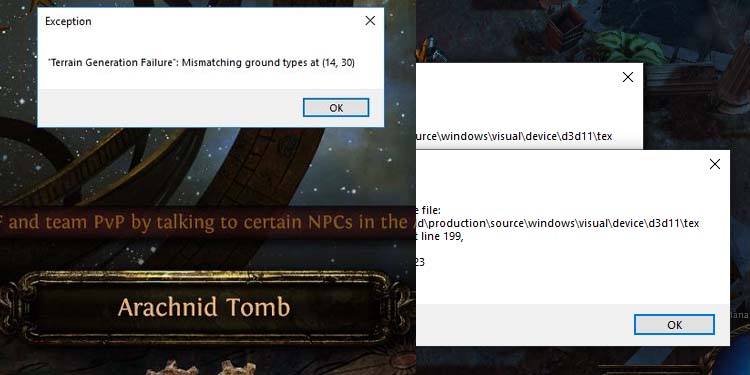 Verify the Game Files on Steam
Sometimes, the corrupted game files also causes the game to crash often. Steam can check for potential corruption in the game's data, and re-download whatever it needs to run it again. For that,
Open Steam.
Go to your Library.
Right-click Path of Exile and click "Properties."
Select "Local Files" on the left.
Click "Verify integrity of files" on the right.
Steam will let you know if it fixed or downloaded anything. Otherwise, this wasn't the problem.
Verify the Integrity of Game Files on Epic Games
The Epic Games client is prone to interrupt updates and downloads, which is how games become corrupted. To fix it first check the integrity of game files. To do so,
Open Epic Games
Click the Library icon on the left.
Click the "…" icon on Path of Exile.
Select "Manage."
Click on the "Verify" button.
Epic Games will notify you if it downloaded or fixes anything. Otherwise, the problem lies elsewhere.
Update Steam
Updating the launcher can fix recent bugs and errors in the games you're playing.
Go back to Steam.
Click on "Steam" at the top left.
Select "Update Steam."
The client will let you know if it finds and downloads an update.
Update Epic Games
Similarly, try updating Epic Games to fix compatibility issues with Path of Exile:
Open Epic Games.
Click on your profile icon at the top left.
Check if there's an "Update available" button next to settings – click it.
Click "Restart and update" and wait for the process to finish.
Add Administrator Rights to Path of Exile (Steam)
Path of Exile is known to cause errors if you play it without administrator rights. The solution is to find its .exe file and then modify it to play it as the admin.
If you're playing on Steam and you don't know where the game's folder is, here's how you can find the .exe file:
If you see it, delete PoE's desktop shortcut
Go back to Steam's Library.
Right-click Path of Exile and go to Properties.
Go to Local Files.
Click "Browse." It will take you to the game's folder.
Now that you're in the game's folder, find "pathofexile.exe," right-click the executable, and select "Properties."
Now, go to the Compatibility tab, and check "Run with administrator rights." Then, click "Apply" to confirm.
Finally, you should send the .exe file to the desktop as a shortcut (erase the one that's already on the desktop). It's a matter of right-clicking the file again, selecting "Send to" and then "Desktop".
Windows 11 users have to hit "Show more options" before finding the shortcut option.
Finally, the next time you play the game, open it through the shortcut you just created. Don't test it yet, though, there're still things you should do.
Add Administrator Rights to Path of Exile (Epic Games and Standalone Client)
If you're playing on Epic Games or using the standalone client, you can create a new desktop shortcut, and add administrator rights to it. In any case, delete PoE's existing desktop shortcut (if you see it).
Then, Epic Games users can create a new shortcut following these steps,
Go back to Epic Game's Library.
Click the "…" icon and select Manage.
Select "Create" next to "Create desktop shortcut."
If you're using the standalone client, you have to find the game's folder. Then, right-click "pathofexile.exe," select "Send to" and then select "Desktop."
If you're on Windows 11, you will find these options by hitting the "Show more options" button.
Finally, right-click the desktop on the shortcut, go to the Compatibility tab, check "Run as administrator," and confirm.
From now on, every time you play PoE, do it by opening the shortcut you created. However, don't test the game yet -there're still things to do.
Update the GPU drivers (Windows 10 & 11)
Keeping your graphic card drivers up to date is necessary to run every game, particularly if you're playing on older units (like the trusty Nvidia 1060).
Right-click the Windows icon on your taskbar.
Select Device Manager.
Expand the "Display adapters" category.
Right-click your GPU (if you see two GPUs, repeated the process with the two items).
Select "Update drivers."
Select "Search automatically for drivers."
Let the system find and install the update. Otherwise, it will let you know there was nothing new available.
You may also download the Nvidia, AMD, or Intel proprietary software you're using to play the game – depending on the GPU you found on the device manager.
Visit the official page, match your GPU model on the search query and then download and install the program. Here're the pages:
These programs will give you easy access to driver updates and installations, as well as performance and graphical settings, screen recorders, and more.
Update Windows
Updating Windows can install drivers, packages, and features the latest PoE builds require. To do so,
Click the Windows button on your PC, or click the Windows button on the taskbar.
Type "windows update" on the search query.
Click "Check for updates" to find new updates.
If you're on Windows 11, you may also see an "Install" button. Click if this is the case. Otherwise, Windows 10 users may see a "Download and install" button or something similar, which you should also click.
If the system finds a new update, hit the relevant button. Then, the PC may ask you for a restart to install the new content.
If you're playing PoE on Windows PC, you should try it now.
Update MacOS
If you're playing on macOS, updating the operating system also updates the GPU drivers.
Click the Apple button at the top right.
Select "System Preferences."
Select "Software Update."
If the system finds an update, click the relevant button.
If you're playing PoE on macOS, you can test it now.
Delete Shares and Mini-map Temporary Data (Windows)
Another possible problem for Windows users is corrupted temporary files in the game's folder. Deleting such files may solve the case for us. For that,
Go to Path of Exile's folder.
Delete "ShaderCacheVulkan" and "ShaderCacheD3D11"
Go to "Documents\My Games\Path of Exile"
Delete "Minimap" (a folder).
Reset the "Shader Cache" of your GPU.
For the last step, you need the proprietary AMD or Nvidia software. On Nvidia, you have to access the Nvidia Control Panel – 3D Settings – Manage 3D Settings – Shader Cache – Off.
On AMD Adrenalin, go to Gaming – Global Graphics – Advanced – Reset Shader Cache.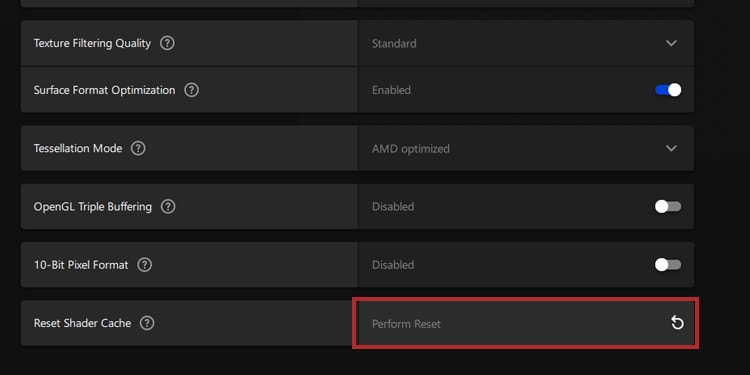 Additionally, perform a disk cleanup too,
Click the Windows button on your keyboard.
Type "disk cleanup."
Open the Disk Cleanup tool.
Select the storage drive where you installed Path of Exile (if you don't know which drive, repeated the process with every drive)
Check all of the items on the list and confirm.
Lower the Graphical Settings & Close Unnecessary Apps
The Path of Exile community has found that disabling various graphical settings increases performance and lowers crashes. This is particularly true if your PC specs are below or similar to the game's minimum requirements.
Here're the settings we recommend turning off on the in-game Graphics menu,
On Renderer, change DirectX11 to Vulkan.
Disable "Engine Multithreading" and "VSync."
Disable " Hyper-threading"
Lower the overall graphical settings.
Additionally, close any unnecessary third-party apps you're using as you play. Known culprits include MSI Afterburner, RGB software, web browsers, Word programs, Adobe programs, and others.
You can close these apps by accessing the task manager (CTRL+ALT+DEL). Then, right-click any program you want to close and select End Task.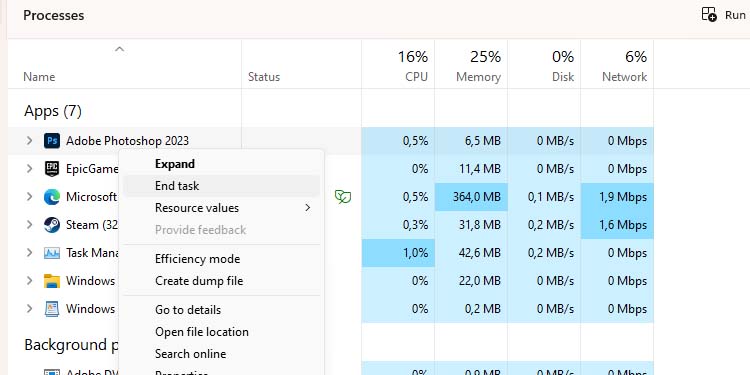 That said, here're the minimum specs to play Path of Exile,
Windows 7 SP1/Windows 8
Quad-core 2.6GHz x86-compatible processor
8 GB RAM
NVIDIA GeForce GTX 650 Ti or ATI Radeon HD 7850
DirectX 11
40 GB available storage
Disable Overclocking
Finally, you should disable any overclocking you're doing on your GPU or your CPU.
You should even uninstall any overclocking app. You can do it by right-clicking the Windows icon and then selecting "Installed apps," "Apps & features" or similar (it's always the first option on the cascade menu.
Then, find the overclocking app, click it, and select "Uninstall." On Windows 11, click the "…" icon and select Uninstall.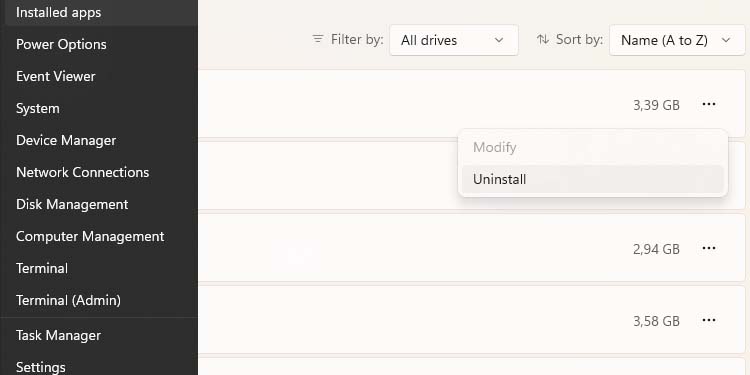 Afterward, test Path of Exile again.
Reinstall the GPU drivers
Lastly, I've found many players solved the issue by reinstalling the drivers. It solves the issue because, perhaps, your drivers are corrupted.
The process requires deleting all current drivers with software and then downloading the proprietary software again.
Download DDU (Display Driver Uninstaller) and install it.
Open DDU. It's a straightforward program – you only need to select your GPU brand.
Follow the instructions.
Re-download your GPU's proprietary software, and install it again.
Afterward, try playing Path of Exile again.