Path of Exile features five classes of characters, each with a unique set of attributes. One of these classes is the Witch class, which is one of the pure intelligence class. It comes with a lot of mana and spells attacks. The Witch class also has three ascendancy classes.
Necromancer is one of those three subclasses which is associated with dead and undead elements and summoning abilities. There are many builds for Necromancer as it is the best and most played subclass of the Witch Class.
Among many, the Skeleton Mage Necromancer build is one of the best, as it revolves around the summoning abilities of the Necromancer. In this guide, we will explain you how to use this build to dominate the game.
Skeleton Mage Necromancer Build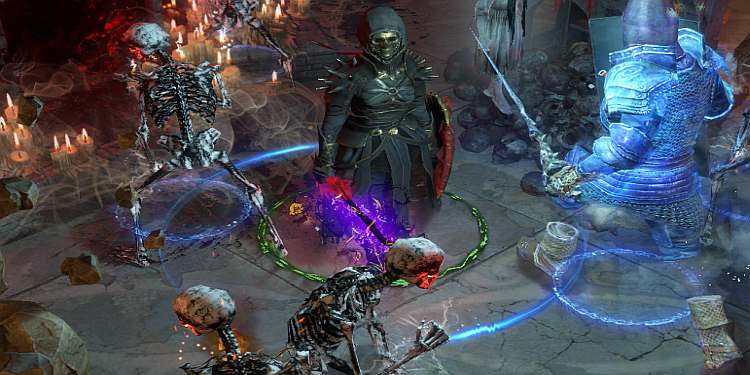 Character Class : Witch
Ascendancy : Necromancer
Most of the builds in PoE focus on a gem for the maximum output. But in this build, the most important item is a jewel called Dead Reckoning. Like a gem, a jewel also has jewel sockets on the Passive Skill tree. It is used with the gem Summon Skeletons to summons skeletons.
You can summon three kinds of skeletons with different elemental attacks, i.e., Cold, Fire, and Lightning. So, the skeletons you summon are not regular melee skeletons. They are skeleton mages that can cast spells on enemies. You can summon up to 15 skeletons using this build.
It is very starter friendly as you won't have to invest yourself that much in the game fights. Your summoned skeletons will do all the fighting for you. But you need to position yourself correctly and try to save skeletons from dying.
But some may find this build boring as all you need to do is use your potions, position yourself, and let your minions do all the fighting. This build is very versatile too. You can use very low-budget items to very high-budget items.
But don't worry, even if you choose low-budget items, the build will still get the job done.
Pros:
Starter Friendly
Good Clear Speed
Powerful Skeletons opposed to Melee Skeletons
Great Boss Killer
Easy Leveling
Budget-Friendly
Easy Mapping
Cons:
Some may find the gameplay boring
The end game can be expensive if you want to scale more
Bad Positioning can punish you severely
Play Style
The playstyle of this build is very straightforward. Your job is to summon as many skeletons as possible and stay out of harm's way. As your minions or skeletons are fighting, your enemies will focus on them, and you can be safe.
But some enemies may target you. So, it would be best to use Flame Dash to dodge the attack. Also, you need to have Immortal Call for defense and should be in the automatic cast, which can be done by linking it with Cast When Damage Taken.
You can cast any elemental spell for boss fights that is the boss's weakness. Also, for defense, Bone Offering must be on at all times. If you think defense is still low, you can invest in defense more.
Recommended Gears
Here are some of the gears that are recommended for this build. All these gears are ideal for this build.
Head:
+3 to Level of Socketed Minion Gems Rare Helmet with High Life and Res/Attributes. For a higher-budget build, you can choose Maw of Mischief.
Amulet:
Rare Amulet with High Life and Res/Attributes. You can also choose a unique amulet called Ashes of the Stars for a high-budget build.
Chest:
Gloves:
Rare Gloves with Hight Life and Res/Attributes. For a high-budget build, you can use Vixen's Entrapment. Also, Breathstealer is a very good option.
Boots:
Belt:
You can use Stygian Vise for a budget-friendly build. But a unique belt called Darkness Enthroned will also be better.
Rings:
Any Rare Rings with High Life and Res/Attributes.
Weapon:
Any Rare Wand with +1 to Level of all Minion or Spell Skills. You can also use another weapon instead of a shield.
Shield:
Any Rare Shield with High life and Life Recovery on Block.
Jewels:
Any Rare Jewel with High Life, Elemental Resistances, Minion Damage. Dead Reckoning is the jewel you must have in this build. Other jewel options are Abyss Jewels, Elegant Hubris, and Fortress Covenant.
Flasks:
Bottled Faith, Blood of Karui, Rumi's Concoction, Perpetual Quartz Flask of Warding, and Alchemist's Quicksilver Flask of Adrenaline.
Leveling
Dead Reckoning can be a little hard and time-consuming to find. But you need to clear the Acts before you can find it. You will have Summon Skeletons with you in the early game. But it will not be that useful without Melee Splash Support and Minion Damage Support.
So, before getting these, you will need to get to Level 8 first. Use these gems to get through to Level 8:
Stormblast Mine
Freezing Pulse
Frost Bomb
Stormblast Mine will help you with single target damage, and Freezing Pulse and Frost Bomb will help for clearing. After reaching Level 8, you can get Melee Splash Support and can be linked with Summon Skeletons. So, use this gem link:
Summon Skeletons
Melee Splash Support
Minion Damage Support
Another gem link you should use after your reach Level 12 alongside the above gem link for more damage output is:
Absolution
Spell Echo Support
Minion Damage Support
Physical to Lightning Support
For Curse gem, you can use Elemental Weakness. For Aura, you can link Zealotry and Generosity Support. Also, you can use Hatred for Aura.
After finding Dead Reckoning, use it on the Passive Skill Tree and the gem link mentioned below.
Gem Link
At the end game, after you have got every possible gem and Dead Reckoning on the Passive Skill tree, use these gem links.
Vaal Summon Skeletons (6-Link)
It is the most important gem link for this build. You can also use Summon Skeletons if you don't have Vaal Summon Skeletons. But Vaal Summon is superior.
Vaal Summon Skeletons
Spell Echo Support
Pierce Support
Volley Support
Minion Damage Support
Increased Critical Damage Support
You can replace Volley Support with Hypothermia Support for a single target. Also, you can use Elemental Focus Support instead of Volley Support and Greater Multiple Projectiles Support instead of Increased Critical Damage Support.
Utility Minions (4-Link)
Raise Zombie
Raise Spectre
Animate Guardian
Minion Life Support
Instead of Animate Guardian and Raise Spectre, you can also use Feeding Frenzy Support and Minion Damage Support, so if you do this, use another gem link with Raise Spectre only.
Raise Spectre
Meat Shield Support
Elemental Army Support
Lifetap Support
This gem link will help you protect yourself from enemies. Your summoned skeletons will work as a meat shield for you.
Flame Dash (4-Link)
Determination
Summon Skitterbots
Flame Dash
Convocation
You don't need to link these gems with each other. This link will give you mobility, but for more defense, you can use this link:
Flame Dash
Immortal Call
Cast When Damage Taken
Bone Offering (3-Link)
Bone Offering
Desecrate
Sniper's Mark
Aura (3-Link)
Summon Skitterbots
Zealotry
Generosity Support
Instead of Summon Skitterbots, you can also use Summon Stone Golem. And, you can add Feeding Frenzy Support in this link to make it 4-link.
Defiance Banner (3-Link)
Defiance Banner
Determination
Ascendancy Nodes
Choose the following Ascendancy Nodes for this build in order of importance. Earn ascendancy points in Labyrinth Trials and use those points for this.
Mindless Aggression
Unnatural Strength
Mistress of Sacrifice
Commander of Darkness
Bandits
Along your quest, you will find Eramir, who will give you a task to kill the bandits or save one of them. There are three bandits, and each bandit will provide you with a buff for your character as a reward. And, killing all of them will grant you two passive points. These are the options you have to choose among:
Save Bandit Lord Kraityn
Save Bandit Lord Alira
Save Bandit Lord Oak
Kill All Bandits
For this build, Kill all the bandits for the 2 Passive Points.
Pantheons
The Pantheon can provide players with a passive defensive buff. For this, you must defeat 12 gods with different attributes and buffs from Act 6 to Act 10.
The gods are divided into two groups:
Major Gods
Minor Gods
You can get the buffs from one Major and one Minor god. So, choosing the right buff is crucial and is different for a different build.
So, for this build, choose Soul of the Brine King as the major god for the stun block and avoid the freezing and chill effect.
Choose Soul of Shakari for poison resistance and Chaos Damage mitigation for minor god.
As you can see, there are many options for gears and even gem links in this build. So, this is one of the most versatile builds for Necromancer. Use this build in the game, sit back, relax, and let your minions do the work.
Additionally, if you also love DOTA 2, we too have a detailed guide on How to Master Mirana.