Roblox is a free-to-play game but it requires Robux to unlock many awesome features. With Roblox premium, you can get monthly Robux to purchase items, get discounts on exclusive UGC items, ten percent extra Robux from buying Robux packages, and many more. 
We will be discussing Roblox premium, its functions, and the benefits of having a premium account in the article below.  
Types of Premium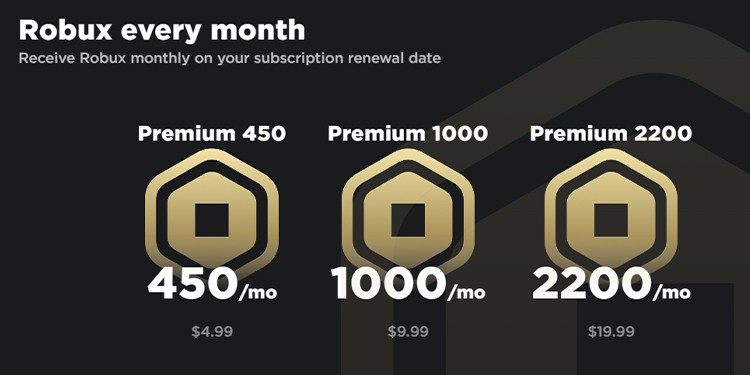 No matter what type of Premium membership you choose, it lasts exactly for a month and you have to renew your premium membership once it expires. It's basically a builder club but changed into a Premium subscription.
You can choose from three subscription plans each with a different price per month.
$4.99 gets you 450 Robux per month
$9.99 gets you 1000 Robux per month
$19.99 gets you 2200 Robux per month
How to Buy Roblox Premium Subscription?
Buying a Roblox premium subscription is pretty easy. Below are the steps to buy Premium packages.
Open the browser and log in to the Roblox website.
Click on Robux icon on top right and select Buy Robux. The site will redirect you to the purchasing Roblox and premium membership.
Select the subscription package and the site will redirect you to the Secure Payment with Roblox page.
Select the type of payment and the site will lead you to Secure Payment.
Input your card number and click on pay now. You are now a Roblox premium member.
Click on your account name on the top left and you can see a premium badge beside your name.

Features of Roblox Premium
Roblox Premium outweighs the purchasing cost because there are tons of perks that benefit premium Roblox users with exclusive features.
If you are thinking of buying Premium or have already purchased it, then don't forget to check out all these cool features unlocked just for Premium users.  
Instant Robux
The first and foremost benefit is an Instant Robux for Premium users of every tier.  Four hundred and fifty Robux for the low tier, a thousand Robux for mid-tier members, and two thousand and two hundred Robux for the high tier.
Cool Premium Badge
A cool premium is a badge on your name that represents you as a premium member. Just like the Star Code on video star member, you get a premium badge beside your name inside the game and on your account page. 
Premium Badge is not only the symbol next to your name but also the indication for other premium users that you are open to trading, and selling items, and are here to contribute valuable time to the Roblox platform. 
Additional Ten Percent Robux for Every Robux Purchase.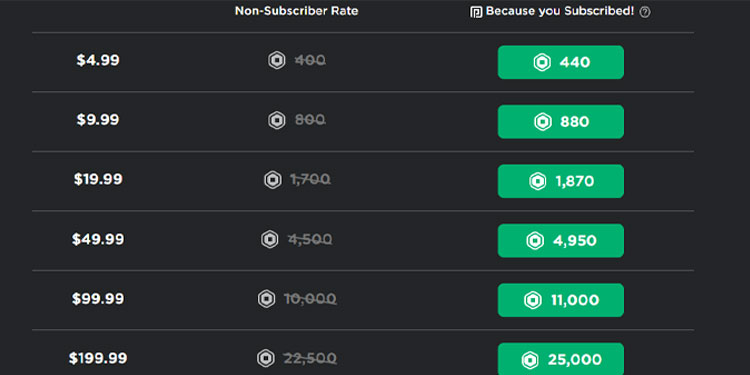 Roblox premium is highly beneficial when it comes to buying Robux from the Roblox platform. Premium members get a ten percent bonus Robux from any package. Instead of getting four hundred from $4.99, you get four hundred and forty Robux. The same goes for other packages too.
It's a really great idea to first subscribe to Roblox premium and then buy Robux which gives you more than you purchase.
Discount on Items
Various items have discounts cut to half or even more for Premium users. If you see a Premium badge on the side of any item, know that the item or UGC(User Generate Content) is on sale for Premium users only. You can view the price for premium on various items by following the steps below.
Open the browser and log in to Roblox with your premium account. 
Click on Avatar Shop.
On the Filters category, under Sales Type, Enable Premium and your page will lodge with all the premium items for sale. 
Premium Payouts
Premium Payouts is a great way to earn some passive Robux. You should have at least one friends who are willing to enter and stay inside your created game. Yes, you need a game regardless of the game type or format. You can view the stats in the Premium tab under your game title.
Check out our previous Article on How to create a game and start earning free Robux by inviting your premium friends to your game. You can also make an alternative premium account and do it for yourself.
Power to Trade Items
This ability is only between premium users, and you can exchange different items with your friends. You can even add some additional Robux for a fair share of trade.
The trading feature is very useful if your friends want items from your inventory and you want some items from their inventory. You both can make a deal and swap those items.
For more information about trade, you can check our Article on How to Trade in Roblox?
Ability to Sell Items 
Even if you have created Shirts and T-shirts on the Roblox creator page, you need Roblox premium membership to actually put them on Avatar Shop for sale. Premium members can also resale limited or limited u items at the desired price.
Below are the steps for buying and selling limited or limited U items on the Avatar shop. 
Open the browser and log in to Roblox with your premium account.
Click on Avatar Shop.

On the Filters category, under Sales Type, Enable Collectables and your page will load with all the limited items for sale.

Click on the item you want to buy and it will redirect to the item page.
Click on Buy and a confirmation window will pop up.
Click on Buy Now and you will have Item Owned(1) under the item name.
To sell an item, simply click on three dots and select Sell.
Decide the amount of Robux in Sell your Collectable Item and click sell now. Now your item is available for purchase in the Avatar shop.
It is better to buy a Roblox Premium membership if you are a serious Roblox player and want to earn Robux from different activities inside the Roblox platform.
As you can see, getting Premium membership has a lot of benefits. Rather than buying Robux, you can upgrade your account status by going premium and enjoying the facilities given by Roblox.