APEX Legends packs can be obtained in many ways and only sometimes require you to spend real currency in exchange. Some players estimate that you'll have 500 packs by the time you reach level 2000 if you're using the Battle Pass. That's a lot of packs to track.
The number of APEX Legends packs you've opened is more than just a fun trivia factoid to bring up in chat. It's essential to know for players striving to get heirlooms.
Whether you're a new player or close to reaching guaranteed rate drop at 500 packs, it's helpful to know how to check how many APEX packs you've already opened.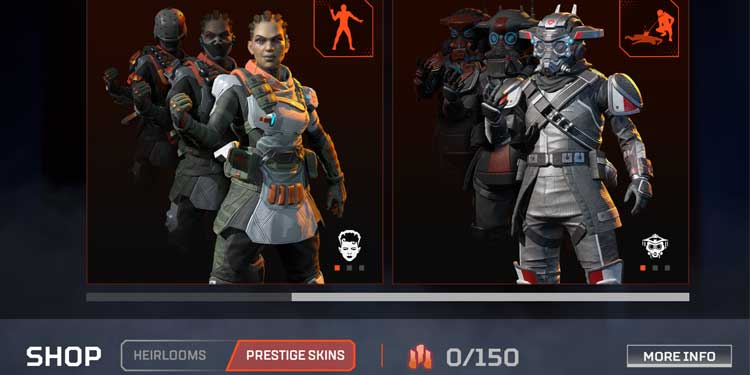 Tracking APEX Packs
There are two primary ways to track your APEX packs, and one is much more convenient than the other.
You can do it manually if you prefer, but you can also use an automated program to help you keep track. I recommend using the calculator instead of attempting to do it manually.
Because you can get APEX packs from so many different sources, it takes time to remember them all. The calculator method works because it keeps track of all those various sources. Here's how you do it,
First, sign onto the APEX Pack Calculator at APEX Legends Status. It draws from all possible sources of APEX packs.

Look at the boxes where you input the information. Below some of them is an icon labeled Hint. When you click that, information about how many packs you may have based on owned items is displayed. Check it for each box if you aren't sure how many packs you already have. 

Enter your account information. There are four boxes you need to fill in.


Account Level Reached: This is the cumulative total of all your levels. Don't forget to include 500 levels for every prestige level you have. For example, if you're Prestige 2 and level 67, you would be level 1067.
Twitch Prime: Enter all the packs you've gotten from Twitch drops. You should be able to find this in your account redemption history on Twitch. There is a max of five drops. 
Purchased Packs: These are the ones you bought through APEX itself. Check your account purchase history to see what you've bought. 
Other Packs: If you received other packs from any source not listed in the calculator, you input them here. Wait until you go through all the other fields before returning to this one. Most people will probably not need to include any here.

Enter information about Season 16. There are five possible categories of packs from season 16.

Season 16 Battlepass: If you aren't sure whether you purchased the pass, check to see whether you have the G7 Scout skin called Frenzied Frequency. If you do, then you bought the pass. Input how many levels you got through.
Season 16 Treasure packs: You could have gotten up to eight. If you got the maximum number of packs, you should have the L-Star skin called The Dazzler. 

Login Rewards: Two APEX packs were offered as login rewards in February of 2023. If you got either, include them here. 
Revelry Twitch Rewards: You may have received up to four of these. 
Enter information about Season 15 through season one. Many questions will be the same as those for other seasons, though you'll notice fewer opportunities for APEX packs as you get to lower seasons.

Configure your heirlooms when and if you get them. Only include the ones you got from opening APEX packs. You enter the legend, the type of heirloom, how many packs you've opened before getting it, and then click Save.
Check the boxes under the pack level entry line if you bought the battle pass or are from the Belgium region. These options will affect how many packs are included in each.

Scroll back to the top of the list to see your results. It should tell you how many packs you've opened, how many you have left to get a guaranteed heirloom, and how many packs you've opened since the last one.

The only other way to track your APEX packs is by listing the ones you've opened. It's much harder to do this from memory than it is if you use the calculator with the hints.
If you'd prefer to track your APEX packs by hand, I'd suggest making a spreadsheet and filling in another box every time you open one.
Why You Should Track Your APEX Packs?
Not everyone needs or wants to track their APEX packs. If you're new to doing so, here's why some people are willing to go to all the trouble.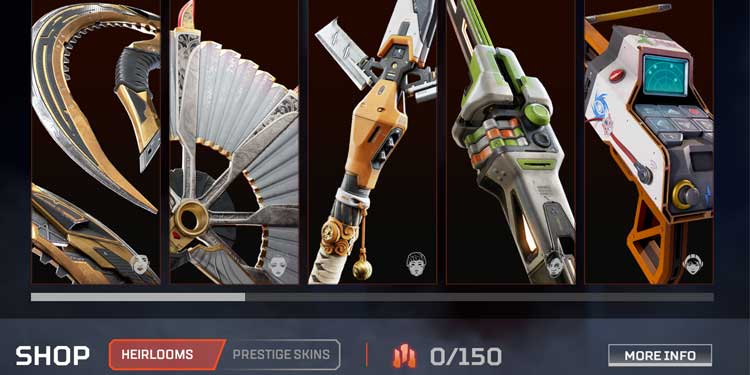 A scarce cosmetic drop called an heirloom is available to players with enough Heirloom Shards. These are used to purchase Heirlooms, which are skins for melee weapons or prestige skins that are very beloved by players.
Many frequent APEX players work to get enough shards to unlock the Heirloom of their choice.
However, the shards are rare drops. Many people don't get them because the drop rate is so low; only one in 500 packs is guaranteed to have Heirloom Shards. Once you've opened 500 packs, you'll get enough to purchase an Heirloom.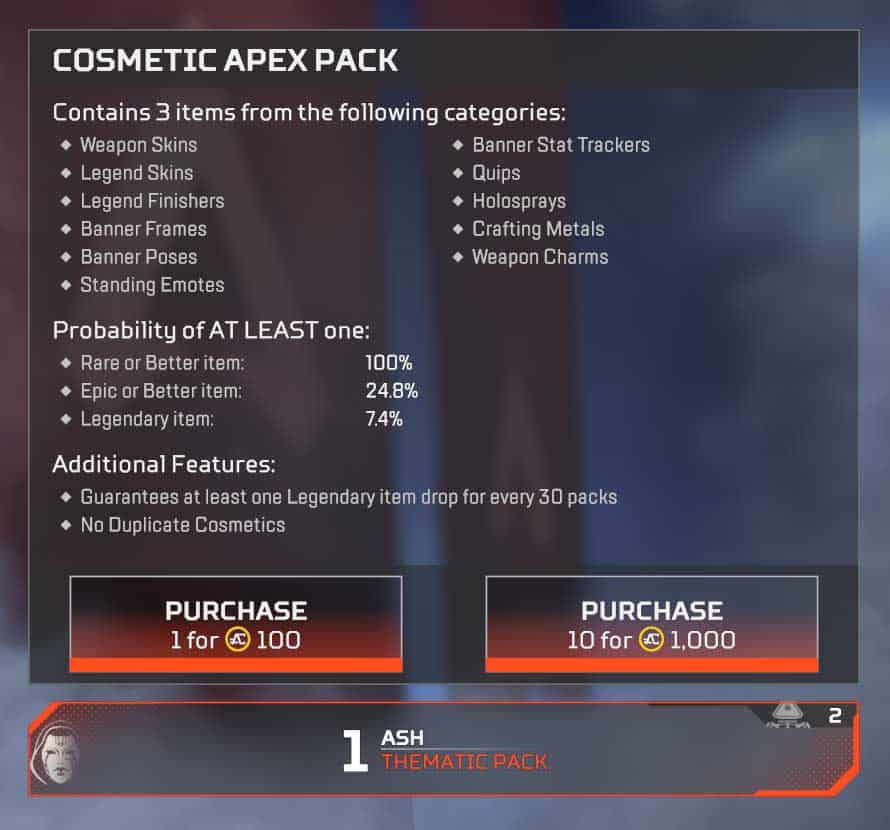 Keeping track of your packs lets you know how close you are to your desired skin. That's the only reason to do it.