Zynga Poker is an online poker game in which you bet your hands against different people on the internet for virtual currency. The game allows players to play Texas Hold 'em poker in the comfort of their own place and play with strangers around the world through the social gaming experience.
It's pretty obvious people would like to play Zynga poker with friends as they can make real money and enjoy some good quality time with friends.
But Zynga players find it difficult to add friends as the game is filled with content, and it is a pain to navigate through a friends list when one has more than a hundred online buddies. Here we will help you add friends and talk to them directly on the message feature from Zynga Poker.
How to Add Friends on Zynga Poker?
There are various ways to add friends to your game account. Connecting your Facebook or email account is one-way to view your friends who are playing Zynga Poker.
This will automatically detect friends who play Zynga Poker and add them to your friend list. Other methods require you to send direct messages from social media applications such as WhatsApp, Instagram, or Twitter.
Adding Your Social Media Friends to Zynga Poker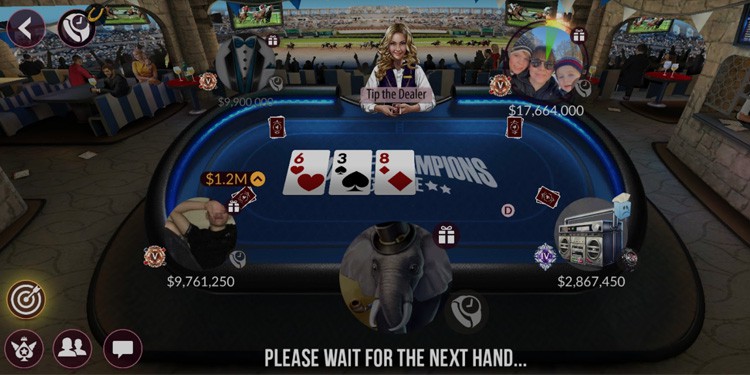 You can invite your friends by sharing the app through different social media apps, emailing them with a referral code, or directly messaging through social media. Below are the steps to share your codes and the link to download Zynga Poker so you and your friends can play together.
Download and open the Zynga Poker app.
On the home menu, click on the friend icon located in the bottom left corner.

Go to the referrals tab, and the pop-up will appear, allowing you to share the game.

Click on SHARE, and the system will provide you with different media to share your game.

Click on any social media to post your Zynga on social media. You can also send private messages to friends if you want a specific friend to play with.
Linking Your Account to Zynga Poker
Linking your Account to Zynga Poker is a convenient way to add friends quickly without any hassle. The game provides a list of all the friends who have linked their accounts to the game. You can see their current activity and whether they are online or not just by going to your friend list.
You might be playing as a guest with a random name all this time. If you have not connected your Zynga Poker account, then here is how you do it.
Open the game and press the gear icon in the upper right corner.

On the Settings menu, there is the Logout option on Zynga Poker. Click on logout.

You will be given three options: Login, Zynga Poker Login, Play as Guest or login with Facebook. Click on login with Facebook.
After logging in with Facebook, You will be redirected to the home page. Click on the friend icon in the lower left corner.
In the Buddies section, you can see your Facebook friends who have logged into Zynga poker with their Facebook accounts. You can now join them if they are online or message them.

Adding Friends from Recent
You can also add people with whom you have played recently. By going to the recent tab, you can see the list of all the people you once had a match with. To add recent players to your friend list,
Click on the friend button on the bottom right corner of the home screen.
Go to the recent tab, and the game will show you, the players, you recently played with.

By clicking on the plus icon below the player's profile, you will send them a friend request. Once the player accepts your friend request, you will be added to his/her friend list.
Now you can view the player profile and also have a chat from your Buddies tab.