Games like COD Warzone, PUBG, and Fornite offer much more than playing different game modes. There are many costumes, skins, accessories, and other cosmetics in the game that players nowadays love to get and flex.
If you have been playing Warzone for a while, you know that you need to invest real-life money to buy cosmetics in Warzone. However, there is another way you can buy cosmetics in Warzone. You can use CP (Call of Duty Points), an in-game currency to purchase some cosmetics.
This guide will discuss How to Get CP in COD Warzone.
Earning CP in COD Warzone
Unfortunately, there are only two ways to earn CP in Warzone. As the game is free for everyone to play, creators have made it harder for payers to buy the battle pass and cosmetics in the game.
The ways you can get CP in Warzone are:
Battle Pass
It is a little ironic that you can earn CP from a battle pass which you can invest to buy Battle Pass. Warzone has limited players to earn CP in a single season. This is quite understandable as the game is free, and creators earn money from these microtransactions.
You have three free tiers in the battle pass where you can earn 100 CP in each level. So, if you have not bought a battle pass, you can get up to 300 CP. If you want to buy a battle pass without spending your money, you need to wait for four seasons.
However, if you have a battle pass and have unlocked all premium tiers, you can earn 1300 CP, which will be enough to get another season battle pass.
Now, let's look at which level you can get CP in the Warzone battle pass.
| | |
| --- | --- |
| Tier 6 | 100 CP |
| Tier 12 | 100 CP |
| Tier 17 | 100 CP |
| Tier 23 | 100 CP |
| Tier 32 | 100 CP |
| Tier 41 | 100 CP |
| Tier 48 | 100 CP |
| Tier 56 | 100 CP |
| Tier 66 | 100 CP |
| Tier 74 | 100 CP |
| Tier 82 | 100 CP |
| Tier 91 | 100 CP |
| Tier 98 | 100 CP |
Among these tiers, you can only get free 100 CP in Tier 6, Tier 48, and Tier 98. So, you have to grind quite hard.
Buying CP Using Real-World Money
This is the last method you can use to get CP in Warzone. In the Store, you can buy CP with real-world money. You can buy from 200 CP to 13000 CP from the store.
These are the only ways to get CP in Warzone. Maybe the game will add more options in the future, but this is it for the time being.
What Can You Buy with CP in Warzone?
There are only two things you can buy using CP in Warzone.
Battle Pass
Store Bundles
Battle Pass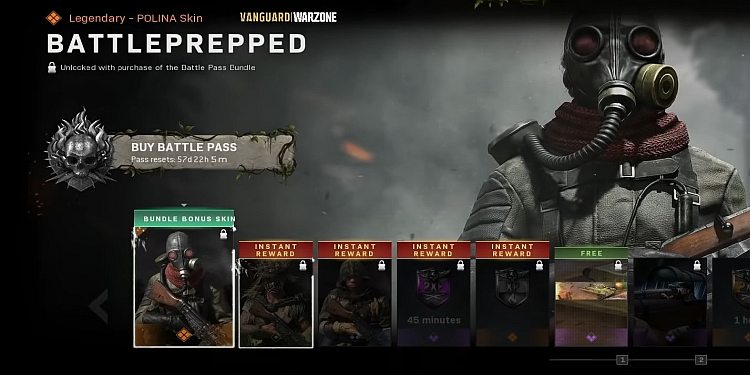 Battle Pass in Warzone is content where you go through 100 tiers or levels by completing missions for Battle Pass XP. Each level has some rewards like gun skins, costumes, etc. But not all rewards are free of cost.
There is also a premium battle pass for the premium battle pass rewards, which are better than normal rewards. You can only get 20 free rewards without buying the battle pass.
You can buy the premium battle pass using real-life money or CP in Warzone. You need 1000 CP to get the battle pass. As soon as you buy the battle pass, you will get all the premium rewards you have unlocked. Also, you can get a single-tier reward using 150 CP.
Store Bundles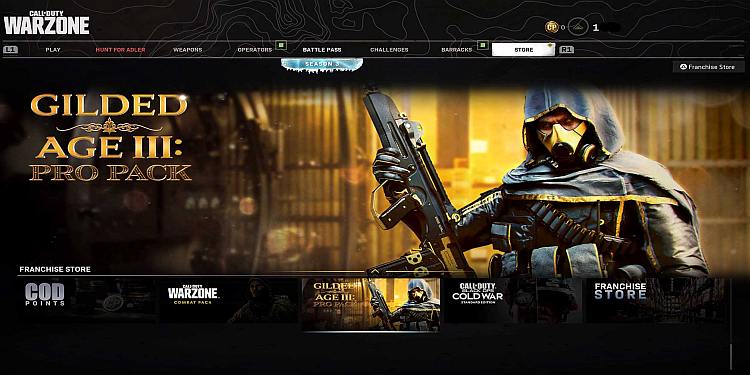 Among many submenus in Warzone, there is the Store submenu. This in-game store is for purchasing cosmetics packs, including gun skins, costumes, etc. This is where CP points are used the most.
You will also find many purchases for real-life money. But for players who don't want to spend money, CP is there for you. There are always new bundles and new CP prices for them.