Meteorite Staff is one of the most sought after early game items, and for a good reason. With this armament in your possession, you can breeze through much of the early game.
The good news is, you can find this item almost as soon as you start the game, that is if you know where to look. 
If you're new and don't know why people love this stuff so much, let me elaborate. So, very early on you will encounter some difficulty to kill enemies that won't flinch and take almost no damage when you stab or slash them with your sword, i.e. the stone miners, magma wyrms, etc.
The Meteorite Staff is your simple answer to all the problems mentioned above. This Staff with an arsenal of spells will easily carry you till late game with no issues.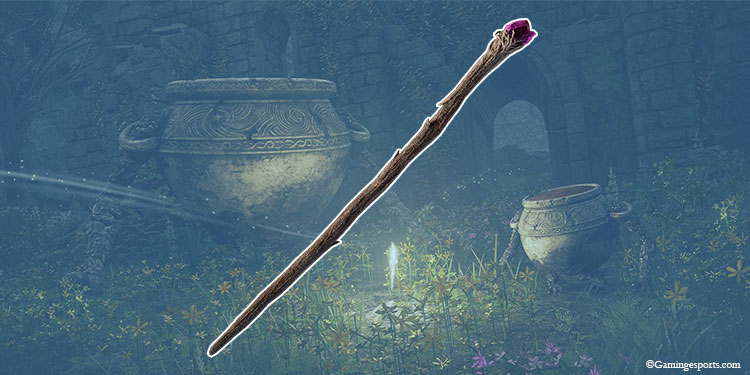 The special feature of Meteorite Staff is that it raises the power of gravity type sorceries. So, we also have a bonus with this guide to find one of the gravity defying sorceries called Rock Sling. It is located very close to the staff but you can easily miss it as the area where you find these items can be very confusing. 
Meteorite Staff and its signature sorcery Rock Sling, are both found in Caelid, and you can reach there very early in the game. You will have to navigate to the Streets of Sages Ruins in Swamps of Aeonia to find both items.
We will give you a step by step, as well as a detailed video guide so you can find the Meteorite Staff and Rock Sling easily in Elden Ring. 
From the very beginning area in Limgrave, go to the center of Lake Agheel, and venture into the Dragon-burnt Ruins.
Find a staircase to go underneath the Dragon-burnt Ruins, there behind a heavy lift able door you will find a treasure chest loaded with a transporter trap, use it to get to Caelid.
Once you experience the very unfriendly welcome into Caelid, inside the lethal Sellia Crystal Tunnels, you will have to escape out. We have a detailed guide to escape the tunnels in under a minute right here.
After you find the Sellia Crystal Tunnels Site of Grace, you can easily get out into Caelid.
Directly in front of you when you escape the tunnels is an vast poisonous quagmire called, Swamp of Aeonia. This is where you will have to bravely set out if you want your prize.
Go downhill to the edge of the swamp and head towards east or towards right from where you started, following the edge of the swamp till it ends, you will see some ruins towards the south.
Now, you have to get to the swamp. As soon as you reach the ruins you will see Streets of Sages Ruins pop up on screen. Note that riding torrent on the swamp is better than sprinting across it as the Scarlet Rot will not build up while horseback on torrent.
Head south-west, into the swamp, paying attention to the ruined structures and after a while you should see a ruined tower standing on a platform accessible by staircase.
Get into this tower and behind some toxic flowers should be a body with loot hanging from a window. Your prize, i.e. the Meteorite Staff is right here.
We have a map guide for you as well with path markers so you can follow the route without losing the sense of direction.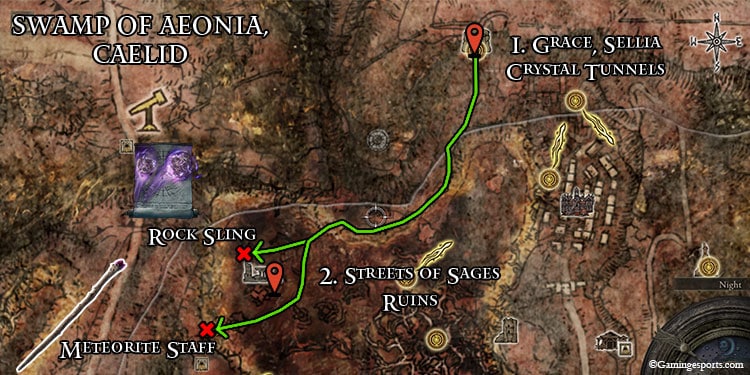 How to Find Rock Sling Sorcery?
The meteorite staff goes very well with the rock sling sorcery as the Staff raises the power of this particular sorcery. Another good news is the two, i.e the staff and the sorcery are located very close to each other in the same area. You can check the marked map above for the accurate locations.
Travel just a bit north from the location where you got the Meteorite Staff, and before you reach the shore of the swamp you will come across some ruins that have stairs that take you underground in the center.
There should be some humanoid Rot worshiper enemies surrounding this area. They are slow and docile unless you get surrounded. Go underground from the staircase and you can find Rock Sling sorcery inside a chest in this underground chamber.
Alternatively, You can again start from Sellia Crystal tunnels Site of Grace and travel along the edge of the swamp towards east till you reach the exact same location on the swamp shore as when you were looking for the Meteorite Staff.
Then go a bit south-west into one of the ruins, you don't have to reach as far as when you went to get the Meteorite Staff. You will see ruins that have stairs leading into an underground chamber. Rock Sling sorcery should be inside a chest inside the underground chamber.
IMPORTANT NOTE: You will need 18 Intelligence (INT) to equip both Meteorite Staff and Rock Sling sorcery, which is not a tremendous amount of investment in case you want to change your build later on.