Pearls can be used to craft Washing Stations to wash oily crops and craft cool Aquamarine Swords so you can slice enemies like butter. You can also sell Pearls to Thomas for seven hundred and seventy-seven coins. But first! Let's start collecting some pearls. 
There are two ways to get pearls in Roblox Islands; the first is the same old traditional fishing technique and the other is to find someone with Pearls and trade with them the resources other player needs. Let's discuss !!!
Trading Pearls
Finding someone who can trade pearls is much rare than finding pearls themselves. You can go to the Roblox Island community on Facebook or the group page. You can also join the discord server if you are over thirteen years old. Add friends to your list and trade with them. You still have to craft iron in case you want a constant supply of pearls.
It's pretty easy to trade items in Roblox Islands but if you are still not sure of how to go about it then follow these steps,
Open the browser and log in to the Roblox website. 
Click on the comment box above and type 'Roblox Islands'. 
Click on the first result and click the green play button.
The browser will ask permission to open the Roblox application. Click on Open Roblox.
 
Inside the game, you will see a bunch of icons in the left corner. Click on the Handshake icon to enable trade. If you cannot see the trade option, click or tap on the handshake icon again.

Make your way to the portal and travel to the hub.
You can now view the trade option whenever there are nearby players. Press 'F' to send a trade request and once the player accepts your request, you can trade with him/her.


If you have not yet installed the Roblox player then here's how you can go start playing Roblox from scratch.
Crafting Iron Fishing Rods
We recommend you get your hands on iron fishing rods as it has a higher chance of getting pearls while fishing. Keep fishing and level up your skill. This way, the chance to get pearl while fishing will get higher. Make sure you are at least 20 fishing levels or else you won't be able to craft Iron fishing rods. Here are things you need to Craft Iron Fishing Rods.
Open workbench and craft wood pickaxe that requires 3 oak wood. You can upgrade to Stone pickaxe once you have some stone blocks.
Mine Iron and Coal in the mineshaft area. You will need a hundred or more Iron ore and Coal to smelt Iron Ingot and craft the necessary materials.
Go fishing and level up your fishing skill to twenty.
Upgrade your Workbench to Tier 2.

Buy a Maple sapling from Cletus for thousand coins. Level 10 woodcutting is required but at this point, you will have level ten on your skill batch from cutting oak trees.

Plant your Maple Sapling and harvest Maple wood from it by planting and cutting off the branches once it fully grows.
Craft a campfire to smelt iron ore into an iron ingot.
Once you have fifty Maple wood, forty iron ingots, and twenty fishing levels of experience then you can craft Iron Fishing rods.

Now all you have to do is go fishing and wait for the Pearl to pop up in your inventory. It won't take much longer and you will also gain experience from fishing as well.  
How to Fish on Roblox Island?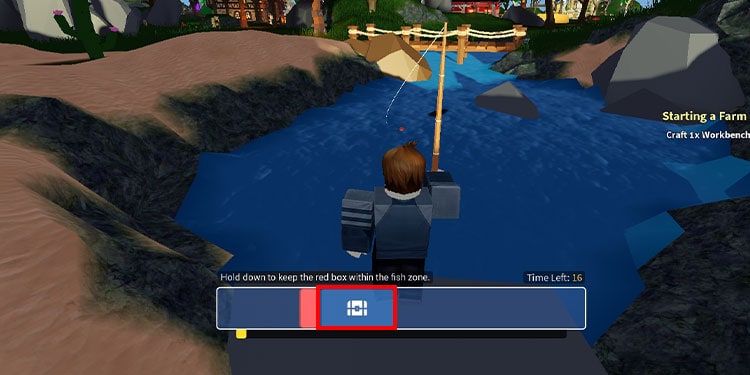 Fishing is as easy as pie. You just have to tap or click and hold the moving bar to the fish icon and once the meter is full, you will have yourself a fish. But we are here for pearls so pay extra attention when you have a treasure chest icon instead of fish.
Note: "Players have to reach level 20 to use Iron Fishing Rod."