Far up the northern corners of the Lands Between is a region eternally covered in snow. Somewhere within that region, you'll find an even more extreme place where blizzards constantly hammer, creating a desolate ambiance.
This immersive place which creates the feeling like you have lost all sense of direction, rarely experienced within the realm of video games, is the Consecrated Snowfield.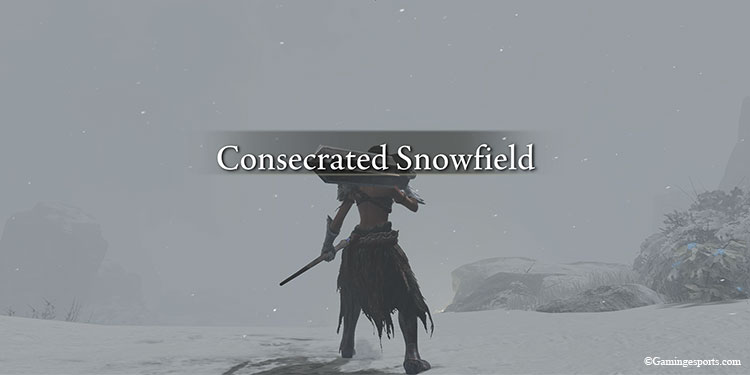 The Snowfield is a frozen plainland behind the tall Mountaintops of the Giants, where an ever-blowing snowstorm constantly obstructs your vision.
It is considered a secret area, hidden from anyone who would want to desecrate what it protects.
Consecrated Snowfield is an intermediate path that takes you to Miquella's Haligtree, which hides a lot of secret endgame content of Elden Ring.
Aside from the striking in-game architecture, you will find the infamous boss Malenia waiting for you at the end.
To reach the Consecrated Snowfield, you will have to access the Mountaintops of the Giants, find the two pieces of Haligtree Secret Medallion, and use them in the Grand Lift of Rold.
Here are all the steps you need to reach the Consecrated Snowfield.
Once you have both pieces of Haligtree's Secret Medallion, fast travel to the Grand Lift of Rold Site of Grace in the Forbidden Lands.
Go upstairs and stand on the lift platform where it prompts you to "Hoist medallion". Do not hoist the Rold Medallion.
If you have the Haligtree Secret Medallion with you, you can press the left or right D-pad button in your gamepad or the left or right arrow key on PC, this now switches the hoisting medallion, and you will get a prompt that says, "Hoist secret medallion".
Hoist the secret medallion, and the lift will activate like usual, but it will take you to a small blue-lit dungeon called the Secret Path to Haligtree.
You will find an enemy Vulgar Militiamen guarding this palace. Be careful of ambushes and make your way up the stairs to the exit of the dungeon.
You will find a Site of Grace called the Secret Path to the Haligtree just before you exit the dungeon, rest there before you venture out.
Once you go out, you will reach an area that's persistently blasted by a blizzard and covered in snow. This is the Consecrated Snowfield.
Walk a bit to the north, there, you will see some glowing lights on your path, they will very shortly lead you to the Consecrated Snowfield Site of Grace. Activate it before you continue your journey onwards.