The speechcraft is a vital skill that comes in very handy if you wish to efficiently barter with traders in Skyrim. It is also used to clear hostile situations without resorting to violence by persuading, intimidating, or bribing.
However, in order to use your Speech skills successfully, you'll need to have a higher Speech level. Otherwise, the speech skills will simply fail.
You can level up your speech skill in multiple ways. Either use the speech skills frequently, or trade with merchants often, or buy the skill levels from trainers.
But, a free yet limited way to level up your Speech skill is by reading skill books.
Lets Discuss!
Trading with Merchants
By far, the most consistent way to level up your Speech skills is by trading with merchants in the game.
You can buy items from them or sell your item to them. Every transaction will add a small number of experience points to your Speech skill.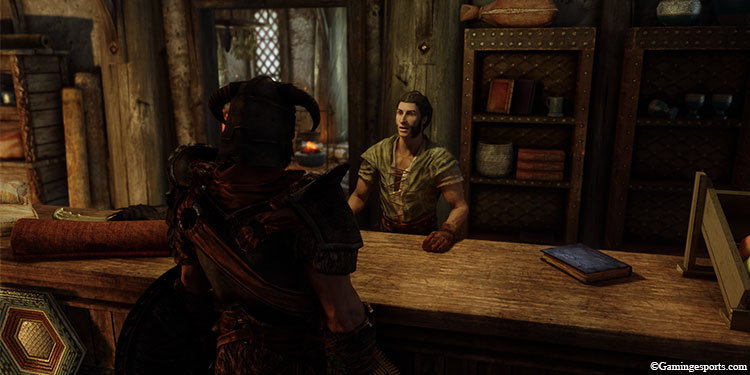 The number of experience points you gain from every transaction will depend on the value of the item rather than the transaction amount.
So, to optimize the maximum amount of Speech skill points, you must only sell one expensive item every transaction rather than selling them in bulk. You can, however, sell items that are low-tier or junk in bulk.
Tip #1: Even if a merchant runs out of gold coins, you can still earn Speech exp points if you continue to sell items to them. The only downside is that you won't be able to make any money out of the items that you've sold.
However, there are a few merchants who usually have large amounts of gold coins in their inventory as compared to others. This allows you to make a bit of profit before they run out of coins. We've listed them all below.
Niranye in Windhelm
Gulum–Ei in Solitude
Endon in Markarth
Tonilia, Syndus, Herluin Lothaire, Vanryth Gatharian in Riften (The Ragged Flagon)
Glover Mallory in Solstheim
Tips #2: You can also get gears and items that have Fortify Barter effects on them. This allows you to buy and sell more items to merchants, thus helping you improve your Speech skills.
Use Speech Skills
As with any other skill tree, you can gain Speech experience points by using Speech skills frequently. Speech skills include Persuasion, Bribing, and Intimidation.
An effective way to use your persuasion and bribe skills is by pickpocketing the guards and then using any one of the two skills.
You'll need to get the Bribe perk from the Speech skill tree to use the skill.
Once you've successfully persuaded or bribed your way out from the guard, speak with the rest of the guards from the hold and keep using the aforementioned speech skill.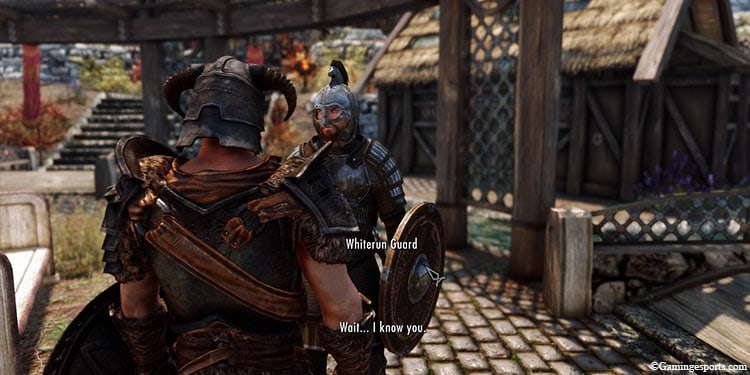 Note: While you're talking with the guards and using your speech skill, make sure not to speak with the same guard again. The option to persuade or bribe will disappear after using it once.
Another great place to practice Persuasion is by repeatedly intimidating Nelecar in Winterhold during The Black-Start questline. Follow the given steps to get started.
Head to the Shrine of Azura and speak with Aranea Lenith.
Next, visit the Frozen Hearth Inn at Winterhold and make a quick save here.
Speak with Nelacar.
Use your Persuasion or Intimidate skill dialogue option and exit the conversation immediately.
Speak with Nelecar, and if you were quick enough, you'd get the persuasion and intimidation dialogue option again. If you were too slow, you could just load up the quicksave
Repeat the process indefinitely to level up your Speech skills.
Learn from Trainers
The third great way to level up your Speech skill is through Trainers. They can level up your skills up to level 90. However, you'll have to pay them gold coins for every level you gain from them.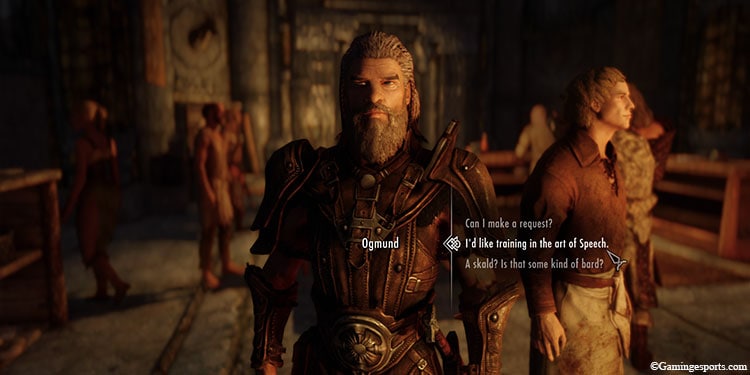 You can buy +5 levels in Speech from trainers per level. Meaning after getting 5 levels from a trainer, you'll have to level up your character before being able to purchase skill level again.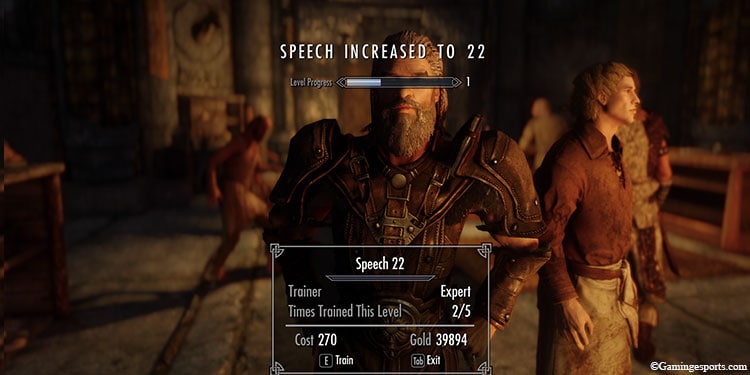 There are five Speech trainers in Skyrim, and we've listed them below.
| | | |
| --- | --- | --- |
| Trainers | Level | Location |
| Revyn Sadri | Common | Windhelm |
| Dro'marash | Adept | Khajit Caravan |
| Ogmund | Expert | Markarth |
| Ronthil | Expert | Castle Volkihar |
| Giraud Gemane | Master | Solitude |
Read the Skill Books
Skill books are not your typical books. They can give the reader a free level up in a particular skill upon reading.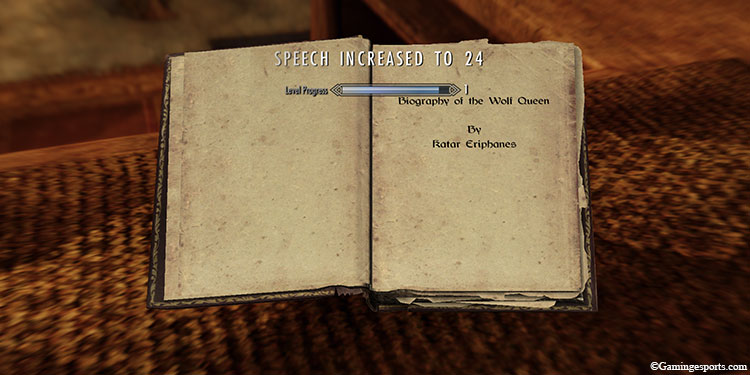 There are six Speech skill books that you can find in the game. Unlike trainers, there's no limit on how many books you can read per level, so you can immediately get +10 in your Speech skill after reading through all the books below.
| | |
| --- | --- |
| Name of the book | Location |
| Biography of the Wolf Queen | Jarl's bedroom in Solitude, Anga's Mill |
| 2920, Second Seed, v5 | Sadri's Used Wares in Windhelm, Sorli's House |
| A Dance in Fire, v6 | Dead Man's Drink in Falkreath, Meeko's Shack |
| A Dance in Fire, v7 | Beggar's Row in Riften, Maluril's room in Mzinchaleft |
| The Buying Game | Bard's College in Solitude, Dead Men's Respite |
| Oghma Infinium | After completing the Discerning the Transmundane quest from Septimus Signus, it can give you +5 Speech skills if you choose Path of Shadow while reading the book. |
How to Level Up Speech Faster?
By now, we've covered all the ways you can use to level up your Speech skills. However, there are also a few ways to speed up the process. For this, we'll be focusing on the Speech skill improvement rate bonuses.
Get the Gift of the Gab
If you're just trying to level up your Speech skill as quickly as possible, getting this power is essential.
The Gift of Gab is a passive bonus that grants you a 15% increase in your Speech skills improvement rate. You can get this power after completing the Tending the Flames questline.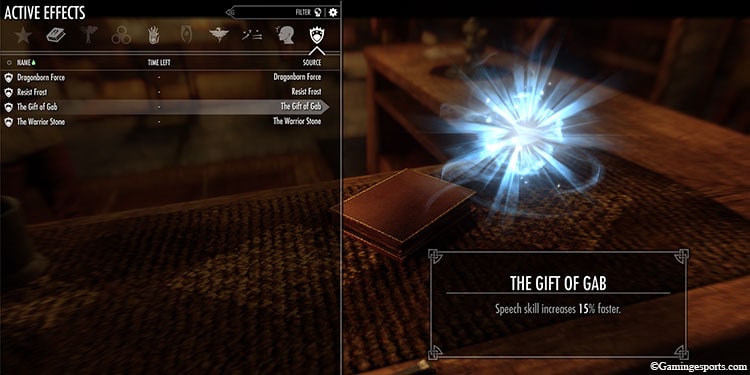 In order to start this quest line, head to the Bard's College in Solitude and speak with Headmaster Viarmo.
Get Experience Boosters
There are a lot of items, gears, and powers that can boost your skill improvement rates, such as the Well Rested bonus or the Lover's Comfort, which can give you an overall skills improvement rate bonus. We've listed all the bonuses below.
Well Rested
Lover's Stone/ Lover's Comfort
Thief Stone
Note: You can get the Aetherial Crown to hold the powers of both Lover's Stone and Thief Stone simultaneously.