There is no doubt that Genshin Impact is one of the most popular action RPGs out there currently. It is gaining popularity on all available platforms, and people from all age groups seem to enjoy this anime-themed game a lot.
When you launch Genshin Impact for the first time, you'll be asked to log in to your MiHoYo account. Although you don't need to do much when signing in, it is a completely different topic when it comes to log out from the game. Especially for players who are playing this game on their PS4/PS5, it is a much more tedious process as it doesn't have a Logout button on PlayStation's version of the game.
So, does that mean you can't log out from your account once you've logged in? Well, technically, you can, but there is no straightforward method to log out from Genshin Impact on PlayStation consoles. To make it a little bit easier, we've prepared a guide on how you can log out from Genshin Impact for both PS4 and PS5 players.
How to Log Out of Genshin Impact on PS4/PS5
As there isn't a direct way to log out from the game manually, you'll need to do a bit of a workaround. This process is a little bit tiresome, but it gets the job done and works for both PS4 and PS5. The process is to actually contact the developers and ask them to unlink your PSN account from the game.
However, keep in mind that once you've decided to unlink your account, all your progress and purchases will be lost along with your account. Go with this method only when you're absolutely sure to unlink your account because when you log in again, you'll need to start from scratch.
Contact MiHoYo Support and Ask Them to Delete Your Account
The first step in this process is to email the developers and let them know that you wish to unlink your account from Genshin Impact. To do that:
Open the Internet Browser on your PlayStation console and then check your email.
Now, compose a new mail with '[email protected]' on the recipient.
In the Subject section, put a suitable subject, such as "Unlink My PSN Account."
Now, write a short description saying you want to unlink your PSN account from MiHoYo's servers.

Now, send the email you've just composed, and you should receive an automated reply from the developers within a few minutes.
Fill Out the PSN Account Unlink Form
Go through the automated reply you've just received. This will provide further instructions on how you can unlink your PSN account, along with some important information.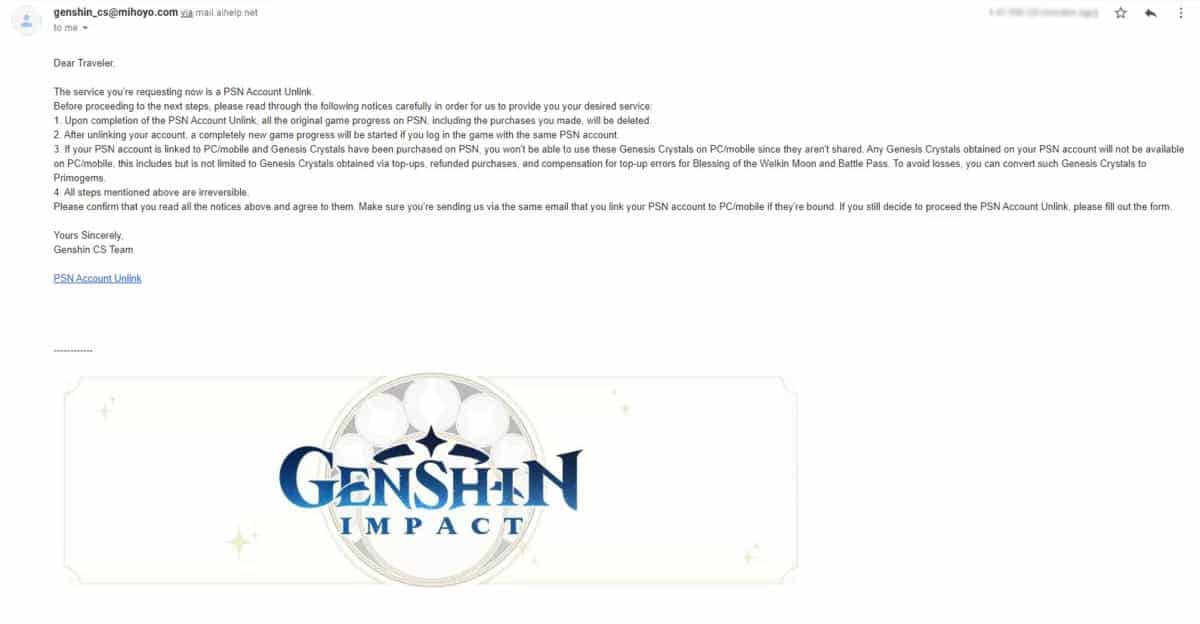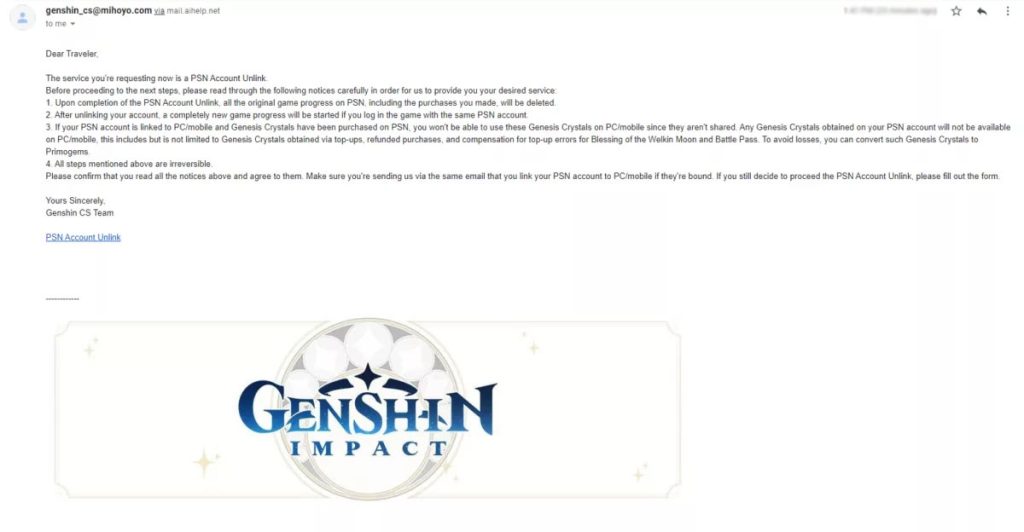 You'll also see an external link at the end of the email that will redirect you to an account unlink form. Filling out this form is an important step in this process. The account unlink form will ask you to fill in the following details: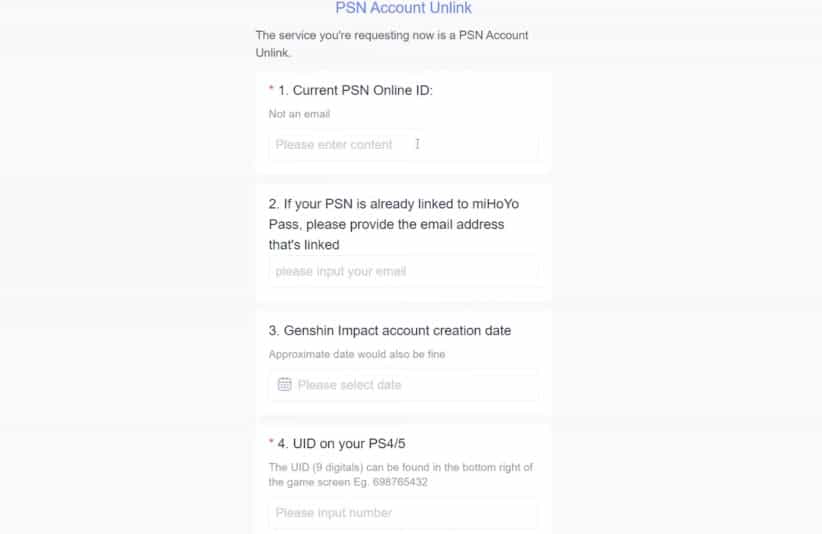 Your PSN Online ID
Your currently linked email address
The date on which you created your Genshin Impact account. (You don't need the exact date.)
Your Genshin Impact UID
Your selected in-game server
Your Adventure Rank
If you've made any purchases, then it's a purchase receipt/ top-up number
Screenshots of your purchases
Related Account data and information
Reason to unlink your PSN account
And lastly, confirm the submission of the form.
After filling in everything, submit the form and wait for the developer team to respond to your request. It may take anywhere between 2 to 14 days for them to respond to you, and once you've got a response, your account will be automatically unlinked from Genshin Impact. Now, when you launch Genshin Impact, you'll be able to log in using another account.