You might be familiar with a meme that says online games can't be paused. However, that isn't true for all online games. Well, at least for DotA 2, that isn't the case. DotA 2 allows you to pause the game but it comes with a set of regulations.
You can pause your ongoing DotA match by pressing the default hotkey, F9 on your keyboard. You can change this hotkey whenever you like by accessing the Settings menu.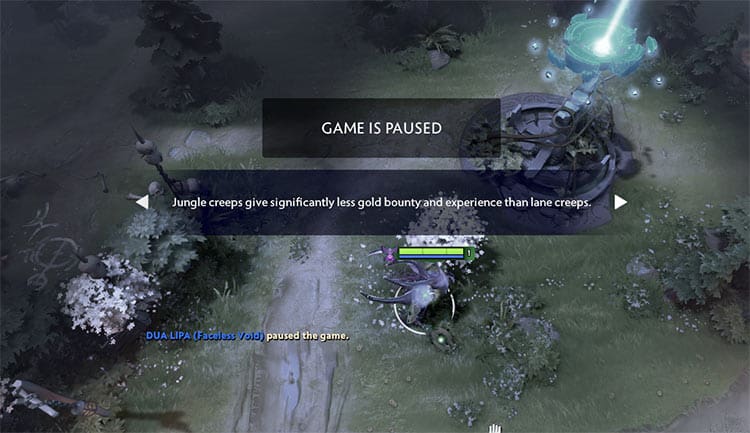 To change the hotkey for the Pause button,
Click on the Settings icon from the top-left corner of the game window to open the Settings menu.

Now, under the Interface section in the Hotkeys tab, look for an option called Pause.

Then, click on it and put in your desired hotkey.

Pause Using a Console Command
Many people are unaware of this but you can also pause the game by using a console command. Now you must be wondering why would anyone want to use the console to pause when you have the assigned hotkey for it?
Yes, that is indeed true. We don't normally use the console when we need to pause the game but this method actually serves a very specific purpose in the game.
You see, the normal hotkey for pausing won't work when you are in the drafting phase of a competitive game. So, the only way to pause the game, in this case, is by using the console command.
To pause the game using this method, open the console and type 'dota_pause', then press the Enter key.
(Note: In Ranked or Normal matches, you can only pause the game after five minutes of the match.)
Pause Limitations in DotA 2
To prevent an infinite number of pauses in the match, each player has to wait a certain time before he can pause the game for the second time. This wait time is five minutes for every player and the countdown begins as soon as they pause the game.
However, there is no such thing as waiting time for unpausing. You can unpause as many times as you want, preventing all the other remaining players from pausing the game.
Waiting Time for Unpausing in DotA 2
Pausing and unpausing in DotA 2 is greatly affected by whether someone from your match is disconnected or not, and depending on the situation, each player might be able to unpause immediately or may need to wait up to 45 seconds before they can unpause.
A player in the enemy team pauses when no one is disconnected: You can unpause the game after five seconds.
A player in the enemy team pauses when someone from their team is disconnected: You have to wait 45 seconds before you can unpause.
If the person who paused the game is someone from your team, then you or your teammates can immediately unpause it even if there is someone disconnected from your team.