The vast selection of cosmetic items in Valorant can put you in a dilemma while buying skin for your favorite firearm. Oftentimes, we purchase new skins impulsively and end up regretting it later.
Thankfully, Valorant allows players to get a refund on their purchases easily. You can get your refund from the official Valorant support page. 
That being that, there are a few conditions that you must comply with in order to request a refund. 
But before that, let's get down to the actual process of refunding a Valorant skin,
On your web browser, Visit Riot Support.
Click on Refund Unused Content.
Scroll down and click the Login button.
After logging into your account, click on Get My Order History. This will list all the skins that you have purchased.
Click on the Refund button beside the skin to request a refund. Processing the request might take some time.
Here's a quick video guide.
Conditions for Requesting a Refund
An important thing that you must know before refunding a skin is that not every skin is eligible for a refund. There are a few situations that can make refunding a skin impossible.  
Comply with the following conditions before refunding a skin,
The purchased skin should not exceed the 14-day limit from the day of purchase.
You must not apply the skin and load in any game mode including custom matches and training grounds. This also applies to accessory skins, like Gun buddies, Cards, etc.
Upgrading the skin makes it ineligible for a refund.
You cannot refund the skin you got from purchasing a skin bundle. Additionally, you cannot refund skin bundles too.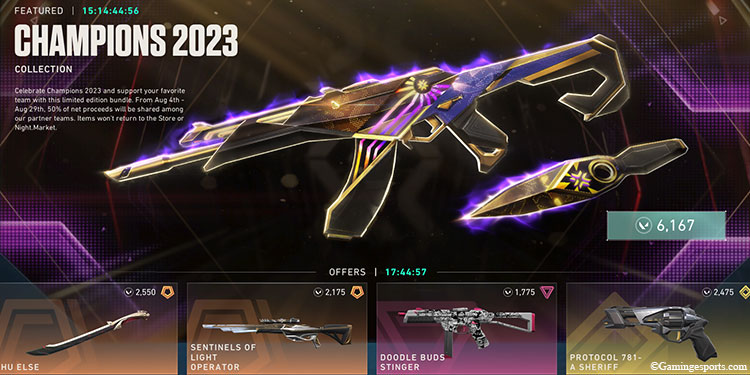 Riot Games have also mentioned the refund policy on their refund page.
Still Unable to get a Refund?
If you're still unable to request a refund even though you complied with all the terms and conditions, you can contact the support team at Riot Games.
Visit the Valorant support page and click on submit a ticket.
Select the "In-Game Question/Issues & In-Game Content Refund" option in the Request Type dropdown.
Continue to fill out the form with valid information and hit the Submit button.
Note: Getting a response from the support team can take anywhere from a week or two.