In games like Diablo 4, where grinding for better loot is the main appeal, hoarding junk items is not worth your time and effort.
While salvaging your obsolete gear is the best way to clear your inventory space, you can even earn upgrade materials, and unlock transmog doing so. 
You can salvage your item over at the Blacksmith. Here, you can either hand-pick individual items or salvage them in groups. 
Let's get into it.
Salvaging Items Separately
The most basic way to salvage your gear is to do it manually. You can pick the item and compare its stats to similar items before destroying it.
Visit the Blacksmith. You can find them in almost any town and city in the game.
Next, click on the Pickaxe icon. This will replace your cursor with the pickaxe icon.
Now, click on any item in your inventory to salvage them.
Salvaging Items in Groups
The game also offers a much quicker option to salvage items in groups according to their quality. You can salvage all the items in your inventory, items of a particular type (such as magic, rare), or even those items you've marked as junk.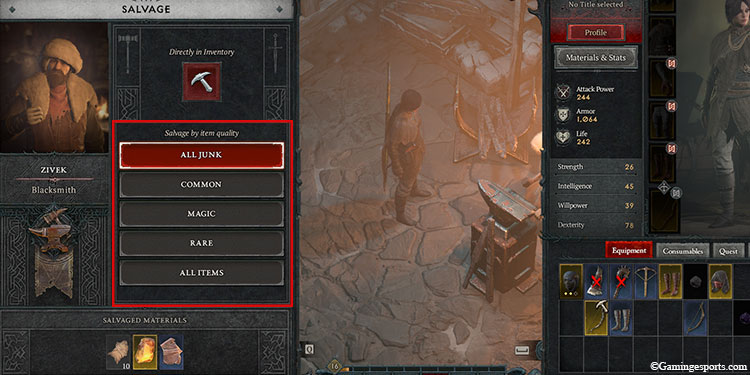 This option becomes much more beneficial in the late game as you will no longer need magic or even rare items.
Interact with the Blacksmith.
Here, you can choose from five different options.

All Junk
Common
Magic
Rare
All Items

Click on any of the given options to salvage that particular item type.
Here's a complete video guide to make this easy for you.
Why Should You Salvage Your Gear?
Although you can sell your gears over at the weapons or armor vendors for some gold coins, there are a few benefits should you choose to salvage your items instead. I.e., getting useful materials and the Transmog system.
For Upgrade Materials
Besides freeing up your inventory space, salvaging items also give you some resource and materials in return. You can use these materials to upgrade your gears and make them stronger.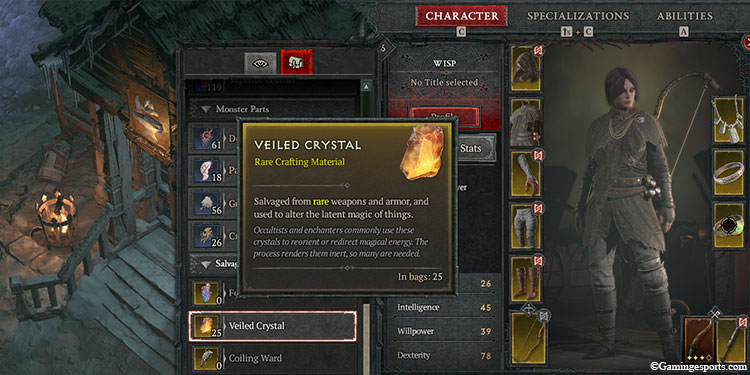 However, the rarity of the material you get from salvaging will depend on the gear's rarity. For example, salvaging a magic or common item will only yield Iron chunks or Leather, whereas salvaging a rare item can give you Veiled Crystals. 
Here's a list of resources you can get by salvaging your gears.
| | |
| --- | --- |
| Item Type | Resources |
| Common | Iron Chunk |
| Magic | Iron Chunk, Leather, Silver, Superior Leather |
| Rare | Veiled Crystal |
| Legendary | ‍Abstruse Sigil, ‍Baleful Fragment, Coiling Ward |
| Nightmare Sigils | Sigil Powder |
For Transmog
The second benefit of salvaging your gear is the Transmog system. Whenever you salvage a gear with the pickaxe icon on top, it will also unlock its appearance permanently.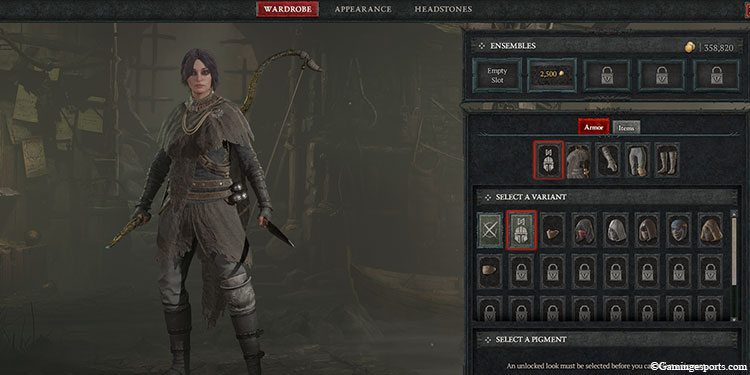 After then, you can apply the look of that gear to another similar type of gear via the wardrobe.