Bloodflame Blade is a weapon buffing incantation that sets the weapon it's applied to on fire.
This red fire not only burns the enemies but also makes them to hemorrhage blood for additional damage. This combo of blood and flame makes it quite lethal and useful in many circumstances.
You can get this incantation quite early and start to use it right away in order to destroy your foes. However, there are some easy conditions you might need to pass. We will list all those conditions below.
In order to be able to use the Bloodflame Blade, you need to apply it to a weapon. It cannot be used without equipping and holding out a weapon.
You will need the required stat, with 12 Faith and 10 Arcane, in order to use this Incantation.
You will also need to equip a Sacred Seal, on the other hand, in order to be able to cast any Incantations.
The weapon you want to apply the Bloodflame blade on should not already have another elemental infusion which can be done by applying Ash of War.
The weapon you want to apply the Bloodflame Blade to should also not have innate elemental damage like Blasphemous Blade or Moonveil.
Once you understand all of these above conditions, you can prepare yourself to use the Bloodflame Blade. Here are the steps to equip and start using the incantation.
Go to the menu and equip a weapon that does not have any elemental infusion (keen, heavy, and quality are not elemental infusions) on the right hand, for e.g., Uchigatana. 
Equip a Sacred seal (e.g., Finger Seal, Dragon Communion Seal) on your left hand. 
To learn how to use the Bloodflame Blade, rest on the Site of Grace and choose Memorize Spell. 
Once you are inside the menu, equip the Bloodflame Blade on an empty slot.
Now use your controls to take out the weapon on the right hand and the sacred seal on the left while Bloodflame Blade is taken out on the spell slot. 
Once everything is set, press the RMB on PC, L1 on PS, and LB on Xbox.  This will start the animation of applying the Bloodflame on your weapon.
Now, find an enemy and whack it with your weapon and see how much more damage you can do. 
A Complete video tutorial on using the Bloodflame Blade and an OP build to use with it.
Where to Find the Bloodflame Blade?
If you have read till now and still dont have the Bloodflame Blade, let's go get it.
Go to the place marked on the Map. It is a swampy area northwest of Rose Church in the Liurnia of Lakes. There, kill a Teardrop Scarab there before it escapes to get the Bloodflame Blade.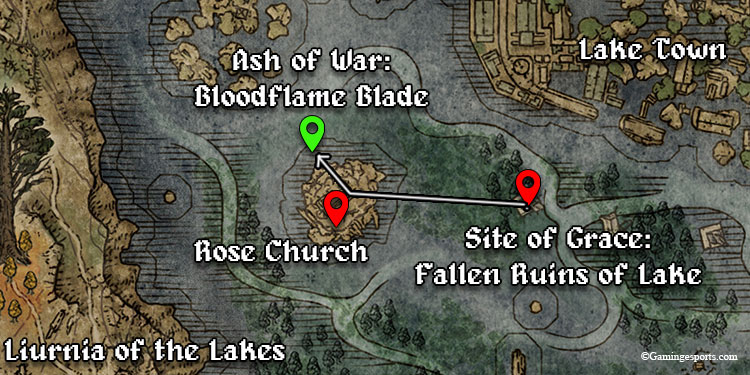 Best Build and Weapons for Bloodflame Blade
Bloodflame blade works very well with weapons that already have a bleed effect, like the Uchigatana, as the bleed effect stacks. It also works very well with fast-hitting weapons like claws, curved swords, and twin blades because the faster you hit, the quicker the bleed damage will proc.
The fire damage from the buff scales with faith (FAI), whereas the bleed effect scales with arc (ARC). You will have to pick one you want to focus on as your weapon will either scale of DEX or STR primarily, making you unable to level both stats.
Note: We advise you to focus on DEX or STR according to your weapon and only level ARC and FAI, just enough to cast the incantation.
You can pick various weapons that can use Bloodflame Blade. The best weapons still are the ones with innate bleed effect to use with the Bloodflame Blade buff.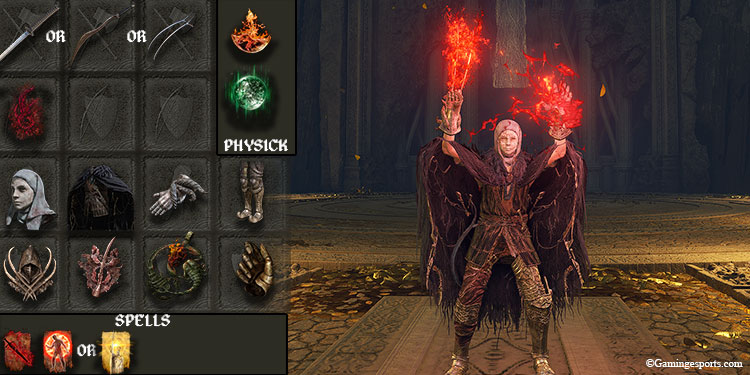 Stat Focus -DEX/STR (depending on weapon) and ARC
Weapons – Uchigatana/ Nagakiba/ Bloodhound Fang/ Raptor Talons/ Flamberge/ Scavenger's Curved Sword
Note: All the weapons we have mentioned in the weapon category below come with innate bleed effect.
Ash of War – Spinning Slash/ Impaling Thrust/ Piercing Fang/ Repeating Thrust/ Lion's Claw
Starting Class – Samurai/ Bandit/ Confessor
Sacred Seal – Finger Seal/ Dragon Communion Seal
Incantations – Bloodflame Blade, Optional – (if you have more faith)Flame Grant Me Strength, Golden Vow
Talismans – Fire Scorpion Charm, Lord of Blood Exultation, Dragoncrest Greatshield Talisman, Green Turtle Talisman, Optional – Millicent's Prosthesis/ Rotten Winged Sword Insignia and GreatJar's Arsenal/ Erdtree's Favor
Armor – White Mask, plus anything that can keep 51+ Poise and Midroll
Physick Mix – Flame-Shrouding Cracked Tear and Greenburst Crystal Tear
STAT DISTRIBUTION – For Uchigatana and Nagakiba
| | | | |
| --- | --- | --- | --- |
| Level | At 50 | At 100 | At 137 (+13=150) |
| Vigor | 25 | 40 | 56 |
| Mind | 11 | 13 | 14 |
| Endurance | 17 | 25 | 35 |
| Strength | 18 | 20 | 20 |
| Dexterity | 27 | 50 | 60 |
| Intelligence | 9 | 9 | 9 |
| Faith | 12 | 12 | 12 optional (+13=25) |
| Arcane | 10 | 10 | 10 |
Note: You can make your Faith stat 25 if you want to use Golden Vow, and Flame Grant me Strength. If you dont want, you can put the +13 points on Vigor, Endurance, Strength, or Arcane instead.