Rocket League is the unconventional imaginative collaboration between two different sports, offering one of the most adrenaline-rushing gaming experiences. It is a vehicular football game in which exotic sports cars are used to hit the giant footballs into the net.
Cyberpunk-inspired graphics, upbeat music blasting in the background, and amazing gameplay makes this game fantastic. It offers an immersive experience.
The game has amazing and very competitive aspects. It is an easy-to-learn but hard-to-master game. With a surprising depth of gameplay, it has marked it's name as a very competitive Esports game.
The game of this caliber needs to be available everywhere for anyone to play. So, is Rocket League available on Steam? Let's find out. In this article, we will discuss whether you can find this game on Steam.
Is Rocket League on Steam?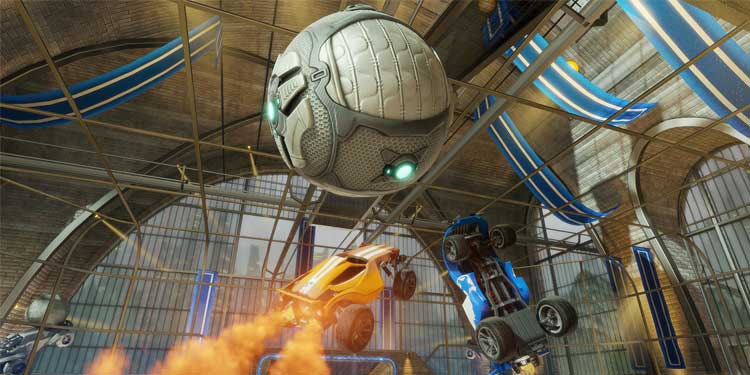 Unfortunately, Rocket league is not available on the steam platform right now. But if you bought the game before it got deleted from the steam store, you can still play it.
As of now, this game is available on Epic games as a free-to-play title. But as you can add any non-steam games to the steam library. You can download the game on the Epic launcher and then add it to Steam.
How to Add Rocket League on Steam?
Regardless of which platform you have downloaded the game, you can easily add Rocket League on Steam. To do so,
Open Steam.
Select Games and Click on Add a Non-Steam Games to my Library.
Find the game and click on ADD SELECTED PROGRAMS.
Rocket League Gameplay
This game takes a very different approach from regular soccer games. This game features fast, rocket-powered supercars that the players need to control to score the goal. And the ball is of massive size.
The car can also jump in midair. When the car is in mid-air, you can use the boost to propel it to hit the ball with maximum power or destroy other cars. The destroyed cars get out of the game for a certain time, but they can be spawned easily.
There is both multiplayer and solo mode. You can play with up to four other players. Here, the game time is five minutes. If the game does not end in five minutes, there will be sudden death. Furthermore, the game features various modes that you can try out.
Is Rocket League Cross-Platform?
Yes, Rocket League is a cross-platform game. Whether you are on PC, Xbox, Play station, or Nintendo switch, you can easily play together with your friends. Here, the Cross-platform option is automatically ON on the game.