Houses in Minecraft can act as your base of operations. They are a necessity for survival. They act as a storage for your hard earned riches and you can proudly show off what you have built in multiplayer mode or social media.
The architect inside me gets tingled and baffled seeing what people can build using the simple tools available in Minecraft. And I am actually an Architect.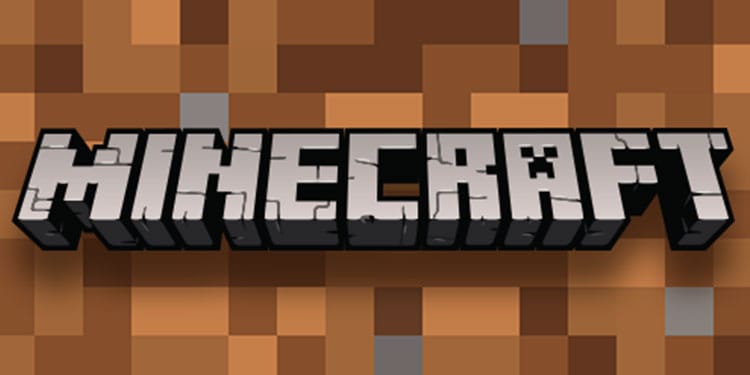 People have built millions of houses in this game and there is only so much one can go through. I have combed through more than 3000 houses and numerous construction videos. It took me a sweet while to select these 20 designs that caught my eye with their simplicity and elegance. These houses, although beautiful, are for less advanced connoisseurs of Minecraftian Architecture. 
Selecting Minecraft House Blueprints
There are certain criteria for the selection of these designs. 
Criteria 1: If it's a video tutorial then it must be simple to follow through. It also needs to have a complete list of blocks and tools necessary to build it within the video itself. Not some random commenter giving the list. (only a handful of content creators qualified for this)
Criteria 2: If it's a grabcraft blueprint then it must be thoroughly vetted by multiple people to ensure there are no mistakes in it.
Criteria 3: The house MUST look awesome and must be buildable even in survival mode.
Without any further ado, here are 20 best Minecraft house blueprints I found
Wooden Survival House – Folli (Beginner Level)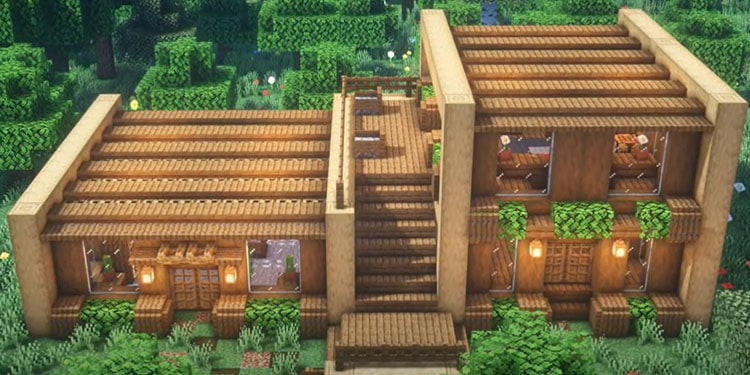 This is a down to earth, and an easy to build wooden house made by Youtuber Folli. His designs are easy to follow and have all the requirements clearly noted for beginners. You can build this house right away with basic tools and survive your first few nights within its cozy walls. 
Ultimate Survival House – Folli (Intermediate Level)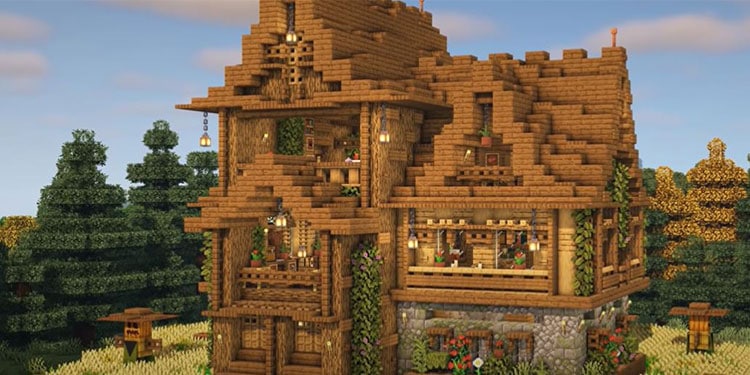 Once you gather more resources and heal your battle scars, Folli yet again has got you covered. This house will meet your added survival and storage needs. This easy to follow design reminds me of classic European style inn. Make it your primary base of operations in survival mode and outlast everyone.
Desert House – Julious (Beginner Level)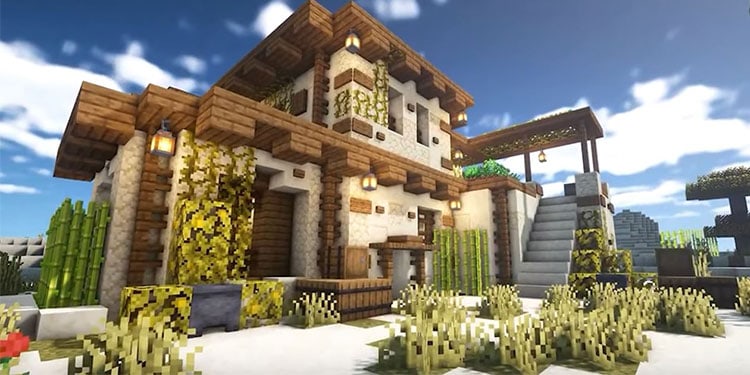 Deserts are dreadful but this awesome house will make your desert life a lot less dangerous. It uses materials that meld right into the desertscape. It even has a little terrace garden to grow some nice veggies. Food and shelter both, all in one with a cute design. You won't need anything else.  
Large Spruce Mansion – Folli (Intermediate Level)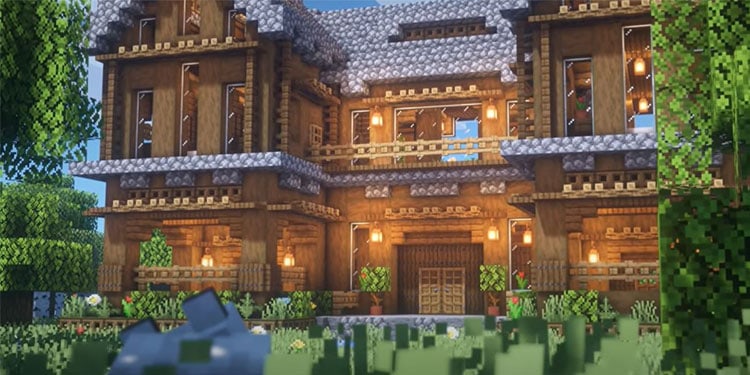 This large mansion not just looks grand, it is cozy and spacious. Hide all your loots in here and go adventuring with no worries. You can show off its pleasing aesthetic and woody exterior to your multiplayer companions. You will make everyone jealous of this dazzling mansion as soon as you build it. 
Simple Survival House – SheepGG (Beginner Level)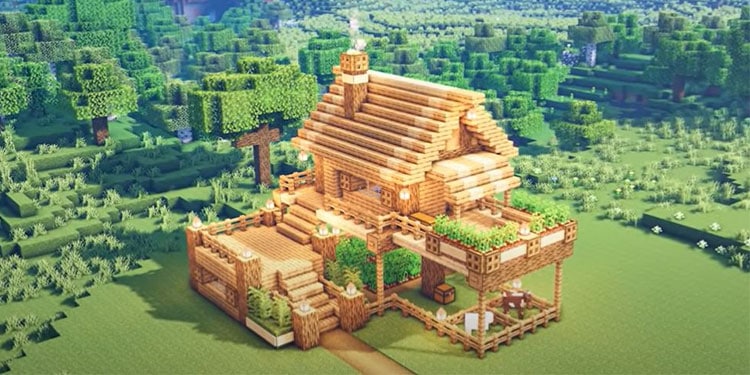 Another cozy and easy to build wooden design by SheepGG. It caught my eye with its welcoming look. I would never mind spending my dark nights in this house's warm hearth. The mix of grass and wooden blocks perfectly compliment each other. It is a globally loved design and very simple to build. 
Forest Survival House – SheepGG (Beginner Level)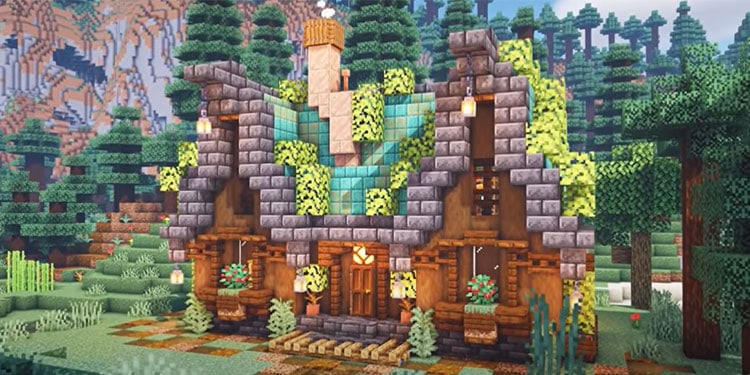 Ever wanted to live in a forest? We've got a house that fits perfectly in a forest atmosphere. It is made up of basic materials you can get early on. Use something else instead of the blue copper if you dislike the rusted copper look it has got going. 
Cliff House – SheepGG (Beginner Level)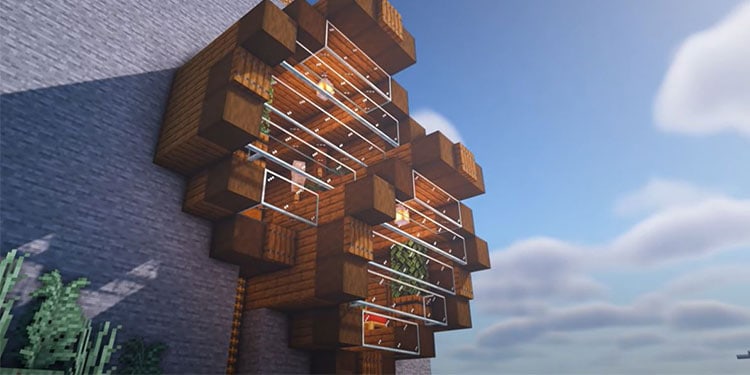 If you have ever seen Tiger's Nest, a monastery in Bhutan and suddenly developed an urge to live in a house embedded along a cliffside. Watch this tutorial made by Youtuber SheepGG and make your cliff living dream come true. Start building this easy to make, majestic looking house and stay heavens away from dangers lurking beneath you.
Wizard House – ZayPixel (Intermediate Level)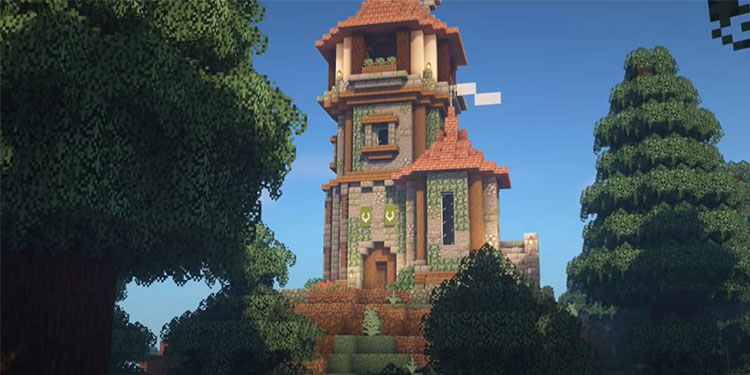 The wizard in you will appreciate this tower house. Build this lone magical structure, standing tall amidst a dark overgrown forest. In there you will be crafting, enchanting and researching everything you need to conquer your play through. Go on and build your own little Hogwarts.  
Underwater Mountain House – Zaypixel (Beginner Level)
Remember the cliff house from before? This is the underwater version and is very similar to build. It has a small entrance hut that can be easily hidden by vegetation on the clifftop. You can enter and exit from there. Rest of the time, you can hide away cozily in your warmly lit underwater cavern.
Wooden Mansion – Keralis (Intermediate Level)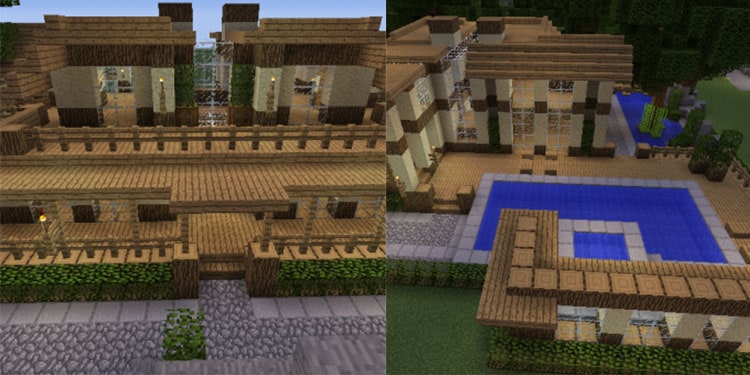 A stylish mansion with a pool and its own compound. This mansion only needs you to bring it to life. I was surprised by how early on you can experience a luxurious survival with this relatively easy to build mansion. You can build this grand shelter with very common materials but be prepared to have heaps of them.
Japanese House – Bluebits (Intermediate Level)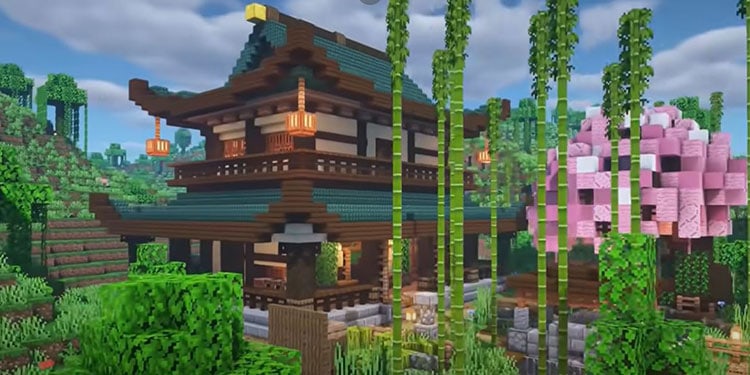 We all love Japanese architecture. Just the look of Japanese architecture inspires the samurai inside of us. Evoke your sushi slaying, katana wielding warrior with this beautiful house. Don't miss out on experiencing this elegant Japanese house, without setting a foot, in Japan. 
Ultimate Starter Survival Base – Bluebits (Beginner Level)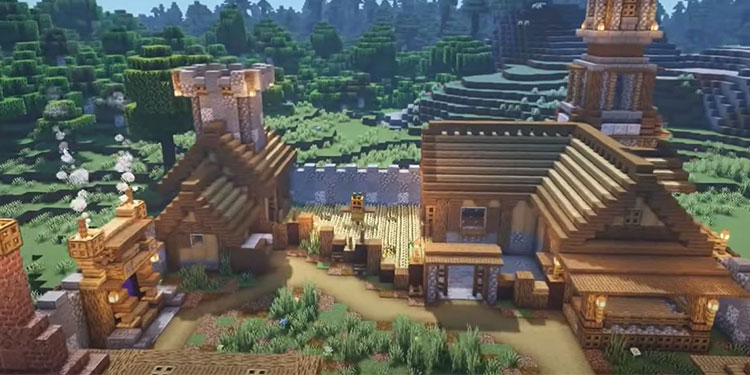 Don't be intimidated with that ultimate in its name. This one is actually easy to build with fairly common materials. Let me warn you though, it will take at least 4 hours of hard gameplay and gathering to build all this.
You will consume the whole forest around where you build this early game marvel. Let me tell you though, once you finish it, it will be totally worth all your time. 
Medieval Survival House – Axianerve (Intermediate Level)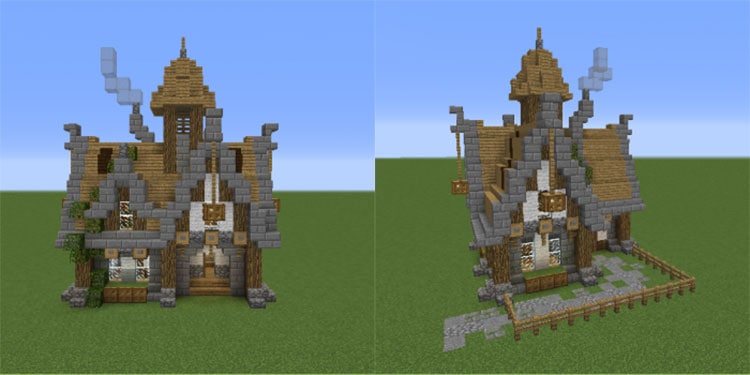 Nothing says you will fit right into Minecraft like this medieval house. Let me explain why. First off, it is easy to build and gives you all the comforts a house from centuries ago would give you.
You will get the precious sense of safety for yourself and your belongings, and that is all you need in Minecraft. Go check out the blueprint for this one and try it yourself. 
Fantasy House – Minecraft Fantasy House (Intermediate Level)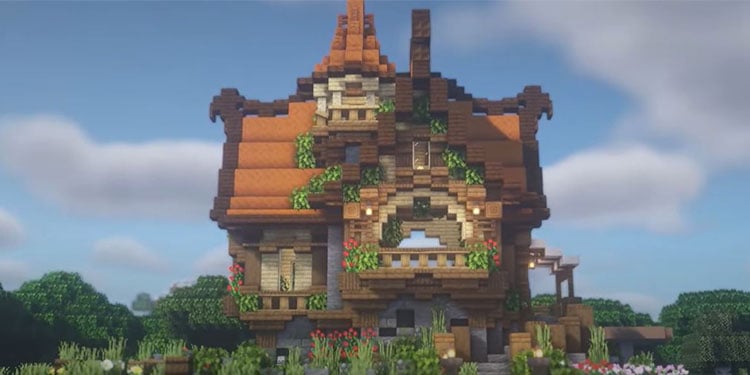 It is one of the most gorgeous looking fantasy house tutorials available on Youtube. That arch on the front façade and the tower on the roof is just perfect. It might be a bit difficult to follow this tutorial from the video. But trust me, the hassle is all worth it when you complete erecting this beauty. Just look at it. It's glorious.
Mangrove Starter House – Folli (Beginner Level)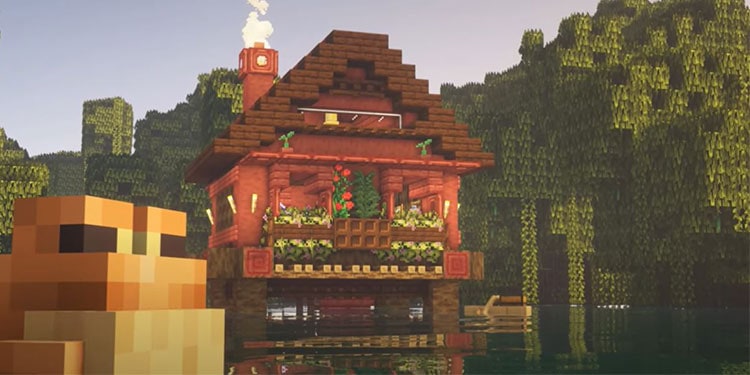 If you are playing the wild update and want to survive the swamps. This is the starter house you will need. It uses the new mangrove blocks easily available in the swampy biome. I would choose this house any day of the week. Just look at how pretty that red color looks over the murky water.
Lake House – Zaypixel (Beginner Level)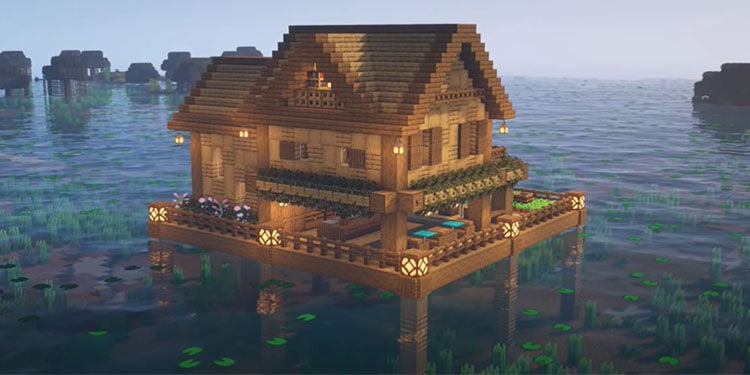 Let me tell you the advantages of living in the middle of a lake. You will be a lot safer than living in the middle of land for sure.  All those scary mobs will leave your pretty lake house alone. Also, imagine how majestic it will be standing atop the serene lake in your playthrough.
Modern Survival House – SheepGG (Intermediate Level)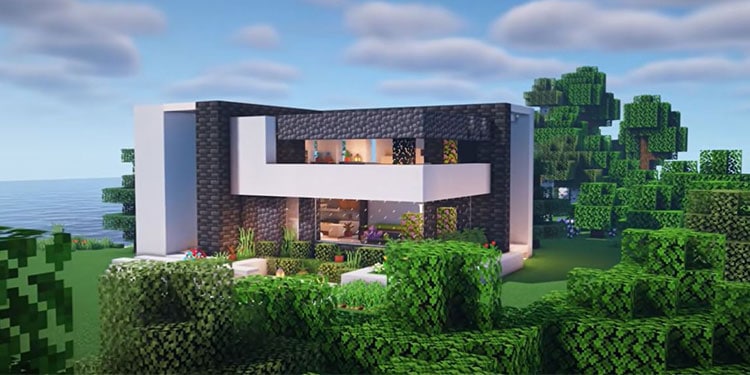 There were many modern house blueprints, but I had to choose this one for its simplicity. The video guide for this blueprint is beautifully made and really easy to follow.
The house itself is sleek, minimalistic and very cool looking. I will recommend you to watch the beautifully edited tutorial made by SleepGG and not sleep on this modernist design. 
Sky House – Folli (Intermediate Level)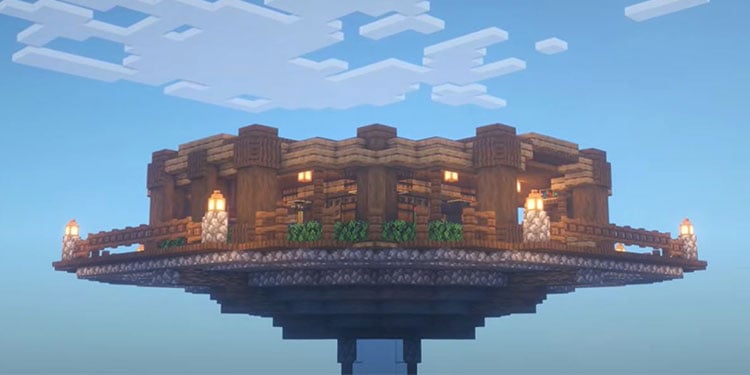 SKY HOUSE! I love a sky house! I have always wanted one since I watched The Jetsons as a kid. This is the house I am going to build in my next playthrough, and the playthrough after that, and every other one.
I don't think I will ever get bored if I owned a sky house. It is the most regal thing I can imagine living in. Wouldn't you agree?
Underground Survival Shelter – SheepGG (Beginner Level)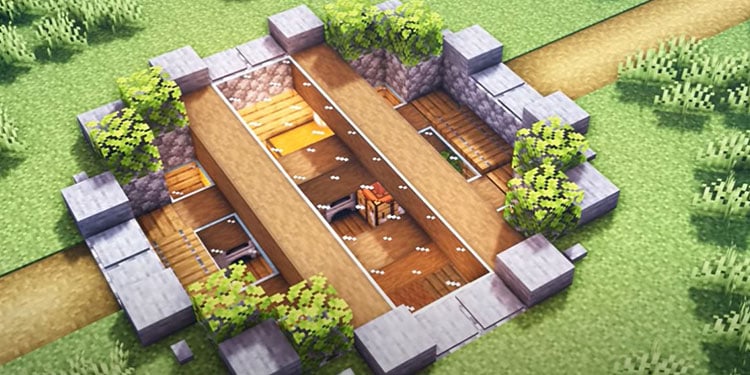 This is the opposite of sky house. If you want something for your first day of survival, this is the one for you. Dig in and cover yourself. It is as simple as that. Hunker into the bunker, the experience how cozy and spacious it actually is inside. Your first night will soon turn into many more cozy nights in this cute bunker shelter.
Hobbit Hole – Goldrobin (Beginner Level)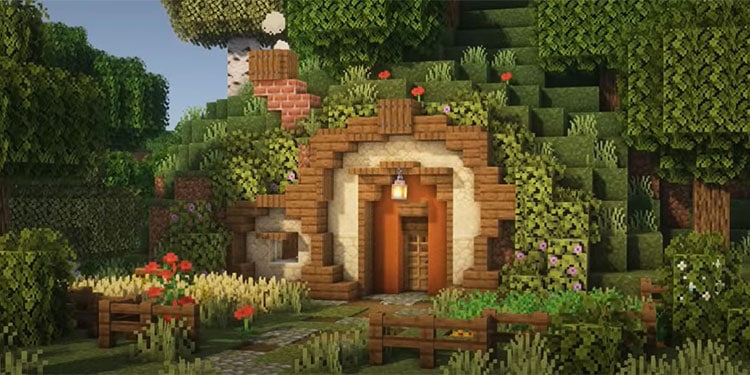 My Minecraft list would never be complete without a rant about something inspired from the Lord of the Rings franchise. Worry not, I will not bother you with rants today.
Just watch the tutorial made by Goldrobin. You will know why a hobbit hole is the best of all holes to live in. Rest your happy hobbit feet in this warm den truly fit for the most adventurous of Hobbits.