Players and fan communities create multiplayer Minecraft servers you can join. You may start your own or join someone else's, but it's not a widespread feature.
Any player can create a server by using the software Minecraft developers (Mojang) offers. These servers alter the game's rules, add or delete features, and similar. The result varies greatly, ranging from mini-games to dungeon crawlers.
You may consider Minecraft servers as Mojang's alternative to Roblox. The developers offer the platform and the tools, and the community creates their experiences.
The core idea of Minecraft servers is creating multiplayer alternatives. Minecraft is a single-player game, so if you're looking for an online co-op or versus modes, you can join a server.
How to Join Servers on Minecraft?
The process of joining a server differs between the Bedrock and Java editions. The Bedrock Edition has a built-in menu where you can find servers and join servers. The Java Edition doesn't have a menu, so you have to browse for servers elsewhere.
So, let's share the exact steps for Bedrock Edition and Java Edition. You can follow these steps on any platform.
How to Join Servers on Minecraft Java Edition?
Let's start with Java Edition, which is the most difficult. You must find a Minecraft server on a web browser, copy its IP, and then paste it into the game.
Search the Server Online
We advise you to search for Minecraft servers on this page. You may already have a way to browse for servers or have heard from a content creator or friend.
In any case, you must type down the server's IP, which looks like a web address or an IP address.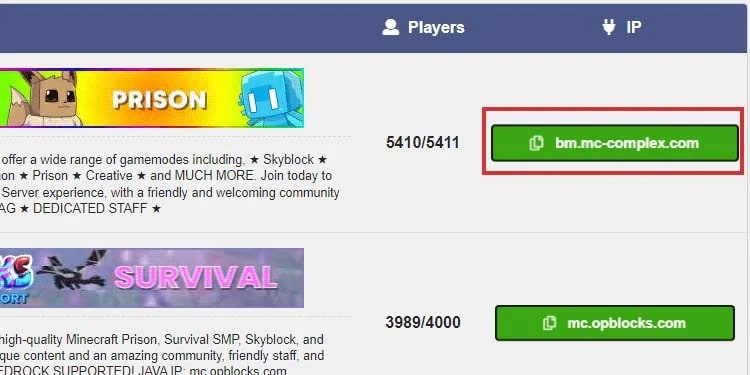 You can click to copy the IP. Alternatively, you may browse online yourself. Other pages to find Minecraft servers include:
Any of these pages will allow you to check popular servers, see what they offer, and copy the IP.
The Java Edition is available on PC and smart devices, so you'd always be able to copy the IP address.
Join a Minecraft Server on Bedrock Edition
After searching for the Minecraft server on a web browser, here're the steps to follow to join a server:
Open Minecraft.
Click on "Multiplayer."

Click on "Direct Connection."

Type or paste the IP address of the Minecraft server you want to play.
Click on "Join Server" after you type the address.

Alternatively, you can click on "Add Server."
Type the exact server name and address, and then press "Done."

Wait for the server to load and play.
The servers you add through this method will remain in the multiplayer tab from now on.
How to Join Servers on Minecraft Bedrock Edition?
The Bedrock Edition is generally bulkier than the Java Edition. One of its changes is allowing players to find servers within its menu.
Open Minecraft.
Click on Play.

Go to the Server tab.
Find the server you want and select "Join server."

How Do Minecraft Servers Work?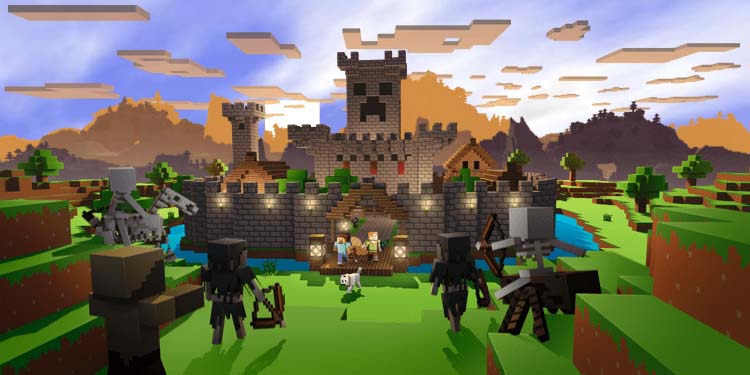 Minecraft servers allow you to play the world with friends and test many forms of mini-games.
These servers are mostly free, but some may ask you for a fee to reveal their IP address or URL address. Alternatively, some servers may offer micro-transactions, while others are private and personal.
You can join a server within the Minecraft menu on PC, consoles, and mobile devices. Before entering a server, it would be best to check them online and what they offer.
Before we go through the tutorial, let's check some initial information.
Basic Server Rules
There're multiple types of servers in Minecraft. These alter gameplay mechanics, societal structures, mob behaviors, loot randomization, spawn rules, and others.
However, most servers share two basic rules:
Servers have a protected area where you spawn. Typically, you won't be able to damage any mobs, interact with the world, or break any blocks within 16 blocks around you.
You'll see a chat on the left side of the screen. Here, people on the server can send messages. The default key to type is "T."
You may experience a lag spike when joining a server.
Type of Minecraft Servers
The last thing you'd need to understand before joining a server is the type of experiences you may find.
Most Minecraft servers rely on the map editor and the Creative mode to build custom areas and maps. Other developers use Mojang's Craft Bukkit software to create more complex options.
In general, though, here're the primary type of servers you may find:
Creative: These rely on Minecraft's Creative mode but limit items, access, plot sizes, blocks, materials, and similar.
Survival: These rely on the Survival mode, but they have additional rules that provide "Griefing" between players or exploiting mechanics for accessible resources.
Anarchy: These have no rules. Players can cheat, exploit, talk explicitly, and more.
Mini-game: These servers host mini-games like Capture the Flag.
Faction: These are Survival-type servers where you can "mark" a portion of land as yours. Unknown players won't be able to build on the area you claim.
Harcore: These are also Survival servers, but players can't respawn. That opens up a "last man standing" gameplay.
Roleplay (RPG): These allow you to customize a player further and follow through RPG-like plotlines and character growth.
Personal/private: These are servers players can make to share privately with friends and family.
These servers may have PvP, PvE, Co-Op PvE, or PvPvE elements. Lastly, servers may blend ingredients from these kinds and blur the distance between the categories.