Nowadays, tons of single players games on steam are being released. Players like me who enjoy playing solo cannot keep up and have time to play every game. So, we need to be careful and selective when it comes to choosing the game.
But how can we select the best single-player games?
You do not have to worry, in this article I have made a list of the best single-player games on steam. They have positive reviews, unique designs, challenging gameplay, and so many other reasons.
Let's dive in.
Single Player Games on Steam
The Witcher 3: Wild Hunt (2015)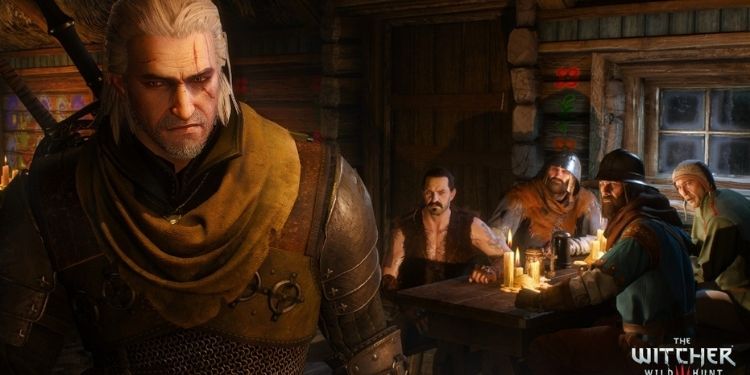 The Witcher 3: Wild Hunt is one of the best single-player games on steam. It is about adventure and action in the vast open world. There is an imbalance in power, and dark troops have teleported to destroy people's habitat.
Track down the living weapon to stop the demons. Travel across various locations and fight against the enemies to find the girl. Being a witch hunter, you must play and set a journey to search for the child of prophecy.
Train yourself to fight against the enemies such as mystical lions, zombies, demons, werewolves, and more. Interact with different characters and help them to acquire information. Destroy the teleportation portal of demons and stop them from invading the human world.
Travel across the vast land, such as forests, kingdoms, dungeons, islands, and more. You will battle against bandits and other evil intention villains in your journey. Use your witch sense to track down the trace of enemies and other beings.
Finish all chapters and complete various missions. You can save the progress at certain locations. Unlock different abilities classes and equip them with powerful weapons, armor, and spells.
Collect different items in your inventory and craft them to create powerful weapons. Earn XP and loots killing enemies to boost your level. Manage your health and mana while facing foes. Learn new about your surroundings and new skills to use. Mainly you will be gathering information from pubs and local bars.
It has rich storylines with choices and far-reaching consequences. Experience the day-night dynamic environment cycle. Learn the behavior of humans and evils. You can play mini card games with other characters.
Its map navigation is great, and you can mark different locations. You can use various combat skills and magic portions while battling. Plus, it has beautiful video graphics and voiceovers.
Portal 2 (2011)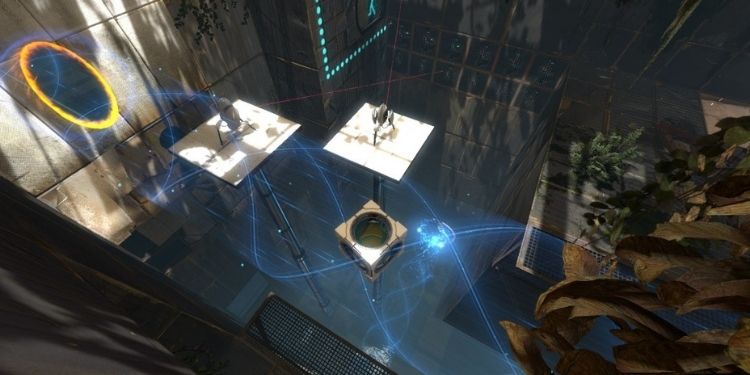 Portal 2 is one of the best puzzle games with a unique playstyle. Design to test a person's mental abilities and changes players' perception. Find the exit and learn about the wrongdoings of the lab. Travel from one teleport to the next. Stay out of the dangers, or else there is no tomorrow.
Maneuvering objects to solve the challenges and puzzles in the lab. Inspect surrounding objects around you and learn to use them to avoid trouble. Use the environment to your advantage. Get creative to control the time and space.
Explore the different parts of the lab to find the puzzle pieces. Diffuse various traps and use your intelligence to increase your survival rate. Open different portals to move freely in the lab. Complete the main missions to claim different achievements.
Collect information from notes to clear different chapters. Each chapter contains unique puzzles to solve. Move objects from one place to another through the help of portals. Run away from the evil robots and use portals to confuse them. Plan before executing that will increase the success rate of winning.
You can play single players campaign stories to solve mysteries. Or, invite your friends to a multiplayer campaign. You will find new modes and many changes in the portal. Find unique game design, music, beautiful graphics, more levels, and storyline. It is one of the most addictive games and is highly recommended to play.
Metro: Last Light Redux (2014)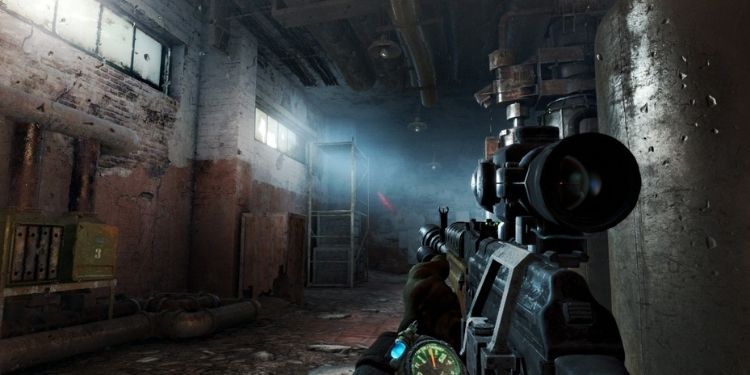 Metro: Last Light Redux is one of the best single-player survival games for zombies. The lack of resources has created chaos in the zombie apocalyptic world among the surviving human beings.
Experience the greatest waves of infected hordes, and if you are a fan of zombies games, it is for you to play. You will play as Artom and escape the civil war caused due to the hunger for power among leaders.
Gather your men and set a journey across the infected world to find a better place to live. Your comrades' fate is in your hand, and you have to guide them into the safe land. But remember, not everyone can make it. Travel from trains from one to the next cities, clearing the subways.
Explore different map locations such as abandoned buildings, underground railway tracks, infected cities, and more. Craft weapons to fight against human foes and mutant creatures using combat skills.
Prepare a divergent tactical plan to eliminate zombies. Surviving is the main mission in the game. Use various weapons such as chainsaws, swords, guns, rocket launchers, rifles, and more to fight against the infected.
Defend your grounds to protect yourself along with other survivors. Collect powerful weaponry and reload your guns to shoot down the zombies. Apply medkit to recover your HP.
Furthermore, it has great video graphics and sound effects. But it may not be suitable for everyone to see the next level of bloody violence. Select the difficulty mode matching your play level. It boosts the gaming experience of players that will test your abilities.
We Went Back (2020)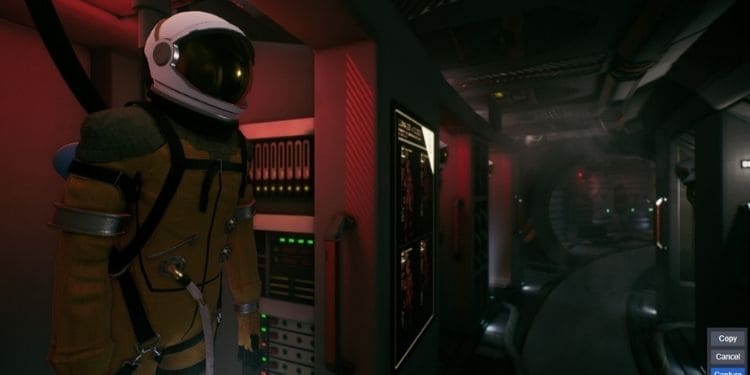 We Went Back is a first-person short science-friction game of time-looping horror. Wake up in from the cold sleep in an unknown abandoned space station. Investigate your surroundings and inspect objects to gather the hidden puzzle objects.
Survive alone from the dangerous monsters and dangers that keep lurking in the surroundings. You will be playing the game as the sole survivor, and your mission is to exit the room. You must complete the puzzles to obtain passwords and use them on the door airlocks.
The environment gives you clues and the key. Gather information from newspapers, computer screens, notices, and posters to get hints. Explore various parts of the space stations and unlock different doors. Collect items and objects to solve the puzzle.
You have to keep them in your hidden chamber of yours. Avoid the monster and keep your distance from the environment of the space changes every minute. Try noticing the cause of the dramatic changes. Or you will be stuck in the loop of the room. Surviving is your number one priority throughout the session.
Solving puzzles can be tough if you do not know what to look for? Move around the space to search for missing puzzles. Claim the achievements and complete tasks. There will be points when you circle around the same spot to look for hints.
It has great background art, including detailed space stations and space suits. You will enjoy the place to find out space elements such as sleeping capsules, lobby, posters, labs, control room, and more. Plus, it has created a great horror experience with its sound effects and video graphics.
Half-Life 2 (2004)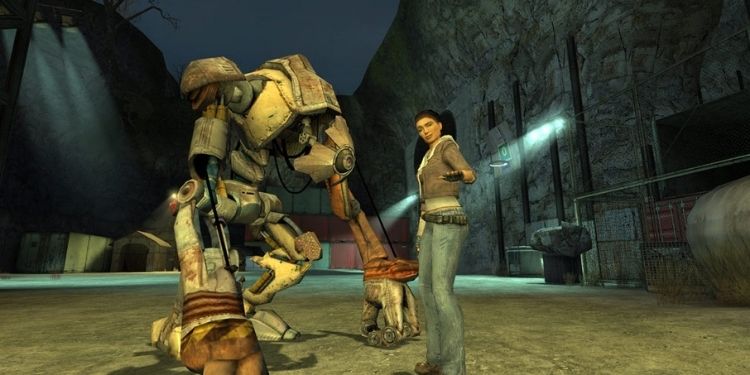 Half-Life 2 is one of the most popular action-packed games of survival. It is simple but differentiates from the rest of the FPS games as all of the stages are designed in great detail.
Fight against the enemies, unravel hidden secrets of the world, and solve the physics puzzles. Enjoy playing the engaging story campaign with great twists and turns.
Play the main role of Gorden Freeman to fight against the enemies. You must shoot down aircraft, defense air missiles, mutated creatures, monsters, zombies, and more. Each of them has special abilities to attack. The main aim is to save humanity from the hands of evil enemies.
Explore different locations on the maps, such as high-tech laboratories, abandoned cities, water barrage, underground drainage pipes, and more. Use airboats, cars, and other vehicles to travel across various places. You must maintain your health HP while encountering enemies in those places.
Use various weapons such as swords, guns, crossbows, grenades, rifles, and rocket launchers to destroy the enemies. You must target the high-damage dealer opponent at first and kill others. You must use gravity guns to move objects and create your way to the destination.
Interact with many characters to gather information regarding the origin of the foes. Try to achieve all the achievements and claim a huge sum of rewards. It offers realistic environments and beautiful landscapes.
Further, there are lots of variables that can surprise you as the game progresses. You can go back to training season to develop your skills and abilities.
UnderTale (2015)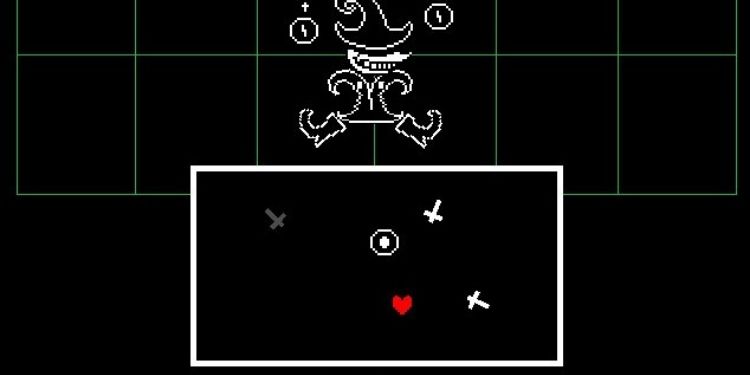 Under Tale is one of the best single-player story-rich survival games. It is about a tale of a young girl in a small village who sets journey to the nearest mountain. The place was like hell, and no one had returned back. The main aim is to find a way back home.
Play as the young girl and start your journey in the depths of the dungeons. Encounter various monsters, enemies, and even bosses. There is no need to fight them. You must rely on your cunning skills to talk your way out of the mess.
Explore different parts of the dungeon to collect items in your inventory. Make new companions and use them as your source of information. Meet every boss and become friends.
Interact with many demon characters and make friends. Maintain your human figure to stay alive. Complete the quest in the game to get extra time to live.
In unavoidable circumstances, wait for the best time to hurt your enemies and dodge all the enemy attacks. Survive in order to escape and make the right choice to breathe longer. Or you must play mini arcade games and win to stay alive. It will vary according to the enemy boss.
It offers 2D graphics with great details and a unique fighting system. The audio soundtrack is the best part of the game. The game's mechanics is great, and even veteran players found difficulty in some part. And last, the entire game was created by one person alone.
Doki Doki Literature Club Plus! (2021)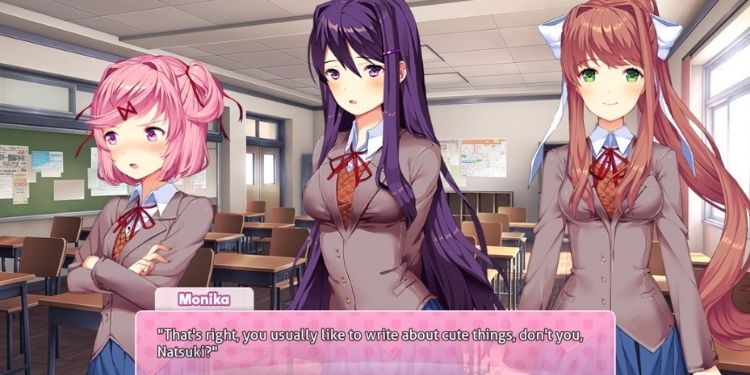 Doki Doki Literature Club Plus! is one of the best psychological horror games designed in Japanese animations. It is about a fresh start in high school, and one male student will join a university's literature club full of girls.
Involve in the romantic affairs with the main characters. They are Monika, Yuri Natsuki, and Sayori. Every one of them has unique talents and personalities.
Play the lead role of the newly joined single boy member. Interact with all the club girls to find out their likes and dislikes. You must be careful against the dark secrets of the ladies. Share mutual feelings to get close and become more than just a friend.
You must make Monika happy and complete the quests. She is the leader of the club and manipulates all of the members, including you. You must not be on her bad side. Unravel the hidden secrets of all the girls and make choices wisely.
There are many options to answer and communicate with the girls. You must think carefully before selecting one and try to come up with the best option. Encourage them to open up more and become entangled in monogamous relationships.
It offers new gaming arts, unique sketches, and wallpapers. Engage in the relationship with all the girls and make your move. Charm others and uncover the horror secrets of romance. Get involved in the balance date for all the members. Create a harem world for yourself inside the club.
Cuphead (2017)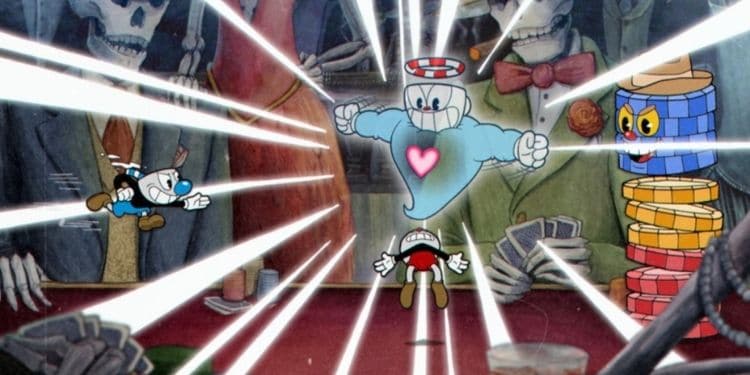 Cuphead is one of the great 2D shooting and running games. It is about two brothers losing everything in gambling. The boss of the casino even claims their soul. They begged for forgiveness and now searching for a way to repay their debt.
Travel through the strange animated world playing as Mugman or Cuphead. Duck, Jump and dash to move to the destination. You must lock and shoot down enemies on the way. There are a wide variety of enemies and bosses. Figure out partners like moves of each boss and safe timing to move for you.
Explore various locations on the map and collect coins. Clearing a stage will help to unlock the other levels. Try to learn powerful moves to defeat your opponent. Move unravel hidden secrets and corridors in the process of paying back your debt to a devil. Communicate with other characters to gather information, and you can trade collected items in the shop.
The best part of the game is that each boss and stages are unique, and each has special attacking abilities. Many players find it hard to complete the mission. The winning feels amazing, and tutorial memes are available for beginners.
It is a perfect addictive game with both single-player and multiplayer co-op modes. The overall control mechanism is great and easy to move around. Overall performance is evaluated after finishing the stage.
You can play repeatedly same stage to break the previous record and create a new high score. Plus, it has great video graphics and soundtracks. Furthermore, this game is full of positive reviews.
Supreme Commander (2007)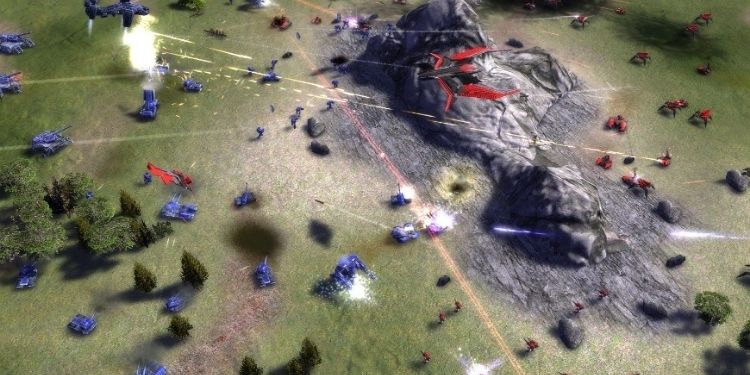 Supreme Commander is a sci-fi and strategy RTS game. It is about conquering the vast land of a planet. Command your main on the battlefield and guide them to victory. Wage war against enemies and eliminate them completely from the map.
The main aim is to destroy enemies base and eliminate the boss. Become the ultimate fraction to rule the planet. Select a fraction and on a planet to build your empire. Create different types of infrastructures to defend your base.
You must expand your territories in the vast land. Produce your troops and heavy machinery equipment. It's your turn to take leadership and command to fight against the enemies. Eliminate the enemies and lead the way to victory.
Scout enemies base and prepare a plan to attack in full force. You must learn about enemies' fighting abilities, strategies, and starting points. Install many defense alert systems to keep track of enemies in a raider.
Create armies for air, sea, and land. Upgrade the building structures to produce a wide variety of troops. You must level up your troop's abilities. Combine them as one unit and use abilities to their full potential to face your opponents.
First lunch air attack and destroy enemies defense mechanism. Then send your grounds to capture the land. Explore the map and find the weakness of your enemies.
There are many unit levels and combat areas. It offers single-player and multiplayer campaigns with custom, rank, and co-op modes. The storyline is epic and teaches us logistics planning and strategic thinking while you manage your troops across the maps.
Battleblock Theater (2014)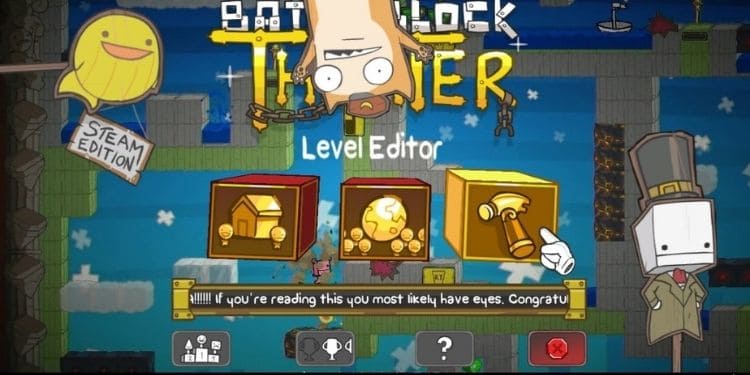 Battleblock Theater is one of the best single-player comedy games. Traveling far from the homeland into the vast open sea. The ship crashed into an island that was full of cats. They are more intelligent and advanced than the rest of the world. Now you must survive in life-threatening situations and continue to sate alive.
Select a character to play and start your survival journey. Run, jump, and dash to reach the exit point of the level. There are various stages, and each has unique puzzles. You must perform impressive acrobatics to clear the stage.
Use weapons and tools to defeat your enemies and uncover the shocking truth of the theater. Complete quests and discover who betrayed and dragged you to this hell. There are many weapons tools in the game, and you have the option to select any two. You can fight against your enemies using skills and abilities.
In the arena, there are traps, waters, and blasting blocks. You can hear humorous jokes, and the narrator speaks in a clear voice with a great accent. Customize your character to make it look unique. Choose mode difficult or normal to complete all the stages.
It has unique animation and an insane challenge mode to test your abilities. You can play solo campaigns or multiplayer with your friends. At the end of the session, your performance is evaluated based on time, deaths, and more. It has great visual effects and soundtracks.
Dishonored (2012)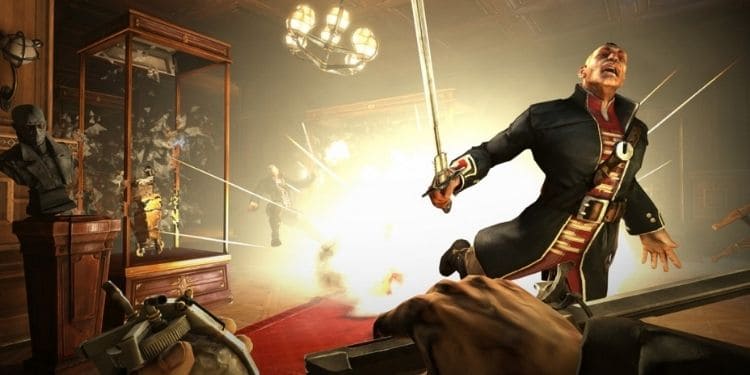 Dishonored is one of the best action and adventure-based single-player games. Queen was murdered, and traitors blamed you. Being a bodyguard, you cannot defend her now that the princess has been sent to prison.
You must turn into a supernatural assassin to seek revenge. Kill every traitor who is involved in the mysterious death case. The goal is to rescue the princess and protect the country.
Play the main role of the assassin and eliminate targets using your supernatural skills, disposable gadgets, and weapons. Pursue enemies in the darkness and attack on the head for an instant kill. You can use your silent motion to choke out enemies within a few seconds.
Select a class to gain abilities. Each class is unique in itself; you must choose one matching your gameplay style. You will bring mass destruction on your way to find out the truth. The decisions you make can change the future outcomes. Collect many items as possible in your inventory.
Upgrade your powers, gadgets, weapons, abilities, etc. Listen and interact with other characters to gather information about the murder. Explore the maps and carry on tasks. Get one step closer to figuring out the truth and find out who is betrayed you? Clear achievements gain exp and awards.
You must unlock many cool supernature abilities in the game, such as teleport, bend time, and more. Visual, audio, and voice acting are all good. It is fun and easy to play, but in some parts, you need to figure out how to use the powers. You can trade items and buy equipment in the shop.
The Forest (2018)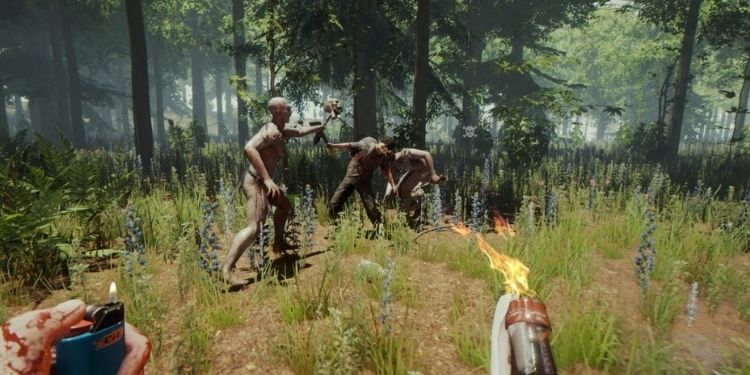 The Forest is a first-person open-world survival horror game. The story starts with a jet plane crashing into an unknown mysterious dark forest. They took your child, and you are the only one who survives. Encounter cannibalistic monsters and fight them back to stay alive.
Play the role of solo survival and survive in the harsh environment. Fight against the human-like monsters. Protect yourself against the horde of genetically modified monsters. Unfold the secrets of the world and the origin of the monsters. Clear the main objectives and claim the awards.
Explore various parts of the world, such as vast open land, dark forest, dungeon, science labs, and more. Light lighters to see on the dark caves. Scangave suitcase and boxes to gather resources for survival. Build your base or use already created camps.
Collect various items and use them to craft weapons. You can create firebombs, swords, and axes to attack enemies. Gather stones to throw at enemies and firewood to keep the fire alive. There are different types of enemies, each having special abilities to deal damage.
The game's main mission is to survive till the end and make it to the mainland city. Use silent movements to track the monsters and invade their base to loot resources. Use those crafted items to attack enemies.