There's just something about real-time strategy(RTS) games on steam that has players returning for more. Maybe it's the feeling of watching your army grow and conquer your enemies on the battlefield. Or, maybe it's the sense of satisfaction you get from planning your moves perfectly and annihilating your opponents in a flawless victory. 
Whatever the reason, there's no doubt that RTS games are some of the most popular and enjoyed titles in the gaming world. 
Here is the list of some of the great RTS games on steam.
RTS Games on Steam
Age of Empires II (2013)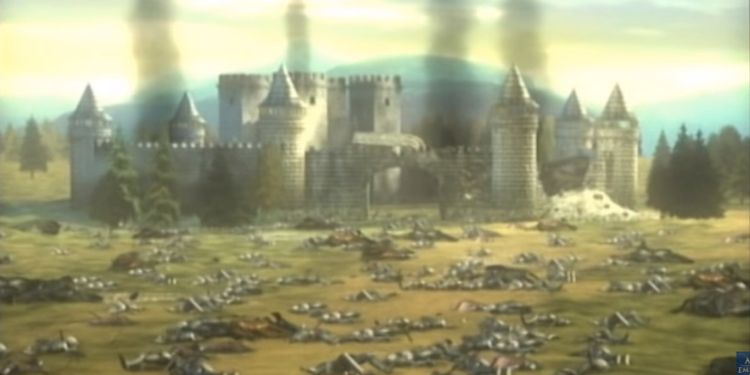 Age of Empires II is a classic RTS single-player game. It is a series of award-winning title. Transfer to the historical era and select one race from 18 different civilizations to rise to empire. Battle against other races and increase your empire boundary. It is the combination of modern-day warcraft and stone-age civilization.
Choose one civilization and plan strategies to conquer other races. Build your base, hunt animals, craft weapons, make armies, and fight enemies. The main aim is to conquer all the maps and destroy other empires. Create an ultimate kingdom and rule the world.
Explore more single-player campaigns and new maps. Use powerful monsters such as cyclopes and minotaurs. Pray your god to seek guidance and protect you from surprise attack. You will use various magical spells to attack your opponents. 
Upgrade your base and building structure to unlock more powerful defenses, armies, weapons, monsters, spells, and more. You must raise your troops and spells levels to make them strong. Strategically attack enemies' empires and manage your resources to defend your empire.
It offers four new campaigns, six more civilizations, eleven troops units, and twenty-six battle technologies. Graphics visuals are improved with a great soundtrack to boost the gaming experience. Conqueror other empires and create your great empire across the map.
Total War: WARHAMMER II (2017)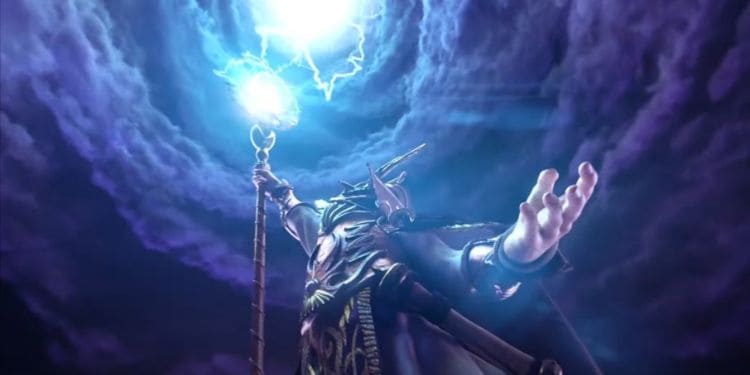 Total War: WARHAMMER II is an RTS action strategy game. Dive into the Warhammer 40K universe and join the battle between four factions. During Chaos' invasion of the world, the High Elves' mages created the great Vortex to stop the Daemonic hordes. But its consequences are far more bitter than expected and the main goal is to subdue the Vortex. 
There are four fractions: Lizardmen, Skaven, Dark Elves, and High Elves. They each have unique abilities and origins. Choose one sector to start playing from their side. You must lead troops and command them on the battlefield to bring victory.
Thousands of troops and monsters are at your service. You must use them strategically to attack the enemies. The fight between fractions and challenges breaks out to have control over the "Great Vortex."
Use powerful lords and creatures such as deadly fire-breathing dragons, wyverns, and more in the battle to secure the win. Increase the level of lords to make them stronger. You can find epic battle magic spells, powerful weapons, strong defensive armor, and more to equip your troops.
Complete the solo champaign story mode and you can challenge other players globally. It offers a new gameplay experience, a unique story narrative, legendary characters, magic spells, armies, monster creatures, and more,
STNorthgardAR WARS™ Empire at War – Gold Pack (2006)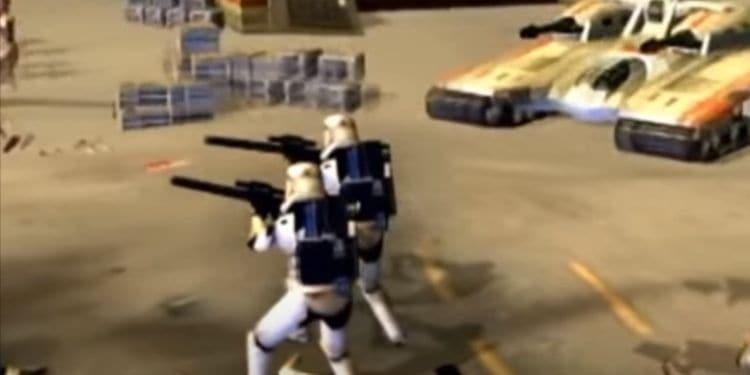 STNorthgardAR WARS™ Empire at War – Gold Pack is a science fiction strategy game. It is about the civil war in galactic space to control the solar system. Corrupt or command the galaxy which is in your control. Winning the battle is necessary to shape the future and become the ultimate galactic commander. 
There are three roles you can play. They are rebellions(light side), Empire(dark side) and Underworld star leader(dark side). All sides have their own unique story and gameplay. The main aim is to control the entire galaxy. 
Take control and free planets and space stations from the control of enemies. You must take over 80 locations including Tatooine, Dagobah, and Kashyyk. Conquering them will help you to gain strategic advantages in the war.
Use your air units at first to destroy the enemies' bases and defense system. Command your ground troops to secure the planet and destroy remaining foes. Every decision you make will make an impact in the next battle. And they are related to the future of space.
Collect resources and join all-action battles to gain a unique gaming experience, Clear tasks and missions. You can command the space war's iconic characters like Darth Vader, Luke Skywalker, Boba Fett, and Obi-Wan Kenobi. Playing the corrupt side can be fun and has evil missions to complete for becoming the supreme evil lord of the galaxy. 
Warhammer® 40,000: Dawn of War® – Soulstorm (2008)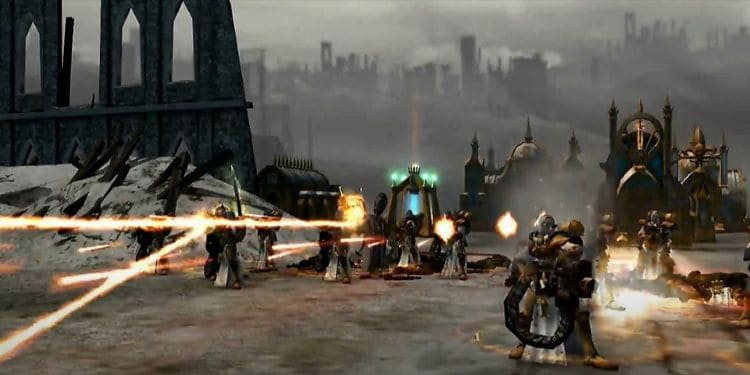 Warhammer® 40,000: Dawn of War® – Soulstorm is a base-building strategy RTS game. Rejoin the Warhammer 40k battle fantasy to fight the epic battles. Choose a fraction and clash against the enemies to become victorious in the galaxy. 
It has introduced two new forces to make the star system an intense and epic battlefield. This has increased the playable fraction option up to nine. Everyone hates the new character of Dark Eldar.
They are evil, have fast movements, twisted brain cells, and are the cousin of the Elders. Sisters of Battle are the unit of female warriors and have equal strength compared to Space Marine.
Explore and travel through the various solar systems. Deploy your armies in full force to gain control over the newly introduced map "Dark Crusade." Destroy whole worlds and kill enemy troops across the solar system. 
You must customize your character and their abilities, weapons, armor, and items. It will help grow the hero and unleash the potential in war, Complete missions, earn points, unlock achievements, and claim reward medals.
Join the war in the galaxy and conquer various planets. Clear solo story campaign and explore 34 map locations. Fight for the victor, command your troops and become the ultimate ruler of the galaxy. 
Warhammer® 40,000: Dawn of War® – Game of the Year Edition (2006)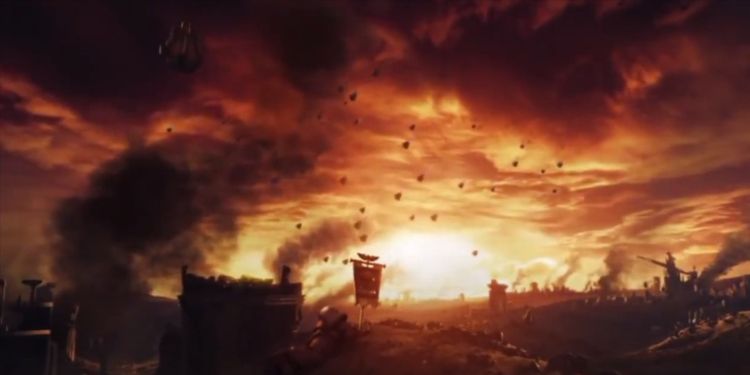 Warhammer® 40,000: Dawn of War® – Game of the Year Edition is an RTS strategy game. In the Warhammer 40K dimension, it takes you to fight against foreign enemies. Aline has evaded the galaxy and defeated humankind. Prepare the armies to fight and scare them away. 
There are four unique fractions each having special fighting abilities and specialization skills. Choose anyone from Eldar, Chaos, Space Marines, and Orks to fight the aliens. Create your battle squad and develop strategies to bring victory to your members. 
Use various types of science-fiction weapons such as laser guns, aircraft, tanks, and more. Synchronize your hero's abilities with melee artillery in close combat range. Unlock new missions and bonuses to increase the skills of your character,
Deploy all your troops in the war to fight against the enemies. Win every brutal combat and create your dominance over the galaxy. You must be innovative and make your strategies wisely to use your troop's abilities efficiently.
It offers great visual graphics that you never experienced before and has heart-pumping sound effects. You can test your skill and combat abilities in online multiplayer PvP mode. The main goal is to defeat the alien and become the ruler of the galaxy. Complete the missions and get rewards to unlock necessary items.
Warhammer® 40,000: Dawn of War® – Dark Crusade (2006)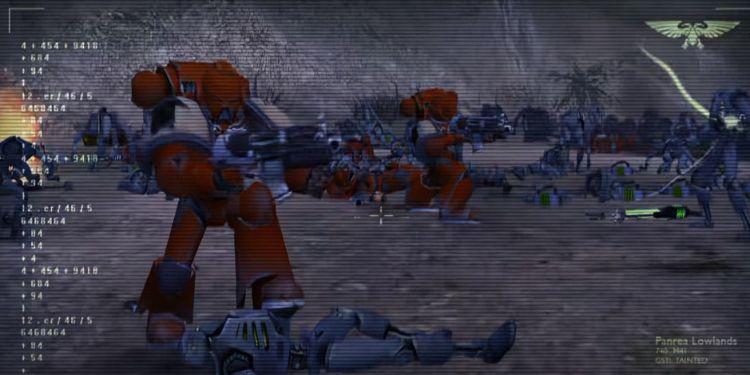 Warhammer® 40,000: Dawn of War® – Dark Crusade is a Warhammer 40k RTS strategy game. Necron has awakened after sleeping for eternity. War has broken out between different factions and they are in the middle of the battleground. They must join the war and defend their territory. 
Select a race from seven fractions including two new races. Necron is the deathless creature who was sleeping in the Necron Monolith. They are advanced technology and can resurrect dead corpses. Tau is a special warrior race who has powerful weapons. They are the ally of the Kroot alien.
Gather troops and take command to fight against the other races. All the faction has unique skill, abilities, weapons, and endings. You must complete the missions and defeat your enemies.
Create tactical plans to invade the enemies' bases and make proper use of troops according to their advantage and abilities. You will be using various powerful system melee weapons to destroy foes. You need to defend your base from others.
Customize the character and equip the hero with items, equipment, weapons, armor, and abilities. You must collect rewards and unlock skills and artillery.
Create banners, give special names, and use color design to make your troops outstanding. You can play the game in up to 8 multiplayer modes with 12 maps. 
Supreme Commander: Forged Alliance (2011)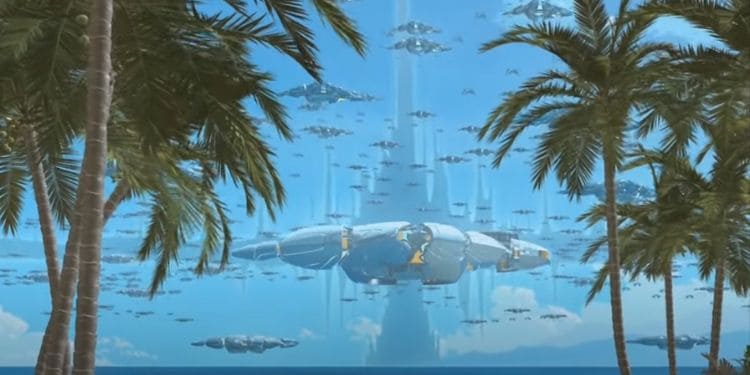 Supreme Commander: Forged Alliance is a sci-fi strategy RTS game. Infinite war has caused mass destruction to humankind. Once a powerful and great nation has turned into the rubies.
New enemies are joining forces with The Order to eradicate humanity. Humans must build alliances with Aeon Loyalists, Cybran, and UEF, putting all the hatred aside to defeat the enemies. 
You will be the supreme commander and lead your team to victory. The main goal is to create dominance among other fractions. Your decision holds consequences throughout the different chapters.
Command and control various units such as experimental squads, base armies, air-land, and sea. It has added more than 110 new troops. They all have unique skills, abilities, and use.
Use counter-strategies, orbital weaponry, navies, advanced technologies, and more to fight against the enemies. It is a full-action game and you must battle with your full capabilities to test your gaming mechanics. 
There is a new single campaign story to save humans. You can challenge other players in the multiplayer ground to show superiority. It offers you new maps, conquest, weapons, strategies, troops, and more.
Command & Conquer™ Remastered Collection (2020)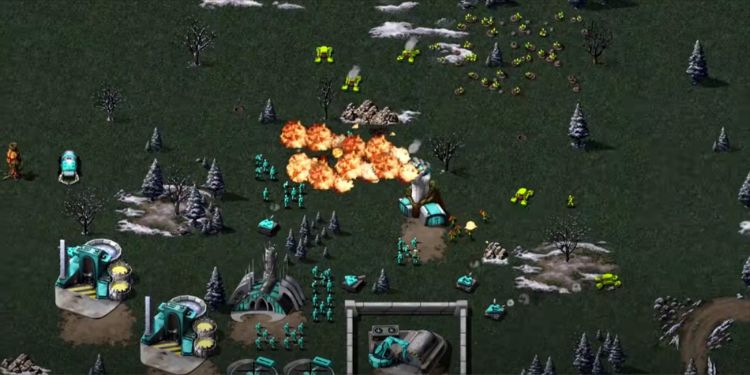 Command & Conquer™ Remastered Collection is a classical war action strategy base building RTS game. It is the remastered collection of Red Alert and Tiberian Dawn. It brings three packs together such as The Aftermath, Counterstrike, and Covert Operations along with various new quests and features.  
There are over 100 missions and it has rebuilt the multiplayer mode with over 250 maps. The game has 4k graphic resolution and contains a bonus gallery.
It has built-in-map features allowing you to create many maps. You can set your quest and share those designed maps with your friends. Feel free to host custom games. 
Select campaigns and clear missions. Change the difficulty mode according to your gaming competence.
Watch the cinematic videos and edit videos using its features. You can customize keyboard & mouse controls, fix the camera angle, and improve movements. It has great visual and sound effects with options to play your soundtracks.
Age of Mythology: Extended Edition (2014)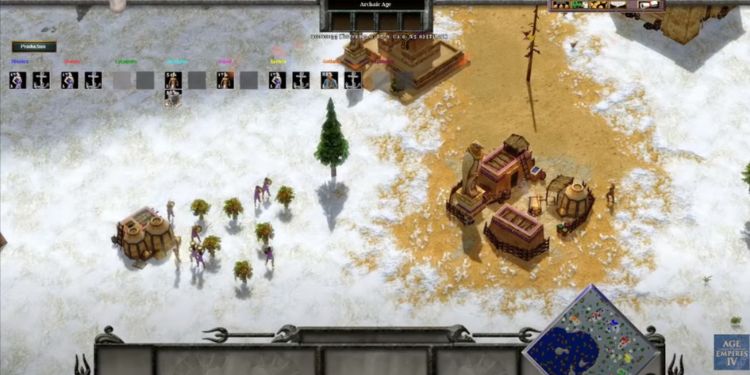 Age of Mythology: Extended Edition is a classical mythology RTS strategy game. Transfer in a different universe where a battle between monsters and heroes takes place. God's will intervene in the mortal's affairs. Wage war with other races and conquer the maps uniting various nations into one. 
Select on race and start playing to conquer the different regions. You will build your base, military barracks, resource collectors, and more to make your nation strong. The aim is to fight against enemies and destroy them.
Use the guidelines and assistance of your gods. They will offer powerful spells such as meteors, lightning storms, tornados, and more to destroy enemy troops. Create strategies to attack an opponent's base and achieve victories.
Complete the missions and events to achieve badges. It will help Trade cards in the workshop or you can buy or sell items. Increase your leagues and collect your achievements.
You can level up the heroes to make them strong. You are using mythological creatures such as Cyclopes, minotaurs, and more to change the tide of the war. 
It has great visual graphics and sound quality. Offers a time of day, shadows, specular maps, improved water, global lighting, and more.
This Extended Edition includes Age of Mythology: The Titans, Golden Gift Campaign, and Age of Mythology. You can play solo or invite friends for multiplayer mode.  
Total War: MEDIEVAL II – Definitive Edition (2006)
Total War: MEDIEVAL II – Definitive Edition is a medieval grand strategy game. Expand the kingdom to conquer the entire world from the Middle East, Africa, and Europe to the shore of an uncharted world.
Create the greatest glorious westerner history and eliminate many foes on the bloody battlefield. It is the fourth part of the great Total war award-winning series. You will play as the Medieval nation and must control troops of up to 10,000.
Guide and command your force in the fierce battles to gain victory. Defeat many enemies as possible and unite the nations into one. The main aim is to win every battle and expand your kingdom.  
Manage resources and make storage to collect raw materials. Gathers items, irons, equipment, and more for building base, improving your armies, and crafting weapons. Diplomatically manipulate enemies and allies to take advantage of the situation.
There are four new campaigns; New world, Britannia, Crusades, and Teutonic. You will find ten additional units, 13 unique fractions, and nine new agents. Moreover, it has added 50 different buildings and over 60 map locations including 15 multiplayer maps.
Single players can play new epic campaigns to conquer three continents and sail to a new world. Everything has detailed visual effects such as larger armies, finishing moves, quick movements, and combat choreography. Find over 40 extra features and battle up to 8-player in multiplayer mode.
Company of Heroes 2 (2013)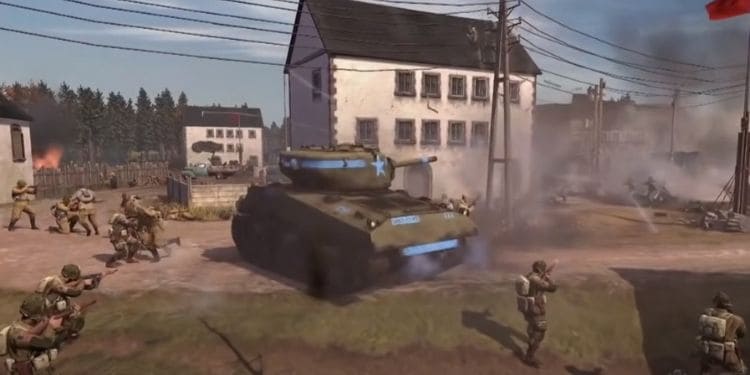 Company of Heroes 2 is a world war II strategy action game. There are five fractions profiles: Soviet army, U.S. Forces, Wehrmacht Ostheer, Oberkommmando West, and British Forces. It is about strategically winning the battle against other forces and improving the war's battle strategies. 
Select one fraction and start paying. Each force has unique abilities and consists of both advantages & disadvantages. You must use their skills and strong points in your favor to fight against the enemies.
Command your troops and place them in locations to attack or defend enemies. Increase the abilities of your troops and face foes in close combat range and conquer their land. The decision you make will change the tide of the battle and you can win or lose depending on your strategies. 
The system will offer a cycle of climatic conditions and help you manage your units. You can use melee weapons to destroy your opponents and defend yourself. Develop your commander skills and experience epic close-range combat.
Challenge other players in the multiplayer battle mode and gain experience to boost the character. The troops have a unique character and special unit abilities such as RAF glider, flamethrower tank, and more.
Customize your characters and prepare for the war. You can play solo campaigns and complete missions and 18 landscape scenarios. 
They Are Billions (2019)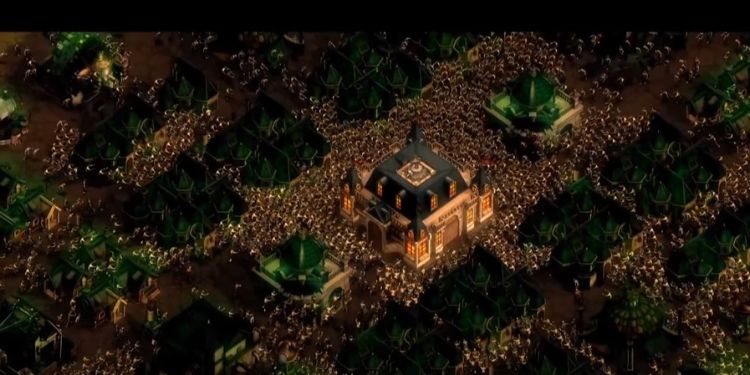 They Are Billions is a base-building strategy survival game. The zombie apocalypse has destroyed many countries along with human lives. Few remaining humans are surviving on the fear of death. The infected are hunting survivors and mankind are struggling to fight against them. "Can humanity survive?" is the greatest question. 
Follow the orders of the New Empire and fight against the undead. You must collect resources, raw materials, items, equipment, and others to build your base strong. You will build walls, defensive machinery, traps, and more to defend against the endless hordes of the zombies.
Even if one zombie gets inside the wall, the consequences can be far to handle. It will transform your workers, citizens, and armies rapidly into infected. You can pause in the middle of playing and reorganize your strategies. You must give commands and build new building structures in the meantime.
It has more than 60 hours of gaming time and 48 missions. You must build fortress colonies to stay alive and expand the base to conquer the lost land. Complete the missions and hidden tasks. You must destroy the hordes of the zombies. 
Unreveal the true story behind the origin of the undead virus and explore the ancient human civilization locations. The animation quality is great with great sound and visual graphics.
Letting you have smooth control movements. Do not let hordes grow; eliminate them on-site and use your strategy to guide humanity towards victory.