You can't argue when someone says that medieval games have the best settings in all video game genres. They have dragons breathing fire and soaring through the sky. They have huge castles, legions of knights that protect them, and monsters who'll tear anyone apart; lots of things to look forward to while you're gaming.
If you are searching for a medieval game to explore the lores and experience breathtaking battles, we have got you covered. We have listed the ten best medieval games you don't want to miss.
Best Medieval Games on Steam
The Witcher 3: Wild Hunt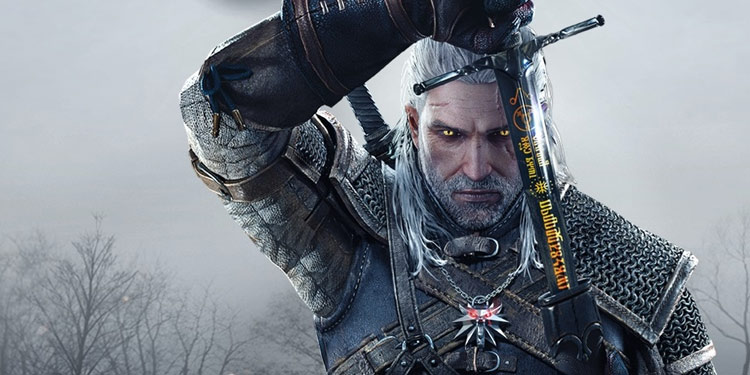 Dive into the world of Witchers and experience the true thrills of surviving in a medieval era. The Witcher 3 is an open-world action/adventure world full of medieval elements such as monsters, swords, magic, and kingdoms.
You take on the role of Geralt, a Witcher available for hire and can take almost every quest you throw at him. From fighting off an entire horde of monsters to slaying epic bosses, nothing is impossible for him.
The world of Witcher is dangerous yet beautiful for both exploring and leveling up.
You travel far and beyond, completing missions and side quests and upgrading your weapons and skills along the way. As you move forward, you'll encounter countless monsters, bosses, characters, and secrets that'll determine how your journey ends.
Your main weapons are the two long swords that are with you all the time. The swords are effective against both monsters and humans. In addition, you can also learn various skills and magical abilities.
The character development in this game is amazing, and after completing each mission, you can perform tons of upgrades on yourself. As a Witcher, your journey is going to be a long and epic one.
Elden Ring
One of the best and hardest games to be released this year, Elden Ring, lets you experience the horrors of facing an enemy boss. Set in a medieval fantasy theme, Elden Ring has a vast, beautiful open world waiting to be explored.
It is an RPG game that plays as the protagonist and sees the world from his perspective. In this game, you play as a Tarnished, an exiled character who's returned for vengeance, and he will show no mercy to anyone who stands in his way, even the monsters.
Your objective is to collect all the missing pieces of the Elden Ring and become an Elden Lord. But before you reach there, you have to defeat all the monsters, level up a lot, upgrade your weapons and skills and be an unstoppable force.
The game is extremely punishing, and you will die countless times to a single boss. However, the feeling of finally defeating them after losing all hopes is a feeling to be cherished as well.
This game is full of surprises, with danger lurking around every corner. But it is equally fun and immersive too.
Age of Empires IV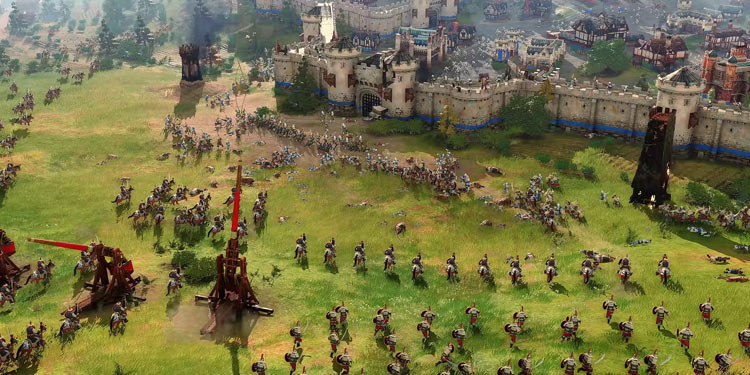 Age of Empires IV is a real-time strategy game that requires you to constantly adapt based on the situations going on around you. Set in a middle-age, this game will pit you with different civilizations of that era.
You play as one of the eight great civilizations of the middle age era, build an empire from scratch and wage war against your enemy civilizations on the map. You start by collecting resources necessary for growing civilizations, such as stones, woods, and meat.
After collecting enough resources, you can build new buildings, summon warriors to fight for you and make more villagers to collect resources.
Each building you build has its own purpose, and you need all of them. Some defend you against enemy troops; some summon warriors, while some provide shelter at the time of the attack.
You can also build an entire army composed of different types of soldiers. From foot soldiers to horsemen and carts, you can summon armies to take down an entire civilization.
The game ends when only one civilization is left at the end, and every other civilization has been taken down.
You can also play this game with your friends as allies or against them as enemies.
Total War: Warhammer II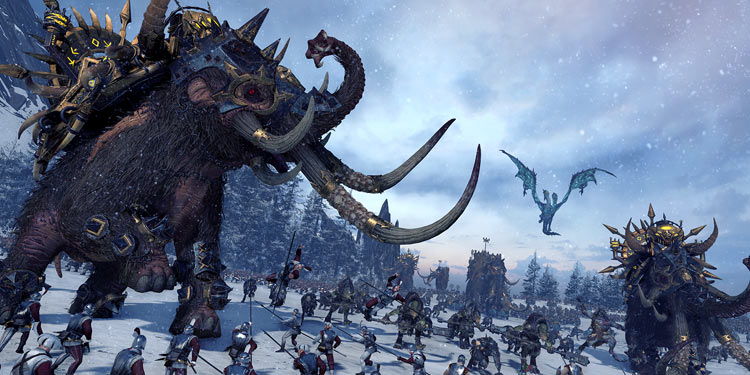 Total War: Warhammer II is an epic turn-based, real-time strategy game with superb settings, visuals, sounds, and thousands of characters that are waiting for your order.
It contains a vast open-world for you to explore, full of fantastical landscapes and mythical creatures.
You can choose and control one of the four great races in the game when you first start. The objective is to take control of the Great Vortex.
There are several side quests that will help you to achieve your end game. You have thousands of troops at your disposal. You'll wage constant war against other factions trying to control them or destroy them.
You have lords that will lead battles and heroes that work independently to kill enemies or join the army to provide huge boosts to your team.
All sorts of creatures and beasts reside in this game, each with their own unique abilities in battle. You can control them either by force or by taking them over to your side.
The multiplayer campaign brings more to the table by teaming you up with other players of different or similar factions.
The fate of the world is in your hands. You will either lead it to glory or drive it to complete chaos.
Sekiro: Shadows Die Twice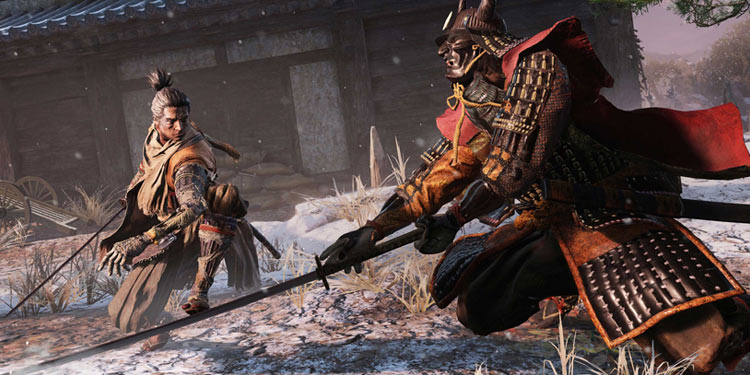 Sekiro: Shadows Die Twice shows how the action genre can encompass beautiful settings and graphics. Set in the Sengoku period of Japanese history, it has all the elements needed to make this game one of the best on this list.
You play as a lone warrior, set on a quest to exact revenge on the samurai clan who abducted your Lord. The game is mainly stealth-based, where you move slowly around the area and wait for the perfect opportunity to strike.
The game has supernatural aspects as well, and you'll be fighting different mythical creatures in intense battles. It has tons of upgrades and character development as well.
Sekiro has a captivating story, and not one quest or conversation feels useless. Everything in this game serves a purpose, leading to bigger mysteries. The boss fights in the game are epic, and the rewards that come after defeating them are all worth it.
This game perfectly depicts the history of ancient Japan in a blissful way.
Dark Souls III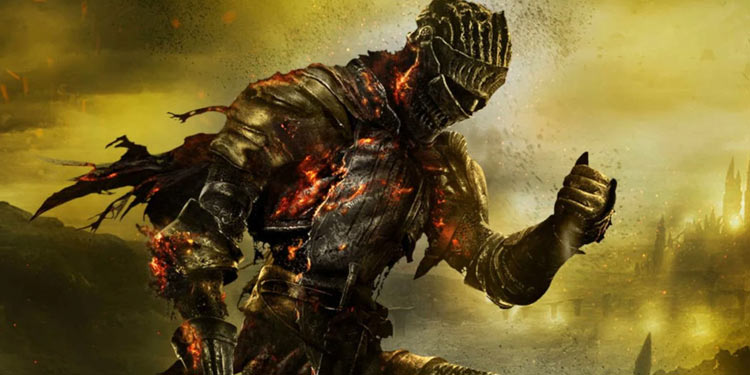 Dark Souls III is the final game in the Dark Souls series. It is an action RPG game that gets harder as you progress further.
The game is set in a medieval fantasy world, and you'll be exploring different locations to level up and upgrade your weapons. You'll have access to various weapons, and each weapon gets its time to shine.
Mastering combat takes a long time in Dark Souls III, and it feels like you have more to learn the more you move forward.
Throughout your journey, you'll encounter various bizarre bosses, each with different combat patterns. Some even change their pattern in the middle of battle.
And they are equally brutal too. One-shot from them, and you'll be taking out your healing potions immediately.
The game contains different shortcuts and illusory walls as well. Make sure to use them or explore them as much as you like.
The game gets harder as it goes, so it's better to prepare for the worst by upgrading your weapons and gears beforehand instead of wondering why your attacks deal no damage to the enemy.
Elder Scrolls V: Skyrim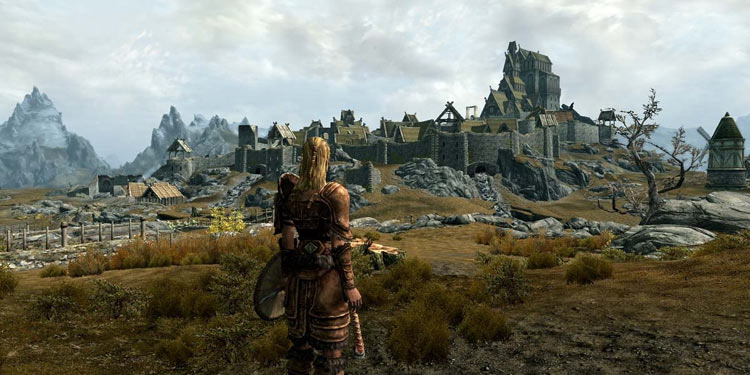 Elder Scrolls V: Skyrim makes you fall in love with its medieval settings and characters. It has a massive open world that consists of all types of plains and terrains for you to explore and uncover its hidden mysteries.
You play as a Dragonborn, a special character set on a journey to explore the world of Skyrim and discover his fate. You can also choose one of the various classes the game offers at the beginning of the game, each with its unique abilities and personality.
You can either play a campaign, where you'll be completing various missions to get stronger, or explore the vast land freely, talking to strangers, visiting different towns, and taking up jobs.
It has great customizations and upgrade systems where you'll unlock new abilities as you level up.
You can talk to NPCs, take quests from them and get rewards in return. You can even engage in wild animals that jump on anyone who comes near them.
The world of Skyrim consists of various mythical creatures and monsters, and hunting them is not an easy task. You need lots of upgrades on your weapons and skills to be able to face them.
Even then, it is quite a challenge to deal with them. You'll feel all kinds of emotions while playing this game.
Medieval Dynasty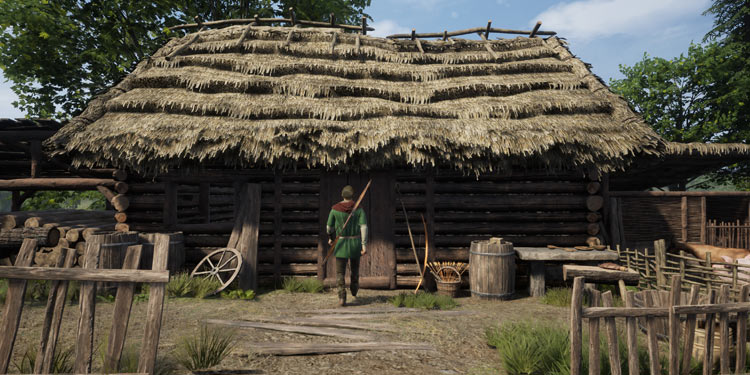 Medieval Dynasty simulates a normal life of a farmer in the medieval period. The thing that separates this game from others on this list is that it strays away from the idea that medieval games have to be action-packed and full of fantastical elements.
The game is fairly simple; it is set in a medieval era, and you take the role of a typical farmer of that era.
The game is set away from all the hustle-bustle, and there are no sights of knights and kingdoms for miles. Your goal is to survive in that world by doing whatever it takes.
From chopping trees to building fences and setting up traps to hunt animals, you'll be doing all sorts of things to stay alive.
You'll also have a neighborhood where you'll interact with people, and they will depend on you for a lot of things. It has a vast open-world sandbox where you can create your own story.
Crusader Kings III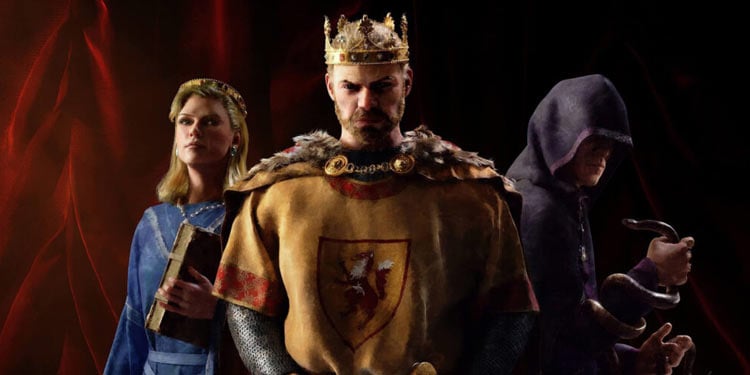 Crusader Kings III is a strategy game set in the time of medieval ages. It consists of a large map of the world containing the whole of Europe and some parts of Africa and Asia.
You play as one of the various dynasties the game offers and continue your dynasty for as long as you can.
The game has thousands of independent characters, each with unique traits which can lead to unpredictable outcomes.
The game has no definite goal; you can play however you like and do whatever you desire. However, you can lose the game if you don't have any more living members of your dynasty.
So, the goal is to basically continue your bloodline while continuing to grow your territory. You'll have access to various skills, which will be important when you want to expand your territory. However, things become quite complicated if your character dies.
While the initial settings of the game are similar to historical events, it can diverge from that path pretty quickly.
After all, this game is a sandbox where your choices will determine how the story of the game unfolds. You'll be making lots of important decisions, which will affect where the world is headed.
For Honor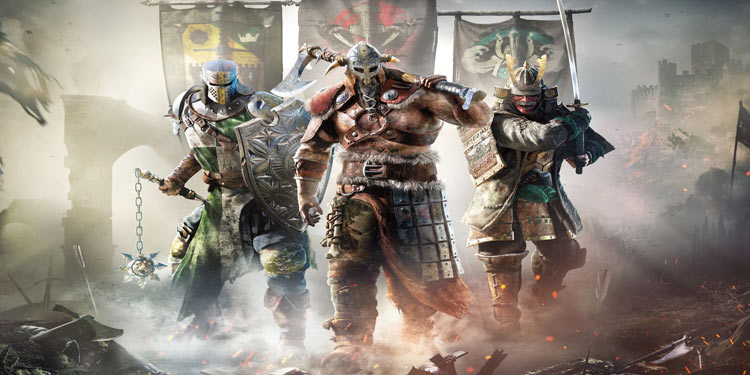 In this game, you dive into the world of chaos and fight for glory. You'll be able to choose between one of the five greatest combat factions to ever exist in ancient history and fight the rest of them.
This game lets you experience brutal combats with spears and swords rather than the typical firearms you find in modern days.
Enjoy classic battles with other factions, kill them using your secret techniques and claim a victory over all of them. You can purchase different types of deadly weapons with in-game currency as well.
However, the game is much more than constant battles and killing enemies. Whether you're playing the good old campaign mode or multiplayer with other players, you need to strategize accordingly if you want to win in these skirmishes.