Playing games is a great way to have some fun. But we don't want to invest all our time and money in setting up a device. That's why? We look for the best retro games on steam to have the 80s and 90s classical gaming vibes.
Here is the list of best retro games that you can play right now without any hassle.
Let's start.
Best Retro Games on Steam
Shovel Knight: Treasure Trove (2014)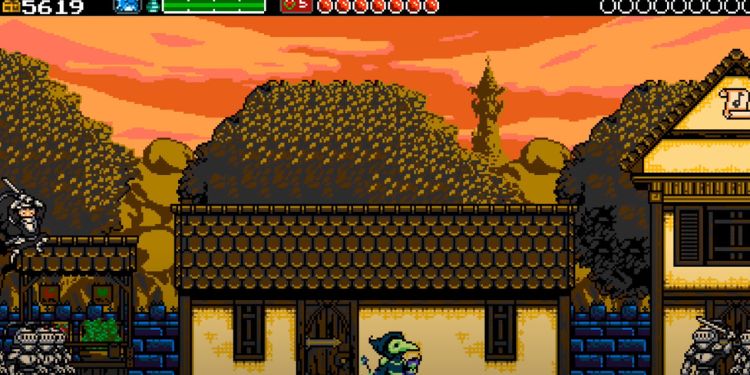 Shovel Knight: Treasure Trove is a one-in-five collection of retro classical 2D games. It is an action-adventure gameplay series called the Shovel knight. The quest is to reunite with his lost lover. Battle against villain knights and defeat the leader of the No Quarter.
Adventure and explore maps as different kinds of characters. Choose knights from plague shadows, specter torment, cards kings, shovel blade, and hope. You can change the gender and swap bodies to change the game.
Dig, jump, run, and fight your way throughout the game. Find mysteries, duel with enemies and discover the hidden treasures. There are many secretaries in the world that you must decode.
Upgrade your weapons and armor. You must combine skill with your movement style to defeat the foes. Complete the quests and stages. You must battle unique bosses at the end of each stage.
There are four campaign stories or you can play a 4-players challenge mode. It is a beautifully designed game with noble art, characters, animations, and an audio track. Newcomers can find the game balanced and easy to play.
DUSK (2018)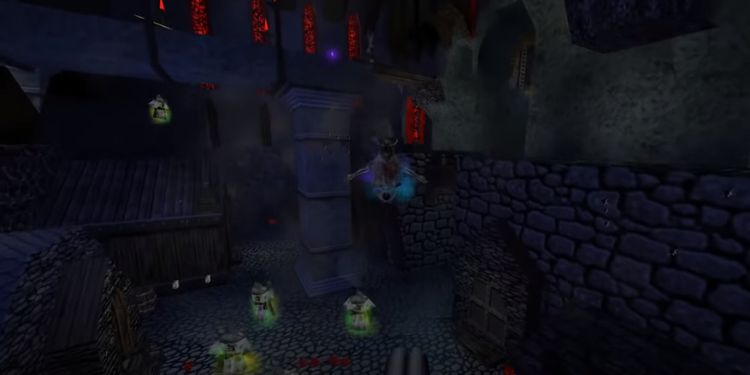 DUSK is an FPS shooter retro horror game. Wake up in a dark world full of danger and threats. Aware of the life-threatening creatures lurking through the dark shadows. Search the way to survive until sunlight touches the surface of the land.
You will play the game as a lone survivor and must continue to breathe in the bloodshed and butchery on the battlefield. Fight against the deadly forces of supernatural creatures and mutated monsters in the mystical backwater.
Use various weaponry such as crossbows, rocket launchers, rifles, swords, shotguns, sickles, and more. Explore the maps and learn hunting secrets to clear levels. Make your way through different kinds of monsters and enemies.
Find tons of concealed locations, achievements, bosses, and hidden secrets. All of them can be found at the end of each level. Sometimes finding them can be challenging and can take hours of your time.
There are many survival modes and you can play a multiplayer arena with friends. You can see many elements in the game that offers the 90s vibe. It has excellent level design, environments, art, and navigation. Enjoy the awesome quality metallic soundtrack and visual effects.
Prodeus (2020)
Prodeus is a first-person retro action shooter game. It has blended classical battles with modern warfare. Eliminate the bad guys and evil demons. The mission is to get into the zone and clear every level.
Play as a good guy and make your way through the safe zone. Kill enemies and destroy buildings using various weapons. The game has advanced weapons like Quake 1.5 or Brutal Doom.
Explore the maps and discover the various secrets of corridors and hidden quests. Select your best choice of weapons to face enemies. Complete task, quest, and move on to the next level.
It has various layers of performance and a leaderboard score generator system for global ranking. Use the advanced built-in-map feature to create your own game world and enjoy it with your friends.
There are many battle modes and you can select the hard or easy options to play. It is stable while playing and offers a AAA gaming experience. Play close combat battle and enjoy the bloody animated graphics with awesome sounds.
PAC-MAN™ Championship Edition DX+ (2013)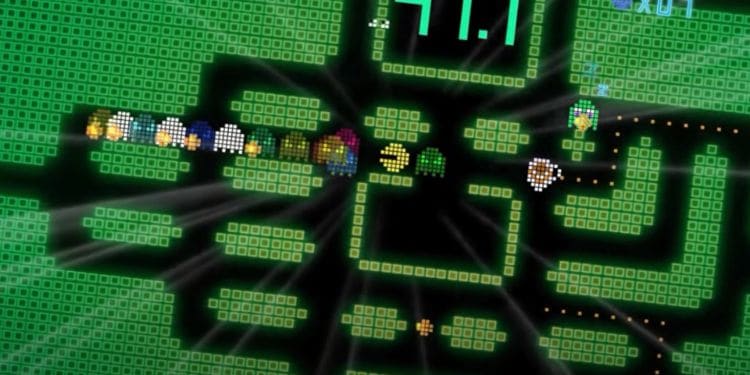 PAC-MAN™ Championship Edition DX+ is an award-winning classical arcade game. Get to the top of the leaderboard score and challenge the game with others. It is about chewing down the ghost for points at the fast pace possible.
Play as the Pac-man and you must pursue and eat ghosts. The mission is to break all the previous record-high leaderboard score and challenge friends directly.
Progress your gameplay and skills. Play in the various harsh map mazes and be victorious to unlock many medals.
There are in total seven unique mazes layouts. Each of them have special difficulties and options. You must move at the maximum speed to earn more points and be the top scorer.
It offers many customize options. Such as difficulty level, characters, maze visuals, music, and more. Find five different modes each having its own unique design and style. Complete all the changes and set-top records.
AMID EVIL (2019)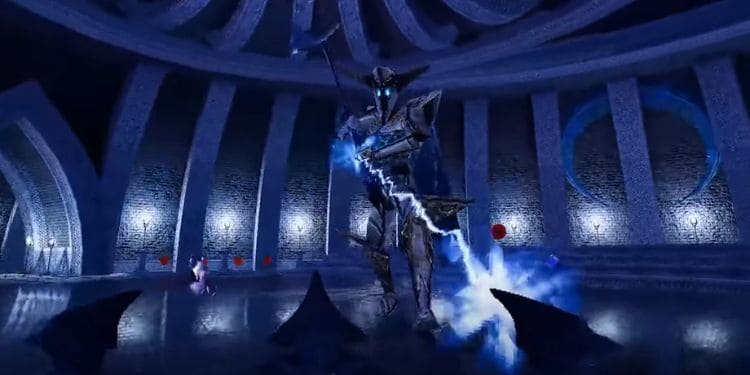 AMID EVIL is a dark fantasy action FPS retro game. A powerful evil force has taken control over the pure sacred land. Many heroes die trying to defeat the evils but none have succeeded. The new champion passes through the Black Labyrinth trials and has acquired the divine axe to clean the holy land along with the evil forces.
Play the game as the lead role of the champion and travel across the inter-dimension of the world. Complete the seven distinct episode campaign where you can find different levels and unique monsters having special features.
Explore the lands and hidden secrets. Use weapons and upgrade them to use dark magical powers. Battle against the endless hoarders of the evil demons and boost your skills and abilities.
Complete the daily task and main quest. There are various disposable weapons with great power. You can temporarily collect the monsters' souls to increase the artillery's power.
It has many game modes including a story campaign. The main mission is to defeat the evil forces and free the ancient land. Overall, the soundtrack is dynamic, with awesome backgrounds, and has great battle effects.
HROT (2021)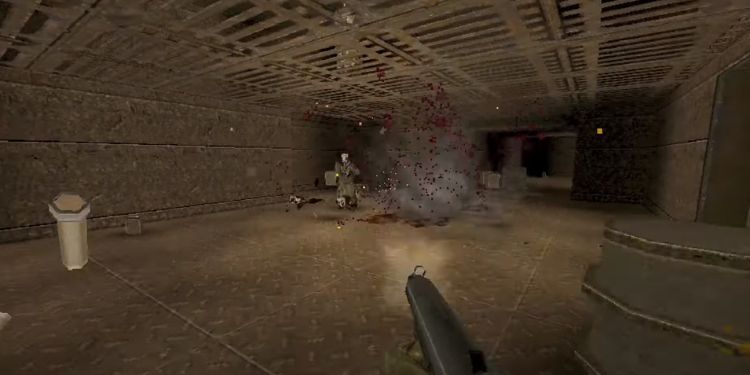 HROT is an action single-player FPS retro game. In 1986, Czechoslovakia was a small civilized country that suffered from an unknown epidemic disaster. It wiped out most of the population and started a terrifying and dark time.
You will be playing as the defense army. Being honored with military badges and promotions. You need to take the roles, duties, and responsibilities seriously. You must protect the remaining civilization from enemies.
Use weapons such as a rocket launcher, advanced soviet firearms, shot guns, pistols, and more. In the case of emptying ammo, you can defeat foes using a sickle and hammer.
Discover different real map locations with various levels. Every stage of the game holds valuable historical information and details. Accomplish your tasks and carry on the major missions.
There are varieties of enemies and many new elements like melee weapons, power-ups, etc. The game can be set according to your ability to play. Overall it has nice graphics, great sounds, superb level design, and navigation.
Blood: Fresh Supply™ (2019)
Blood: Fresh Supply™ is a classic retro violent FPS game. Go out on a journey to search and defeat the main evil demon Techemobog. The devil took everything that you owned in the past was all destroyed and your beloved was killed.
Play the lead role of the man who seeks vengeance. The character has a unique personality and devilish charisma. Set a journey to get your revenge and pass through many dangers and enemies along the way.
Battle against countless monsters, zombies, hellhounds, gargoyles, and more. Each has unique abilities and specialties. Some of them can be troublesome and hard to kill.
Defeat enemies using guns, pitchforks, rifles, and other melee weapons. You must earn powerful destructive tools like a flare gun, voodoo dolls, aerosol cans, and more to cause heavy disasters that come on your way.
It offers a 4vs4 battle against your friends to kill each other and a solo campaign. You can customize the keyboard configuration option to your desired control. Full 3D art designs, good visual graphics, and great sound effects.
PAC-MAN 256 (2016)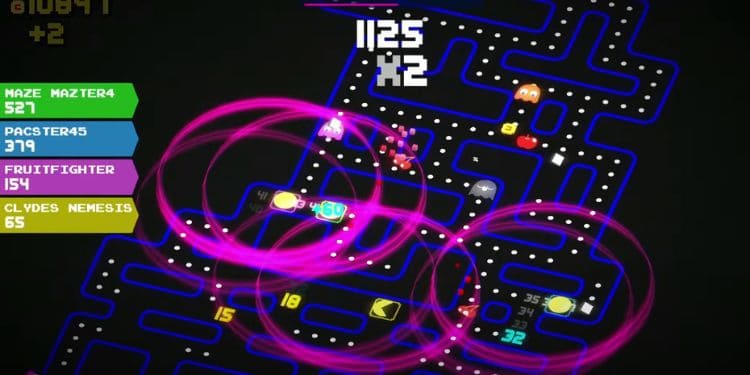 PAC-MAN 256 is a casual retro arcade game. It consists of infinite mazes and multiple Glitches that are coming to take you out of the game. Collect points and score the highest to be in the top spot on the leadership board.
Play as the Pac-man and run away from the super-villains. Calculate the possibilities of your escape and process of getting points faster before you get trapped.
Use your techniques and skills to stay ahead of the Glitches. You can use different powers such as a giant, tornado, laser, and more.
The newly introduced retro villain ghost gangs are Spunky, Funky, and Sue. They have unique skills and are hard to deal with them.
There are ten different types of spicy themes to make it interesting to play. You can challenge friends and other players to accumulate the highest points.
Retrowave (2022)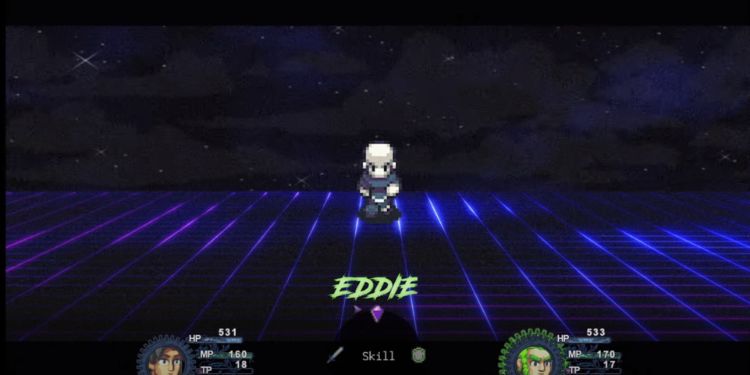 Retrowave is a 1980s simulation retro game. It is about super racing on the endless highways with 80s fast cars. All are welcome to participate in the race, passing through palm trees and Neon lights.
It takes back to the 50s vibe with the synth-wave music and 80s supercars. At first, you are given a free car to race but later on, you must collect the points and purchase new wheels.
Unlock different road maps and vehicles. Learn possibilities of the car and buy new ones to win the racing battle. Upgrade your ride and frequently maintain it to get a higher chance of winning the race.
There are more than ten cars and you will race your rides in the five different kinds of world. You must be careful and watch other vehicles on the path. Run through the traffic light and get ahead of other racers.
Play more than four different modes and listen to retro synth-wave soundtracks. Purchase new cars and paints. Use various options to set the driving camera angles like the front, back, and side.
Door Kickers: Action Squad (2018)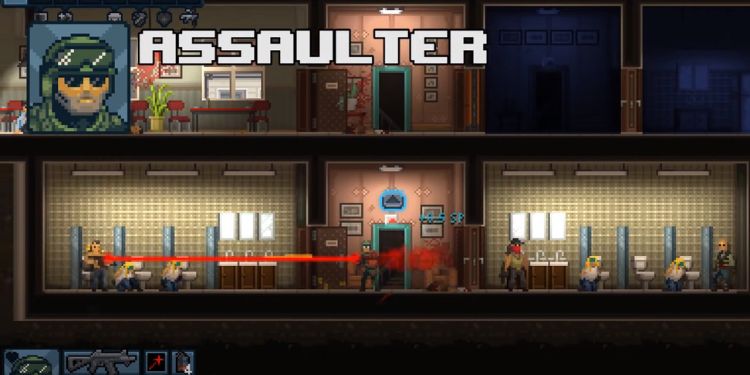 Door Kickers: Action Squad is a tactical co-op battle game. Join the top SWAT of the USA and plan ways to fight against the bad guys to protect the city from violence and war. Save hostages from the hands of enemies.
Play as a member of the SWAT squad and be ready to guard the city. Battle the evil terrorist and save the civilians from dying in the hands of the enemies. Complete levels to move on to the next stage and gain points to buy necessary items.
Use weapons such as laser guns, rifles, grenades, and others. Reload and recoil in time, cover and make the distance to have battlefield advantages. Plus you can create strategies and diversions to eliminate opponents. Wear protective gears to protect yourself from the shootouts. Or apply health packs to regain the health line.
There are six different characters and you must select one to play. They each have unique abilities, level options, and gameplay styles. You can find more than 60 weaponry and over 20 different types of enemies.
Furthermore, it contains retro graphics and sensible mechanics with detailed video graphics. You can play the game in multiplayer, single, or zombie mode. You can find 84 levels and four missions to complete.
HUNTDOWN (2021)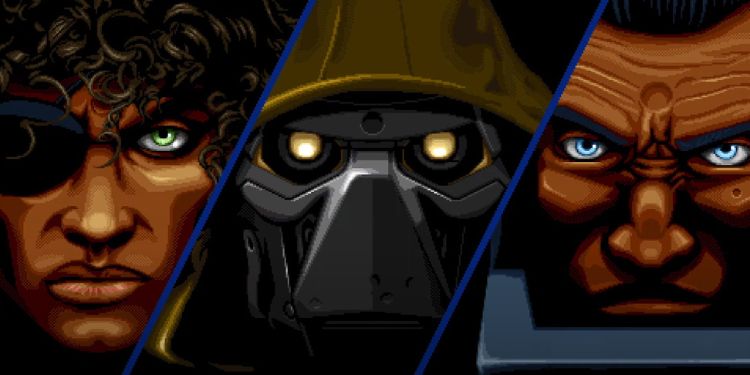 HUNTDOWN is an arcade action shooter game. The city streets of Mayhem are filled with criminal gangs full of violence and crimes. The justice system is corrupt and there is no one to implement the law. Even cops fear for their lives and cannot do a thing to wipe them out.
You will play as an outlaw bounty hunter who is the only hope for freeing the city from the hands of underworld criminal gangs. You can run, hide, take cover and jump to face the enemies. Use weapons and tactics to defeat them.
Select weapons such as laser guns, grenades, katanas, machine guns, and more. Shoot, explode and stab gang members and bosses to collect the bounty. Complete the missions and earn more battle points to gain advantages in the next level
Choose characters from any three hunters, i.e., Anna Conda, Mow Man, and John Sawyer. There are 20 different levels and you can find special hordes of criminals each with unique characteristics and specializations.
Play the game in solo or local co-op mode. Use creative strategies to fight against the enemies and mix your combo abilities to eliminate them. Terrorize the criminal gangs with your name and cause massive destruction.
Brigador: Up-Armored Edition (2016)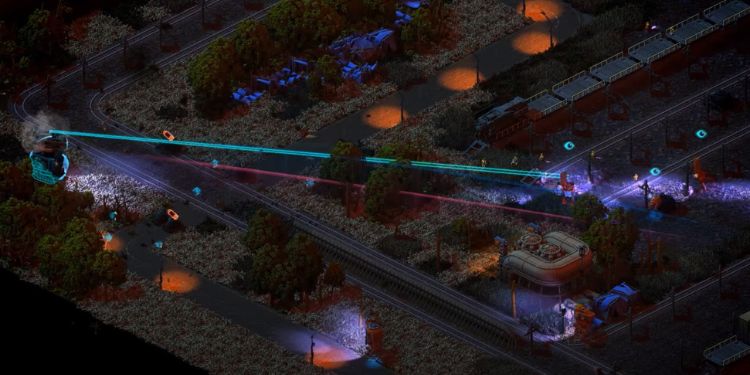 Brigador: Up-Armored Edition is an action science friction shooter game. The old Government of the ruling planet was crashed and a new one was established. Initially, it was peace but as time passed the ruler became aggressive and obsessive. Powerful evil people try to take control of the whole world limiting the freedom of the citizens.
You will be playing the game as a mercenary pilot and fly your fighting jet. Bind a contract with higher people and full it. Your mission is to escape the autocracy planet and destroy it causing rapid-fire and bombing the base of enemies.
Destroy everything that comes in your way using powerful firearms, aircraft, tanks, and more. The higher level of destruction will lead to huge battle points. You have two choices either to escape or die trying to complete the mission.
There are over 20 freelance mode maps and 37 campaigns. You must unlock over 56 special battle vehicles, 40 unique weapons, and challenges.
It has a built-in map feature and allows you to create your own maps within the quests. Levell up and complete the missions to get at the next one. The higher you move on, the more difficult it will be to play.
Devil Daggers (2016)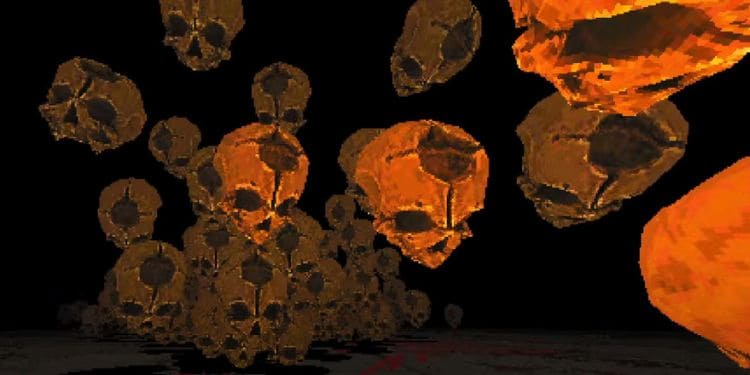 Devil Daggers is an action FPS single-player survival game. Find yourself in the world of demons and evils. Face the hordes of endless legions of monsters. The only way to stay alive is to fight the enemies and survive until the end. You are on your own and no one will offer you help.
Play as the lone survivor in the abyssal arena. Boost your spirit and increase your battle skill to face the continued incoming of demon groups.
Use the power of draggers to destroy the enemies. You can find different types of magical weapons having their unique magical abilities. You must gain super powers and gain mastery over them.
Upgrade your daggers and unlock new skills and abilities. Gain different types of movement speed skills like fluid and advance. They can be helpful in achieving fast speed, double jumps, bunny hopping, circle-strafing, and more.
Survive longer to gain more points and harvest crystals to increase the magical power of the dagger. There are 13 types of thrilling enemies and you can play to be on the top spot of the online scoreboard. Test your skills, limits, and gaming mechanics.
Horizon Chase Turbo (2018)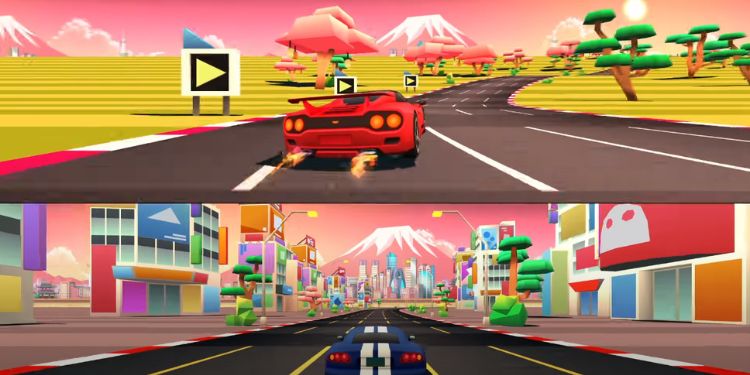 Horizon Chase Turbo is an arcade racing retro game. Inspired by the '80s & 90's classical car racing. Compete in the races and overcome the opponents to get first place. Escape cops, complete the race, and enjoy the 16-bit generation gaming graphics.
In the beginning, you will be provided with one car. You need to race against other players and be victorious. You must complete daily tasks and main objectives to get bonus rewards.
Unlock different types of cars and upgrade parts like engine, tires, hoods, suspensions, gearbox, and more. You can change the paint color and make your car unique.
There are tons of contents such as over 12 companion cups. 12 upgrades and 31 different models of cars. Similarly, you can find 109 racing tracks and 48 unique cities. The environment changes according to the location and you will feel climates like sunny, sunset, rainfall, volcanic landscape, sandstorms, and more.
It has screen split options and you can invite friends to play the game is the same PC. Finish the race in a short time period to take a spot on the online scoreboard. You can challenge the game with other players and join in the online competitive mode.
Turok (1997)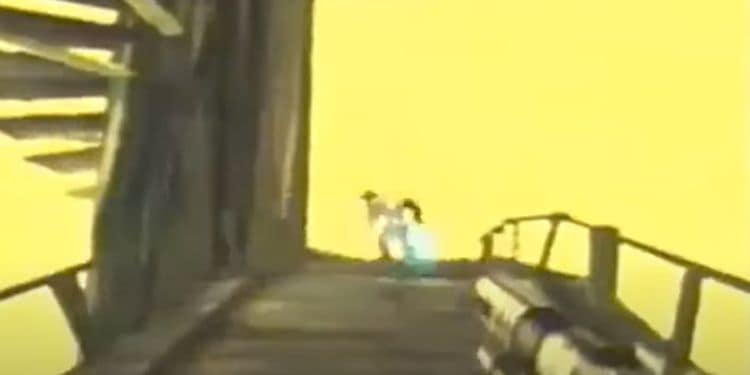 Turok is a classical adventure action FPS game. A time traveler Turok has now been trapped in a planet. Time is valueless in the world and evil enemies lurk from everywhere knowing no boundaries. The increasing conflict among the habitants has turned the place into a battlefield.
Play the lead role of Turok who is seeking 'The Chronoscepter.' The artifact is regarded as the weapon to destroy the world's timeline and dimensions. It was shattered throughout the lost land for the purpose of keeping away from the hands of evil maniacs. Your mission is to find all the eight-piece of the relic and save the Lost land.
Explore the maps and discover hidden dungeons as you travel through different places. You can run, jump, hide and climb anywhere you wish. Use weapons to aim and hunt down the enemies.
There are various types of enemies each having unique abilities and sometimes it is very difficult to deal with them. Find mothers of all weapons like plasma pulse rifle, quad rocket, atomic fusion cannon, grenade launcher, and more.
It sends you to a completely 3D virtual universe and offers beautiful visual graphics and background music. Find yourself in the evil plot campaign with practical technology and various dinosaur types.