Aiming in FPS games like Warzone can be quite hard. Even if you know everything about the game, you still won't win with a bad aim. With experience and more gameplay aiming in games like Warzone can get better.
There are lots of tips and tricks that you can learn to make your aim good. If you want to know about these tips and tricks, check how to get a better aim in the Warzone guide.
One of the ways you can get a good aim in Warzone is using Aim Assist, which is available in Warzone settings. But there are different options in the game, so you can be confused about choosing the aim assist option. This guide will tell you where you can find aim assist in Warzone and which aim assist is best for you.
Where is Aim Assist in Call of Duty Warzone?
Aim Assist is not seen as a good thing in the gaming world. Many players hate using aim assist as there will be no difference between skilled and unskilled players. Aim assist recalibrates your aim and makes it easier for you to get a shot even if your aiming is bad.
However, if you just want to enjoy the game and don't want to worry about aiming, aim assist is the best option.
To get to the Aim Assist in Warzone, follow these steps:
Navigate to the "Options" menu in Warzone.
Select the "Controller" tab.
Search for "Aim Assist" and select one of the given options.
This is where it gets confusing. You need to know which is the best aim assist warzone options to choose according to your skill. So, now, let's discuss different aim assist options in Warzone.
Aim Assist Options in Call of Duty Warzone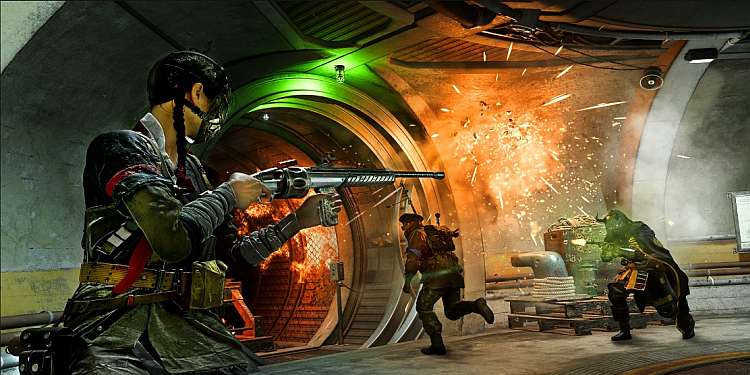 After you find the Aim Assist option in the Controller tab, you will see four options after clicking on the drop-down box. These four options are:
Disabled
Choose this option if you don't want to have aim assist in Warzone. But obviously, if you are reading this guide, you are here to get aim assist. So, please don't choose this option as it can put you at a disadvantage with other players with aim assist on. And also, if your aiming is not good, you should not disable it.
Standard
This is the second option you will see in aim assist in Warzone. If you are new to aim assist in Warzone, this is the option to go for. This option will slow down your crosshair movement and helps you to get your crosshair on enemies to hit them. Choose this option if you are having too much trouble shooting your enemy.
Precision
If you have a good aim, but your shots do not hit the enemy for some reason, like the gun's recoil, you can choose this option. This option is for those who are good at aiming, and aim assist will only enable if your crosshair is on the enemy. Do not try this option if you are new to the FPS game.
Focusing
This is for those who are playing with an analog controller. However, your aim must be near the enemy. The crosshair will slow down whenever it is near an enemy and calibrates your aim to hit the enemy.
Which Aim Assist Option is Best for You?
After reading till now, you must have gotten a vague idea of the best aim assist warzone. However, just reading about options will get you nowhere. You must try all the aim assist options if you want to know which is the best for you.
Try using all the options in-game modes like Plunder, Rebirth Island, or Custom Game, and you will know which is the one for you.
To conclude, we suggest using Standard if you are new to the game.