If you've been following or playing Warzone for a while, you'll know that the game adds new weapons every season. Every gun is unique and good for different stats such as range, damage, fire rate, and so on.
Similarly, in Season 4, a high damage output gun known as the "Nail Gun" was added to Warzone. The Nail Gun is a close-range, lightweight gun that is classified as a special and SMG weapon. This gun is ideal for a fast-paced game where you want to run and shoot enemies down, and it can be entertaining to play with.
Everyone has been wanting to unlock it since it was added. So, its an ideal query of every player right now ; How to Get Nail Gun in Warzone ?
In this guide, we will help you understand how to unlock the nail gun in COD Warzone.
Unlocking Nail Gun in COD Warzone
There are two ways you can unlock the Nail Gun in Warzone.
Unlocking by Completing Task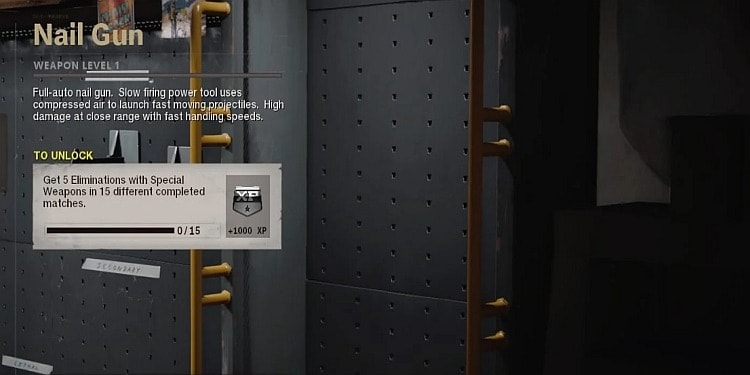 In Warzone, there are few conditions you must meet before you can unlock new guns. The same applies to the Nail Gun. You can unlock Nail Gun simply by playing the game. But in 15 different matches, you must get at least five kills. It does not have to be in consecutive order and you can complete it taking as much time as you want.
Another condition is that you have to get these kills with Special Weapons. This is where things get confusing. Warzone does not show you which weapons are special. You can see special weapons in Call of Duty: Black Ops Cold War but not in Warzone.
So, if you don't have Cold War, you may not know about the special weapons. But don't worry, here is the list of special weapons in Warzone.
Nail Gun
R1 Shadowhunter
M79 Grenade Launcher
Ballistic Knife
So, equip one of these special weapons and complete the tasks to gain access to the Nail Gun. This is the faster of the two methods for unlocking the gun, but it can take a long time. Nowadays, Warzone is extremely competitive, and obtaining five kills in a single match can be difficult.
To combat this, Plunder mode is recommended. Even if you die, you can quickly revive and get five kills in a match playing this mode.
Buying the Blueprint of the Nail Gun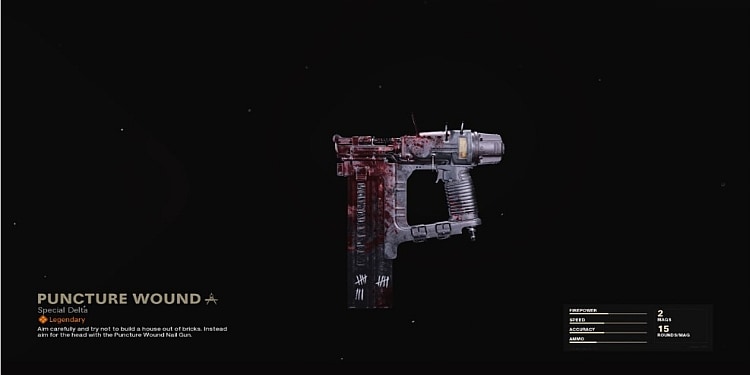 This is the quickest way to obtain the Nail Gun and is not recommended for new players. To obtain the blueprint for the Nail Gun, you must invest your valuable COD Points. Purchase the Puncture Wound Blueprint from the store for 1,000 COD Points to unlock the Nail Gun.
If you don't know how to get COD Points in Warzone, you can check out our guide to earning CP in Warzone. With that said, COD Points are very hard to make, and personally, it is not worth spending that much for the blueprint of a Nail Gun. But if you want the Nail Gun by spending COD Points, it is your choice.
FAQS
Are All Special Weapons Already Available in Warzone?
No, not all special weapons are already available to you in Warzone. All three weapons have their conditions.
To unlock R1 Shadowhunter, you need to earn 3 One Shot, One Kill medals in 15 different matches with a weapon that has no attachments.
To unlock Ballistic Knife, you need to get one melee kill and a One Shot, One Kill medal in 15 different matches.
For M79 Rocket Launcher, you can only get it by purchasing its blueprint from the store.
What Is the Best Loadout for Unlocking the Nail Gun?
You can customize your loadout to suit your needs. You can change the settings to get more kills. You can change it to gain more XP. So, the best loadout for you is one that achieves your goal. But here's a loadout that works great with the Nail Gun.
Primary Weapon: Nail Gun
Secondary Weapon: Kali Sticks
Lethal: Thermite
Tactical: Stun Grenade
Perks: EOD, Restock, Amped
Do I Have to Complete the Game Even After Five Kills?
Even after getting five kills, many players complain that they cannot up the progress bar for the Nail Gun. It can be a bug in the game. But most of the time, it is due to players not completing the game. Even if you get five kills, you must complete the match.
How to Unlock the Nail Gun in Cod Black Ops Cold War?
Originally, the Nail Gun unlocking conditions were for Cold War because you could easily get a lot of kills in Cold War. Hence, it is similar to that of Warzone. As you play Plunder in Warzone, Team Deathmatch is recommended to unlock the Nail Gun in Cold War.