Massively Multiplayer Online (MMO) games are a small world in themselves. They are also known as MMORPG (Massively Multiplayer Online Role-Playing Games), where you assume the role of a character and explore the world to get stronger.
One thing that makes this game so special is that there can be thousands of other people playing on the same server as you. You can interact with them, form parties, or even have a battle with them.
As you forge forward together with your online friends, you can make some beautiful and unforgettable memories together.
So if you're searching for a good game to start your MMO journey and grind your way to the top, we have listed a few best MMO strategy games that you might like.
Best MMO Strategy Games on Steam
Lost Ark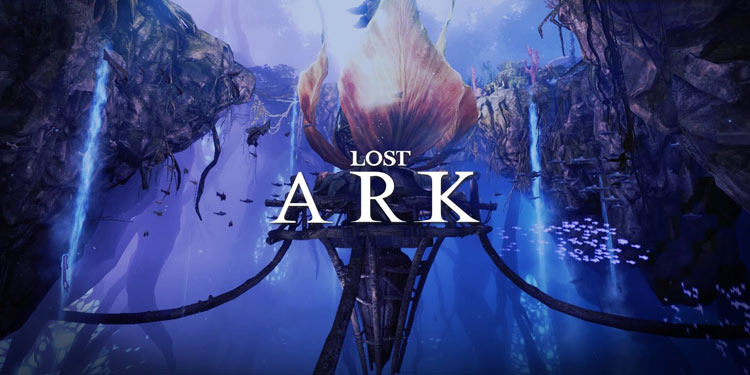 Lost Ark is an MMOARPG (Massively Multiplayer Online Action Role Playing Game) that offers a massive world for you to explore and hone your skills. You play as one of the five main classes and later change into the main class within your selected class.
You start by completing a bunch of main and side quests. The quests may take you through all kinds of lands, environments, and oceans as you travel to find missing arks.
You gain levels as you complete these quests, which in turn unlock your various abilities. The abilities become stronger as you put more into them.
You can also buy costumes, pets, mounts, and all sorts of things in the game. The combat in this game is very well designed. Attacking and killing enemies feels satisfying, and it has crisp animation.
You feel powerful no matter what class you choose. You can also perform various attacks, including combo, channel, and charge.
You'll also have access to thousands of gears that you can purchase or craft in the game. However, crafting or purchasing high-level items and gears is extremely costly and needs valuable resources.
These resources can be obtained from raids or dungeons by killing monsters, or you can buy them from auctions as well.
You can participate in raids or explore dungeons with other players once you level up to 50.
Final Fantasy XIV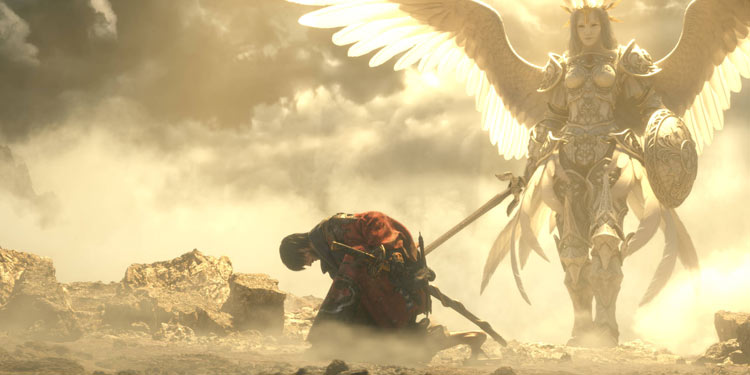 Final Fantasy XIV is an MMORPG in which you can play solo with other players to experience an epic RPG journey.
It has a deep and complex story, mind-blowing gameplay, and brilliantly voice-acted cutscenes to deliver the climax of moments which makes it one of the best MMOs of all time.
In this game, there are jobs that work similarly to a class in other MMOs, and there are tons of them, ranging from healer and spell caster to tank and DPS. It has great spell animation, which will make you instantly fall in love with this game.
You can play most of the game solo, but some portions of the main story require you to team up with other players to participate in raids, dungeons, and trials which are all part of the main story.
But you don't have to worry about finding a partner as the game automatically matches you with people who are in a similar situation as you. It also has one of the kindest and most welcoming communities out there.
At the beginning of the game, you can create a character that is unique to you. As you progress through the game, you can find and wear tons of gears, cosmetics, and weapons that look better than the ones you're wearing.
Beating a dungeon or raid boss gives you a lot of amazing gears, cosmetics, and mounts. You can also enjoy amazing cutscenes before the end of the arc.
The Elder Scrolls Online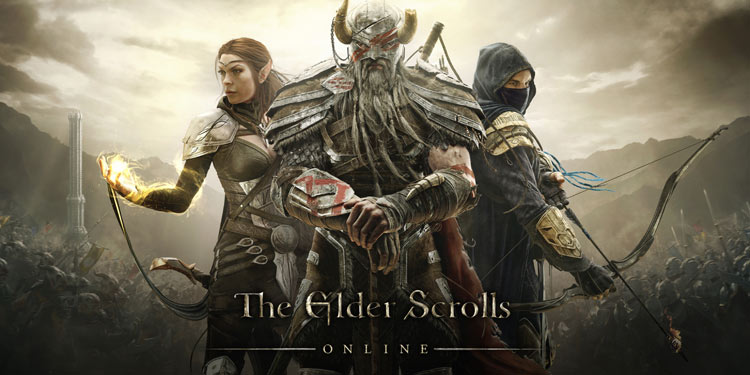 This is another MMORPG that lets you do whatever you want and play however you like. You don't have to spend hours and hours of your precious levels completing a bunch of tutorials and fetch quests.
Instead, you learn about the game through a series of story-driven quests with you as a protagonist and antagonist.
Elder Scrolls Online consists of a massive world containing tons of dungeons that give you valuable items when cleared. To clear dungeons or participate in raids, you need to form groups with people in-game or your friends.
New dungeons and raids are added every year, so you always have contents that you can play with your friends.
Elder Scrolls Online has extremely fast-paced combat that requires you to make strategic decisions. The combats not only involve using abilities, but you also have to constantly block and dodge enemy attacks giving you dynamic fights.
Every class in Elder Scrolls Online has a set of unique skills and passives that you can choose to invest in to make them stronger in a particular field. Any class can be a tank, healer, or damage dealer.
You can play the game however you want. However, it does feel like a pay-to-win game sometimes, as many powerful weapons and gears are only available through in-game purchases.
Eve Online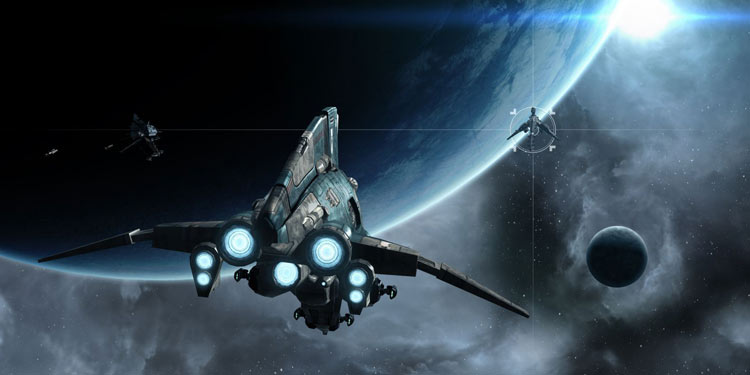 Eve Online takes place twenty-one thousand years in the future in a galaxy named "New Eden." Every component of this game is contained on a single server, meaning you'll meet all kinds of people from all over the world.
The gameplay takes place in thousands of star systems of this galaxy. You can travel through space using wormholes or jump cases that link these star systems together in a short time. There are no aliens in Eve Online, only different factions of humans and AIs.
You play as a capsule, a specially selected human who can link his consciousness with the ship and able to become one with the ship itself. It gives you a great advantage over the normal battleships.
You are also virtually immortal as you always have a clone ready and can be resurrected at any time in case of your death.
You can fly hundreds of spaceships depending on your level if you can purchase them, of course. There is no end game or specific goal in Eve. You can make your own goal, like mining specific minerals or taking control of the star system.
You also need to protect your resources from other players as they can be fully looted, stolen, and raided away easily. And once they're gone, they are gone for good.
World of Warcraft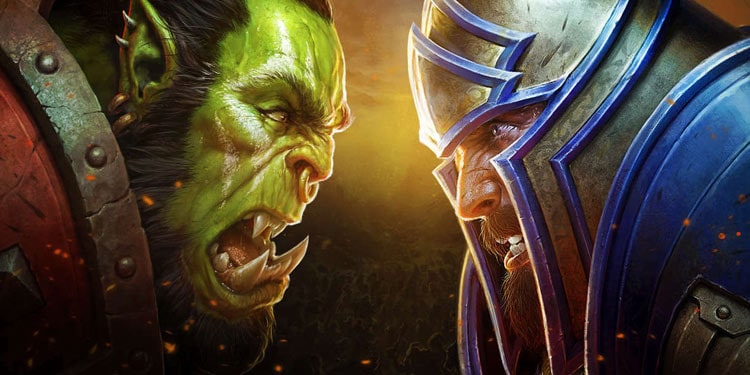 More than a decade old, this game is still one of the best MMORPGs out there. The gameplay takes place at Azeroth, where all kinds of races and creatures dwell. World of Warcraft offers a massive world for you to explore and storylines to uncover.
You start the game off with one of the classes of either Alliance or Horde. After selecting and customizing your character, you can then choose your starting zone to complete the tutorial guides. The tutorials are simple and made for you to familiarize yourself with the game.
Then your true journey begins, where you'll travel throughout the planets and distant continents, completing quests and upgrading your gears. World of Warcraft has both endgame and leveling.
The endgame is something you do when you hit max level on your character, where you fight against the strongest enemies in the game by equipping powerful gears.
Leveling is your journey to the endgame. You can level up by completing quests, hunting monsters, clearing dungeons, and participating in raids. It also has PVP features where you'll be able to befriend another player or even battle with them.
New expansions are added every two years, which brings a lot of content along with new amazing changes and items.
DayZ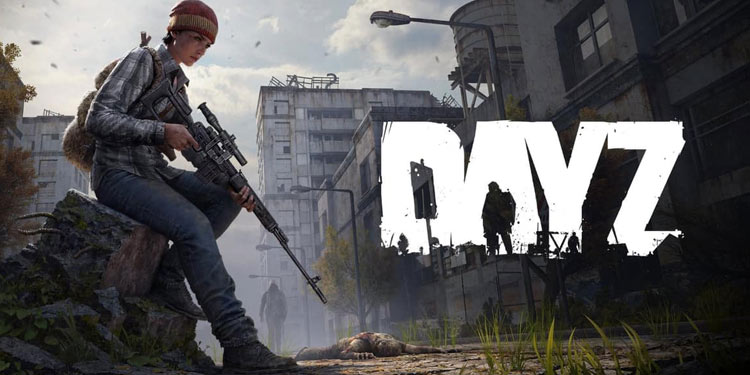 This survival game will truly test your might when it comes to surviving in the wild. The game is set in a post-apocalyptic environment during the zombie outbreak in the Soviet Republic.
When you first start the game, you are given basic equipment and gears, barely enough to get you by. Your first objective is finding better equipment and gear while staying alive and healthy.
You go around and scavenge the places near you in search of food, water, or anything that may be of use.
While this may sound easy enough, it can be extremely difficult in practice, especially when you have to keep an eye on your food, water, blood level, and temperature.
Too much fatigue will kill you, and you'll have to start from the bottom. You need to think of it as an actual survival game where you need to find food, water, clothes, and med kits to save yourself from danger.
Your main objective is to survive from zombies and other players. A large horde of zombies can quickly turn your little adventure into nightmares, and players are not actually friendly in this game.
The first thing people do when they see another player is, well, kill them and take their stuff.
Again, if you die, you lose everything. This game also has tons of weapons, including armed ones. However, the ammunition is very scarce and can only be found in urban areas where all sorts of danger lie.
Guild Wars 2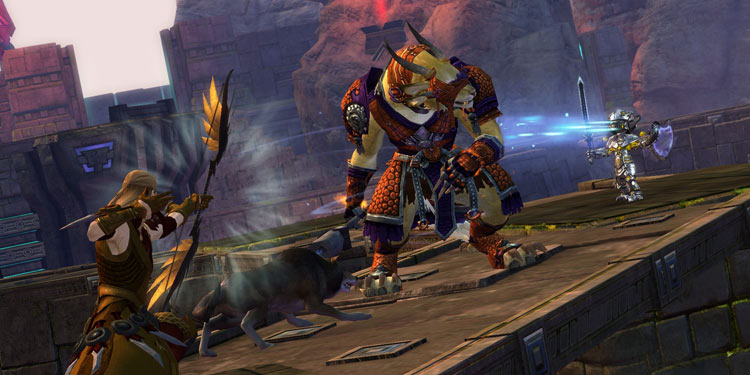 Guild Wars 2 is a free-to-play MMORPG that was released back in 2012 but still has a healthy player base and community. However, it does have expansion packs that need to be purchased.
Guild Wars 2 has nine different classes/ professions you can choose your character from. These classes also have their own sub-classes.
And with five races, you can practically design and customize your character the way you like. You can also customize and upgrade your gear, put the mount on them, and select special passive abilities for them.
Guild Wars 2 has a unique leveling progress and is mainly dependent on two main things; Map completion and your own progression.
You earn exp points by discovering a wide variety of things on each map, participating in dynamic events, and completing them. You can also complete side quests to earn extra levels.
It also has endgame progressions where you'll participate in large-scale raids and dungeons with other players and earn tons of rewards for clearing them. In addition to that, you can also engage in thrilling PVP battles to enjoy exciting battles with other players.
Star Wars: The Old Republic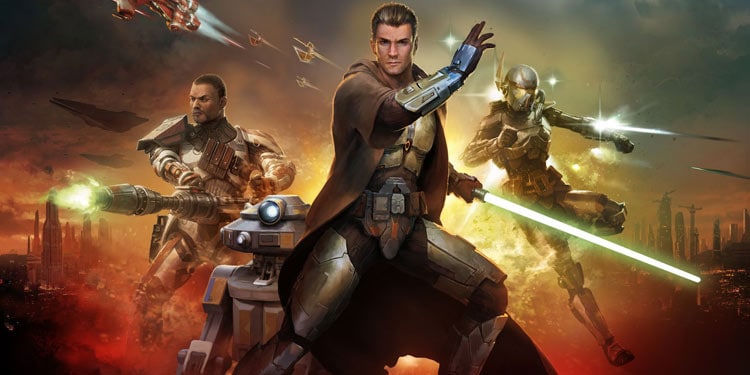 If you're a Star Wars fanatic, you might see many familiar faces in this game. Star Wars:
The Old Republic is set in a Star Wars universe, but it is very different from what you've seen in movies. It is set around 4000 years before the events in the movies where Jedi and Sith roam across the universe.
You start the game by creating a character and choosing which faction you want to ally with. The game has two main factions; the Empire and the Republic. Then you choose the class within your selected faction and customize the character unique to you.
You can play this game completely solo or with other players who are all on the same server as you. The main story follows tons of quests and missions across different planets in the universe.
Once you enter the storyline, you'll be explained the story in a series of voice-acted cutscenes where you will make crucial decisions that will affect your gameplay later on in the game.
You can also engage in PVP battles to climb up in ranks.