We all have heard that the Earth was swarming with vicious primeval beasts and dinosaurs at one time that destroyed everything in their path. Well, imagine being trapped on an island filled with these dangerous creatures with nothing but a pair of clothes that barely cover your body.
Ark: Survival Evolved is a survival game set in a prehistoric age where you're literally left to survive on a stranded island by yourself. There, you have to learn to survive, living among the vicious creatures and not getting killed by them.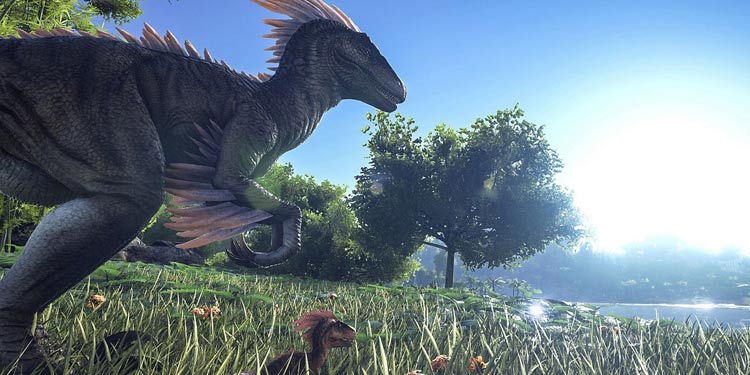 Ark's Gameplay
The game is an open world; however, there aren't really any objectives or goals you need to complete. You can play however you want and create your own epic tale. That being said, you can't just sit around and enjoy the view.
You'll need to move around, gather resources, and search for food and water. Trust me; you are more likely to die of hunger than getting killed by carnivore raptors. You also start with nothing, which means crafting your weapon is the first thing you need to do.
You'll be starting with some sticks and stones at first, but don't worry; as you keep evolving and gather resources, you'll eventually be equipping modern weapons such as machine guns and grenade launchers.
You can also tame and train these dinosaurs and use them to make your life a little easier. Ark's online multiplayer is a different story, though. You can invite your friends and form a tribe, collect resources and make progress in technologies together.
However, once in a while, you might encounter other tribes whose technologies are far ahead of yours.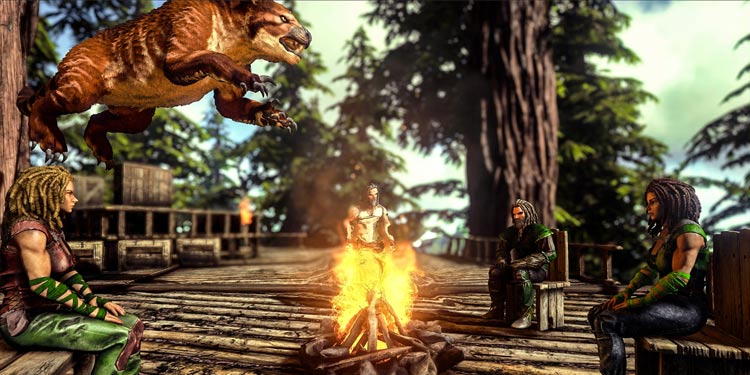 At such time, you can only pray that they leave you alone because they'll go full commando mode on you with automatic rifles while you're trying to defend yourself with your spears and axes.
That is the last thing you wish to happen to your tribe. Seeing your resources being looted by a bunch of high-level players is the worst experience after all.
Other than that, the game is pretty fun and challenging. Working together with your friends towards a common goal, laughing, and raging along the way feels good. But it would be even better if you could play together on a single display device, sitting together.
So, can you play Ark: Survival Evolved on a split-screen? Let's find that out!
Ark: Survival Evolved is available for Windows PC, PlayStation 4|5, Xbox One, Xbox Series S|X, Nintendo Switch, and Stadia.
Is Ark Split Screen ?
The answer is yes. Ark does have a split-screen feature, but it's only available on Xbox and PlayStation consoles. So you'll be able to collect resources, hunt and tame monsters together with your friend, sitting next to each other.
Note: You won't be able to play local multiplayer in Ark if on a Nintendo Switch. PC players will be able to play Ark with their friends on a split-screen if they have downloaded the game from the Microsoft Store.
Steam version does not have a split-screen. That is because the Microsoft Store's version of the game is the same as the Xbox console's version.
However, there are some options you need to check, depending on the console you're playing on, to be able to enjoy split-screen with your friend.
Enabling Ark Split-Screen on Xbox Consoles
You can enable split-screen and play Ark with your friend or partner with these simple steps:
First, connect both controllers to your console.
Launch Ark from your controller and select the Host/Local option.
Select Host Non-Dedicated Multiplayer Session after that.
Turn on the second controller and ask your friend to press Enter to start the game on split-screen.
Now, you should be able to create your characters and dive into the game.
Enabling Ark Split-Screen on PlayStation Consoles
You can follow these steps to enable split-screen on PlayStation consoles.
Connect both controllers to your Xbox console.
Launch the game with your controller.
Select Host/Local and choose PLAY SINGLEPLAYER after that.
Create and customize your character.
After you've finished creating your character, select CREATE NEW SURVIVOR to save your character.
To add your friend, press Options on the second controller.
That should enable the split-screen, and your friend should be able to create and customize his character.
We also have a detailed guide on the Cross-Platform/Crossplay compatibility of ARK.
Keep in mind that local multiplayer in Ark is hosted on your console and not on a dedicated server provided by the game. So, if you, as a host, decide to end and leave the game, your friend will be forced to disconnect as well.
Always make sure that you're the last person to disconnect from the game if you want to play together and continue from where you left off.
Also, you and your friend get tethered when you're playing on a split-screen, so make sure you do not move away too far from each other.