Sniper! They are everyone's favorite weapon in shooting games. One thing I love about these bad boys is their ability to eliminate their target from miles away. They look super cool, have complex mechanics, and most of all, get the job done in an instant.
So, it should be obvious that the game which mainly focuses on sniping should let you enjoy the thrill of being a Sniper.
Sniper Elite 4 is the fourth title of the Sniper Elite series. It is a tactical third-person shooting game that mainly focuses on stealth and sniping enemies from a distance. However, there are some times when you have to take close-quarter fights as well.
The Gameplay
It is a sequel to Sniper Elite 3, and right off the bat, you'll be infiltrating the lands of Sicily, Italy, to take down Nazi soldiers and their secret weapon that could be dangerous to your forces.
The major skill of any sniper is their ability to hide themselves from the enemy and blend in with the surroundings. I would say that this game has done a pretty good job of giving those experiences. There are a lot of good sniping and hiding places for you to snipe the enemies.
Aside from killing enemies with silence, you can also introduce yourself with a bang. You can throw grenades, plant bombs, or set up time traps to get the enemy's attention. Although, I wouldn't recommend that as the enemies in this game are much more intelligent than the previous ones.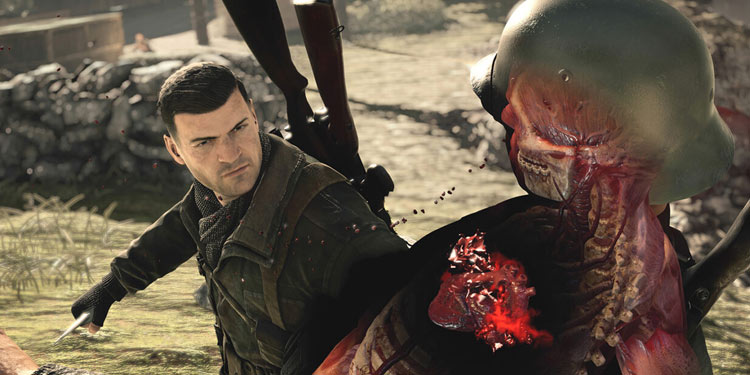 Like in all Sniper Elite games, this game also has some cringy but interesting X-Ray kill-cam moments. You can see some gruesome scenes when you take out the target with epic shots.
If you're the type to enjoy gores in video games, this game might be able to interest you. Remember, patience is the key to getting that perfect shot.
The game has both campaign and co-op modes. There are eight campaign levels, each of which can easily be up to 2hrs long. So playing campaigns won't be as boring as you'd imagine.
You can also form a party of four people to play in co-op survival modes, where you'll be planning strategies and taking down the waves of enemy soldiers.
That being said, the game is very enjoyable when you're playing with friends. The feeling that someone is there to back you up even if you mess something is quite assuring after all.
But can you play this game in couch co-op mode? Sitting together with a friend and making strategies on the go can be very handy in these games. So, is sniper elite 4 split screen ?
Let's see if this game has a split-screen.
Sniper Elite 4 is available on Windows, PlayStation 4, Xbox One, Stadia, and Nintendo Switch.
Does Sniper Elite 4 Have a Split-Screen?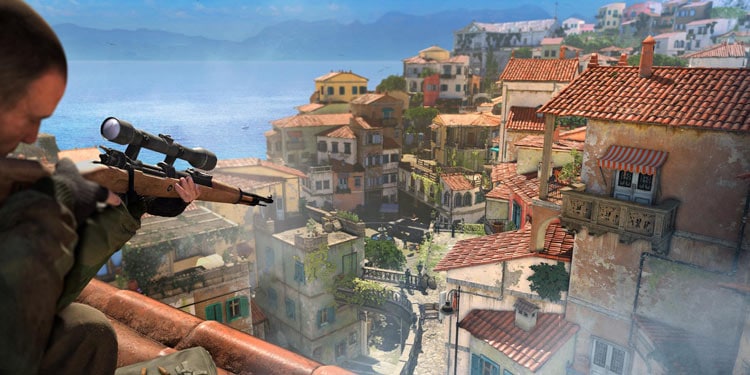 The short answer is no. The game does not have a split-screen of any sort. If you were thinking of playing it with your brother or friend and have the thrill of shooting enemies in the head, then you're out of luck.
The game only has an online multiplayer option. If you want to play co-op with your buddies, they should own a separate copy of the game on their console.