If there's one thing I've learned from the Far Cry series, it's that the game keeps getting better with each sequel. Far Cry 5 is an epic first-person shooting action/adventure game that'll hook you with the amazing story all night long.
After the massive battle in the Himalayas, the Far Cry series is back in the native American lands, where you fight to take down the crazy leader of a doomsday cult known as Joseph Seed. It is set in Hope County, which is based on a fictional city of Montana.
Unlike in previous games, you can actually choose your character to be a male or a female and customize them to make them look how you want on this one. Although, there really isn't any point in choosing a male or female character as you'll be mute most of the time.
Your title is a deputy, and people will refer to you by that name, and you'll engage in some brutal hardcore missions to free your captured teammates in this game.
The Gameplay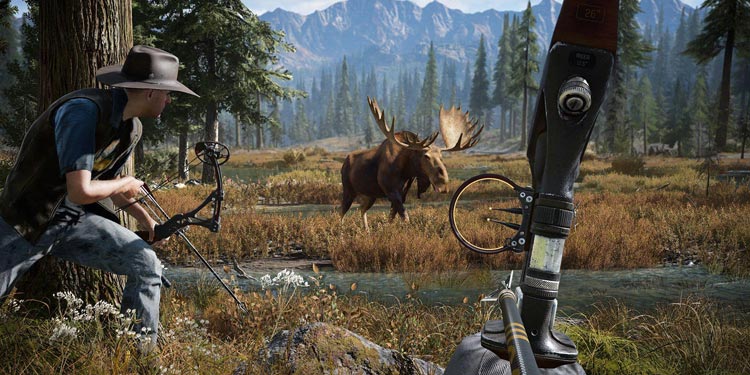 The game sets a stage in a series of missions where you take down the important accomplices of Joseph Seed, who in actuality are his siblings, until you finally get your hands on the man himself.
In the meantime, you'll be exploring the vast forests, mountains, lakes, and plains of this land, searching and recruiting resistance forces along the way.
Like in Far Cry Primal, you'll be able to tame some wild animals and make them follow a series of commands. It is nothing that amazing, but it does come in handy sometimes.
Most of the time, you'll be engaging in intense missions to take down the crazy siblings of Mr. Seed and their goons of cults while also taking control of regions under their regime. You can also interact with the NPCs that you've freed from the cults and use this interaction to unlock new areas.
You can also play this game in co-op mode with your friend after you both complete the mission on the Dutch island, where you can help each other out in missions.
Note: It only has a two-player co-op mode, and both of you have to be friends in-game to use this feature.
Far Cry New Dawn
It is a sequel to Far Cry 5 and is set 17 years after the end of the game. It has new sets of characters and is mainly focused on rebuilding the community after the war. It also has a co-op mode where you can complete missions with your friend.
You've already found out that this game has a co-op feature that allows you to play with a friend to explore the vast land and complete missions together. But what if your little brother wanted to join in the fun too? So, Is Far Cry 5 Split Screen ? Let's find that out!
Far Cry 6 is available for Xbox One, PlayStation4, Google Stadia, and Microsoft Windows.
Does Far Cry 5 Have a Split Screen?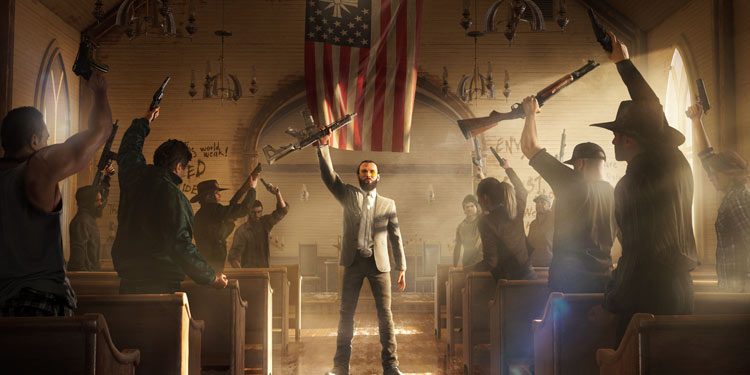 Well, sorry to disappoint you, but the answer is no. The game does not have a split-screen feature. So, your little brother or buddy won't be able to enjoy this amazing journey alongside you on a split-screen.
Many game developers are dropping out the split-screen features in their modern games, and it looks like Far Cry 5 is no exception as well. While we don't know the exact reason for it, the most probable answer is its graphics.
Far Cry 5 has a vast world to explore with tons of characters and excellent graphics.
Rendering these graphics takes a heavy toll on the current-gen consoles. So rendering them on two screens simultaneously might be an impossible task for these consoles right now.
We might see a lot of cool games dropping the couch co-op feature in the future.