Rainbow Six Siege is a tactical FPS game that'll make your heart race with its intoxicating gameplay and breathtaking close-quarter skirmishes. It has definitely come a long way since its first release in 2015.
If you're a fan of FPS games like Valorant and CS: GO, you'll instantly be hooked to this game. Every moment in this game is filled with fear that you might get sniped through some random hole in a wall or get blown up from an explosion in the room next to you and the suspense that comes with it.
The characters in this game are called Operators, and there are currently 63 of them. Each of these operators has different skillsets, nationalities, and weapon loadout.
But you'll not be able to use all of them when you've just started. They need to be unlocked as the game progresses.
Unlocking a character needs in-game currency called Renown, or you can also purchase them with real money if you're not a fan of grinding points.
You also need to unlock additional attachments for each of your operators to be able to take full advantage of them.
Gameplay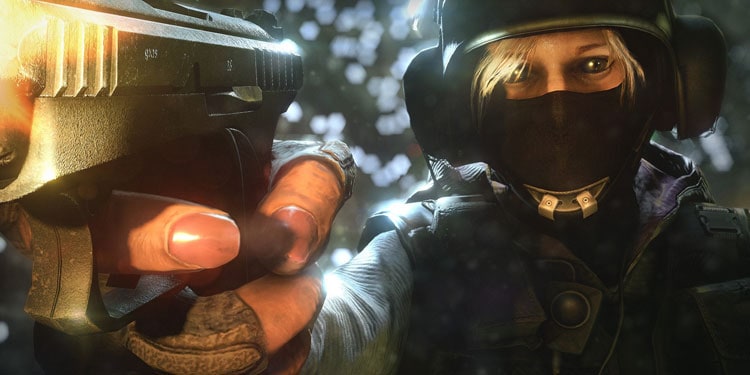 Winning a match in this game is no easy task. Two opposing teams (named attackers and defenders), consisting of a total of 10 players, fight on an asymmetrical map to kill the other team. You'll need more than good skills to win these matches. Communicating with your teammates is the key to winning.
If you're someone who enjoys playing alone or racking up all the kills to yourself, the game might prove to be quite a challenge for you. Playing selfish gets you killed in this game a lot.
So, make sure you tell your teammates how you want to proceed on each map and discuss the strategy before each round.
The sounds in this game are phenomenal. You'll be able to hear every little detail and take a rough guess of what's happening around you. The walls or the ceiling won't protect you either, as the enemies will be able to shoot through walls easily.
You can also blow the whole wall with explosives along with the person sitting next to it.
That being said, playing with a few friends that work together with you and listen to your calls can be very helpful in winning Siege Six games. Communication becomes easier when you're playing in the same room and sharing the same console.
So Is Rainbow Six Siege Split Screen? Let's find out!
Rainbow Six Siege is available on PlayStation 4|5, Xbox One, Xbox Series S|X, and Microsoft Windows.
Does Rainbow Siege Six Have a Split-Screen?
Unfortunately, not. Rainbow Six Siege does not have a split-screen, and we'll likely never get this feature in future updates. So if you had plans to play Siege with your gaming buddy or sibling, you might have to rethink it.
I personally think that the game is better without the split-screen. That is because there is so much going on on the map, and with all the noises coming from both screens, playing split-screen in Siege can be quite a hassle.
However, the game does have an online multiplayer, so if you really want to enjoy some action with your friends, you can always play together from your home. It might seem quite pricey to purchase the game, but it is all worth it once you start playing.