An excellent boxing game has been long overdue for the gaming community. With the boxing craze gradually fading from the world due to the rise of other fighting sports such as MMA, we may have to wait a while longer if we want to enjoy the thrill of some high-quality boxing games.
The world may not be getting another boxing game anytime soon, but that doesn't mean there aren't any boxing games worth playing. If you enjoy boxing and want to throw some punches, we have compiled a list of the best boxing games to play on all platforms.
Things to Look for When Choosing a Boxing Game
There are no special criteria to follow when choosing these games; after all, the goal is to knock down your opponent. Although, keeping these points in mind when selecting a game may help you find the greatest fit.
Platform – The games in this list are not available on all platforms. Select a game that is available for your platform.
Choose whether you want to play in arcade mode or VR. Each genre offers a completely different play style.
Decide whether you want to play with a computer as an opponent or with a real person. (PVE or PVP)
Look at your wallet before buying a game. You might not want to spend a lot of money as they are all quite old games and might not be worth a lot of money.
Best Boxing Games in 2022
Rocky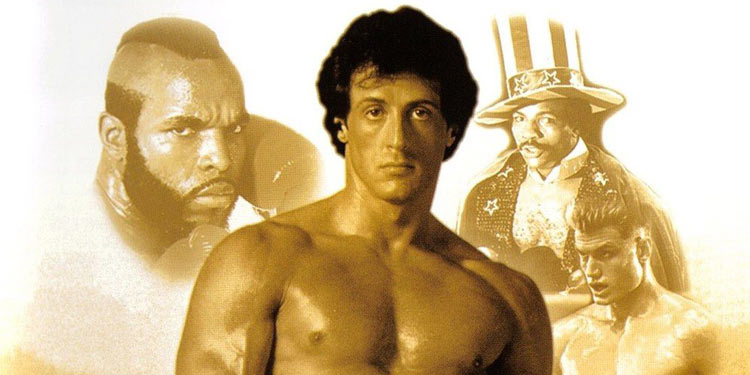 Developer: Rage Newcastle
Publisher: Rage Software, Ubisoft
Release Date: October 18, 2002
Platform: GameCube, PlayStation 2, Xbox, Game Boy Advance
Released in 2002, Rocky is a boxing game based on the Rocky movie series. The game follows the story of Rocky Balboa, the protagonist of the movie, and sticks with the storyline of the movie.
The best thing about Rocky is that – the gameplay is similar to the original boxing matches. Winning depends on how many punches you have landed on your opponent at the end of the match. You also win by default if your opponent does not get up after being knocked down.
The game also has training modes, which players can play to increase Rocky's stats.
Victorious Boxers: Ippo's Road to Glory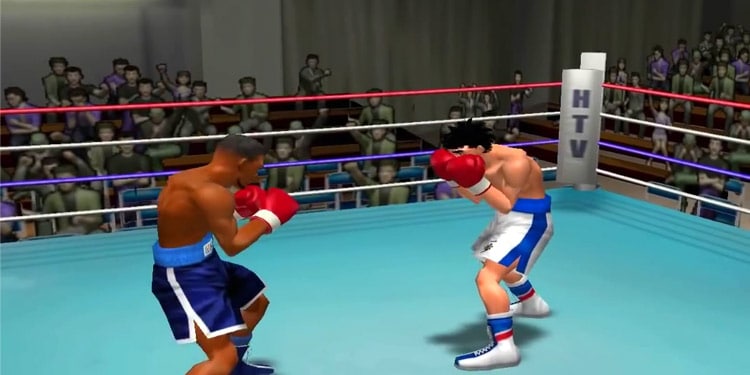 Developer: New Corporation
Publisher: Entertainment Software Publishing , Empire Interactive
Release Date: December 14, 2000
Platform: PlayStation 2
This game is based on the popular Shonen Jump manga, Hajime No Ippo and – follows Ippo Makunouchi, who was once a bullied kid on his journey to becoming the featherweight champion of Japan.
It is the first game in the series to be released outside of Japan. It also features all major events in the manga.
The game is a mix between simulation and arcade-style boxing and was one of the first games to introduce Bob and Weave techniques in video games.
The game mechanisms are similar to real-world boxing such as the characters get bruises, and swelling as more time passes.
The character's movement also decreases with time. The game features both single-player mode and multiplayer as 1v1 with another person.
Ready 2 Rumble Boxing: Round 2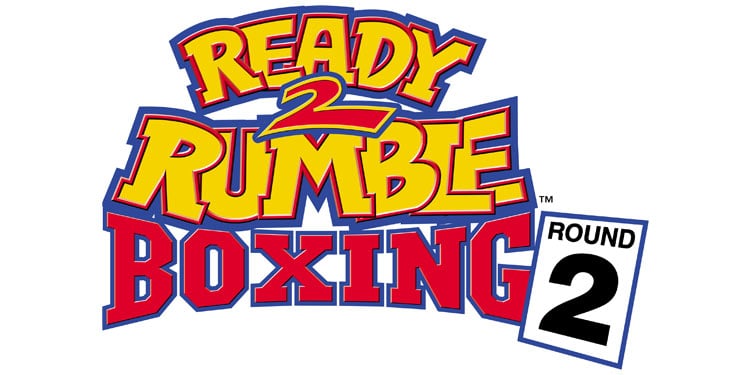 Developer: Midway Studios San Diego
Publisher: Midway Games
Release Date: October 23, 2000
Platform: Dreamcast, Nintendo 64, PlayStation, PlayStation 2 , GBA
It is a sequel to Ready 2 Rumble Boxing released in 1999. Unlike many other boxing games of that time, it has somewhat of a 3D environment, which allows players to have more control over the characters.
Most parts of the game are similar to its predecessor, however, the most notable change is that instead of only one level of "RUMBLE", it has three levels, which build up one after another.
The word "RUMBLE" appears on the screen when you successfully hit a hard combo on an opponent, letter by letter. When the RUMBLE meter reaches full on the third level, it will send your opponent off flying out of the ring. This gives you an instant victory.
The best part of this game is, that it is very fun and immersive. At the same time, the controls are easy to learn.
Rocky Legends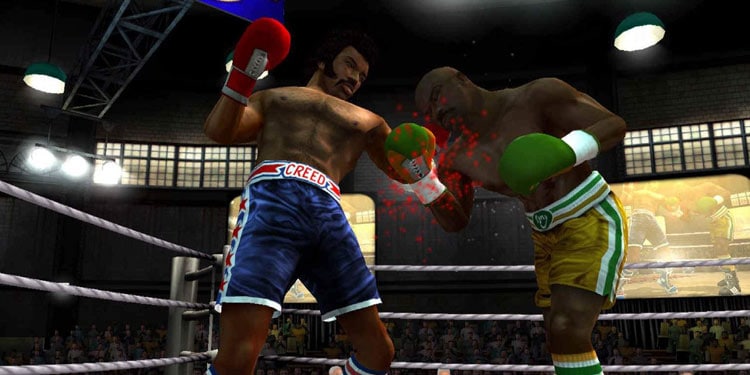 Developer: Venom Games
Publisher: Ubisoft
Release Date: September 28, 2004
Platform: PlayStation 2, Xbox
Rocky Legends is a boxing game, which is a sequel to Rocky which came out in 2002. The game is set before the events of the movie Rocky.  The game has six gameplay modes which are all different from each other but equally entertaining.
In Career mode, you can play as major characters from movies. In training mode, you can train both solos or with another player to gain points. The points can be used to upgrade your character's stats as you like.
Some extra modes can be purchased from the shop as well.  You can earn points in training mode which can be used to upgrade your character's stats.
Real Steel World Robot Boxing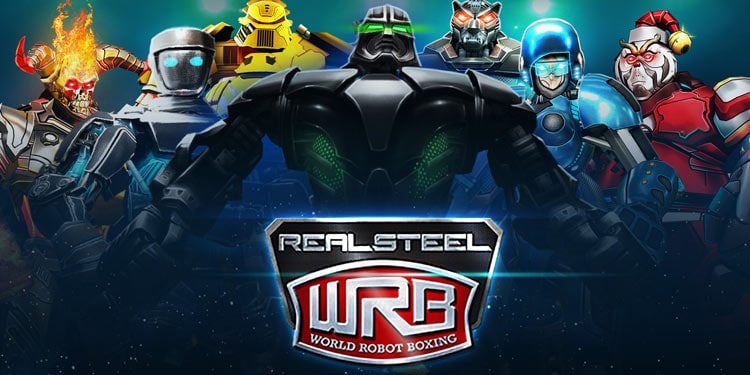 Developer: Reliance Games
Publisher: Reliance Games
Release Date: October 14, 2013
Platform: Andriod, iOS
Real Steel World Robot Boxing is based on the movie Real Steel which was released in 2011. Though the movie didn't make much of a profit, the mobile game spin-off was actually quite successful and was able to make a name for itself.
The game is set in a distant future where robots are very powerful and can perform a variety of tasks. Human boxers have been replaced by these robots.
And these robots can be controlled by humans to imitate human behavior and fight in boxing tournaments inside a ring. The thing that separates it from the rest of the games on this list is that it actually feels like a modern game with a futuristic design and graphics.
The game can also be played in multiplayer mode and you can climb up the leaderboard by winning the matches.
Fight Night Round 2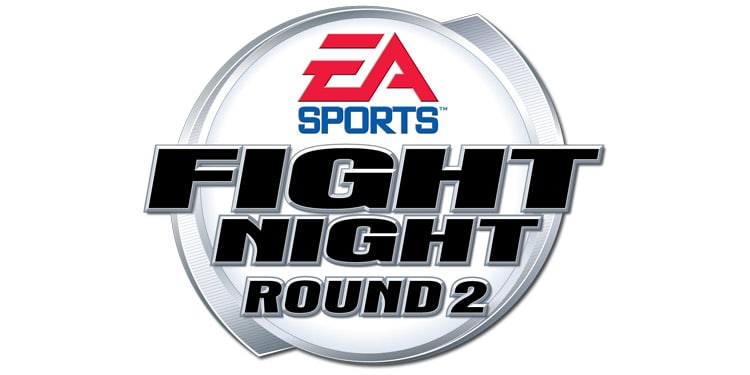 Developer: EA Chicago
Publisher: EA Sports
Release Date: February 28, 2005
Platform: PlayStation 2, Xbox, GameCube
Fight Night Round 2 is a sequel to the game Fight Night developed by EA Sports. It is a boxing game with the rules of real boxing matches.
The game can be played on consoles and is very addicting once you start playing. It has introduced many new features and techniques such as Haymaker which is the combination of hooks and uppercuts.
The Haymaker is much more powerful than the normal punches but can also be difficult to learn at the beginning.
It has a mode called cutman where you can heal any injuries suffered by your boxer during the match. The studio has also added many new fighters to the game.
Punch-Out!!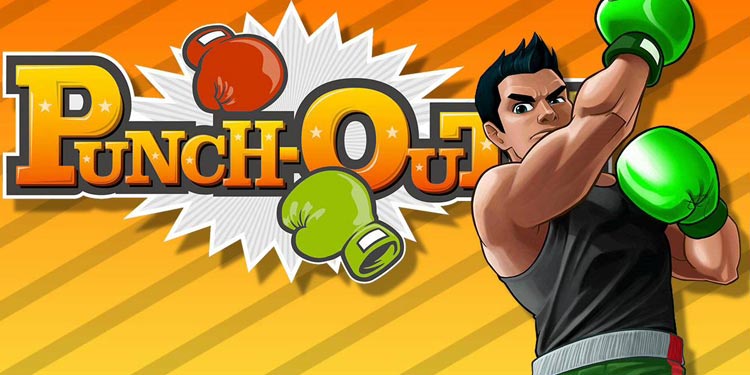 Developer: Next Level Games
Publisher: Nintendo
Release Date: May 18, 2009
Platform: Wii
Punch-Out!! Is the most recent installment of the popular boxing game Punch-Out!! Series. The game revolves around the main character, Little Mac, a 17-year old boxer and your job is to help him on his journey to climb the ranks of the World Video Boxing Association.
In this installment though, Mac has already fulfilled his dream and has become the champion. Now the problem is, all the boxers he has defeated before will challenge him for his title.
If you love comical graphics and a good engaging story, then this game is perfect for you.
Knockout Kings 2001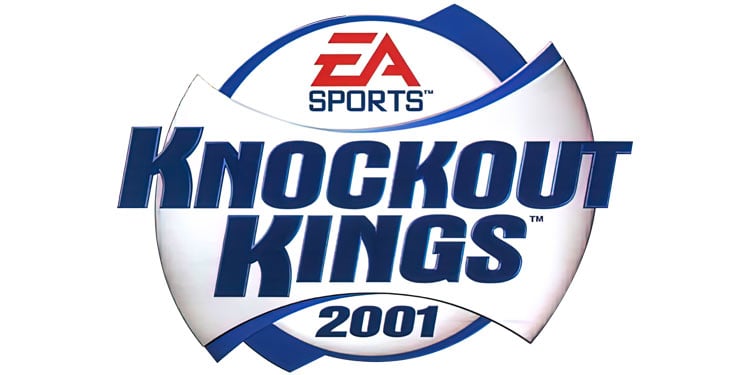 Developer: Black Ops Entertainment
Publisher: EA Sports
Release Date: October 30, 2000
Platform: PlayStation, PlayStation 2
If you are a fan of legendary boxers like Muhammad Ali, Larry Holmes, Jake LaMotta, etc., Knockout Kings 2001 will give you a feeling of what it's like to fight these beasts.
In this game, you can fight in a mode called "Slugfest" where you can knock out any opponent at any time, or still last for an entire fight while suffering massive damage.
Though it has some crazy modes, it is still worth checking out because of its graphics, sound quality, and fighting animations.
It is also one of the few games which feature women's boxing. You can also fight in many famous arenas.
Fight Night Round 4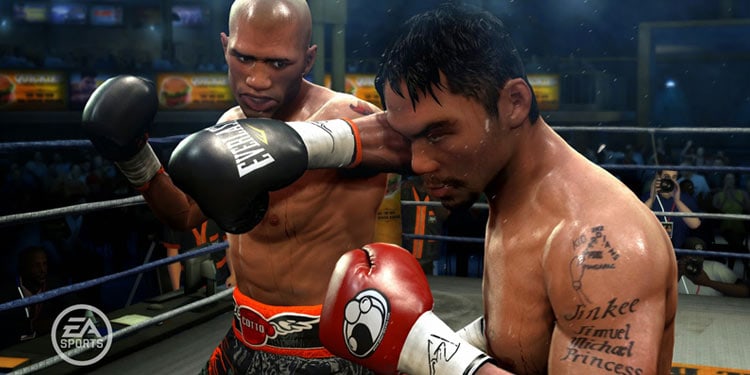 Developer: EA Canada
Publisher: EA Sports
Release Date: June 23, 2009
Platform: PlayStation 3, Xbox 360, Windows Mobile, Blackberry
The fourth installment of the famous game Fight Night, Fight Night Round 4 by EA Sports lets you become the ultimate champion in the ring. Perform your moves with perfection because anything less than that will get you knocked out.
You can play as some of the greatest boxers in history, whether it is Muhammad Ali or Mike Tyson, or Hatton, and play even against them.
If you are a boxing enthusiast then, you must try this game. The redesigned models, smoother controls, and sick animations almost make you feel like you are in the arena playing for real. You can perform various combos and maneuvers to take down the opponent.
The developers have also added new weight classes for the first time in the game and new downloadable characters. In short, the game is worth your money.
Fight Night Champion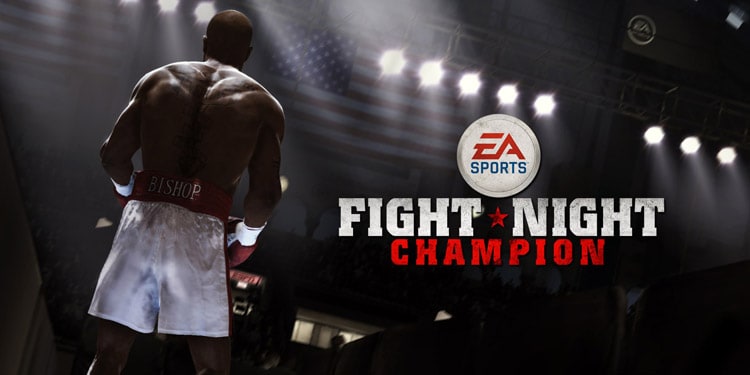 Developer: EA Canada, HB Studios
Publisher: EA Sports
Release Date: March 1, 2011
Platform: iOS, PlayStation 3, Xbox 360
Even more darker and brutal than its predecessors, Fight Night Champion truly depicts the brutality of the world of boxing. It is refined in many ways and the gameplay is stunning considering it came out in 2011.
With the introduction of an all-new control scheme and physics animation, the controls are better than ever. It allows you to perform jaw-dropping moves that players could only imagine in previous installments.
You can choose to play in any of the three major modes. But don't worry as every mode surely will keep you on the edge of your seat. The animation makes you feel like you're watching a movie.
If that's not enough for you, it also offers a multiplayer mode through online play to show off your amazing skills to other players.
Knockout League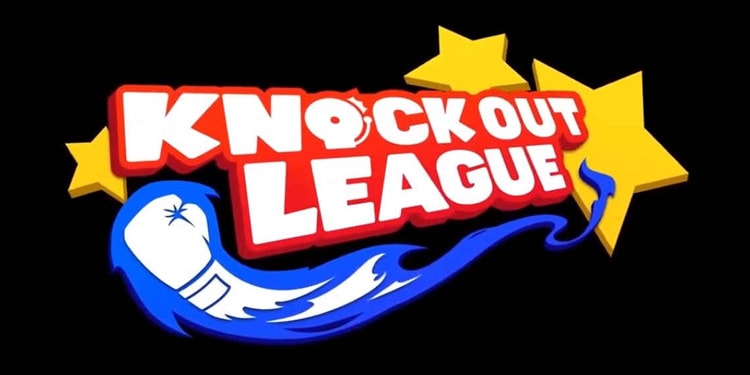 Developer: Grab Games
Publisher: Grab Games
Release Date: February 13, 2018
Platform: HTC Vive, Oculus Rift, Windows Mixed Reality
Knockout League is a single-player boxing game built for VR. You don't have to rely on any button to perform moves in this game. You perform all the moves by yourself, with your body. And you have one goal: to become the champion of the Knockout League.
The best thing about this game is, that it does not need a controller to control your character. You yourself are performing all the actions. So even if you are losing, you only have yourself to blame.
The only downside to this game is, that it only supports single-player so it might not be as thrilling as playing with other players but the controls and movements of the characters more than makes up for it.
Creed: Rise to Glory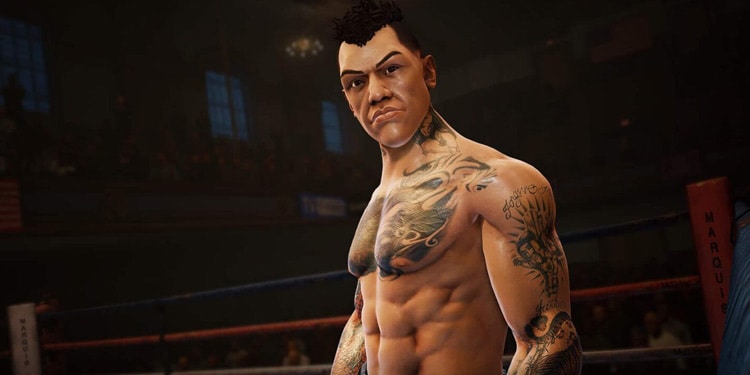 Developer: Survios
Publisher: Survios
Release Date: September 25, 2018
Platform: HTC Vive, Oculus Rift, Valve Index
Do you have what it takes to be the best fighter in the world? In Creed: Rise to Glory, you become Adonis Creed and help him rise to the top of the boxing world by punching your way through the toughest opponents in the world.
The immersive gameplay lets you experience the most iconic fights in VR. You can choose your path to glory in multiple modes
This game lets you play online in PVP matches against random people or friends. You can experience all the sensations as you would in a real boxing match like the feeling of punching, getting punched, or getting knocked out.
If you want to fight as or against characters that you recognize from Rocky and Creed movies, then Creed is your clear winner.
Thrill of the Fight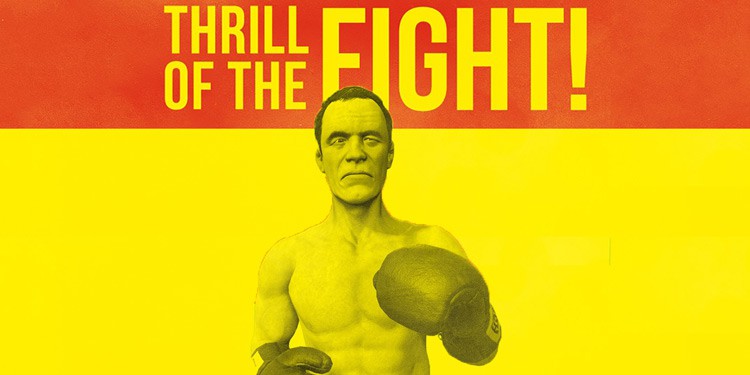 Developer: Sealost Interactive LLC
Publisher: Sealost Interactive LLC
Release Date: 1 July, 2016
Platform: HTC Vive, Oculus Rift
The thrill of the Fight is a VR game that allows you to fight in immersive gameplay where you'll be jabbing, punching, dodging, and making your way to the top of the boxing world.
No more characters from movies, no arcade stuff, and no more running out of stamina, this game lets you fight to your heart's content.
It is also by far the cheapest VR game on this list. With how much you're getting with just 9.99$, it easily makes it to the top 1.
You have to fight a new challenger with their own boxing style after every win.
While other games limit you from various things, such as you can only punch certain times or – in the case of 2D games you can not perform difficult techniques, this game will let you experience every aspect of boxing while not being limited by anything.