Do you like horror zombie apocalypse games? Playing the best zombie games on Steam offers a thrilling and soul-stirring experience. Shooting, scavenging, slaying, exterminating enemies' hordes, and much more fun.
If you are a fan of action-based survival zombie games. And looking for a bloody war against the undead, you are at the right spot.
Survival on the following best zombie games on Steam can be extremely hard.
Let's get started.
Best Zombie Games on Steam
Dying Light (2015)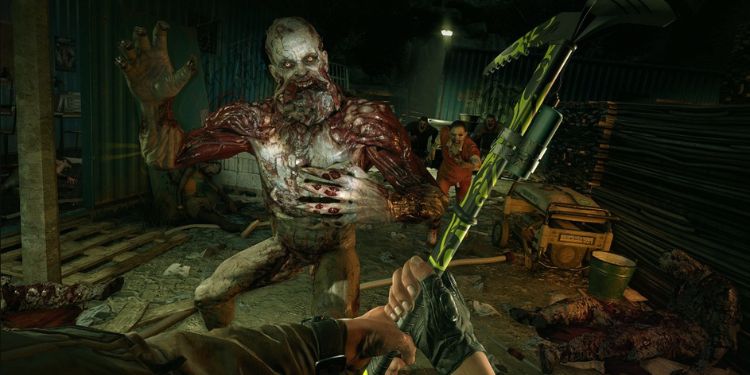 Dying light is one of the best zombie games having lots of action-packed movements and pressure to make decisions. Every decision you make in the game can overall impact the ending part.
Play the lead role of Kyla Clarke, who is on the mission to find the stolen information regarding the virus. You are landing in the zombie's zone area from the airplane. You will be meeting the tower people and working under them.
You must develop trust among others by accepting the dangerous missions. It has introduced parkour abilities that will help you stay off the ground from the reach of zombies and help to travel from one place to another.
You will be sucked in the battle of zombies, the Tower people, the organizations, and other evil human villains gangs. Avoid zombies to complete missions and use a safe place to sleep at night.
You can fight with them using various weapons such as baseball bats, hammers, cross-bar, firearms, etc. Blow up the entire building to fight against the zombies and enemies.
The main aim is to survive and rescue innocent people from the war between zombies, evil villain gangs, the tower people, and the organization.
The interesting part of the game is you can enhance your parkour abilities and unlock various other attributes such as survivor ranks, eligibility, weapons, equipment, and more.
You will encounter various types of zombies, each with different special abilities. Moreover, there are many twists and turns where you will be facing life-threatening dangers.
Overall, it has presented a great landscape view, excellent map navigations, nice story background, various boxes, airdrops, unlocking options of skills & weapons, crafting weapons & medkits, leveling up of powers, a great soundtrack, and more.
Resident Evil HD Remastered (2015)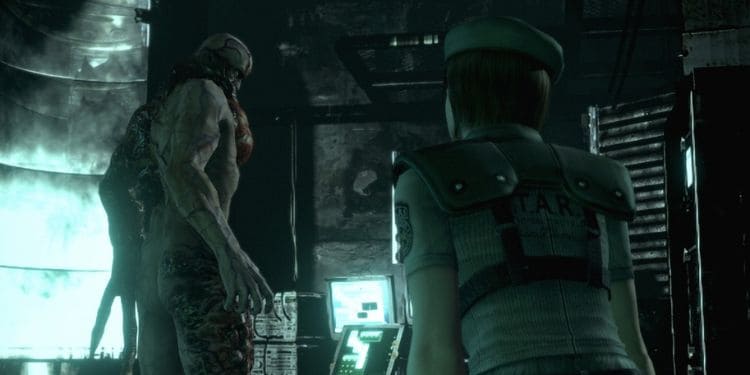 Resident Evil HD Remastered is a classic horror zombie game with evil pilots and dangerous creatures. The Umbrella organizations have let loose of the zombie virus in Racoon City. Everyone in the city is infected and turned into mutated monsters.
You play as the Jil from the elite army squad. You will be taking cover in the big mansions. You will get separated from each other to search for the missing members.
The place is mysterious and holds many riddles. Encounter disgusting, horrifying monsters in the process of gathering information.
Unlock the doors to pass from one to another and find different types of deadly puzzles. You need to find keys to open a door or solve the puzzles.
You will be collecting various items along the way. Explore the entire mansion, graveyard, jails, garden, hidden underground chambers, science lab, and more.
No one has any knowledge of what will be behind the next door. Fight against various monsters such as vampires, mutated dogs, zombies, boss, and more. Only a few group traitors knew about the struggling situation's secret.
There are different types of zombies with unique abilities and you need to use various weapons to kill them. Managing the inventory is hard, and the collected items have special use in solving the puzzles. If you are a fan of puzzles and scary zombies, this game is for you.
State of Decay 2 (2020)
State of Decay 2 is a third-person action violence game. There is no place for the humans after the zombies' apocalyptic. Only a few humans have survived and are struggling for a living. Three survivors are on the journey to create a new home in the town, hoping to find resources.
Play the role of different survivor personalities having unique skill sets. You need to build a protective base for defending against the zombies. You can do many activities such as collecting raw materials, driving vehicles, fighting zombies, saving remaining survivors, and more.
The map navigation of the game is great, and travel to various map locations in search of resources. You need to upgrade your buildings, such as the command center, garden, infirmary, and parking.
Each character can collect different items. Customize them and increase the levels to make them powerful. You can swap characters and continue to play. The main sources of gathering resources id finding the plague heart, and destroying them can get you special resources.
The main aim is to build one town at a time. Use vehicle bunkers to store items and put items in community inventory to share with others. Engage in the fight with different types of zombies. Build the base in different locations and continue to move on.
World War Z: Aftermath (2021)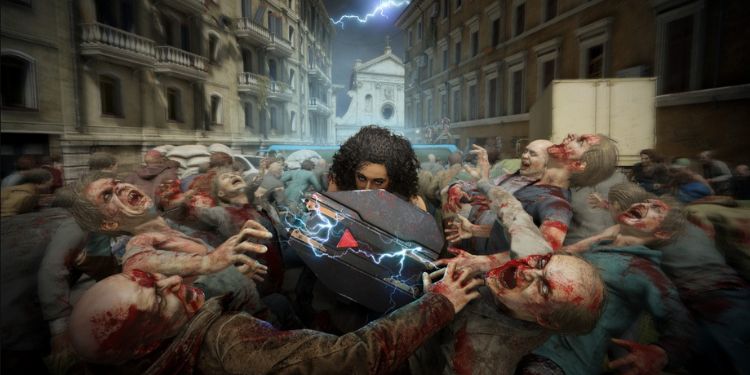 World War Z: Aftermath is one of the best zombie games which offers endless hordes of zombies to kill. Start the journey from Newyork to the end of the cruise ship. There is non-stop action from the beginning to the end.
Survivors tarped in the underground metro stations are on the move hoping to find a place without zombies. Lack of resources has led to flight and flee situations. Go outside the walls and fight against the zombies. The objectives depend on the geographical location or map.
Shoot down the enemies' hordes with your comrades and do not let them near you or cross the defensive border. Position yourself in a good place, refill the ammo from the boxes, and put the machine guns in the battleground.
Use medkit to heal to regenerate your health and revive your teammates. The best part of the game is the endless horde of the zombies that surrounds you from every direction. They will climb up to your places by stepping on the dead bodies.
You will encounter strong and fastest variants of undead as the game progresses. There are five chapters, and they contain a unique battlefield landscape. You will find violence and blood while fighting against the zombies.
You must develop a strategy to destroy the hordes and use different types of system melee weapons.
Project Zomboid (2013)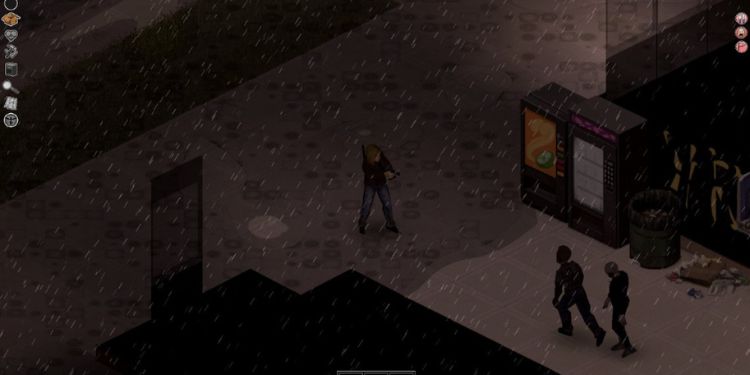 Project Zomboid is a survival zombie game where you can do anything. There are no predefined goals, but the main aim is to survive. Although it is a 2D, the developers have put in many efforts, and you will find lots of similarities just like real-world.
Freedom is the best part of the game and has attracted many players worldwide. You can live in the world according to your desired wish. You have to accept the fact that you are a lone survivor, and you have to co-exist with the zombies.
You can do many things such as driving, crafting, fishing, farming, building a base, looting, fighting, and more. You must increase your character, physique, and abilities. You must read, exercise, eat, sleep, and boost your skills.
Basic activities like eating, drinking, and sleeping must be performed to stay alive. Noises will attract the horde of zombies, and you must be careful while going out for the loot. You must collect weapons, ammo, food, vehicles, and more.
It is the best game if you want to challenge other global players for survival in a zombies world. Your performance is evaluated based on the survival time, number of kills, and achievements. It is super fun to play to create your own world inside the game.
The Walking Dead (2012)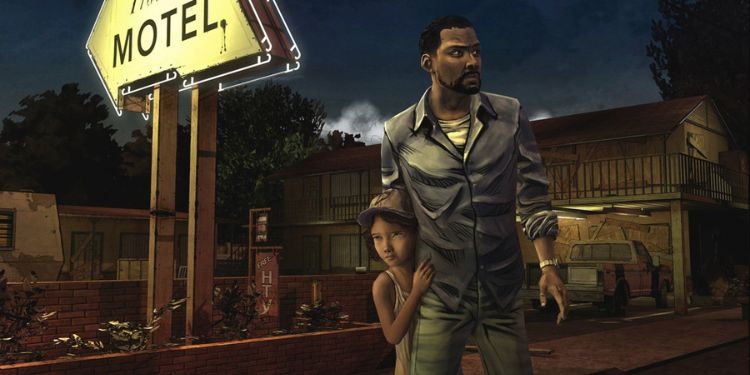 The Walking Dead is a famous zombie choice game. The story is great, and many players have enjoyed playing the game. The main aim is to guide and protect the girl on the journey.
There are many ups and downs with twists that emotionally hook many people. The close people whom you find will betray you and keep on dying. You will encounter many zombies and find different survivors members.
It has displayed the sad part of humanity in times of chaos, and people have divided thoughts rather than united ones. They become more selfish in living for themselves and bring harm to others.
You need to make choices in decision-making, and they will impact you in the latter part as the story progresses. Everything is scarce food, medkit, clothes, water, and more. You will search for them to stay alive.
Encounter remaining survivors and talk to them to get information. Travel the vast lands in search of a safe place from the zombies. The best part of the game is the story. If you are a zombies games fan, you will love it and find it special.
Days Gone (2021)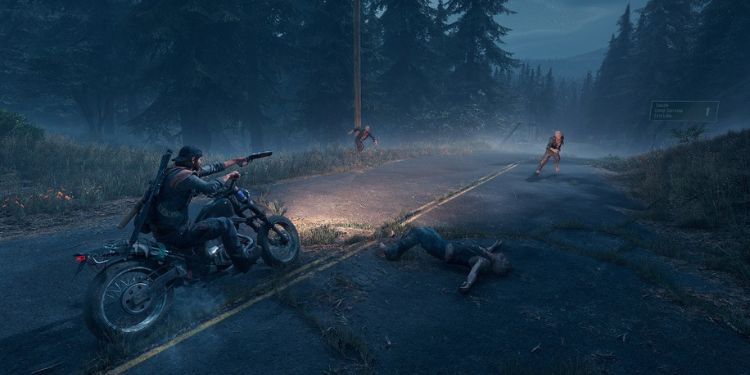 Days Gone is a survival zombies game. It is the survival of the fittest. After the zombies' virus outbreak, you and your pal have to survive in the rural area. Surviving as a drifter is a huge challenge, and others can target you.
Surviving in the vast lands with many other groups is tough. The best thing about the game is that you are fighting for yourself and have to deal with zombies, religious groups, various tribe members, bandit gangs, and more.
Competing missions and chasing enemies are fun things. You have to spy on the Nero researcher to get information regarding the truth about the long-lost girlfriend. As the story progresses, you need to acquire new skills and upgrade new abilities.
Unlock new map locations, and it has great navigation features. You must use shotguns, knives, xbows, baseball bats, grenades, and more. You need to blast the zombies' nest and face the problems ahead of you.
Motorbikes are the main means of vehicles that will be used throughout the entire game. You need to survive the attack of the mutated wolfs on the way. Fight zombies and enemies to earn XP and battle points. It is great storytelling with sigma's personality lead character.
Resident Evil 2 (2019)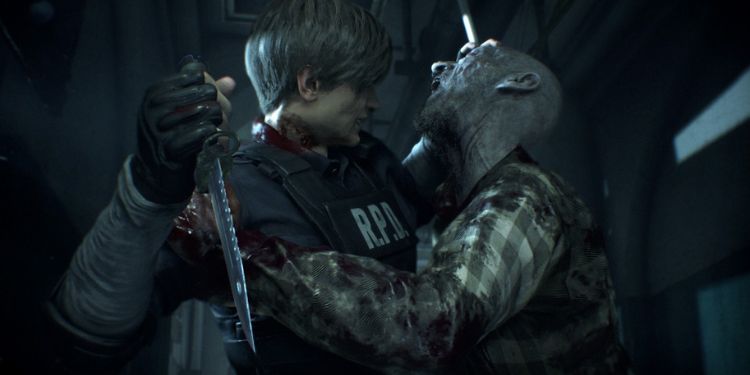 Resident Evil 2 is horror-action zombies games. The story starts with a zombie attack on the gas station in Raccoon City. The main two characters meet at the station and separate after a vehicle accident.
The best part of the game is that developers have focused on the undead's looks, shape, and size. The movement of the zombies is scary, with details on point. They have created a masterpiece of horrifying bloodbath scenes.
Killing zombies can be harder than in other games. They stand up again to attack, and you must hit them repeatedly. Explore the police stations and gather the information of resources. You must look for the survivors and find ammo, weapons, bandage, keys, and many more.
Fight the infected dogs, mutated monsters, and main zombie boss in the science laboratory using weapons such as rocket launchers, different types of guns, defensive suits, knives, flamethrowers, and more.
Solve different riddles to open doors. You will meet operation uncharge offers, a girl, a criminal, and a spy on the way. Break into the NEST lab to obtain the G virus research data. If you like to face scary and horrible creatures, this game is for you.
Dying Light 2 Stay Human (2022)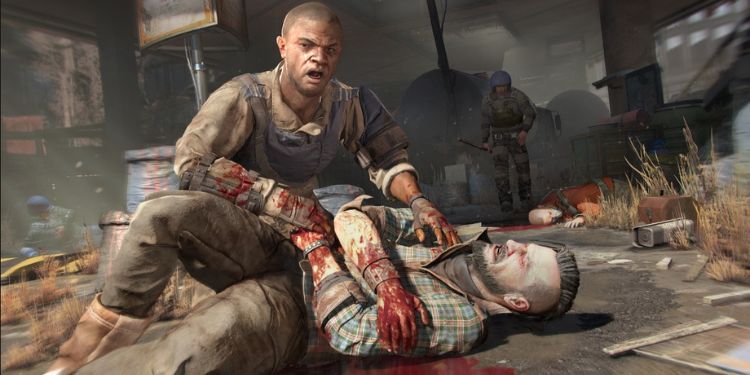 Dying Light 2 Stay Human is one of the best zombie games. It is filled with action, a great story, many interactive characters, and more. Being a pilgrim, you must travel 2000 km to Villedor in search of your sister. You will be entangled in a conflict between various gang members.
It has improved the landscape, buildings, and geographics to enhance the use of parkour abilities. It has improvised the looks of zombies and made them more aggressive. You must unlock other parkour skills to become powerful. Earn gold points and XPs defeating the enemies.
There are various zombie types, each with special abilities. Take the missions from various gang members to accumulate their trust. Save people, kill zombies, solve mysteries, search for a way to Fish Eye, and more.
The navigation and map are great with proper guidelines. Climb to the tallest buildings and towers to activate the radios signals. Collect resources and survival items to stay human. The future outcomes heavily depend on your decision-making. So make a choice wisely.
Unlike Dying Light, you have to trade going to vendors and craft special weapons with artisans. But you can craft normal bandages, lock picks, and weapons for yourself. If you love Dyinglight, then you will love this game.
Dead Frontier 2 (2019)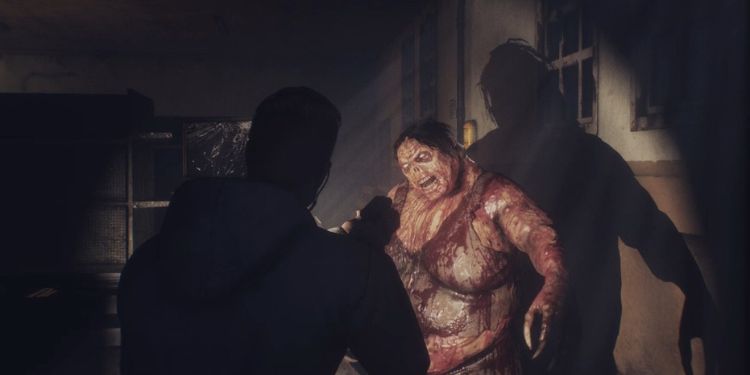 Dead Frontier 2 is a most awaited old-school classic zombies game. There is a zombie outbreak, and you have to stay alive. Kill zombies at sight and become the alpha zombie hunter.
First, you must customize your character to equip yourself with abilities and weapons. Enter the map and start killing the undead. Loot from the dead ones and search for the resources in abandoned buildings.
There will be other survival in the game, and it's your choice to create a team or play individually. The aim is to kill many zombies as possible and score the high points. There are various types of the undead with unique abilities.
You must learn about the zombie types and use different skills depending upon the attacks. Collect valuable items in the way to craft or trade them with others.
As the game progresses, it will become harder and more difficult to engage in the battle with the hordes of zombies. You must unlock different skills and weapons. If you want to test your ability, it is the best fit.
Organ Trail (2013)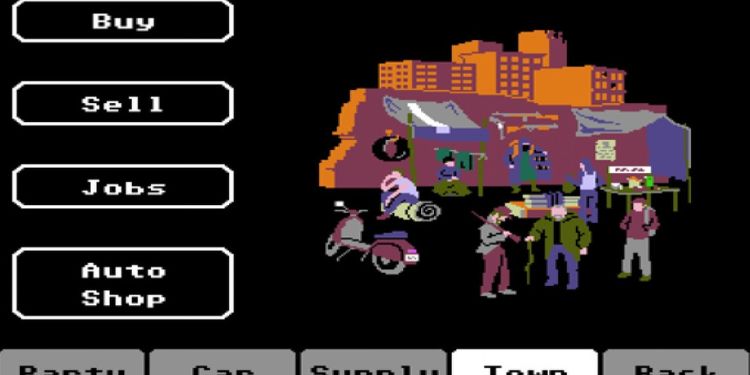 Organ Trail is a 2D classical retro zombie game. It takes you back to the 90s, and you will be enjoying mini arcade games. Create a team and get on the journey in the vast land to explore the world.
Play arcade games to collect dollars and use them to get resources such as meds, supplies, fuel, and more. It will test your precision, shooting, escaping, and driving skills. Explore the maps and move from one town to another.
Setup your adventure, clear missions, and fight off bandits. Unlock cars, new characters, and new road maps to new cities. New towns can give you access to unique resources. Drive over the hordes of zombies to collect money.
Play the games in different modes until you die. Or you can also invite friends to play and together defeat the zombie boss. Ditch the infected party members who will attack you. One session of mini arcade games can last less than three minutes.
The game offers an incredible experience, new bandits, attacks, and secret endings. It has co-op player features to play with your friends. If you are a 90s kid, then you will fall for the game.
Zombie Army Trilogy (2015)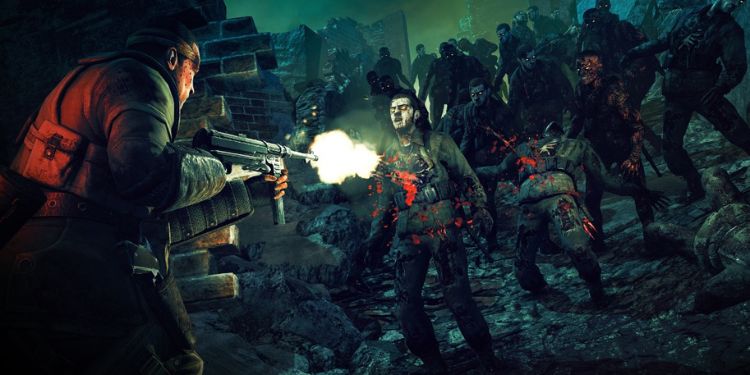 Zombie Army is one of the best zombie games and is packed with non-stop shooting actions. Join the Worldwar II and start fighting back to the zombie armies in Germany. Shoot down the undead and survive against the waves of zombies.
You are on your own to survive the massive waves of the zombies. Use weapons such as shotguns, machineguns, rocket launchers, flamethrowers, grenades, and more to kill the undead. Or you can blast nearby vehicles and gas tanks to destroy them.
Select a character matching your playstyle from 16 options. Equipe them with items, weapons, ammo, and other explosives. Use primary, secondary weapons, and handguns at starting.
You must pass through the graveyard, underground tunnels, research facilities, underground train stations, and more. And survive longer to expand the map.
It will test your gaming mechanics and ability to survive in the massive zombies. After clearance of the session, your performance will be evaluated on the bases of the best shot, kills, highest combos, and score. Each session last more than 20 minutes.
It is highly recommended if you are a shooting and zombies fan. And you will love the battle sniping effects while shooting down the zombies. There will be piles of dead bodies everywhere, covered with blood.
Furthermore, the game has three separate deep progression story campaigns, killer melee, epic weaponry, customization, and monstrous multitudes features.
Killing Floor 2 (2016)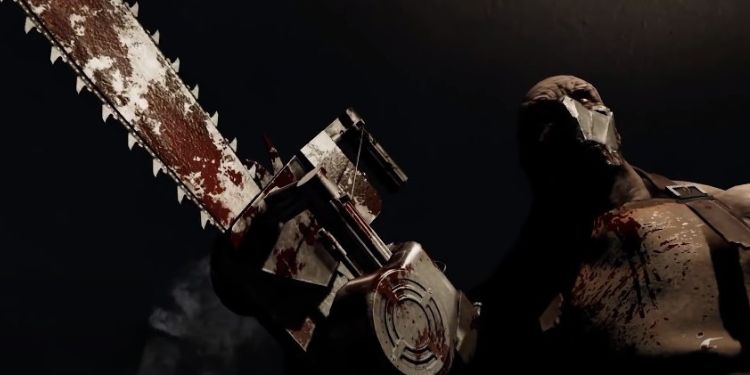 Killing Floor 2 is a first-person shooting action-packed game. Horzine Biotech's lap fails human experiments and causes the massive outbreak of specimen clones across Europe.
Results in government collapse, mass human killing, and eradication of military forces. Lucky survivors are still hiding to stay alive.
A privately funded secret organization is formed and they gather a group of mercenaries and civilians to fight against the clone. Hope is not lost, the group tracks down the enemies and exterminates them on sight.
You can choose from many characters, and each has special abilities. The endless zombie hordes keep on coming from every place, and you and your team must shoot them down. It will be a blood bath and can change the landscape color into red.
Discover many types of zombies with unique shapes, sizes, and abilities. Each stage of the game introduces new kinds of undead in a new location, and you can grab new characters.
It will test your gaming mechanics, and you must keep healing in the battle for survival. Furthermore, there are limitless possibilities for using weapons, and you can loot weapons from different boxes. If you like the fast-paced shooting zombies game, then start playing.